How to win free stuff with your Bankless Badge
It's Badge Week! Here's everything you need to know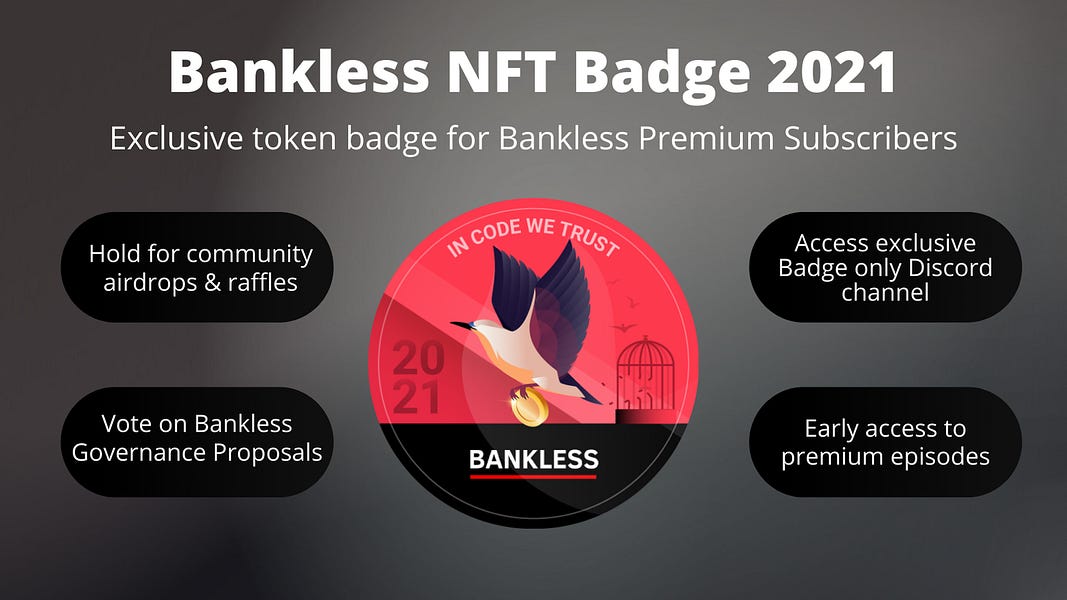 Badge Week! Win an ETHScape tee. Day 2 and Day 3 raffles are now open for registration!
---
Dear Bankless Nation,
The Bankless Badge is your passport to the Bankless Nation—it's a member access NFT. We've been distributing badges to bankless premium subscribers for almost a year now. And we've built quite the community of badge bearing crypto natives.
So now it's time to celebrate! It's Badge Week on Bankless!
For the next two weeks, we're raffling prizes to Bankless 2021 Badge holders.
If you…
Became a Premium member before April 1st…claim your badge and enter a raffle!
Became a Premium member on or after April 1st…wait for the May 1 minting
Are a free subscriber—you can't participate in badge stuff! (but we still love you)
This is about more than winning prizes during badge week…
This is training. This is you learning how to use your badge to participate in the bankless ecosystem. We've said it before—we've got big plans for this community.
Here's the awesome stuff you can win with your badge over the next two weeks.
- RSA
---
🙏 Sponsor: Balancer—Earn $BAL back when you swap tokens on Balancer.
---
📺 Watch Episode 43 of State of the Nation
📺 Watch State of the Nation #43: Coinbase goes direct | CIO of Arca, Jeff Dorman
Chatting with Arca's CIO on what traditional finance thinks about Coinbase's $COIN listing, what it mean for the banks and what it means for the exchanges!
We premiere State of the Nation on YouTube every Tuesday at 2pm EST—join us!
---
Tactic Tuesday
Bankless Writer: Lucas Campbell, Senior Editor for Bankless
How to win free stuff with your Bankless Badge
Note: You do not have to migrate your badge to mainnet to enter raffles. Leave it on xDAI!
The Bankless Badge is an exclusive non-fungible token (NFT) for premium members that provides access to community airdrops, raffles, a secret Discord channel and other on-chain perks.
We've experimented with tons of unique features over the year like voting on future content and even getting Gitcoin Donors a 5% bonus on their matching via the POAP integration. This is our way of trying to empower and reward bankless power users—those who've made the leap by supporting the movement through verifiable on-chain actions.
For the next two weeks, we'll be raffling off tons of prizes to these holders. We want to reward those of you that are "walking the walk" on the bankless journey. Everything from ultra rare shirts to ultra sound money—we're giving something away to Bankless Badge holders.
This tactic will dive into the prize schedule and how you can register to win all the cool stuff we're giving away. It's going to be a fun few weeks :)
Goal: Learn how to maximize your bankless badge
Skill: Intermediate
Effort: 10 mins
ROI: Raffle prizes & more
---
How to win free stuff with your Bankless Badge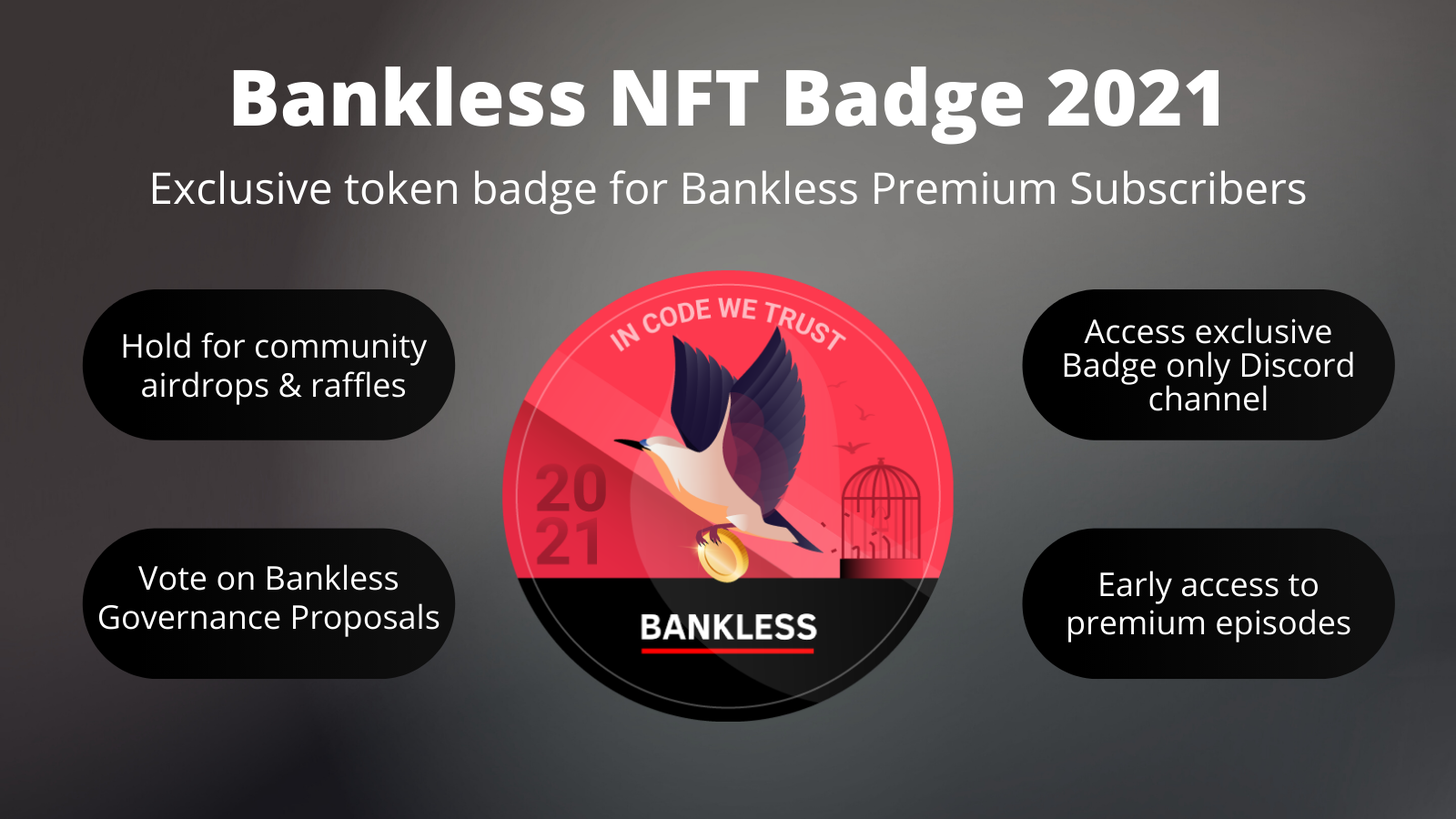 For those who joined in April 2021…
You don't have a badge if you join in April 2021. We distribute badges on the first of every month and the next round of Badge minting is May 1st. This means those that joined in April are not you eligible for this raffle blitz. 😢
I'm feeling bad that I missed this…
Here's the good news: there's a lot more in the pipeline for badge holders. You're still early. If you're already a Premium subscriber, you'll get your badge on May 1st. If you're not a Premium subscriber—you can join now.
---
😨 Did you subscribe before April 1st and still don't have your badge? Email support@banklesshq.com and we'll get you set up. (Subscription dates will be verified!!)
---
FAQ
Where can I learn more about the Bankless Badge?
Check out Guide #2: Using the Bankless Badge
Do I have to migrate to Ethereum mainnet?
Nope! The raffles are fully compatible on xDAI. No need to pay those gas fees.
Where can I keep track of the raffles?
We recommend keeping an eye on the #announcements channel in the Inner Circle. Otherwise we'll plug it in the newsletter or podcasts or mention it on Twitter via @banklesshq
How do I know if I won?
We'll make announcements for all the winners in Discord in #announcements! All prizes will automatically be distributed to wallets (or we'll reach out via email for off-chain) so keep that in mind as well.
When will raffles open for registration?
All raffles will open up for registration ~48 hours in advance. As an example, once Tuesday's raffle ends tonight at 9pm PST, Thursday's raffle will open up for registration.
---
Bankless Raffle Schedule
Week 1: April 19th - 23rd
BAP Week
Bankless Apparel Season 0 (BAP0) was our initial trial to explore how to distribute ultra rare apparel to the bankless community. There were only 50 tokens of these metaverse-themed ETHScape shirts ever created…and we kept a few for the community. 😎
We're giving them away to Badge holders during week 1!
April 19th: Winner declared! (congrats to alexg.eth!)
April 20th: Register here (ends tonight at 9pm PST)
April 21st: Register here (ends tomorrow night at 9pm PST)
April 22nd: Registration opens soon (see #announcements channel on discord)
April 23rd: Registration opens soon (see #announcements channel on discord)
BAP0s are ultra rare shirts that can be redeemed for a high quality, physical shirt that you can flex to your friends and family (shirt size not guaranteed).
Prices for these bad boys went for as high as $1,700 at its peak and averaged around ~$400-$500 per legendary shirt.
Makes sense…I mean look at how cool you could look in one of these: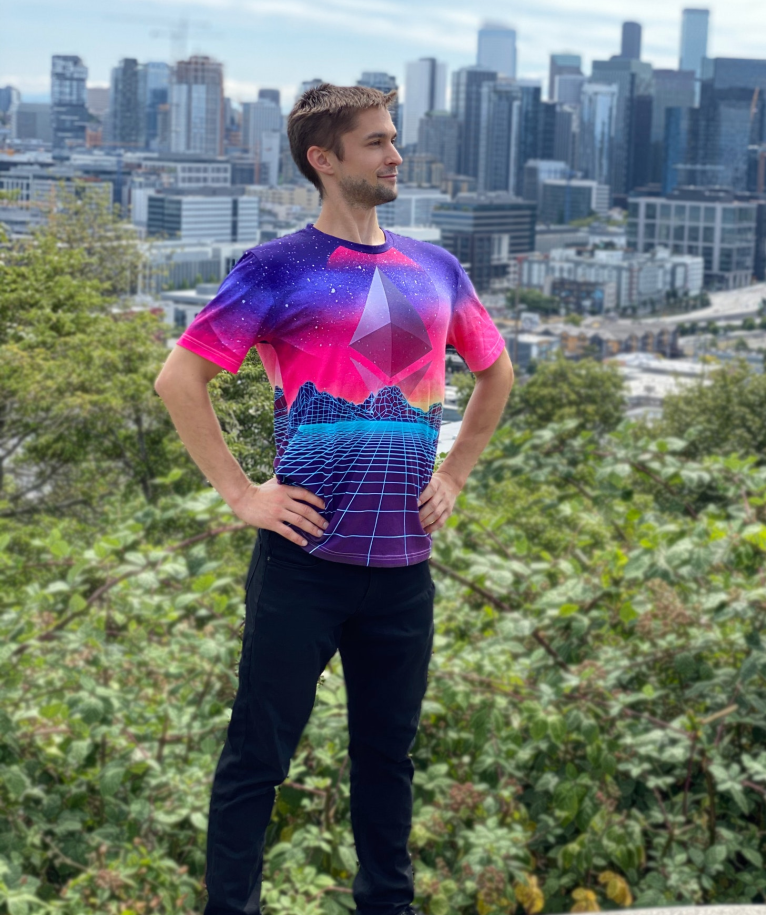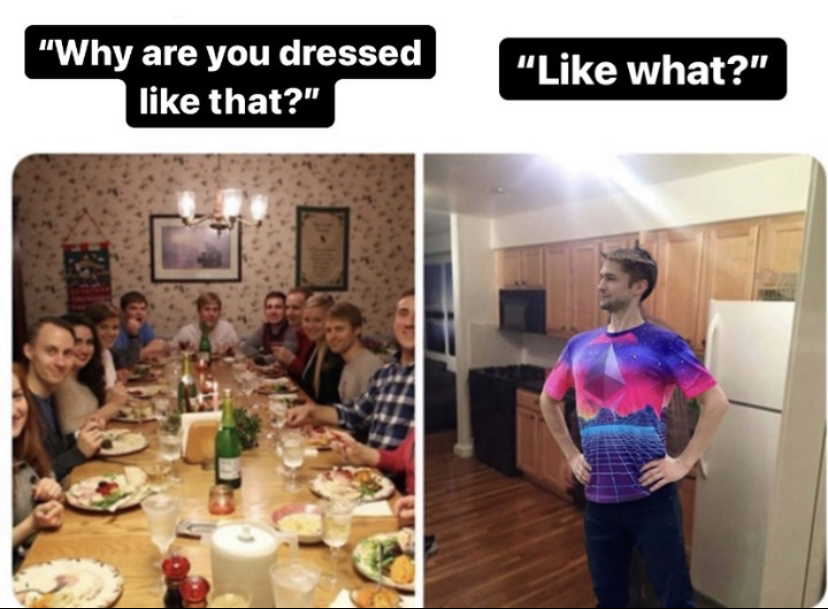 ---
Week 2: April 26th - 30th
Main Event
The second week of Badge Week will be filled with a more diverse group of prizes: NFTs, clothing, lottery tickets, Ledger hardware wallets, and more.
The second week will cap off with the final giving away some good ol' ultra sound money. Yup that's right, we're giving away 1 full ETH to a Bankless Badge holder on Friday, April 30th.
Here's what the full week looks like: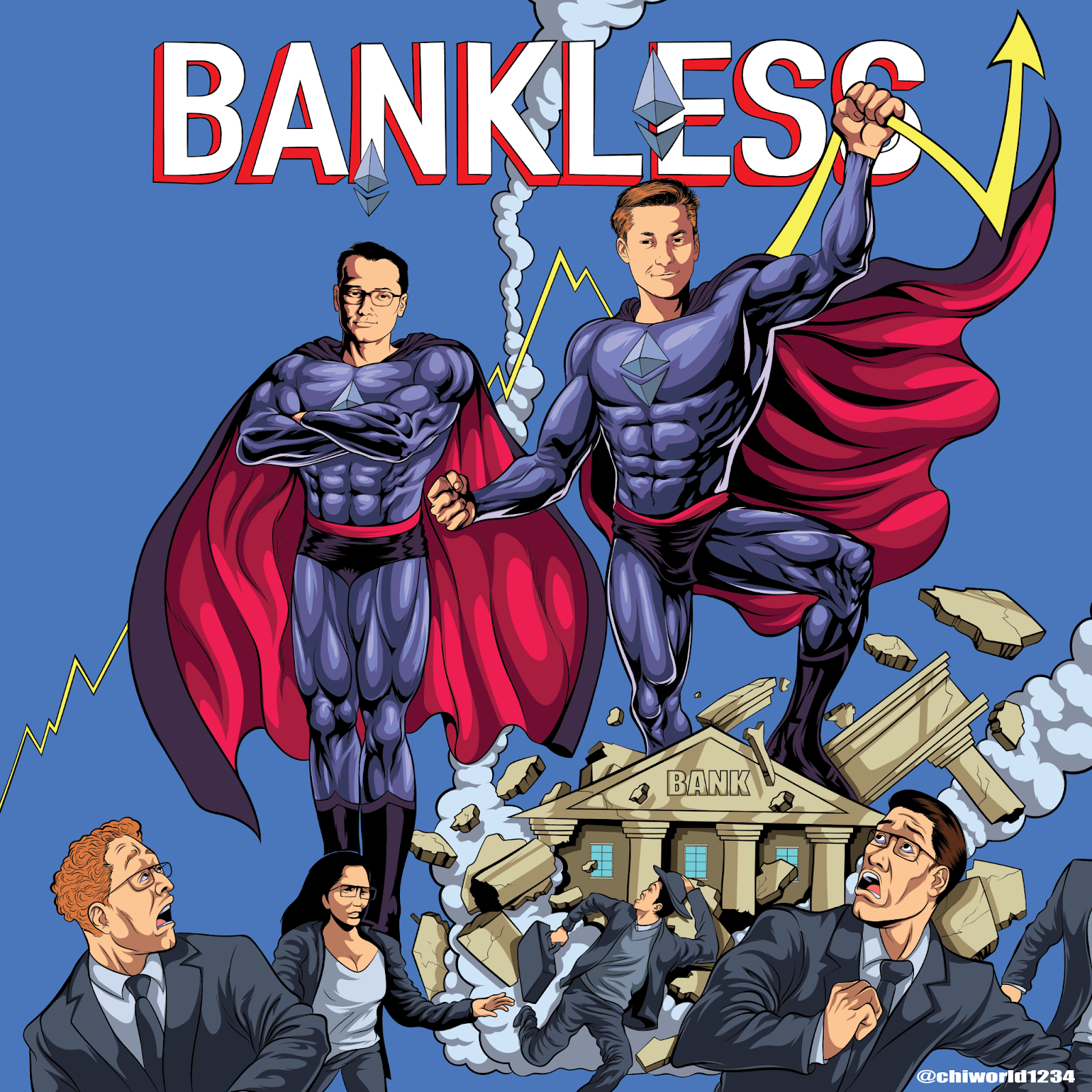 Digital artist ChiWorld1234 showcased his awesome rendition of David and Ryan as Superheros aggressively breaking up with their banks. This piece came out beautifully and we're beyond grateful for his time and the work he put into this piece. Better yet, we were able to get our hands on all 5 editions of the NFT.
So rather than selling them, we want to give 3 out of 5 away to the Bankless Community (leaving 2 left, one for Ryan and David each). As a result, the second week will kick off with POAP randomly selecting three winners to receive one edition of these ultra rare NFTs.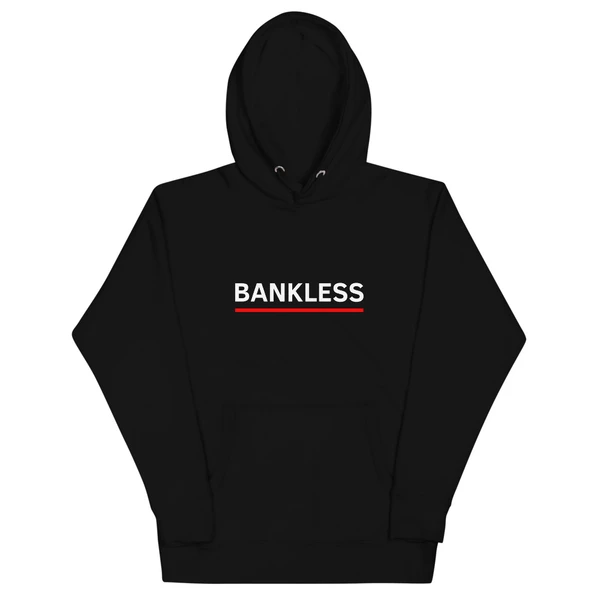 3 Badge holders will be getting comfy in our best selling essential hoodie. They say all it needs: "Bankless".  Same as the above, we're giving away 3 hoodies to 3 random Bankless Badge holders on Tuesday. Like all raffles, the drawing will happen at 9pm PST!
Given its an off-chain prize, emails be required to register so we can get you your discount code and you can handle all the shipping details yourself.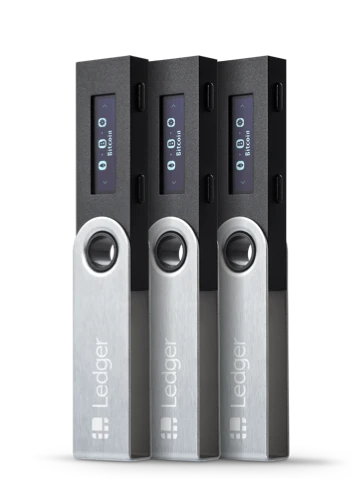 We're giving away a Ledger Nano S family pack (3 devices!). The family pack gives you a whole bunch of Ledgers that you can give out as gifts to friends and family, backup your other hardware wallets on, or use to get serious on your opsec.
You can never have too many ledgers! (Read: how to maximize your ledger)
Thursday, April 29th: 250 plDAI (PoolTogether Lottery Tickets)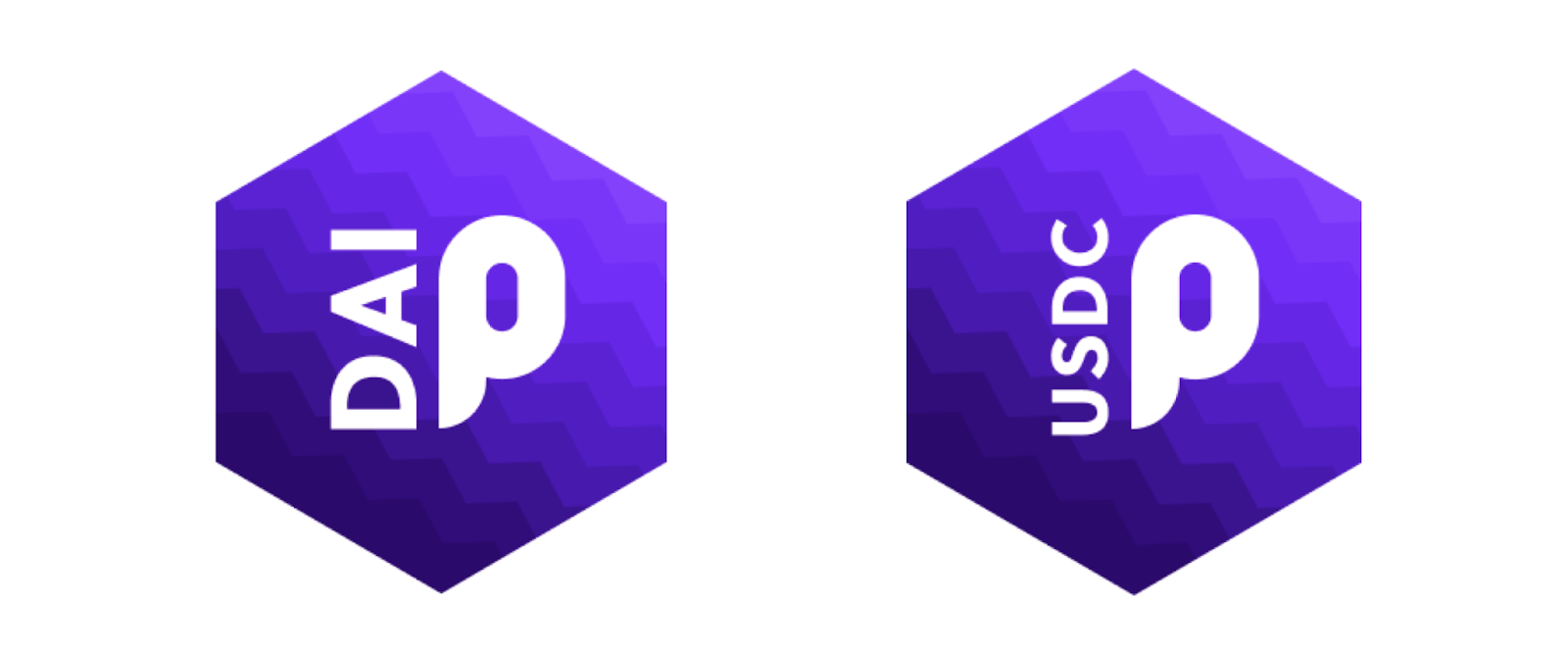 PoolTogether is one of the perfect protocols showcasing the power and potential with DeFi. It's a no-loss lottery where anyone can deposit popular crypto assets, and it'll be deployed into an income-generating opportunity (like supply to Compound), and the interest earned from the entire capital pool is given randomly to one person based on the amount of tickets (plTokens) you hold.
You simply hold these tokens and have the chance to win big cash prizes every week. It can always be redeemed for the actual 250 DAI too—no spending needed!
Right now the DAI pool is distributing over $75K in weekly rewards. As a result, the winner of this raffle will not only win a "redeemable coupon" for $250 DAI, but also have the chance to win $75K in rewards every week along with some POOL farming rewards (23% APY) for as long as they hold the plDAI.
A chance to win bankless money with the chance to win even more bankless money. There could only be 1 thing better....
Friday, April 30th: 1 ETH
We're giving away one whole unit of ultra sound money next Friday, April 30th.
1 ETH = 1 ETH
Not much else we need to say here.
Stake this one for the grandkids.
---
How to register for raffles with your Bankless Badge
Registering for the raffles is easy!
To get started, head over to poap.fun.
All raffles are for 2021 Bankless Badges—you'll know they're badge raffles as POAP will display the badge logo in the bottom right corner. You can check this article to keep up with the schedule or stay updated in the #announcements channel on Discord. We'll also do our best to push it out via the newsletter, podcast, and on Twitter!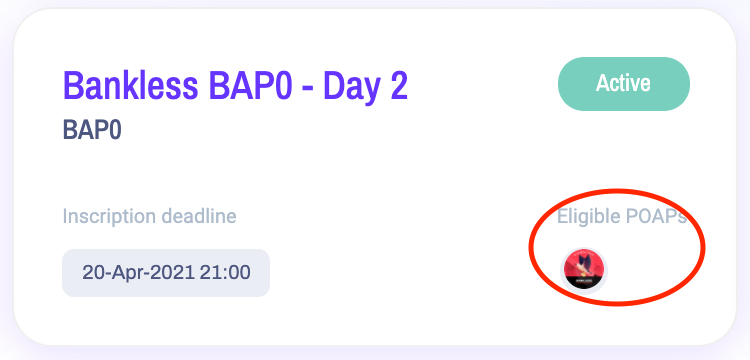 Next, connect your Ethereum wallet.
POAP currently supports both Metamask and WalletConnect. The cool part is that despite the fact that these NFTs live on xDAI, it's fully compatible with your existing Ethereum Metamask wallet. No need to do much other than the normal steps for connecting your wallet to any other web3 application!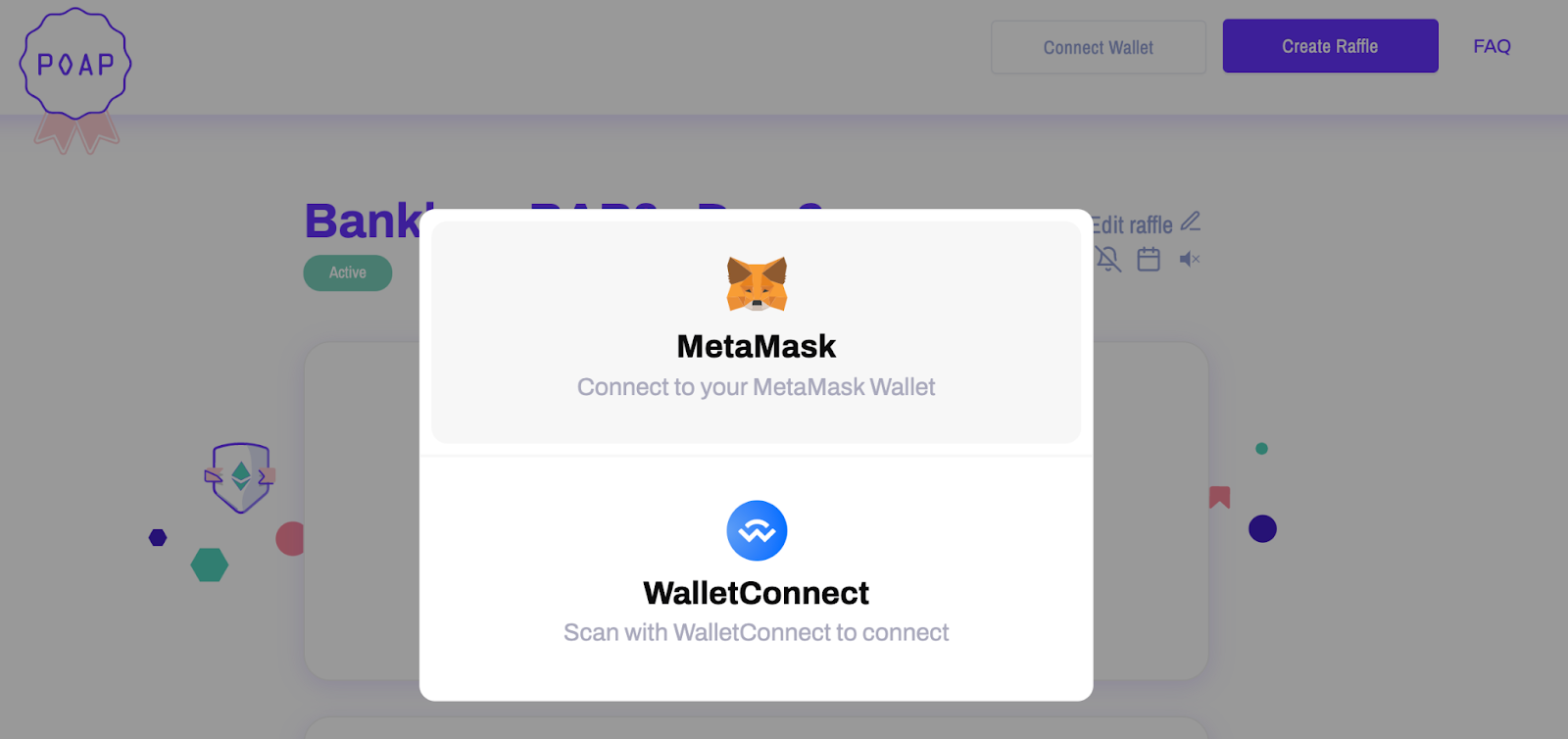 Once connected, you're ready to enter the raffle! 🥳
Just navigate over to any of the active raffles for 2021 badge holders and click on "Join raffle" at the bottom.
You'll be prompted with normal Ethereum transactions--just sign them and you'll be all set. Note that the badges are on xDAI so you don't have to pay for transactions!
What's Next for Bankless Badges?
We have big plans for the badge.
If you're bummed about missing out on this raffle, don't be. There's plenty more coming for Badge holders. We're only in the first inning of the bankless movement.
The plan is to pack this Badge with everything you'll need for the Bankless Journey.
The only sure way not to miss out next time?
Join the movement and get your Bankless Badge.
---
Action steps
---
Author Bio
Lucas Campbell is the Senior Editor and Analyst for Bankless. He also engages with teams on token economic & governance design through 🔥_🔥 (Fire Eyes DAO), working with industry-leading projects like Aave, Balancer, Rocket Pool, and others.
---
Subscribe to Bankless. $22 per mo. Includes archive access, Inner Circle & Badge.
---
🙏Thanks to our sponsor
👉 Experience the future of liquidity. Get BAL back when you swap on Balancer.
Balancer is an automated portfolio manager and liquidity protocol allowing you to deposit capital and earn a passive income on your portfolio. With Asset Managers, Balancer V2 takes this idea to a new level by leveraging smart investing strategies to maximizes your APY at all times. Welcome to the future of programmable liquidity—earn, trade, and build new applications on Balancer V2. Check it out here.

Sponsorship paid for by Balancer Labs🚀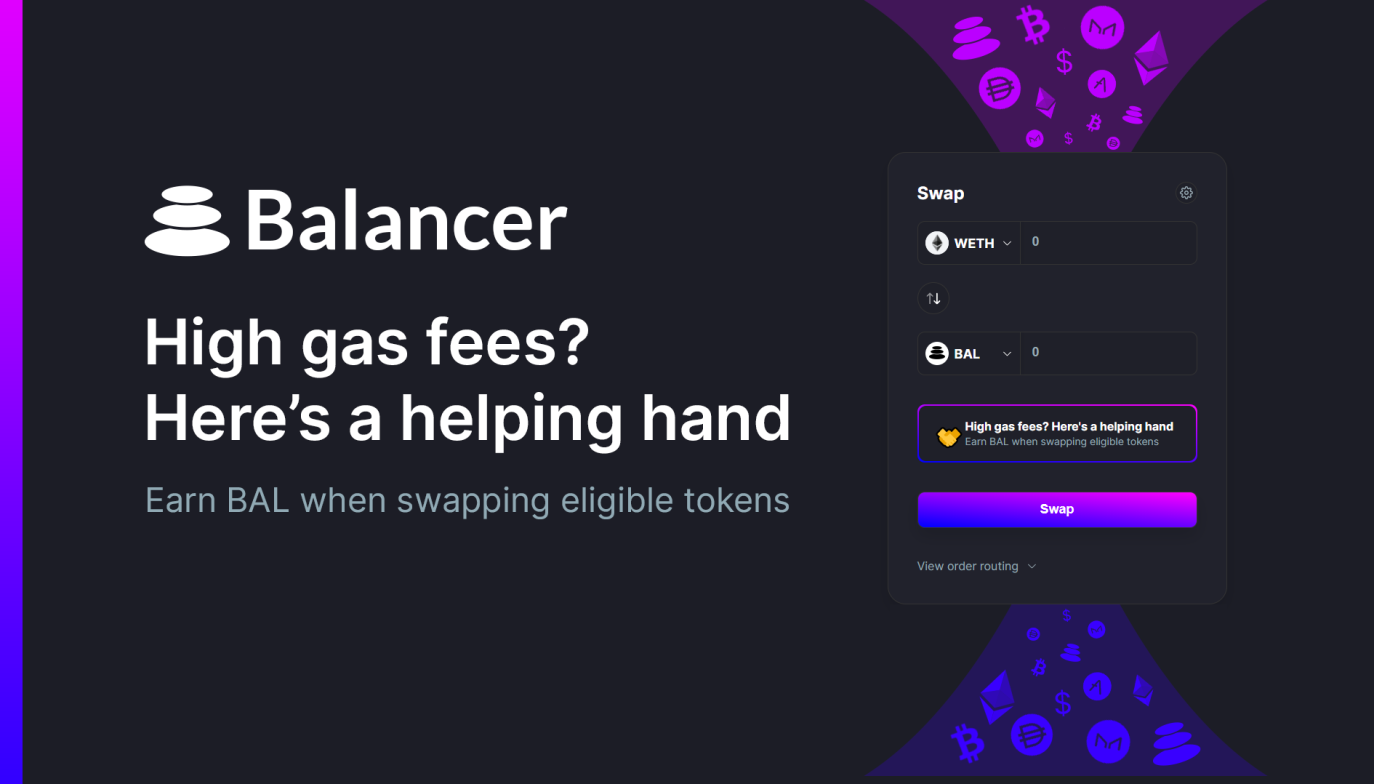 ---
Want to get featured on Bankless? Send your article to submissions@banklesshq.com
---
Not financial or tax advice. This newsletter is strictly educational and is not investment advice or a solicitation to buy or sell any assets or to make any financial decisions. This newsletter is not tax advice. Talk to your accountant. Do your own research.
---
Disclosure. From time-to-time I may add links in this newsletter to products I use. I may receive commission if you make a purchase through one of these links. Additionally, the Bankless writers hold crypto assets. See our investment disclosures here.