Article
How to maximize your Ledger
Learning how to securely store your assets and interact with DeFi using Ledger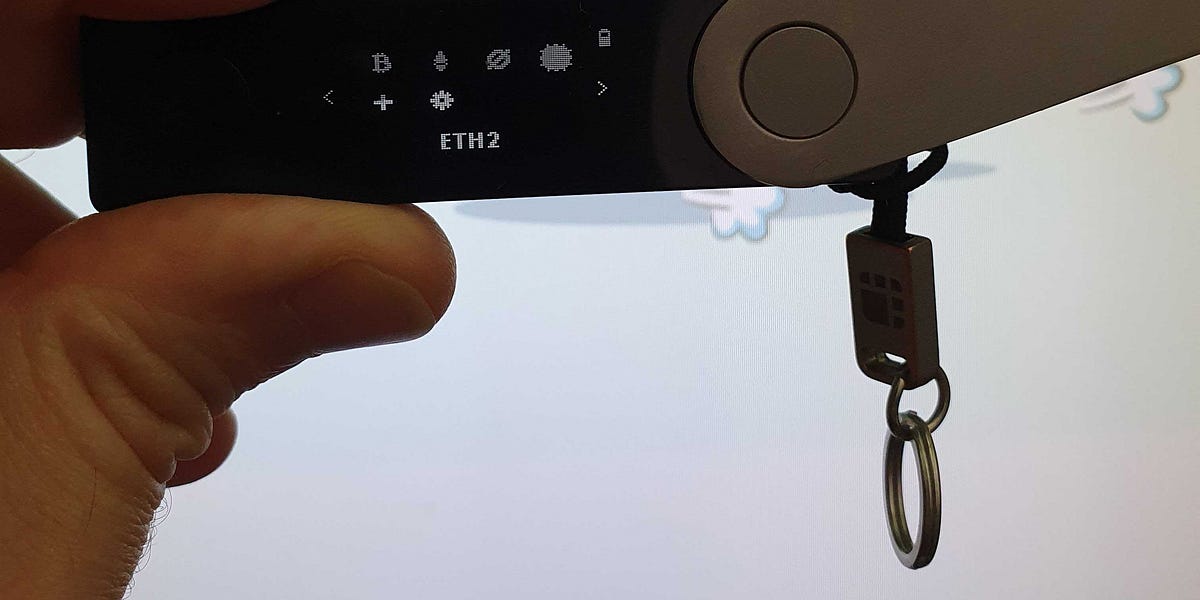 Level up your open finance game five times a week. Subscribe to the Bankless program below.
---
Dear Bankless Nation,
Safely storing your crypto is an essential skill for anyone on the bankless journey.
Trusting centralized exchanges to custody your crypto portfolio isn't smart. Hacks, outages, and services pauses can happen at any time. Exchanges are like public bathrooms—you use them, then you get out.
To take full control of your money in this new frontier you need to learn how to store your crypto assets in a way that balances security with ease of use.
That's where Ledger comes in. They have one of the industry-leading hardware wallets so you can self-custody all of your crypto assets with peace of mind. And for those avid DeFi users, Ledger can integrate with Metamask so you can access your favorite Ethereum apps and yield farms. (They're even adding DeFi to Ledger Live! 🔥)
Also…and this is awesome…Ledger just released a firmware update to their newest wallet that supports Eth2 deposits! 🔥 A great tool for stakers making their deposits.
Bottomline: there are only a few items I consider required equipment for your bankless journey and a Ledger hardware wallet is one of them.
So let's learn how to use it.
- RSA
P.S. We want to hear about your bankless journey! Some of our faves will be featured on Bankless in an epic post next week. Accepting submissions for the next 48 hrs.
---
🙏 Sponsor: Argent – DeFi in a tap (👈 go download this wallet now - RSA)
---
📺 Watch State of the Nation #23: Recruiting with Eric Conner
Community culture, staking, the war effort, and Eth2 propaganda…
Catch the live stream of State of the Nation—join us at 2pm EST every Tuesday!
---
TACTICS TUESDAY
Tactic #66: How to maximize your Ledger
Guest Writer: Jerome de Tychey, Global Head of Client Success at Ledger
Ledger hardware wallets are one of the industry leading devices to securely self-custody your crypto assets—whether it's BTC, ETH, DeFi tokens, or any of the other dozen networks the wallet supports.
This tactic will cover how you can leverage your Ledger Nano S or Ledger X to be in total control of your ETH and ERC20 tokens with the best-in-class security. And with Ledger, your assets can be put to work in a secure manner while leveraging decentralized finance directly through the hardware wallet. We'll cover that towards the end.
And there's also some fresh updates on Eth2 support for the Ledger X. 👀
Goal: Take full ownership of your crypto
Skill: Beginner
Effort: 20-30 mins
ROI:  Steering clear of exchange risks and earning high returns in DeFi
---
Going Bankless with Ledger
When your crypto assets are on a centralized exchange (like Coinbase), you're trusting the exchange to hold your assets for you. If the exchange ever experiences a hack or an outage, you may very well lose access to your holdings.
Exchange founders going missing from one day to the next, an exchange being hacked, or regulators halting operations are very common events in the crypto world.
Don't wait for it to happen to you. You need to claim full control of your crypto. So let's get those assets off a centralized exchange and into your own hands.
1. Move from an exchange to a ledger
Most crypto exchanges let you withdraw your crypto to a compatible address of your choice, if the exchange you are using doesn't let you do that, it may be a good time to take your business elsewhere.
With Ledger, your private keys (which give access to your address) are stored in a secure chip on the physical device, rather than entrusting it to a third party, or keeping them on a computer where they are vulnerable to hacks or physical failure.
If you don't have a Ledger hardware wallet yet, it's time to get one! If you've already set up your Ledger device, you are a few steps away from securing your assets that are sitting on a centralized exchange. Here's how to do it:
Step 1: Make sure you download Ledger Live. Once you've done that you can create an account for the crypto asset you want to secure.
Step 2: Select "Accounts" in Ledger Live and add an account for the crypto you wish to secure, for any assets based on Ethereum and click "continue".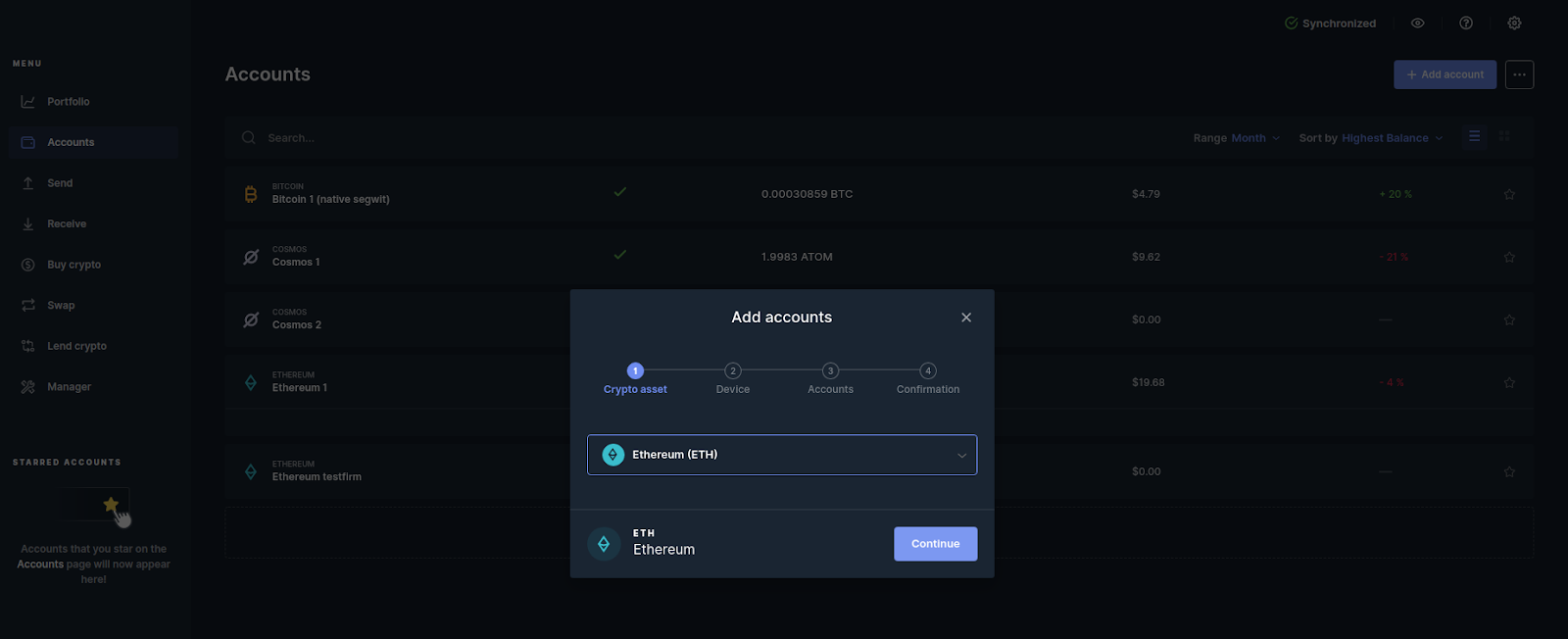 Ledger Live will connect to your device and the address will be generated.
At the confirmation step, you will be prompted to verify the address directly on the display of the device. This is the core feature of Ledger hardware wallet, all critical actions like signing a transaction or generating an address are displayed on the device for you to verify and approve: what you see is what you sign.
Step 3: Now that you have generated the address simply click "Copy Address"
Step 4: Sign into your exchange with your login details and browse your account until you find the withdrawal panel.
Step 5: Choose the crypto asset you want to use, enter the address copied earlier and the amount to send. Verify that the address is correct. Once verified, confirm the withdrawal
To illustrate this process, here's a few videos on how to withdraw Bitcoin on to your Ledger Nano from major crypto exchanges:
Once your transaction is validated on-chain, your crypto assets will appear on your Ledger Live account. Well done!
You're now an advanced crypto user and infinite possibilities are ahead. With that great power in your hands comes an important responsibility: you are your own custodian. It is your responsibility to keep your recovery phrase and your pin safe.
---
⚠️ Where should you store your recovery phrase? If you prefer offsite locations, one option is in a bank safe deposit box. These vary by country but generally have strong legal protections and security measure. Maybe banks are still useful for something!
---
2. Know the Recovery Scenarios
Mistakes happen. It's important that you're always conscious of the risk your incur when you self-custody your own assets. Here are a few scenarios that you should keep an eye out for when handling your Ledger, the PIN code, and the recovery phrase:
Someone took my recovery phrase or I gave it to someone.
Someone took my Ledger Nano but I kept my PIN secret

Funds are protected by PIN code, after three unsuccessful attempts the device wipes itself. You can recover access to your funds by inputting your recovery phrase in a new Ledger Nano.
Someone took my Ledger Nano and knows my PIN code
I lost my recovery phrase

You need to migrate your funds to new wallet with a new recovery phrase in case someone finds it
I lost access to my Ledger Nano (forgot my PIN or lost the device).

You can recover access to your funds by inputting your recovery phrase in a new Ledger Nano.
I lost my recovery phrase & my Ledger Nano
The bottom line for keeping your crypto safe? Never, ever, under no circumstances, give to anyone your recovery phrase (your 24 words backup).
It may seem scary at first but this is how most of the crypto users secure their assets. The ethos of crypto is grounded in self-sovereignty, so it's important that you, and only you, retain custody of your own assets—not anyone else or another bank.
Ledger will never ask you for this and if anyone claims he or she can help while requesting your recovery phrase, run away because it's a scam.
---
⚠️ Beware messages claiming to be from Ledger! There are ongoing phishing attempts to try to get info from possible Ledger owners. These could come in via social media, email, or text. DON'T GIVE ANYONE YOUR RECOVERY PHRASE EVER.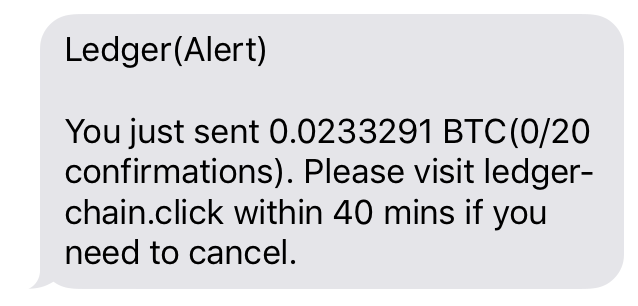 ---
3. Learn to Use Ledger with Metamask for DeFi
Some Ethereum applications support Ledger Nano natively, but virtually all of them let you connect with Metamask—the most popular web browser wallet. The good thing about Ledger is that it can communicate with Metamask so you can manage your transactions and interact with the hundreds of Ethereum and DeFi application in a secure manner.
Prerequisites
Make sure your Ledger Nano firmware and your Ethereum apps are up-to-date, close your Ledger Live software, and connect your Ledger Nano via USB (not bluetooth).
If you want to interact with smart contract, browse your Ledger Nano Ethereum app and enable "contract data".
How to connect your Ledger Nano to Metamask
Step 1: Unlock MetaMask in your web browser.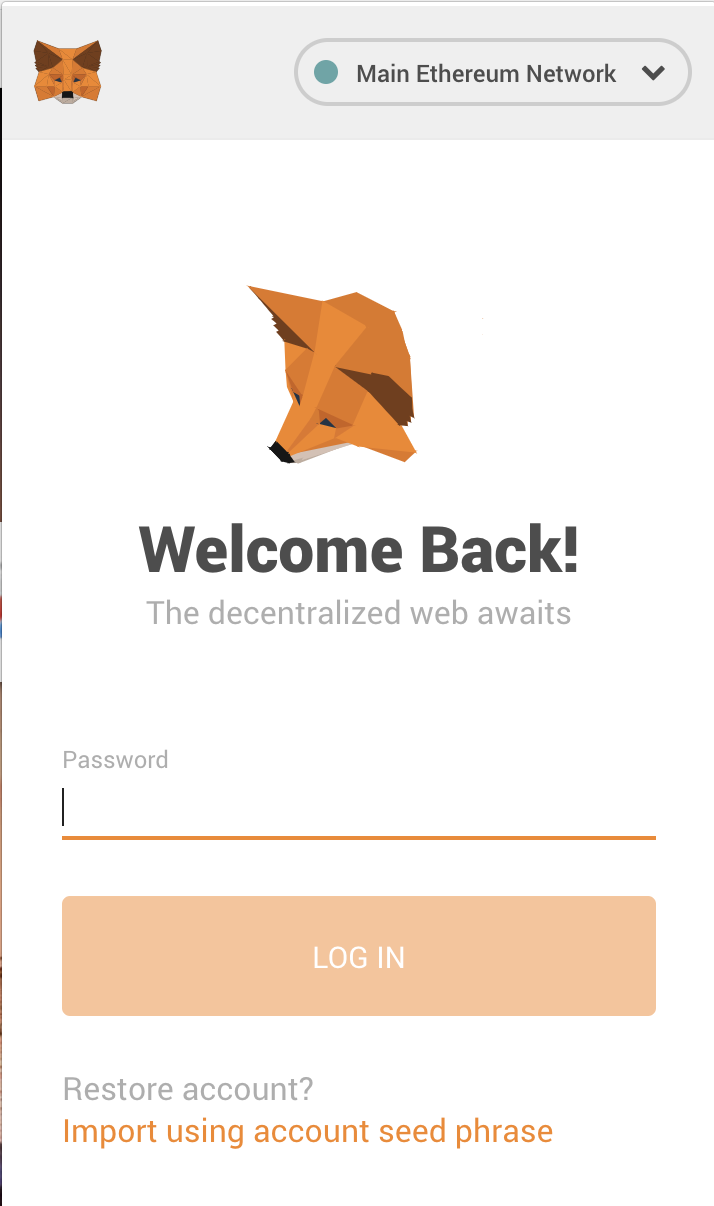 Step 2: Select the profile icon on the top-right corner and click on "Connect Hardware Wallet".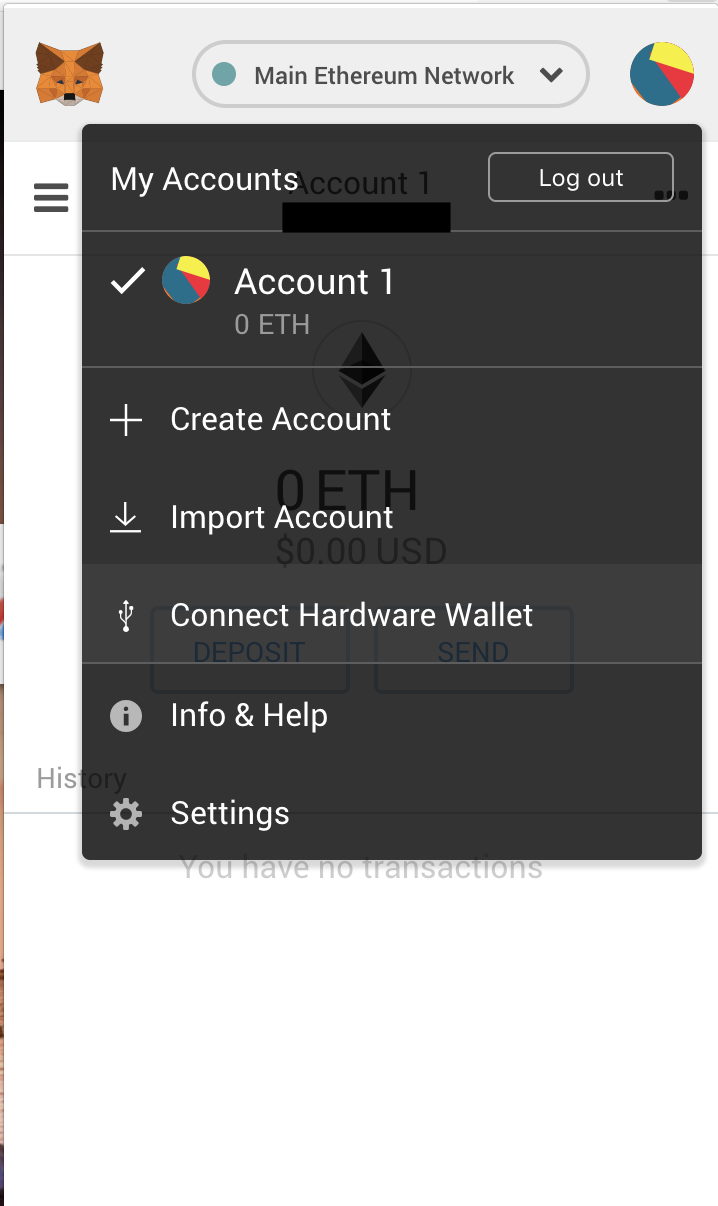 Step 3: Choose Ledger and click "connect".
Step 4: Select the account in your Ledger Nano you want to interact with
Once you've connected, you're all set!
Your Ledger Nano is now communicating with Metamask and your account is 100% secured in your Ledger Nano. Go ahead and enjoy the ease of Metamask connectivity. For those still wondering how to use it in DeFi, let's do a quick example on how to swap tokens with Uniswap using your Ledger-connected Metamask.
Trading Tokens with Uniswap
Rendez-vous over to Uniswap and click "connect wallet" in the top right corner: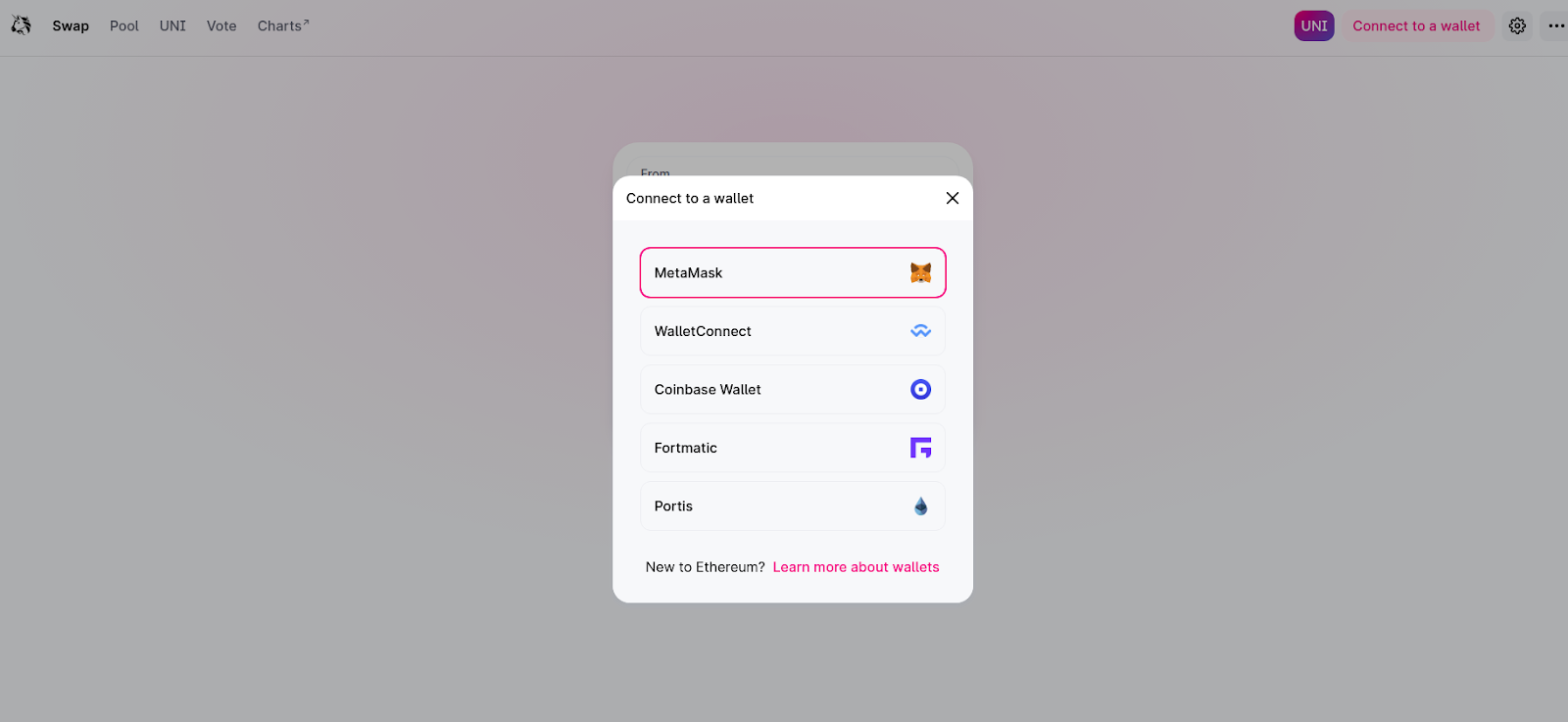 Select Metamask and that will trigger a popup that lets you pick which address you want to use. Select your Ledger address and that's it, you're good to go!
It's important to remember that your Ledger Nano must be connected to your computer via USB, otherwise it won't work!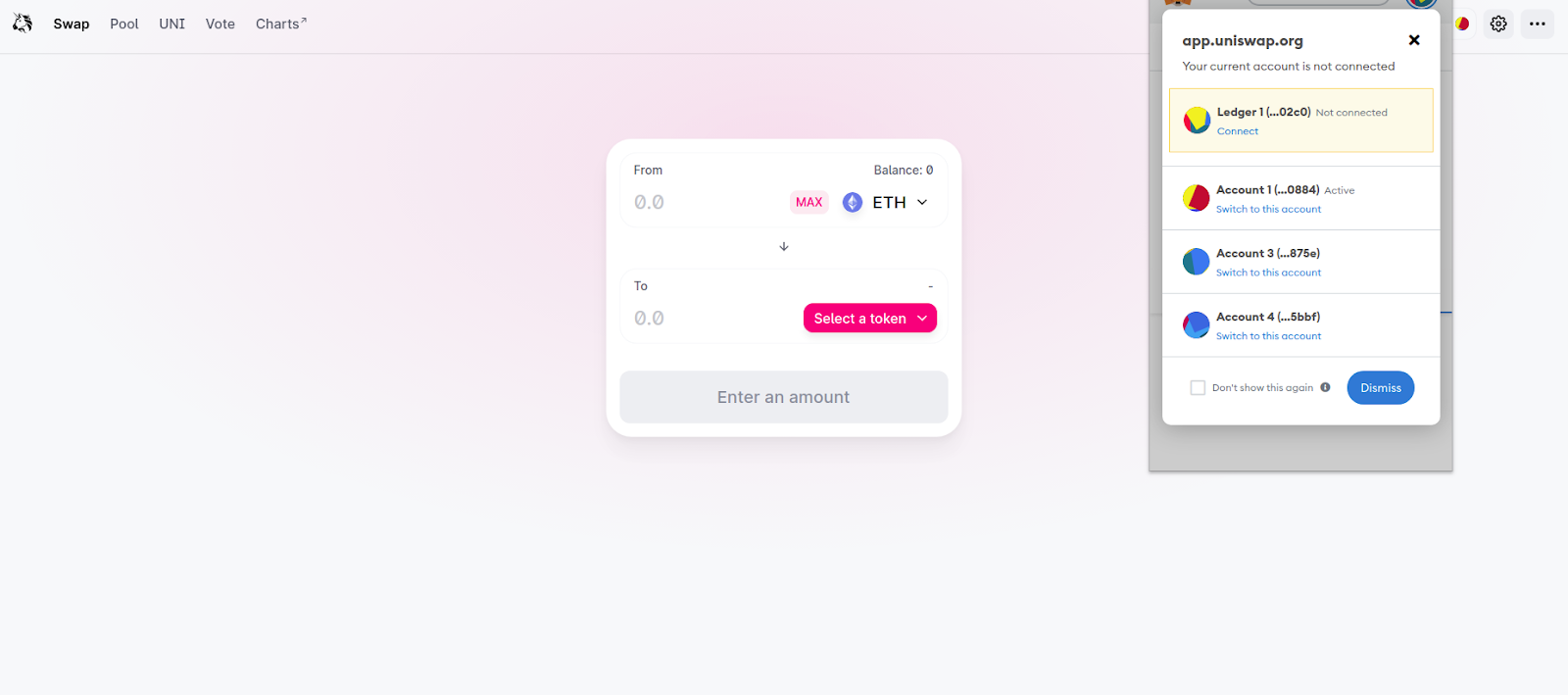 ---
🧠 Looking for more? Check out Ledger Academy for more tutorials on how to maximize your Ledger.
---
BONUS: What's hot with Ledger right now?
The latest version of Ledger Live implemented a lending feature leveraging Compound. You can deposit popular crypto dollars like USDT, USDC or DAI and get interest payments in return directly from the interface of Ledger Live.
By lending stablecoins, you are able to grow your assets without the variation risk that you usually have with crypto. Ledger Live is continuously integrating new features to become the one-stop-shop for everything crypto to bring users the convenience of being able to securely use all money verbs like buy, swap, lend, and stake!
Eth2 Support
Speaking of staking, the latest firmware version of Ledger Nano X includes a brand new app: ETH2.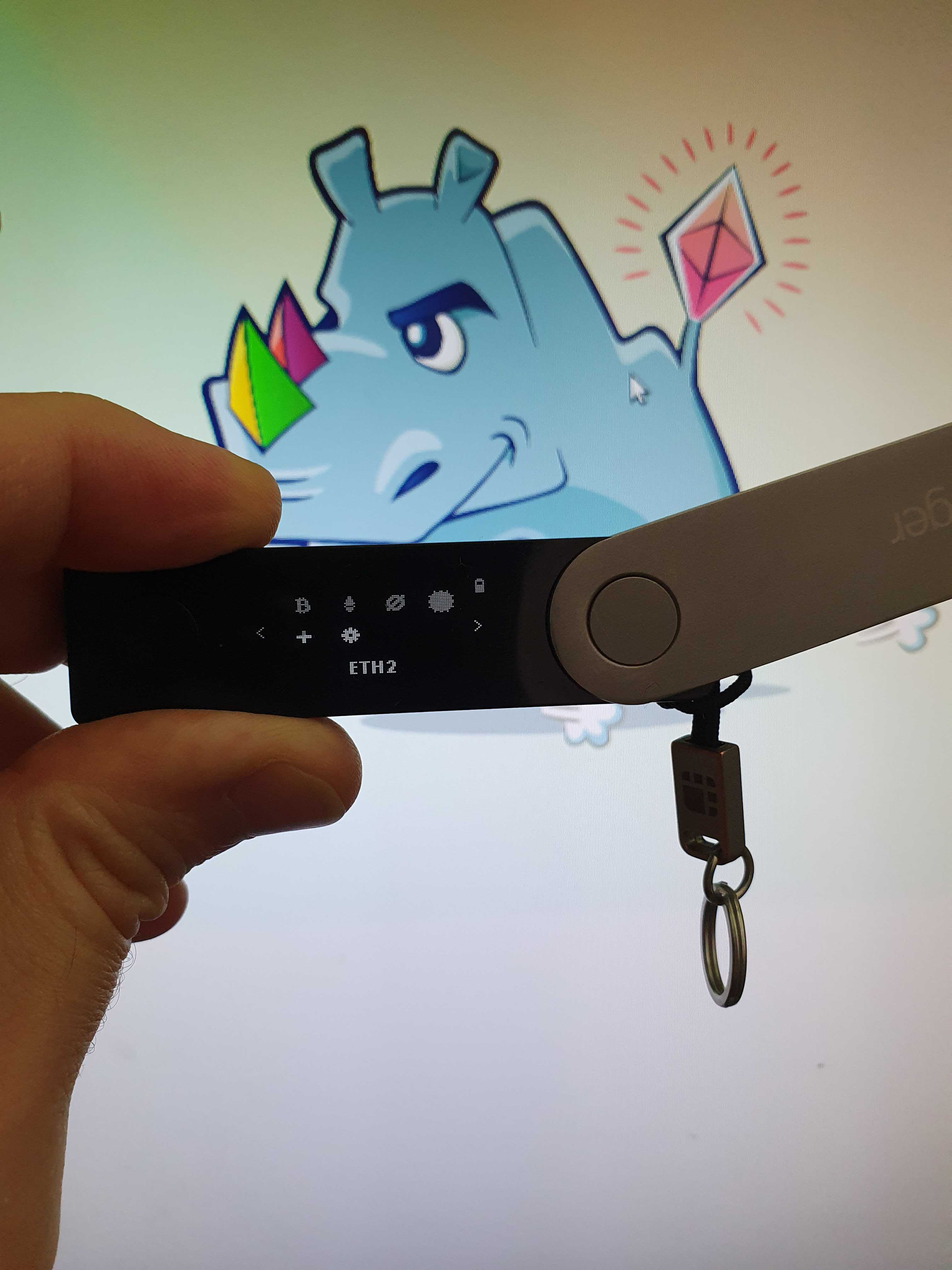 The Ledger Nano X now supports the cryptographic curve used in Ethereum 2.0 in full compatibility with the standard set by EIP-2333. As a validator on the Beacon Chain, you can use your Ledger Nano X to safely generate your withdrawal or validating keys and to sign arbitrary messages such as an attestation on a new proof of stake block or your credentials for your 32 ETH deposit.
Even better, the deposit contract is properly parsed on the Nano X display so you can double check the information you are about to deposit with. The flow may not be very user friendly just yet but with some tinkering advance holders can already use it.
Better tooling coming next!
---
Action steps:
Secure your crypto with a Ledger Nano or a Ledger X (👈 this now supports Eth2!)
Try using Ledger to securely swap tokens on Uniswap
Test out the new Ledger Live features like Compound and Eth2
---
Author Bio
Jerome de Tychey is the Global Head of Client Success at Ledger, taking care of both the B2C (Ledger Nano S & X) and B2B (Ledger Vault) activities. He's also the president of Ethereum-France which runs the eponymous website and hosts the EthCC. He teaches economics as an associate professor at CNAM.
---
Go Bankless. $12 / mo. Includes archive access, Inner Circle & Deals—(pay w/ crypto)
---
🙏Thanks to our sponsor
You were promised the future of money. Instead you got '90s banking UX and a paper password. Enough is enough. Argent protects your assets and gives you peace of mind. Earn interest and invest in a tap. No seed phrase. No problem. This is one of the best DeFi mobile wallets in the game today. Start exploring DeFi on the go with Argent. 🔥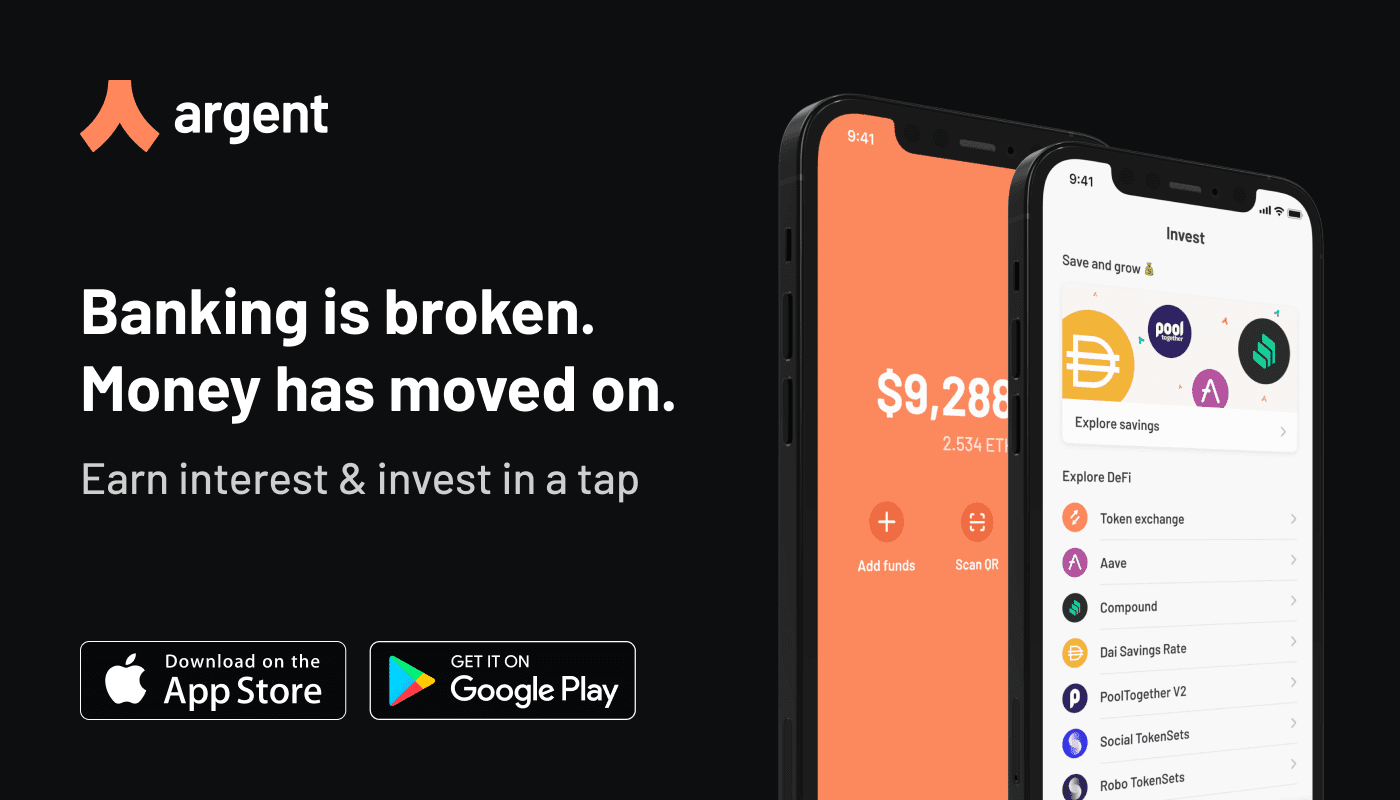 👆Guys…this is my #1 recommended DeFi wallet. Stop reading this and go download it. - RSA
---
Not financial or tax advice. This newsletter is strictly educational and is not investment advice or a solicitation to buy or sell any assets or to make any financial decisions. This newsletter is not tax advice. Talk to your accountant. Do your own research.
---
Disclosure. From time-to-time I may add links in this newsletter to products I use. I may receive commission if you make a purchase through one of these links. I'll always disclose when this is the case.