Article
How to Earn Passive Yield on Your NFTs
A very easy way to diversify your revenue streams: Inventory Staking with NFTX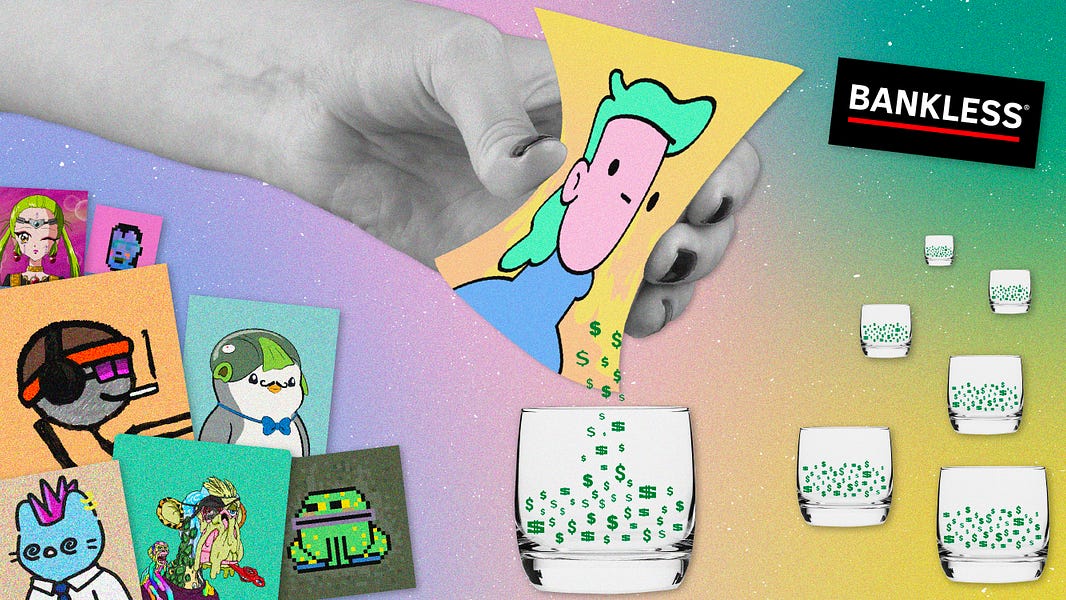 ---
Notional Finance delivers verifiable DeFi yield at fixed rates for 1 year. Lend & Borrow today!
---
Dear Bankless Nation,
Okay…so we're done dooming and glooming about the bear market, right?
Now it's time to get ahead again and diversify revenue streams.
Many of you probably have a bunch of jpegs sitting idle in your wallet.
You might be wondering: What am I supposed to do with these things? Can my NFTs start earning money for me?
Yes, you can — up to 60% APY!
Let Bankless tactician and NFT mensch William Peaster show you the way:
Here's how you can earn passive yield with your NFTs using NFTX.
— Bankless
---
Imagine this, anon: In Post-Merge Ethereum, ETH pays you!
Matt Cutler is Co-Founder Blocknative and a gigabrain when it comes to Ethereum's hidden power structures and how blockchains actually work. By the end this episode, you'll have a better understanding of the purpose of blockbuilders, the new post-merge roles, all things MEV, and so much more.
---
🙏 Sponsor: Polygon Studios—Fostering culture across Gaming, NFTs, and the Metaverse✨
---
Earn Passive Yield on Your NFTs with NFTX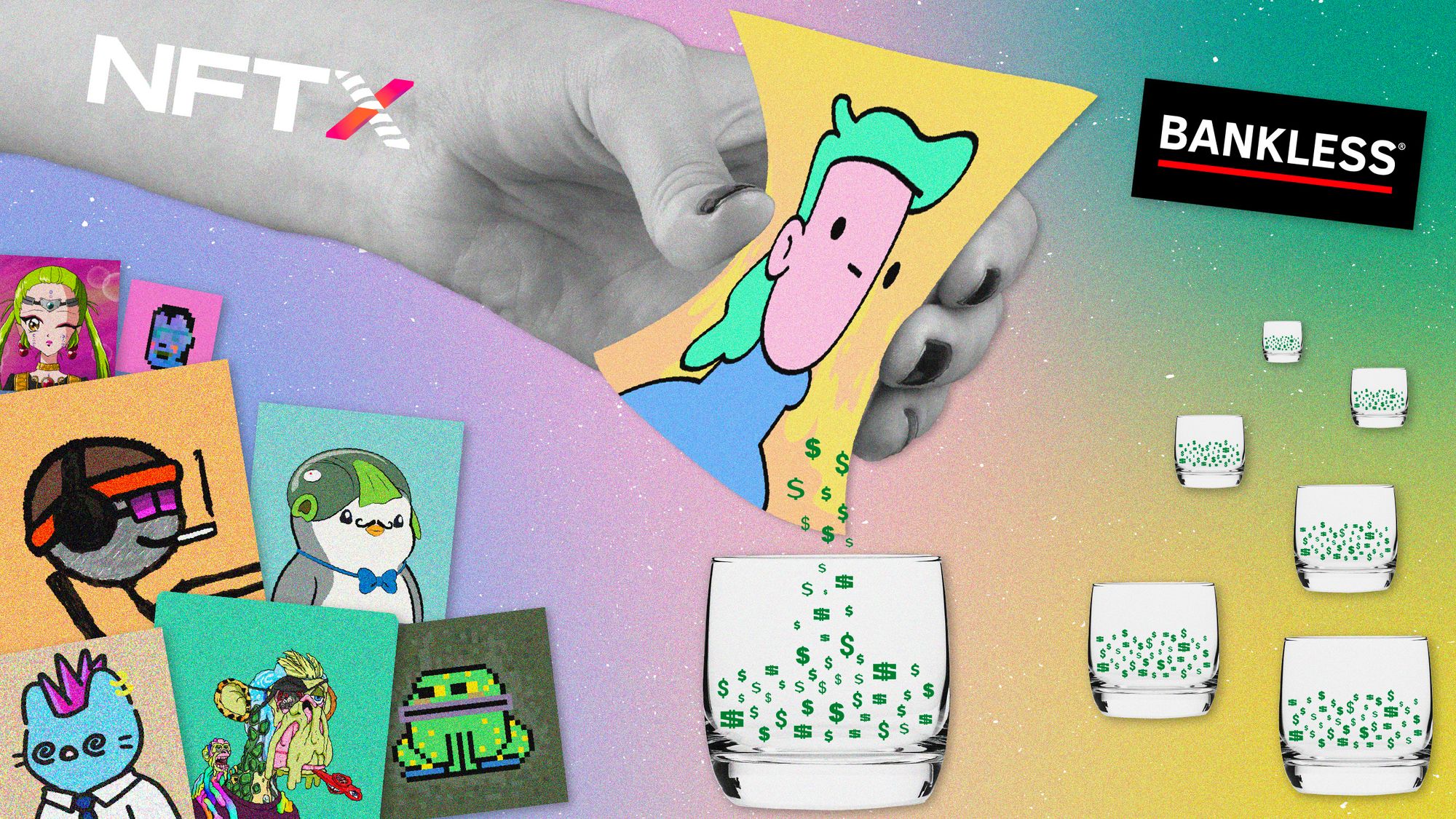 TACTIC TUESDAY // Bankless Writer: William M. Peaster
NFTX is a decentralized NFT marketplace. Recently, it released an inventory staking feature that offers users a way to earn yield on their NFTs.
This Bankless tactic will demonstrate how you can earn passive income on your floor NFTs via this one-of-a-kind NFT staking functionality.
Goal: Learn how to earn from NFT inventory staking
Skill: Beginner
Effort: 20 minutes
ROI: Up to 60% APR at current rates
---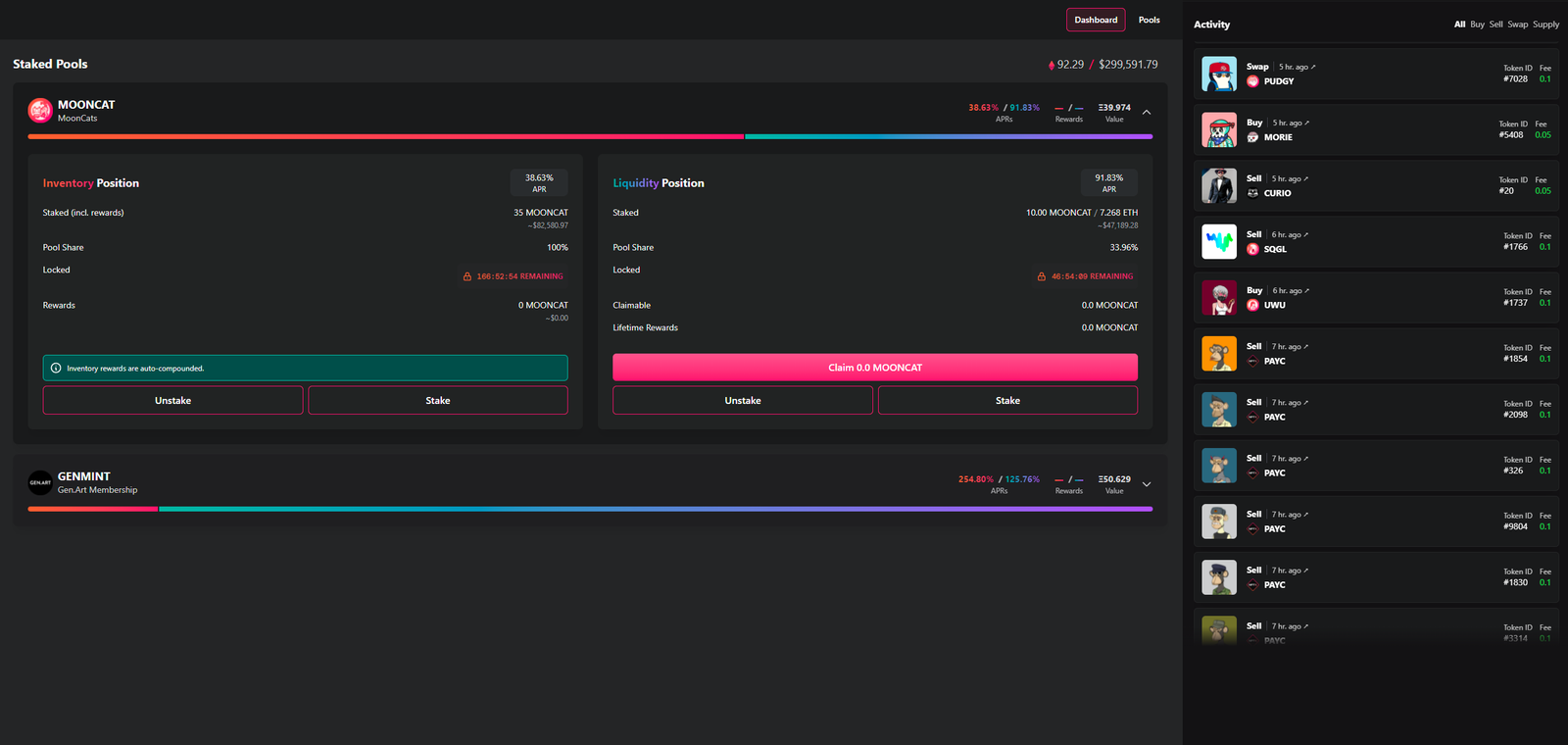 NFTX is the "most liquid decentralized NFT marketplace."
In other words: NFTX has many NFTs in its trading pools, and the project can be used permissionlessly to instantly buy, sell, or swap the crypto economy's most popular NFTs.
During NFTX's early days, the dapp's NFT pools relied strictly on the liquidity provision (LPing) model, meaning users who wanted to earn passive income on their NFTS had to supply NFT and ETH liquidity to earn from NFTX vault fees.
This liquidity approach entails LPs minting ERC20 tokens that are 1:1 representations of the NFTs that they add to NFTX vaults.
This liquidity style makes users deposit equal amounts of NFT-based ERC20s and ETH to the Sushi decentralized exchange in order to receive and stake LP tokens, and then earn yields from vault fees.
Here's the process laid out: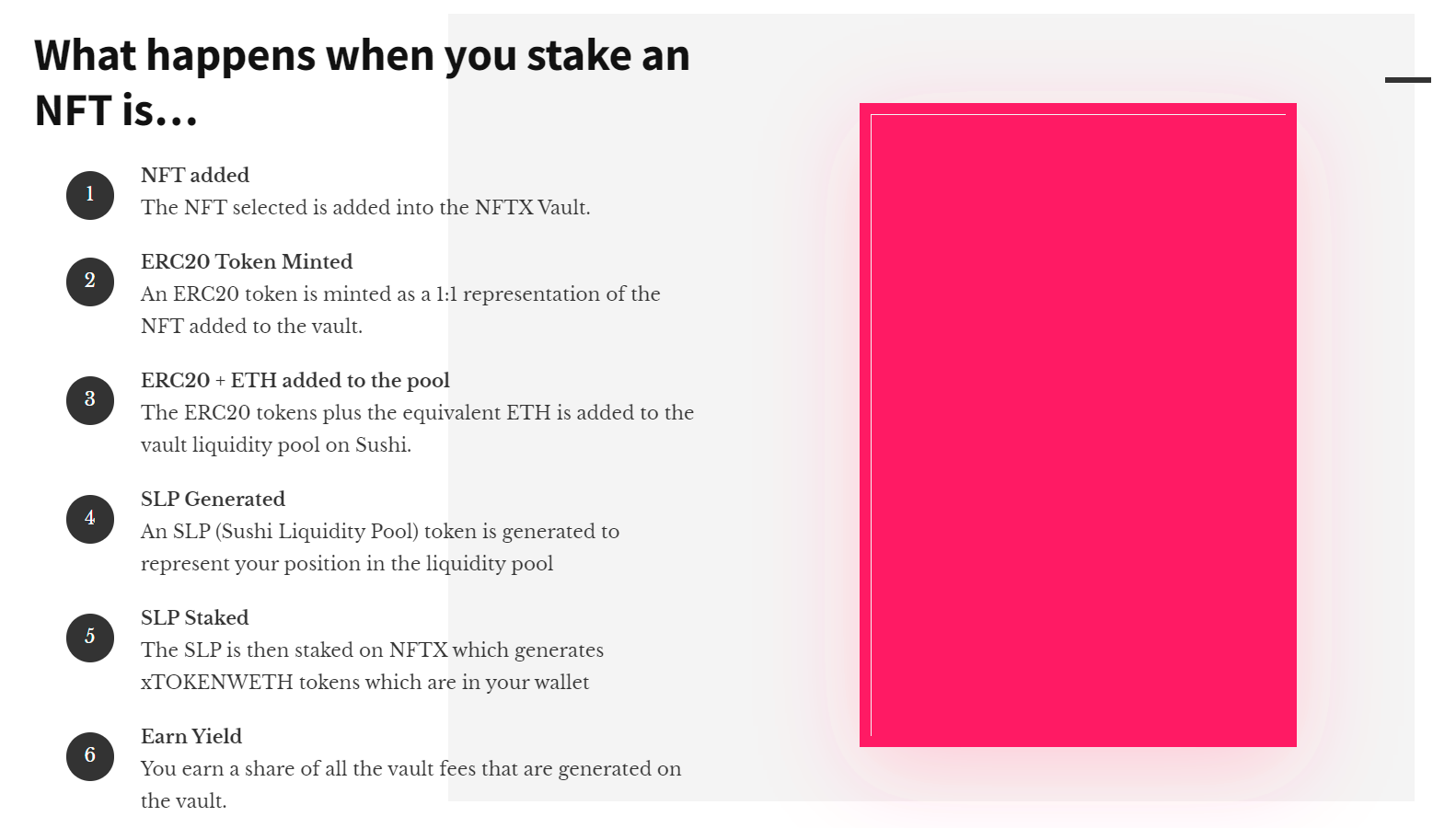 However, a big downside to this DeFi-centric approach is the specter of impermanent loss (IL), which requires active management. IL is what happens when you join a DeFi liquidity pool, and ensuing trading activity loses you value compared to if you had just held the base assets and never deposited them in the first place.
For example, in the context of NFTX we've seen IL become a problem whenever the floor price of an NFT collection surged in ETH.
In January 2022, the NFTX team responded by rolling out an additional liquidity approach that isn't beholden to IL: inventory staking.
A side-by-side of inventory staking and liquidity staking on NFTX: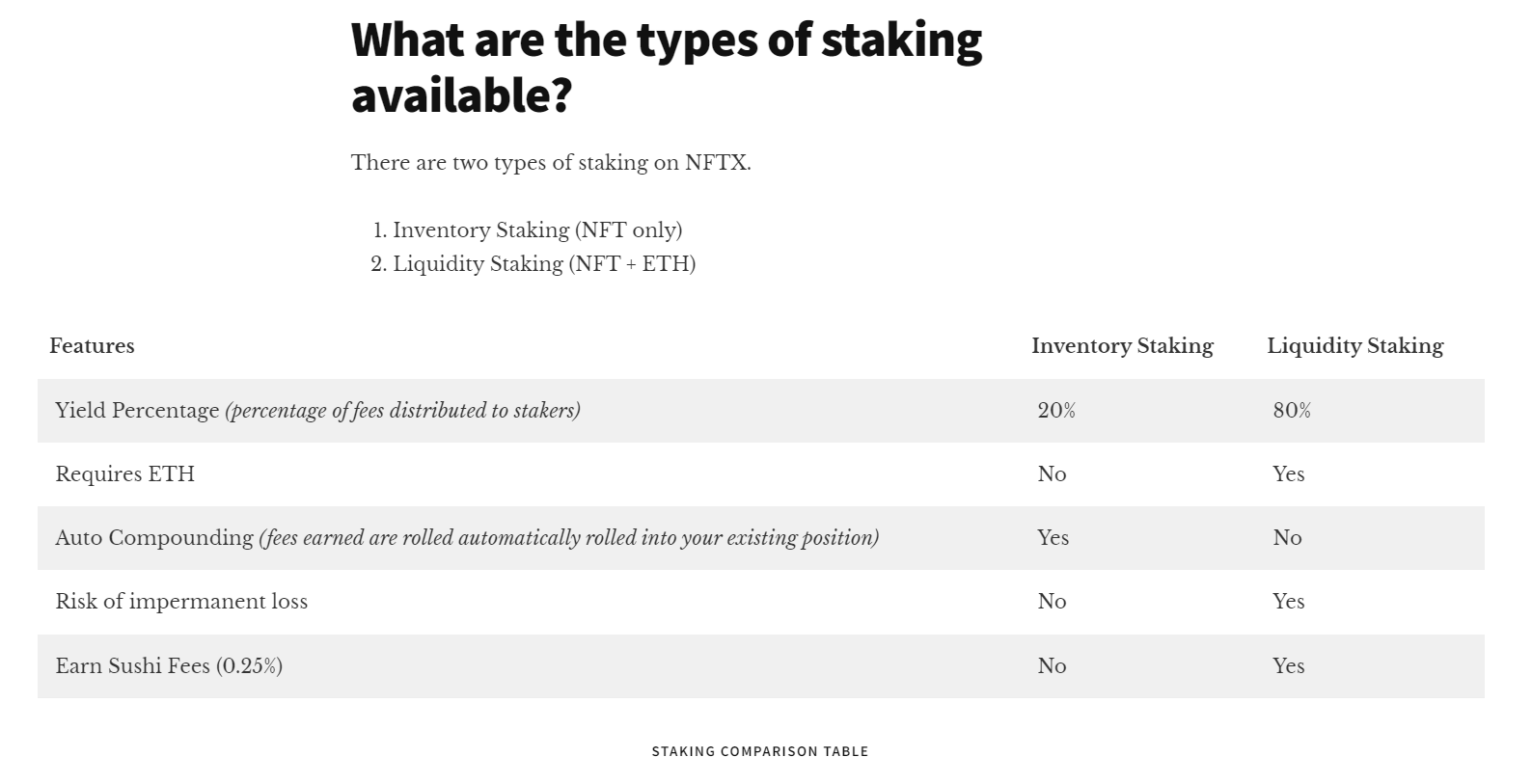 ---
Inventory staking 101
What if you have NFTs with which you want to earn passive income, but you don't want to get chopped up on IL, or you don't have the funds needed to deposit NFTs on Sushi with a 1:1 ETH chaser?
You're in luck! Earlier this year, NFTX launched its novel inventory staking feature, which allows users to simply deposit NFTs straight into NFTX vaults rather than the traditional LPing method of supplying NFT + ETH liquidity.
Accordingly, now you can supply and earn passive auto-compounding yields on your floor-value NFTs by inventory staking in NFTX without facing IL — and without having to worry about needing ETH liquidity.
---
How to earn on your NFTs with inventory staking

In the NFTX ecosystem, LPs earn 80% of all NFTX vault trading fees, while inventory stakers earn 20%.
If you have floor-value NFTs from popular collections sitting around in your wallet and want to earn passive income from NFTX inventory staking, you can take the following steps:
Go to nftx.io/rewards/pools
Connect your wallet, and then press the "Available Pools" button to browse the NFTs you can deposit
Click on your desired collection and then choose which NFTs you want to stake from your stakeable assets — only choose NFTs you're okay parting with, because someone may purchase what you stake, meaning you'd have to redeem a different NFT if you wanted to withdraw)

Press the "Approve" button and submit an approval transaction to let NFTX interact with your account
Then press the "Stake" button to supply your chosen NFT(s) to the collection's NFTX vault and complete the transaction with your wallet — after the transaction is done, your NFT will be converted into an easily tradable ERC20 token in a NFTX pool (Note: your staked inventory position will be locked for its the first seven days)
Once the lock-up period is done and you're ready to collect your yields, head to the nftx.io/rewards/dashboard and press the "Unstake" button on your position of choice — your withdraw will include your rewards
Here, keep in mind that every NFTX vault has redemption fees, so when you unstake your NFT(s) you'll end up with slightly less via the ERC20 NFT representations than you deposited. If you're just short of a whole token and want to redeem an NFT, buy the remaining amount you need via the associated NFTX Sushi pool and then redeem back on NFTX.
---
Conclusion
If you're like me, you have more than a few floor-value NFTs sitting around in your wallet gathering digital dust. If you're interested in actually putting some of your NFTs to productive use in earning passive income, consider checking out inventory staking on NFTX and see if you have any holdings from supported collections.
Inventory staking with NFTX is a new way to earn NFT-based yields without having to worry about IL — which is awesome! And it's really quite simple to do.
---
Action steps
---
Author Bio
William M. Peaster is a professional writer and creator of Metaversal—a new Bankless newsletter focused on the emergence of NFTs in the cryptoeconomy. He's also recently been contributing content to Bankless, JPG, and beyond!
---
Subscribe to Bankless. $22 per mo. Includes archive access, Inner Circle & Badge.
---
🙏Thanks to our sponsor
Polygon Studios is on a mission to help build digital culture, play-to-earn gaming, NFTs, and the Metaverse ecosystem on Polygon. Some of the key projects supported by Polygon Studios include The Sandbox, Skyweaver, Big Time, Crypto Unicorns, and Decentraland—among others. Polygon Studios also helps fundraising & onboarding. Check it out here.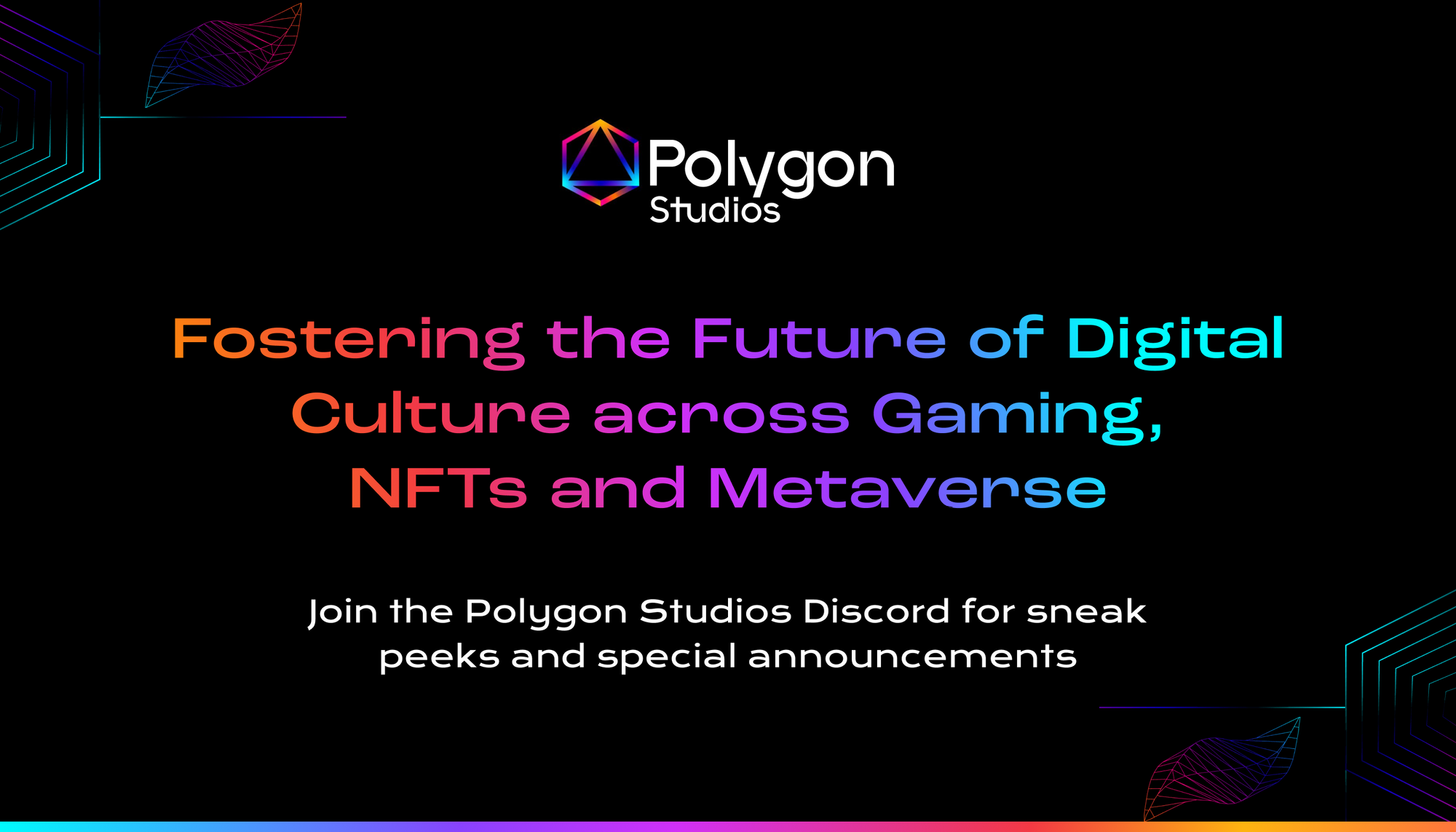 Stay updated on the latest amazing gaming, NFT, and metaverse projects:
👉 Join the Polygon Studios Discord
👉 Follow Polygon Studios on Twitter
---
Want to get featured on Bankless? Send your article to submissions@banklesshq.com
---
Not financial or tax advice. This newsletter is strictly educational and is not investment advice or a solicitation to buy or sell any assets or to make any financial decisions. This newsletter is not tax advice. Talk to your accountant. Do your own research.
---
Disclosure. From time-to-time I may add links in this newsletter to products I use. I may receive commission if you make a purchase through one of these links. Additionally, the Bankless writers hold crypto assets. See our investment disclosures here.