🚨 Alpha Alert: Claim your ENS airdrop
The Ethereum Name Service went live yesterday with its native governance token. Time to claim your airdrop!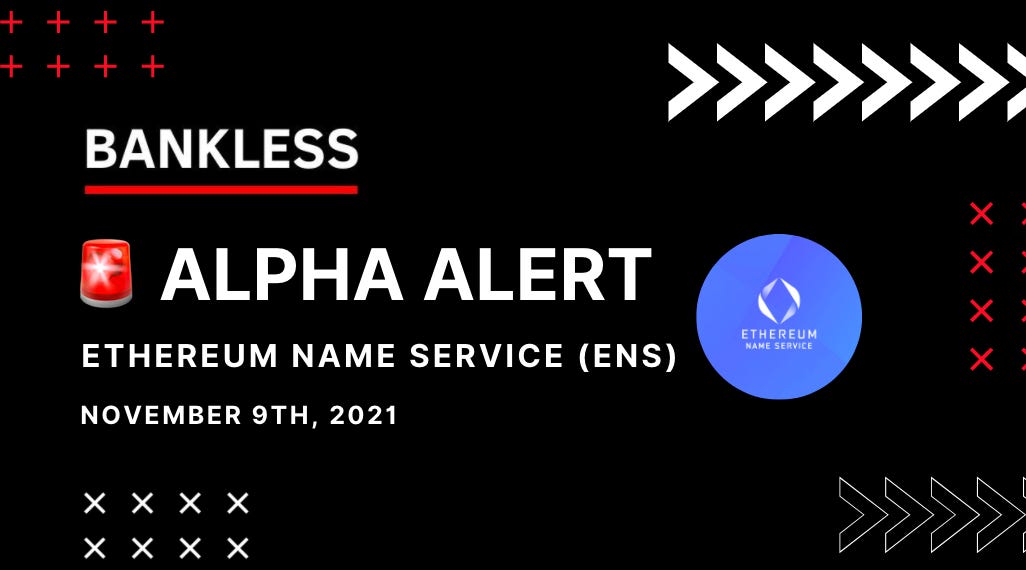 ---
Dear Bankless Nation,
The Ethereum Name Service (ENS) announced its intentions to further decentralize with the $ENS token last week. Yesterday, they finally released it to the public.
Anyone that held an ENS domain by November 1st is eligible for this airdrop.
Congratulations to all those on the web3 frontier—you've been rewarded again.
Here's what you need to know about the ENS airdrop. 🚀

- RSA
P.S. Did you miss this one? ENS was #16 on our Ultimate Guide to Airdrops we published a couple weeks ago! I'd check the other 24 so you don't miss another.
---
ALPHA ALERT: Claim your $ENS airdrop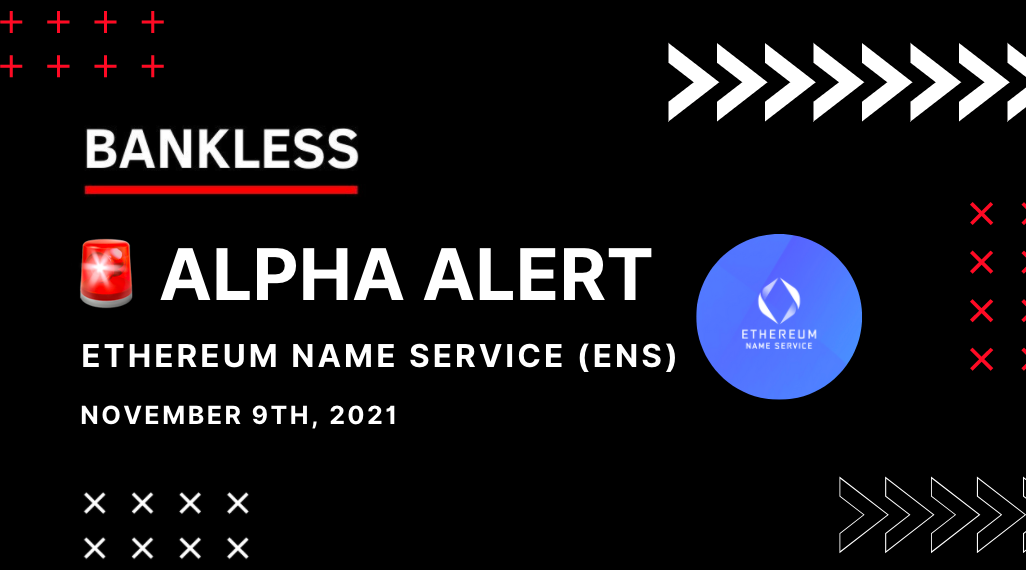 Claim your $ENS Token Airdrop
Alpha: Claim your ENS airdrop
Asset: ENS
Eligibility: Held an ENS domain name
Distribution: 25% of the total supply
ROI: Depends!
ENS is taking a major step forward in its decentralization. Ethereum's most popular domain service is launching a native governance token, ENS, to everyone that has ever held one of its domain names.
What's unique about ENS is that they have no investors. A quarter of the allocation is distributed to the contributors that built that protocol with another quarter to the users. The remaining 50% is vested into a community treasury.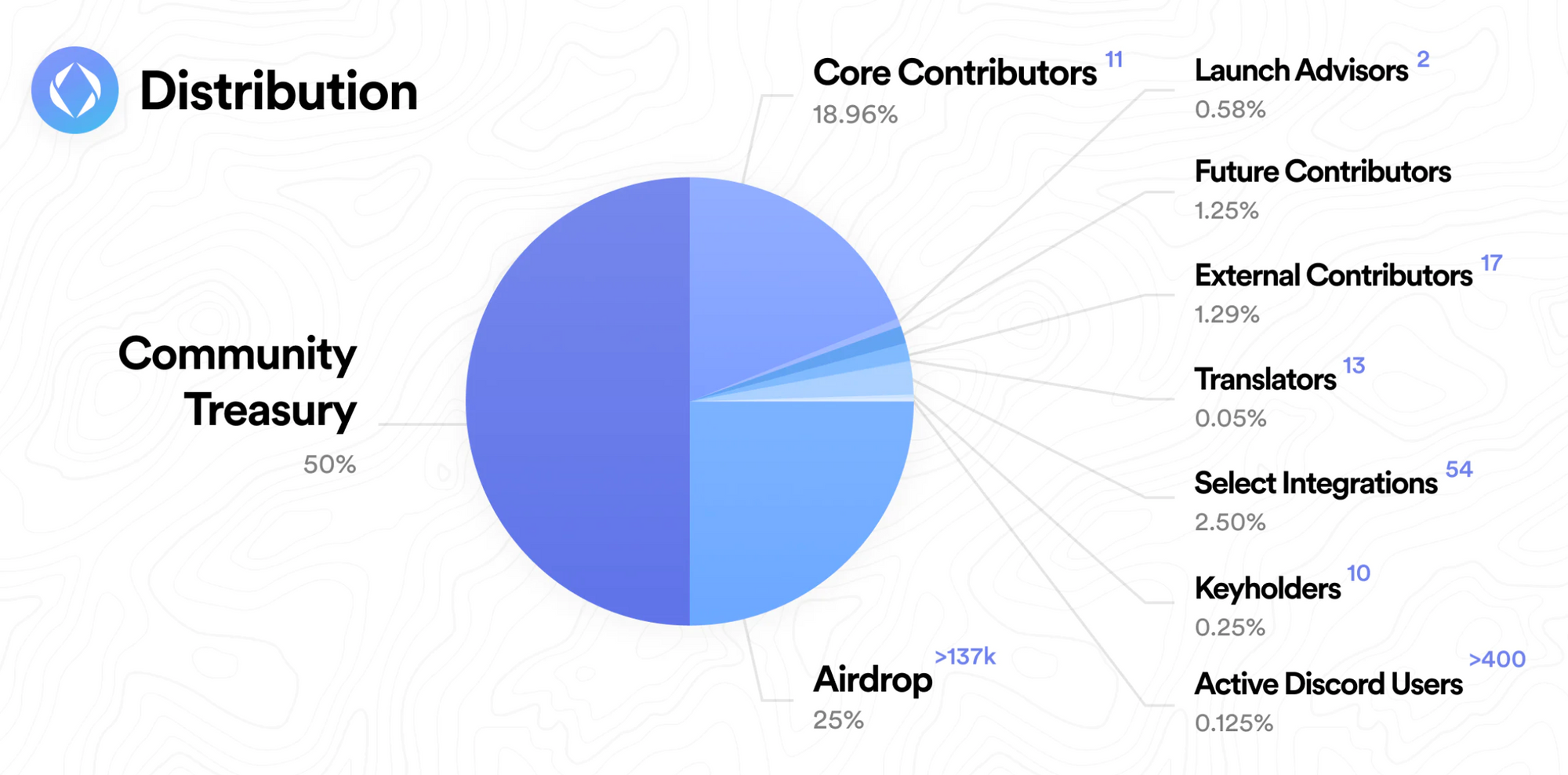 Importantly, with the ENS airdrop, users will be required to sign The Constitution. This constitution clearly outlines the ENS social contract on how certain aspects of the protocol should be governed, requiring each user to accept or deny a handful of amendments.
Equally as interesting, all revenue generated by domain registrations will be directed to the ENS community treasury in addition to an existing $40M treasury of ETH and USDC from past fees. These funds will be used to help grow the domain service into a universal standard for the crypto ecosystem.
All of this culminates into one of the most interesting launches we've seen to date.
Here's how to get involved.
---
How to get this Alpha:
😰 If gas fees are an issue, don't worry! There's no rush to claim tokens. You have until May 4th, 2022 to claim your ENS.
Below is a step-by-step guide on how to claim your ENS tokens. The ENS team also released a detailed video walkthrough with all the steps and nuances.
You can watch that here. Otherwise, here's a quick written walkthrough:
---
Considerations
What if you missed this alpha? Keep leveling up on the Bankless program. Start using projects that might have future airdrops. Spend time each week learning something new. Connect with the community. You're still early…this is a marathon not a sprint!
---
🙏Thanks to our sponsor
Aave is a decentralised, open source and non-custodial liquidity protocol enabling users to earn interest on deposits and borrow assets. Aave Protocol is unique in that it tokenizes deposits as aTokens, which accrue interest in real time. It also pioneered Flash Loans and Credit Delegation as innovative DeFi building blocks. The Aave Protocol V2 makes the DeFi experience more seamless with features that allow you to swap your assets for the best yields on the market, and more. Check it out here.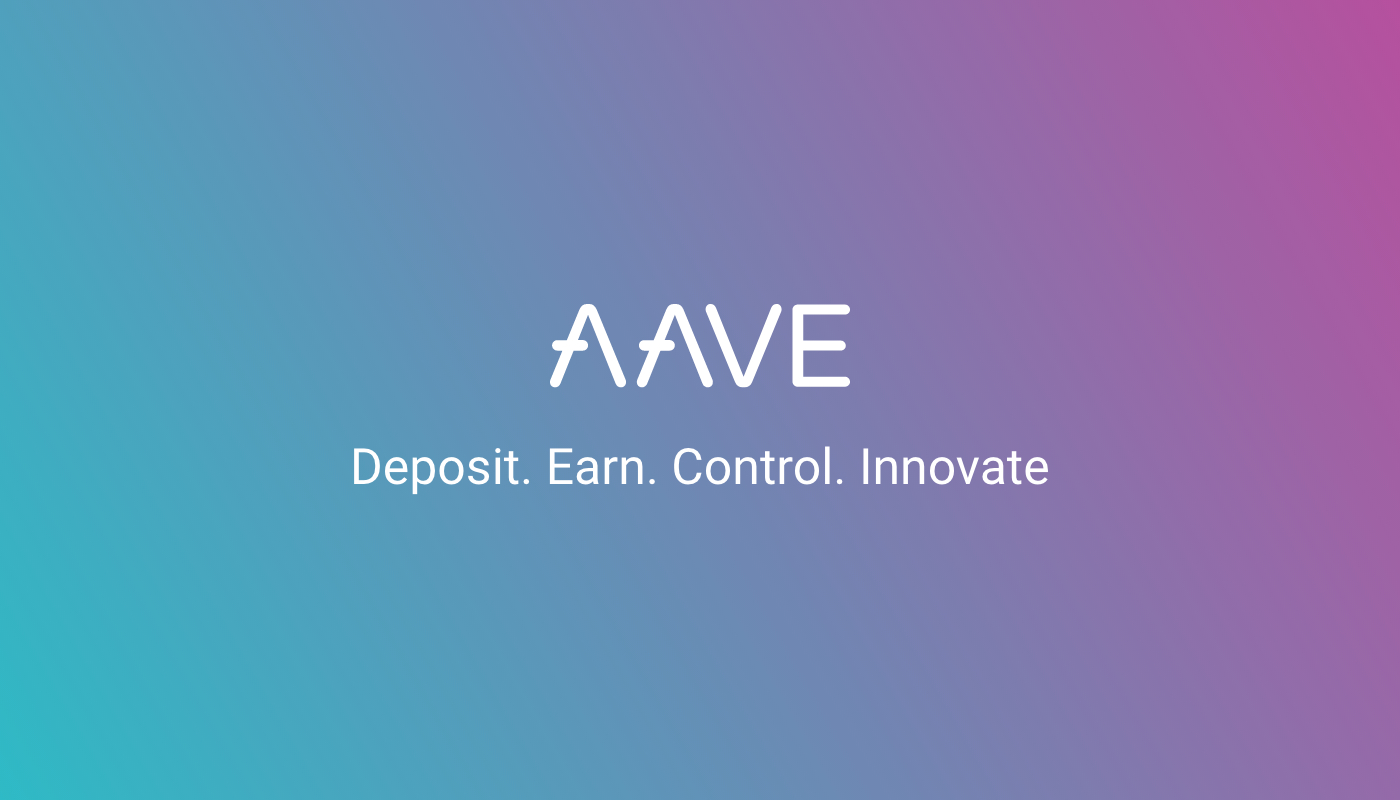 ---
Want to get featured on Bankless? Send your article to submissions@banklesshq.com
---
Not financial or tax advice. This newsletter is strictly educational and is not investment advice or a solicitation to buy or sell any assets or to make any financial decisions. This newsletter is not tax advice. Talk to your accountant. Do your own research.
---
Disclosure. From time-to-time I may add links in this newsletter to products I use. I may receive commission if you make a purchase through one of these links. Additionally, the Bankless writers hold crypto assets. See our investment disclosures here.