Article
How to trade derivatives using Kwenta
Using the new Synthetix-powered exchange to trade derivatives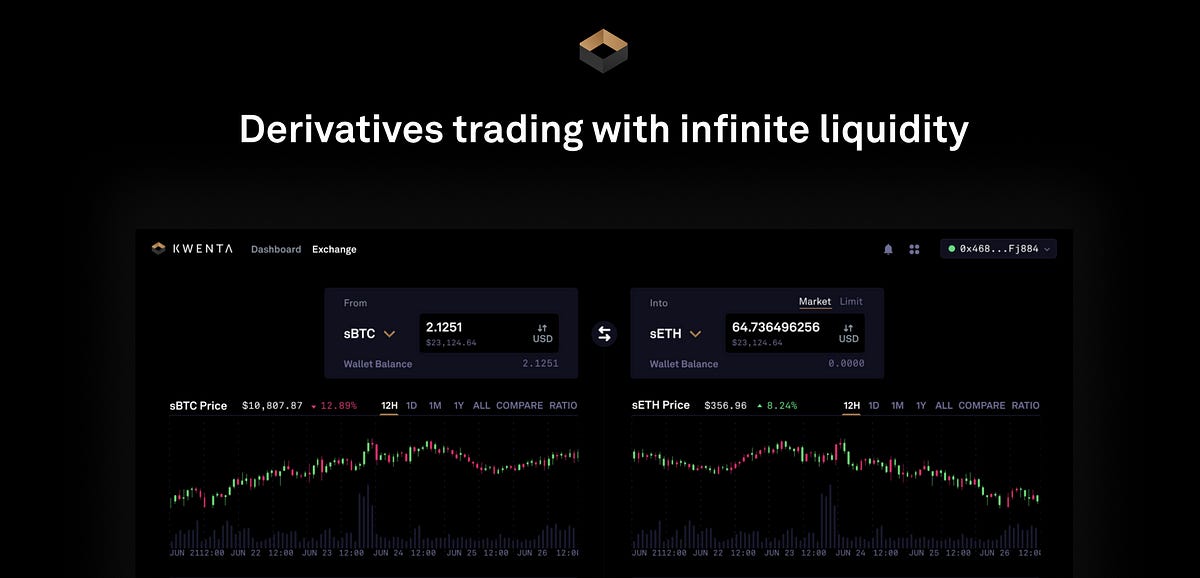 Level up your crypto finance game five times a week. Get on the Bankless Program.
---
Dear Bankless Nation,
Synthetix is targeting the largest financial market in the world: derivatives.
A derivative on DeFi allows us to tokenize price exposure to just about anything—gold, the S&P500, and Tesla stock. The derivatives market is over $640 trillion…it dwarfs all other assets in size.
But Synthetix's original exchange was a bit clunky and unintuitive. Crypto nerds might figure it out, but not the rest of us. Not ready for mainstream.
So Synthetix recently released a mainstream-ready exchange called Kwenta.
Get your trading hats on. Here's how to use it.
- RSA
P.S. We're hosting an AMA with Danny Ryan TOMORROW. He lives and breathes Eth2, so feel free to get any of your questions answered. Starts at 12pm EST on the Bankless Youtube.
---
🙏 Sponsor: Zerion – Invest in DeFi from one place. 🚀 (I use this app daily - RSA)
---
WRITER WEDNESDAY
Tactic #62: How to trade derivatives on Ethereum using Kwenta
Guest Writer: Garth Travers, Communications at Synthetix
Kwenta is a new dApp powered by the Synthetix protocol, offering derivatives trading with infinite liquidity.
It's the next evolution of Synthetix.Exchange, rebuilt from the ground up. It allows anyone to gain exposure to a vast range of assets, including classes of assets not available elsewhere on Ethereum, such as forex, cryptocurrencies, commodities and indices.
This tactic covers an overview of Kwenta and its trading features, the new UI/UX, how to use it, and everything still to come.
Goal: Trade a synthetic asset on Kwenta
Skill: Beginner
Effort: 15 mins
ROI: Infinite returns if you're a good trader 😜
---
An Overview on Kwenta
Kwenta is a new trading application leveraging Synthetix's unique peer-to-contract (P2C) trading model.
Synthetix core contributors and community agreed that Synthetix.Exchange did not offer the intuitive and seamless trading experience that the protocol could support. So the core contributors set out to build a new exchange from scratch with an emphasis on a smooth user journey for experienced traders.
The biggest benefit with trading derivatives on Kwenta is you can trade with infinite liquidity and zero slippage. The P2C model means traders don't have to fight the limitations of an order book, like worrying about their orders filling or suffering from slippage—something that big traders endure when trading on CEXs or AMMs.
Traders also have the ability to hold short positions without interest rates or hidden fees. Given Kwenta is a web3 dApp compatible with a range of different wallets, anyone can trade with deep liquidity without needing to entrust custody of your funds to a third party!
There's also a sleek Dashboard giving traders an overview of their trading history and balances, as well as the ability to purchase Synths with ETH if they don't hold any Synths yet.
The full launch of Kwenta includes all of the derivatives (Synths) enabled by Synthetix, for a total of 42 assets including forex, cryptocurrencies (long and short), commodities, equity indices like the NIKKEI and FTSE, and custom indices like the DeFi index which provides a basket of the most popular DeFi tokens on the market.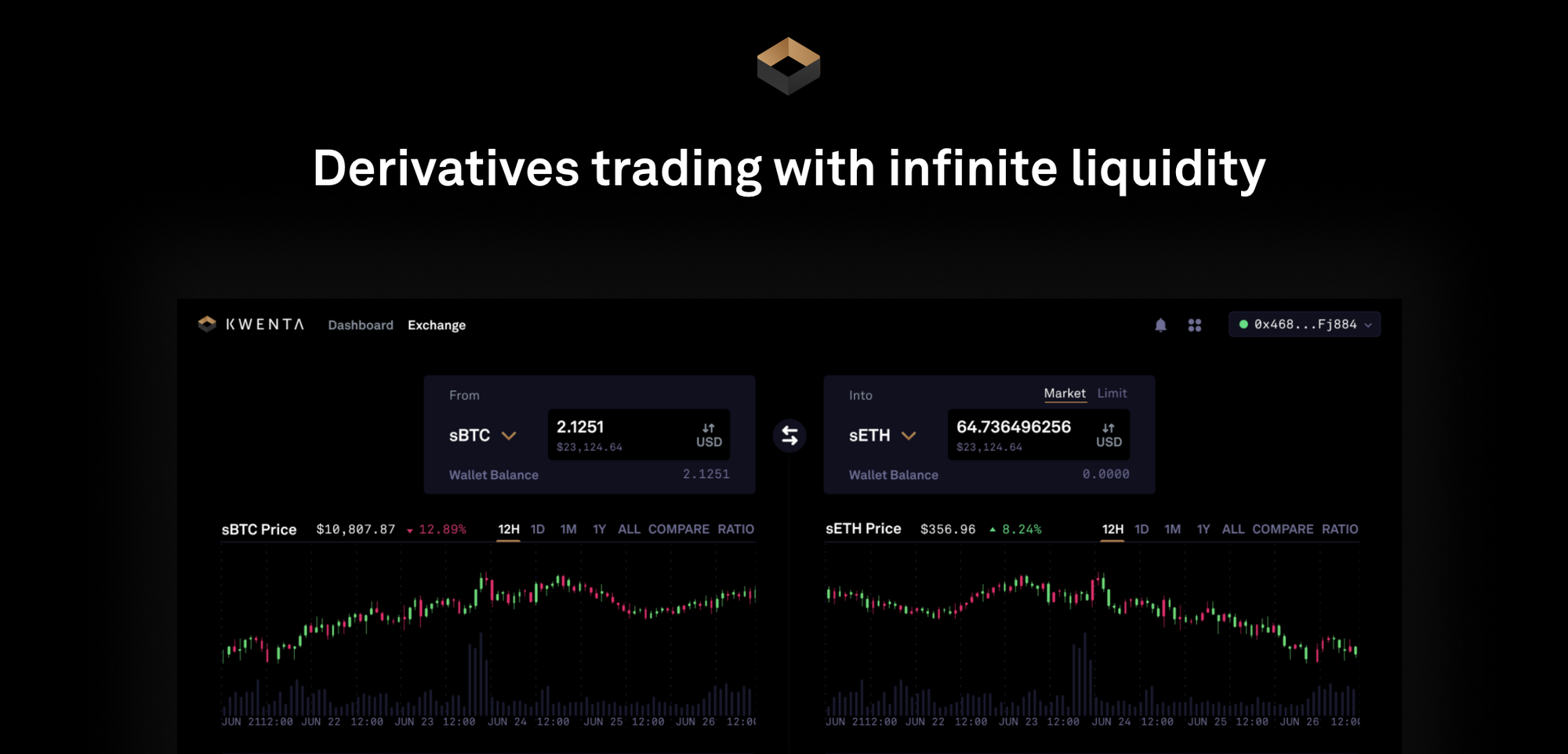 ---
📢 Kwenta is currently running a promotion for the next 10 days, offering 1,000 sUSD to be split between the two most creative promotions of Kwenta on Twitter, so if you try it out and enjoy the experience, participate for a chance to win!
---
How to trade derivatives on Kwenta
Here's how you can onboard to Kwenta and start trading immediately:
Head over to Kwenta.io and connect your wallet. Kwenta supports Metamask, Ledger, WalletConnect, Portis, Trezor, Dapper, WalletLink, Torus, and Authereum.

Once you've soaked up as much information as you like from the landing page, press the gold "Start trading" button in the top-right corner.

Get some Synths in your wallet to start trading (like sUSD). If you don't have any, the UI will advise you of this and guide you to the Dashboard, where you can purchase sUSD with ETH without leaving Kwenta (it uses 1inch).

Once you've got some sUSD (or another Synth) in your wallet, you'll be guided back to the Exchange page. From there, you can make a trade by using the dropdown to select the Synth you'll trade out of, and then which Synth you wish to trade into.

There are a bunch of categories to choose from — stuff like crypto, forex, equities, and commodities. You can also take a look at the responsive graphs demonstrating each asset's recent performance.

Once you've executed the transaction, you're all done and the trade is complete! Please note there's a 10 minute waiting period after each trade.
Conclusion
Kwenta leverages Synthetix to provide traders with permissionless exposure to a range of synthetic assets. You can open a position on gold or silver through sXAU or sXAG, or get exposure to a basket of DeFi tokens via sDEFI. And the possibilities are constantly growing.
There will be plenty of new features added to Kwenta in the coming few months, including support for any new trading functionality Synthetix launches, including synthetic futures, Synthetix loans, and limit orders.
Join the Kwenta Telegram group if you have any questions, or fill out the public feedback form. You can also follow along on Twitter for all the latest updates!
---
Action steps:
Trade any of the derivatives supported on Kwenta

Create a unique Kwenta promo on twitter to win $1,000 sUSD prize pool

Level up with previous Bankless pieces on derivatives:
---
Author Bio
Garth Travers leads communications at Synthetix where he's held the position since it was known as Havven in 2017. You can find him in the Synthetix Discord or on Twitter, making memes and leaking alpha.
---
Go Bankless. $12 / mo. Includes archive access, Inner Circle & Deals—(pay w/ crypto)
---
🙏Thanks to our sponsor
Zerion is the easiest way to manage your DeFi portfolio. Explore market trends, invest in 170+ tokens, view returns across wallets and see your full transaction history on one sleek interface. They're also fully bankless, which means they don't own your private keys and can't ever access your funds. I use this app daily! Start exploring DeFi with Zerion on web, iOS or Android. 🔥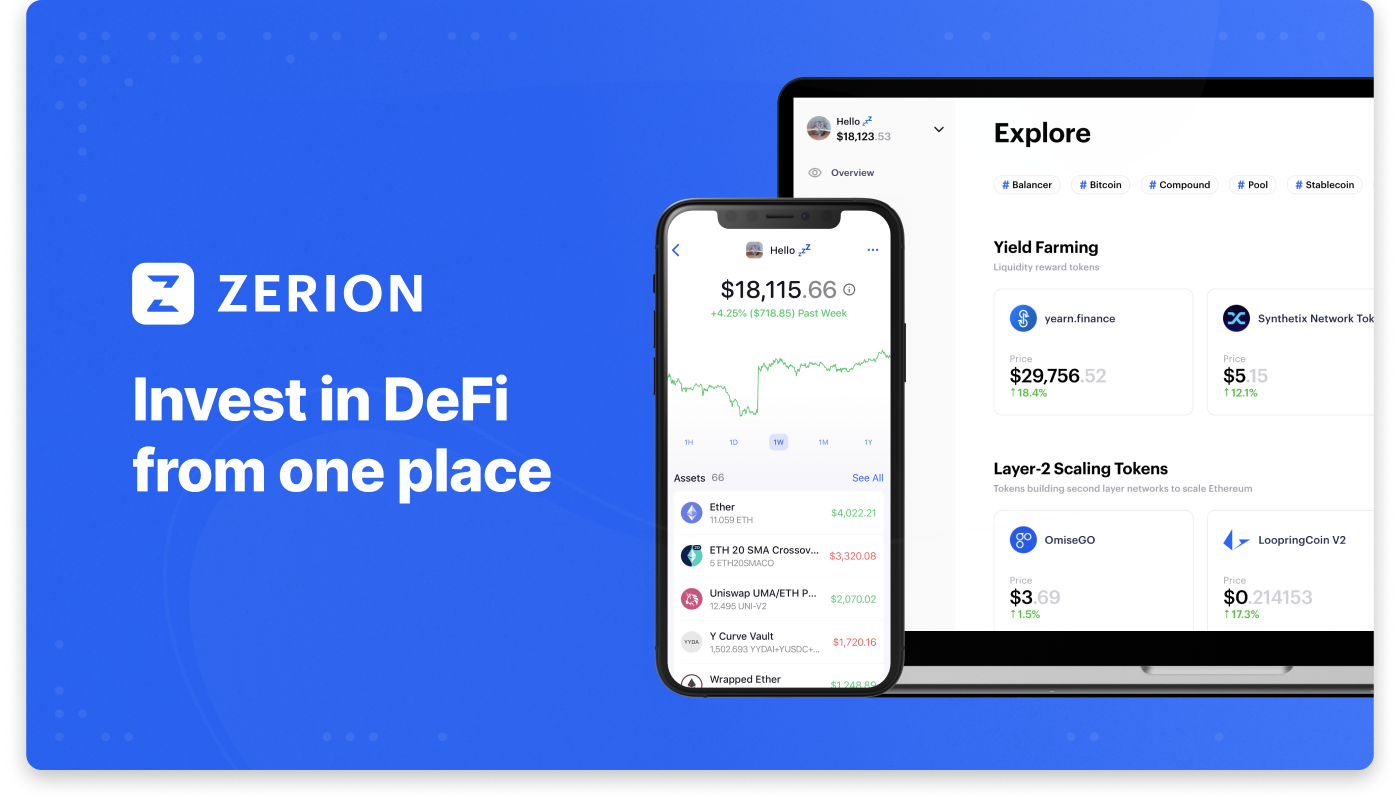 - RSA

P.S. Don't forget to get check out Zerion's new Uniswap integration. 🦄]
---
Not financial or tax advice. This newsletter is strictly educational and is not investment advice or a solicitation to buy or sell any assets or to make any financial decisions. This newsletter is not tax advice. Talk to your accountant. Do your own research.
---
Disclosure. From time-to-time I may add links in this newsletter to products I use. I may receive commission if you make a purchase through one of these links. I'll always disclose when this is the case.