Article
How to Stake with Your Ledger
The ultimate guide to staking with your Ledger hardware wallet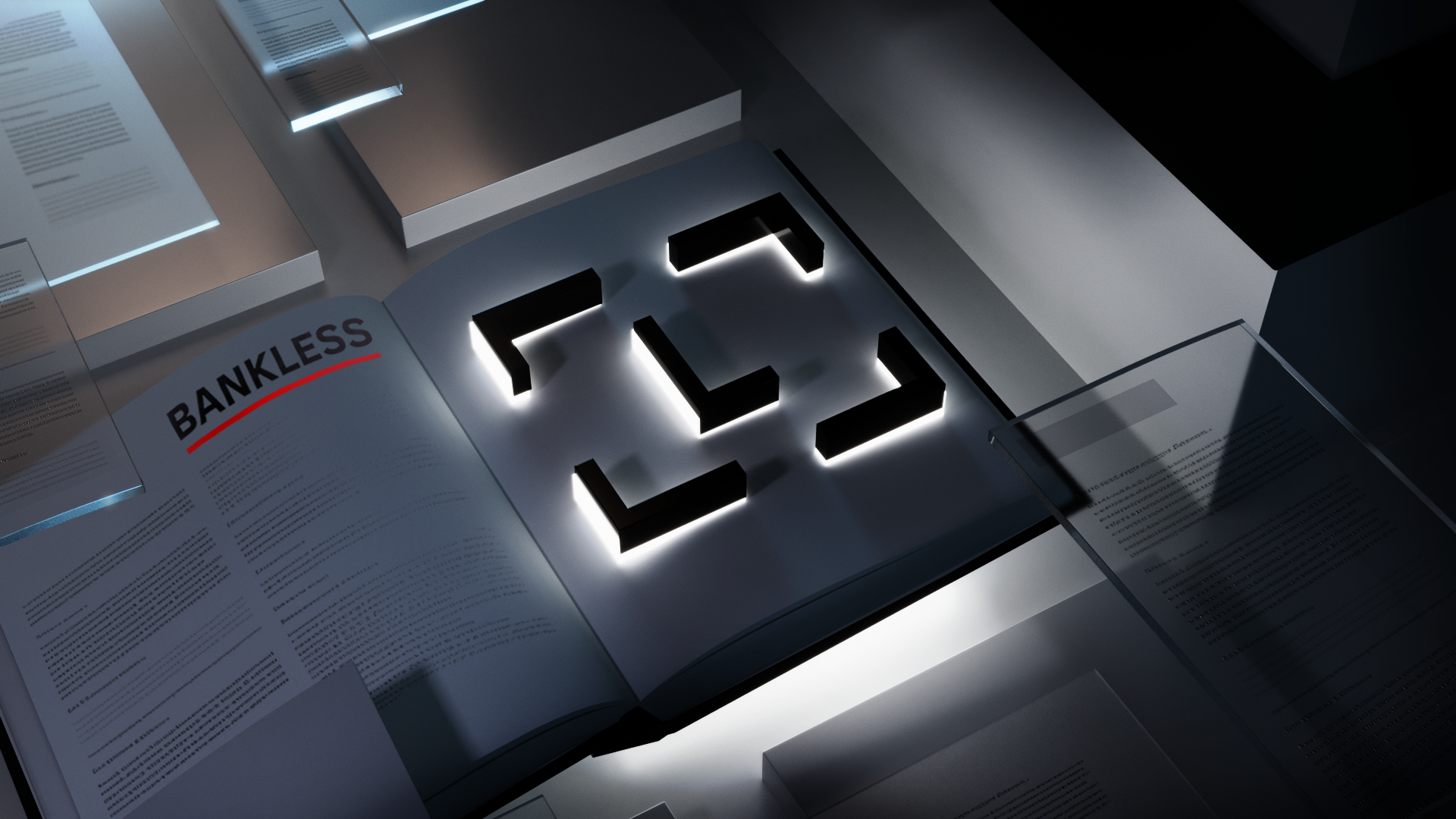 ⬆️ Level up your crypto experience with the full Guide:
---
Use Ledger Live to Stake
If you're interested in learning how to earn yield on your crypto assets, you've come to the right place. Ledger is one of the most respected hardware wallets in crypto and they have the software tools to match.
There are several ways to stake your crypto assets. In this section of our guide, we are going to walk you through how to use your Ledger wallet to efficiently stake tokens in the Ledger Live application to earn yield, and additionally, using Ledger, integrate with Metamask to earn a yield on a variety of other platforms such as Lido and Polygon!
The first step to begin earning yield on your crypto assets is to have some in the first place. In this tutorial we'll be staking Ethereum, so ensure you have Ethereum in your ledger wallet.
As this is part of the Ultimate Ledger Guide, we'll be using the Ledger Nano S for this tutorial. Adding assets to your Ledger has also been covered in this part of the Ultimate Ledger Guide. We'll touch on it again briefly here, in case you have simply jumped to this section of the guide.
Install Ledger Live on your Desktop
First, install the LedgerLive App on your phone or desktop. Once that's all set you can add an account within the LedgerLive App. For this tutorial, select Ethereum and create a new account.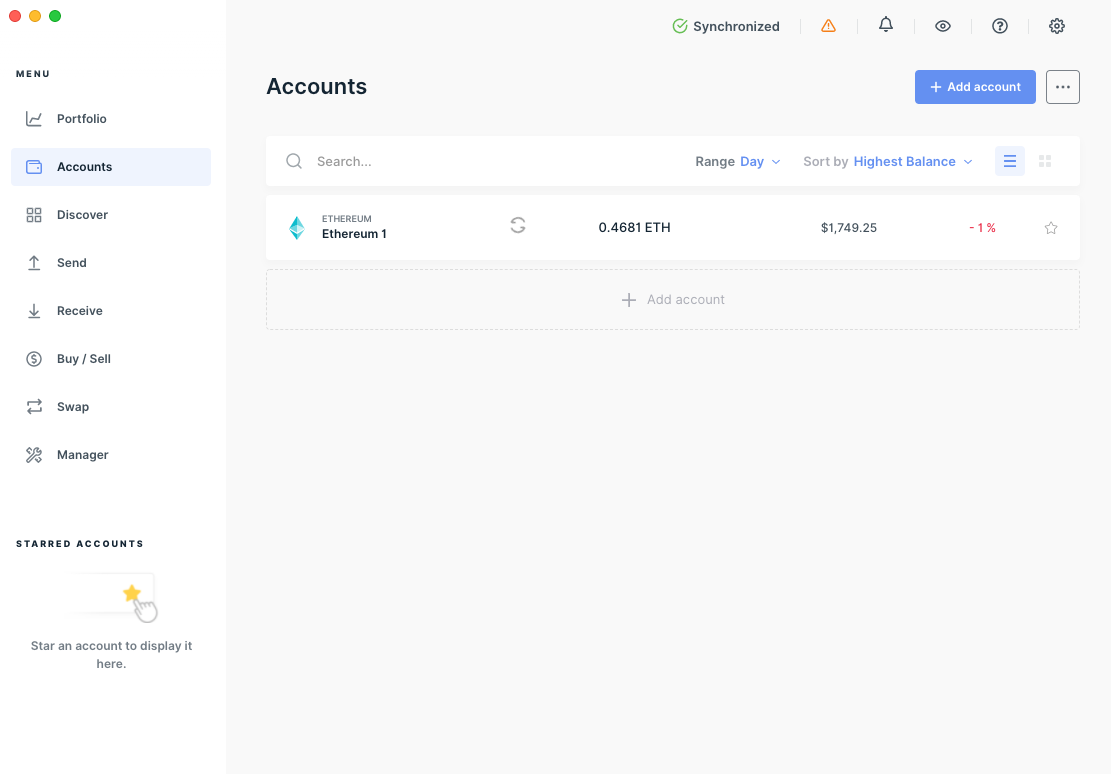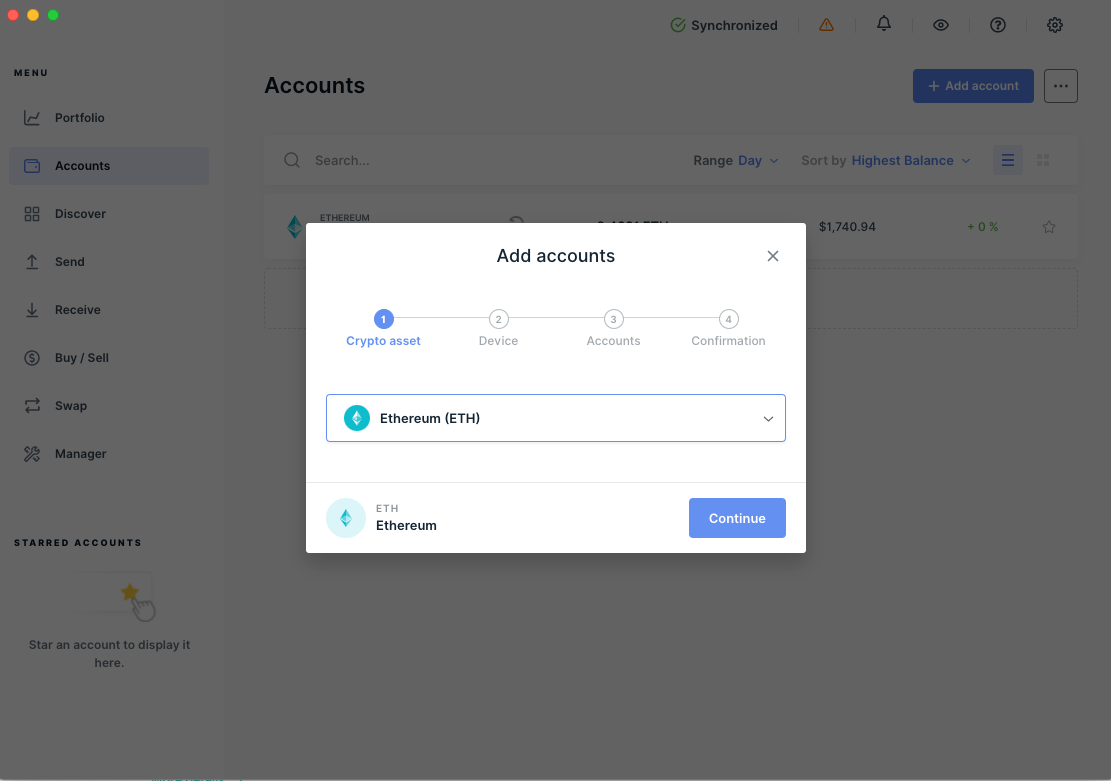 Next, you must approve the Ethereum app on your Ledger Device. Follow the prompts until you get to the following screen in the LedgerLive application.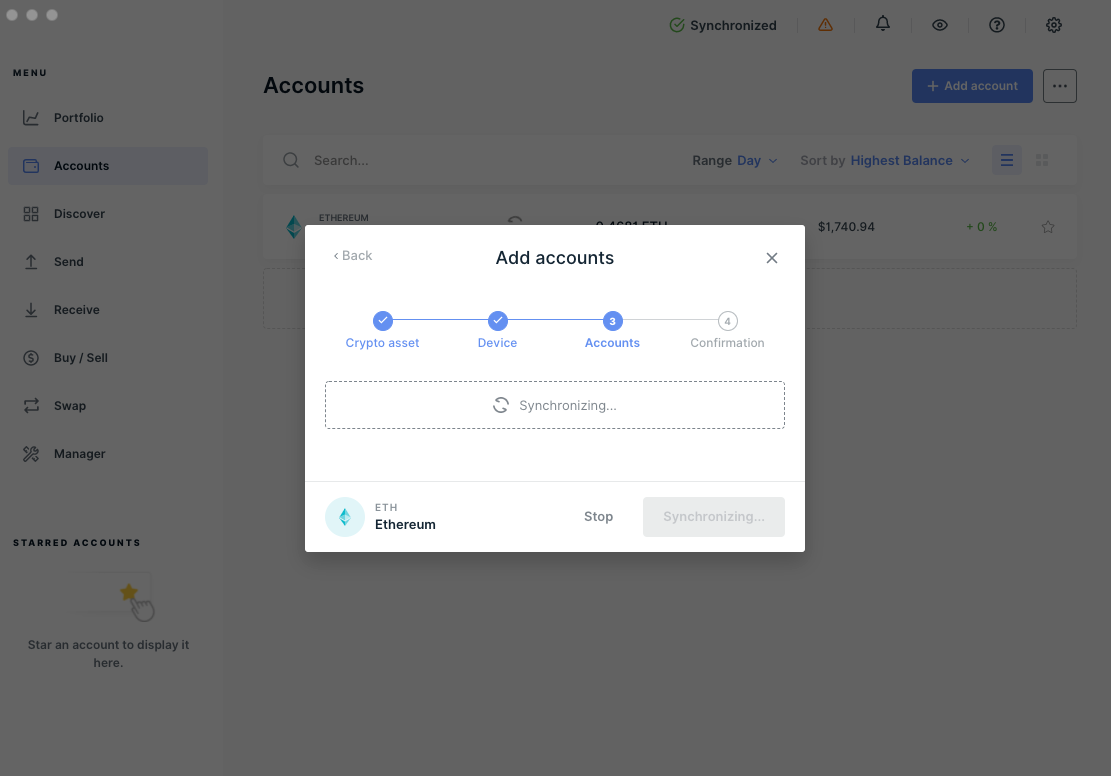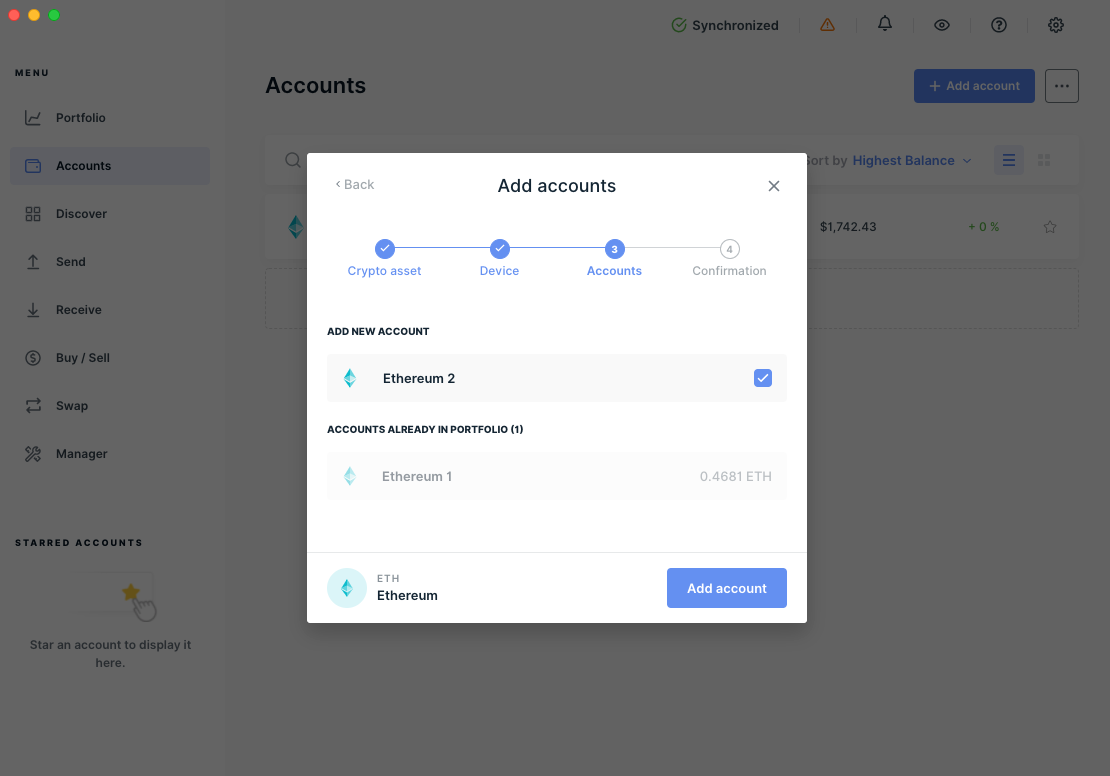 Now that your account has been set up, you're ready to send and receive funds via your Ethereum address.
Send Funds to your Hardware Wallet
Once your account is set up, send some Ethereum to the address associated with your hardware wallet account. To find the address of your Ethereum account, navigate to the "Receive" tab in the menu on the left-hand side.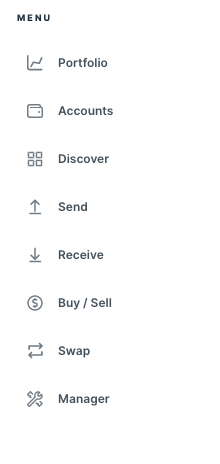 Follow the steps to send funds to your Ledger's Ethereum Address:
Choose the account you want to send funds to
Connect and unlock your device
Connect to the Ethereum app
Your address will be visible in the Ledger Live app
Verify the address in your application with the address shown on your Ledger device
Optional: Save the address so you can send funds to it (a QR code will also show up in your Ledger Live application)
Confirm this is the correct address
Send ERC-20 tokens to this address via a centralized exchange (Coinbase, Gemini, Kraken) or another Ethereum address
Once you have Ethereum in your wallet, you're ready to stake your assets.
Staking with Lido
We will be using Lido to stake. Lido is a decentralized staking service provider. They provide staking services for several protocols like Solana and Terra in addition to Ethereum.
Staking with Lido comes with several benefits. For one, you don't have to manage your own validator and another is instant liquidity. Normally, when you stake, your funds are locked in the staking contract, making users unable to provide their staked tokens as collateral.
Lido solves this problem by providing instant liquidity via their staking derivative. In this case, we exchange our ETH for stETH. These tokens also accrue dividends based on the rewards earned by Lido's Ethereum staking nodes.
Ledger allows users to stake their tokens natively within the LedgerLive application.
First, navigate to the discover tab and choose the Lido application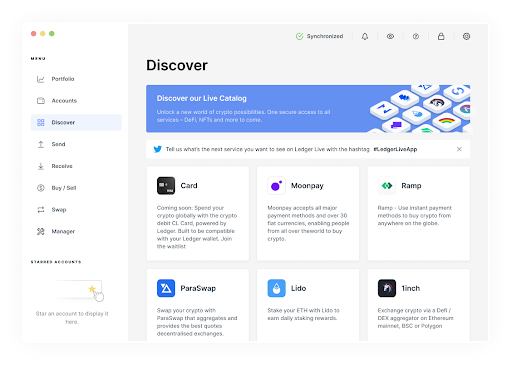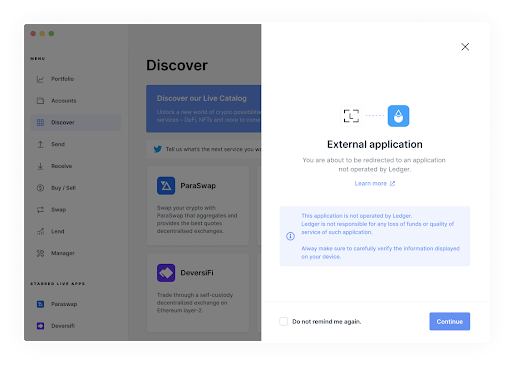 ---
🚨 Make sure to read the disclaimer thoroughly.
---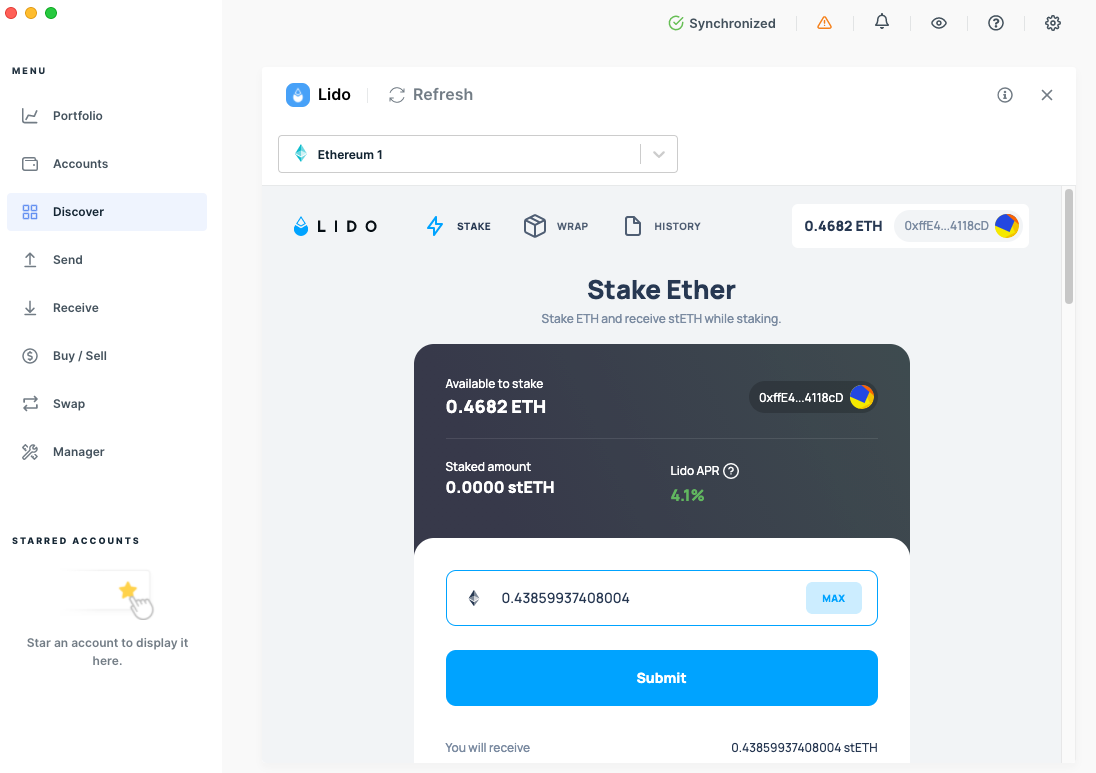 You can view the APR for staking your ETH with Lido. As more people stake, the reward rate will continue to decay as the reward must be split among a larger pool of stakers.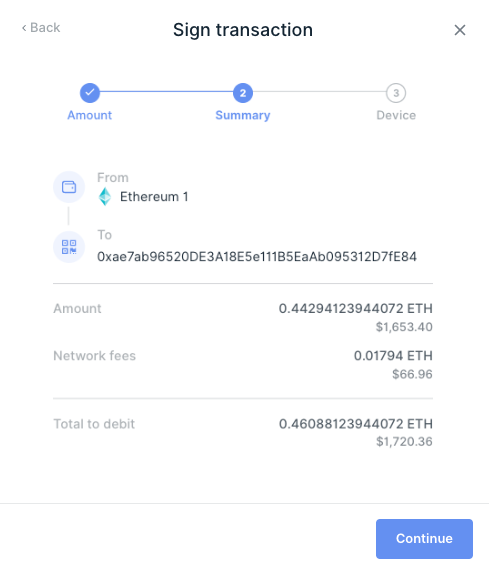 Always make sure you are interacting with the correct contract by checking the address of the contract in the LedgerLive application and cross-referencing it with the address of the Lido Ethereum 2.0 Staking contract on www.etherscan.io.
Generally, it's good practice to send a small amount of funds in order to determine the legitimacy of the application before sending the entirety of funds. This can help minimize the funds lost in case of fraud.
Note that this practice will double your transaction cost and that, generally, the transaction fee will vary depending on the price of gas.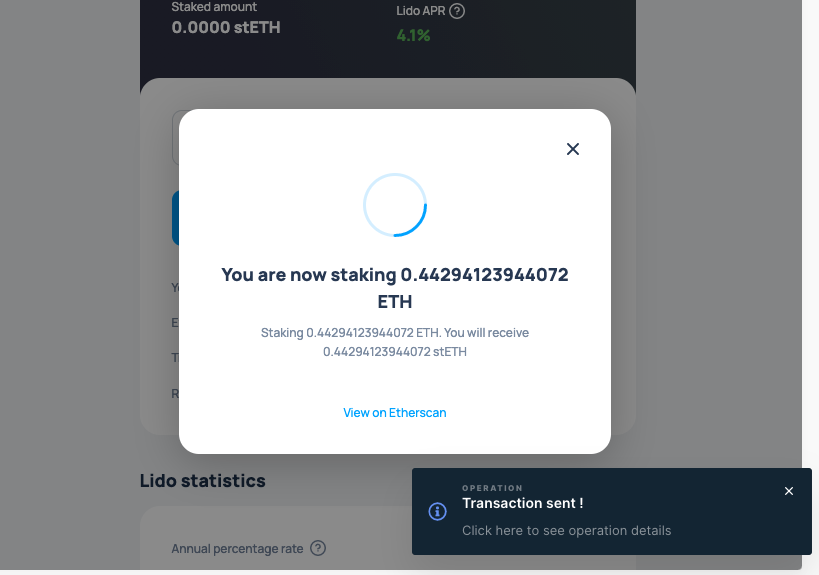 Now you can review the transaction on your device by opening the Lido app on your Ledger device's screen. Once you approve the transaction, a similar message to the one shown below will be displayed.

Next, look for the details of your transaction in the ledger live application. The black bars denote where you can find the Transaction ID and Wallet Address of the transaction.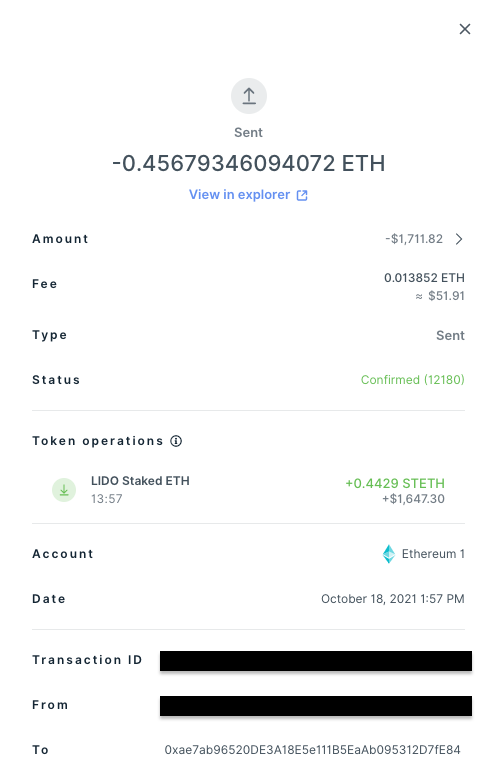 To see your new stETH tokens like above, click the "Add token" button to your account and follow the screens below.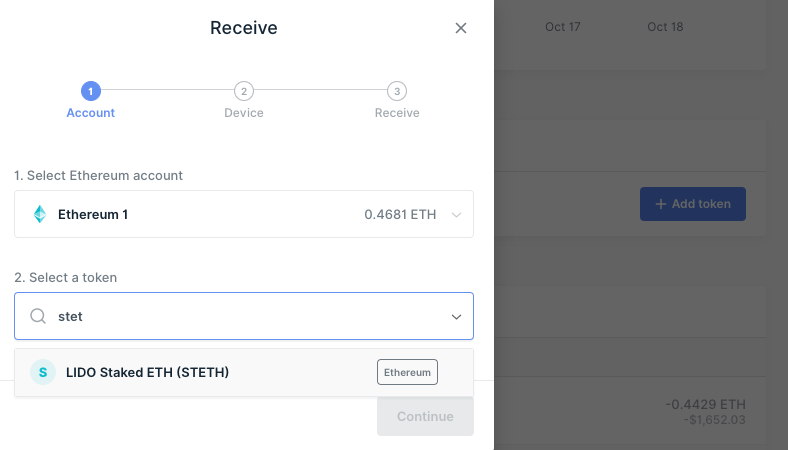 Choose the LIDO Staked ETH token and follow the prompts on your Ledger device.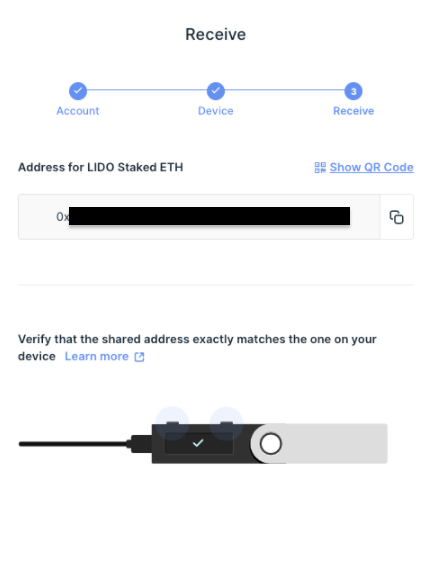 The black bar in the image above is the string denoting your Ethereum address. In some cases the Ledger Live application may not show the newly added token. Reload the Ledger Live application if your tokens don't show up right away.

Your tokens will show up next to the LIDO Staked ETH asset. You have now staked your Ether and are receiving juicy ETH denominated rewards.
Let the gains roll in!
Using Metamask to Stake
If you want to use applications that aren't available in LedgerLive, you can connect your hardware wallet to Metamask via your browser. We'll be using Lido to stake Ether, as we did above.
---
⚠️ IMPORTANT: As of Chrome version 91, hardware wallet support is no longer available. We recommend using Firefox to connect.
---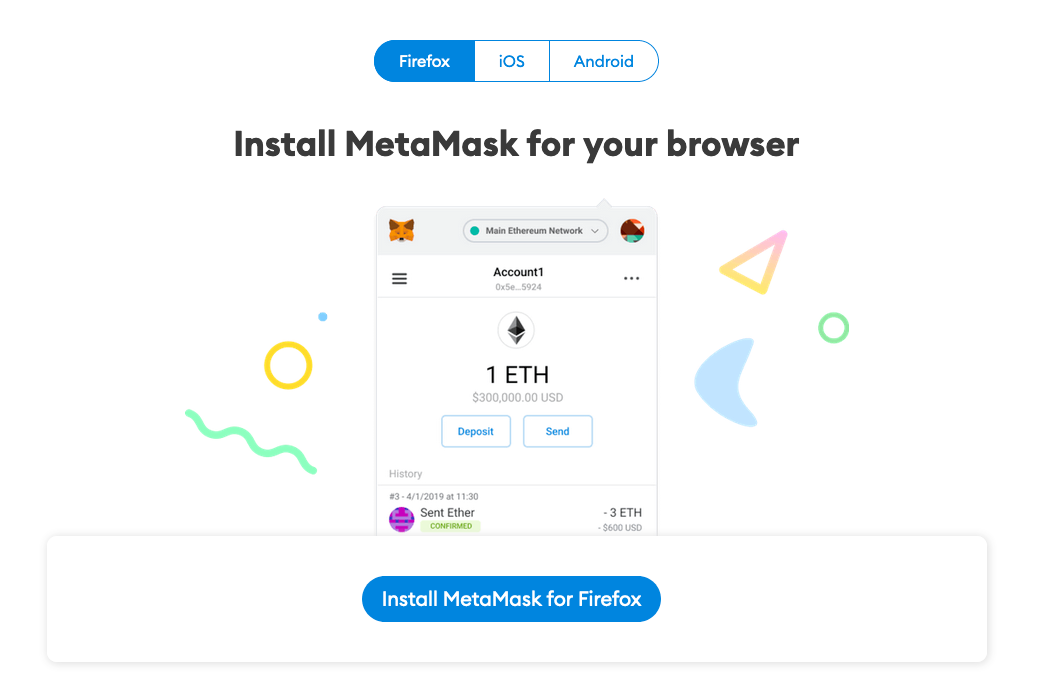 Open Metamask and click on your profile icon, follow the steps to connect your Ledger, and select the account you want to unlock.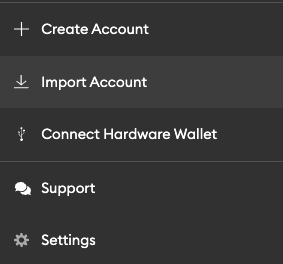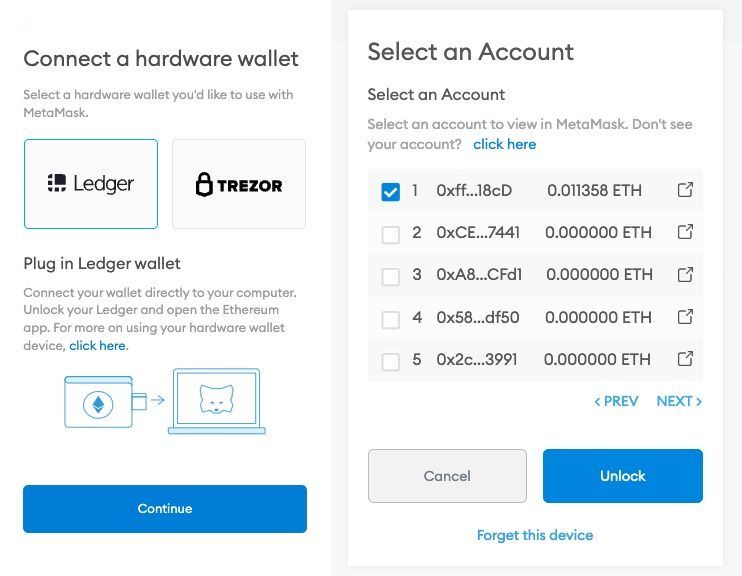 Navigate to the stake.lido.fi and connect your wallet to the Lido application. Ensure your Ledger device is unlocked and connected to Lido.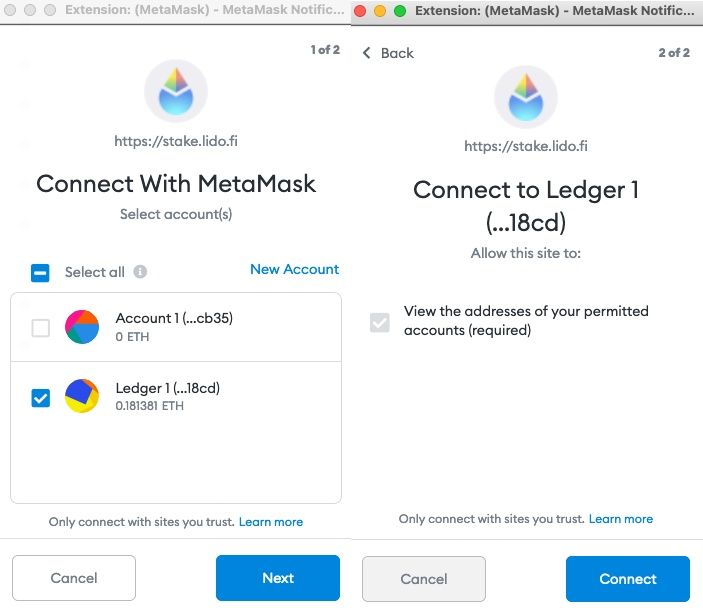 Click confirm to approve the transaction on your Ledger device.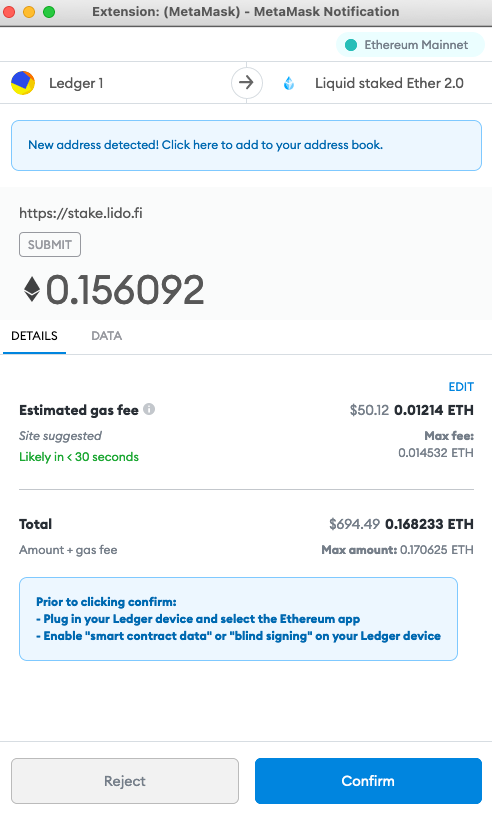 Now you should see your new tokens appear in your "Assets" section!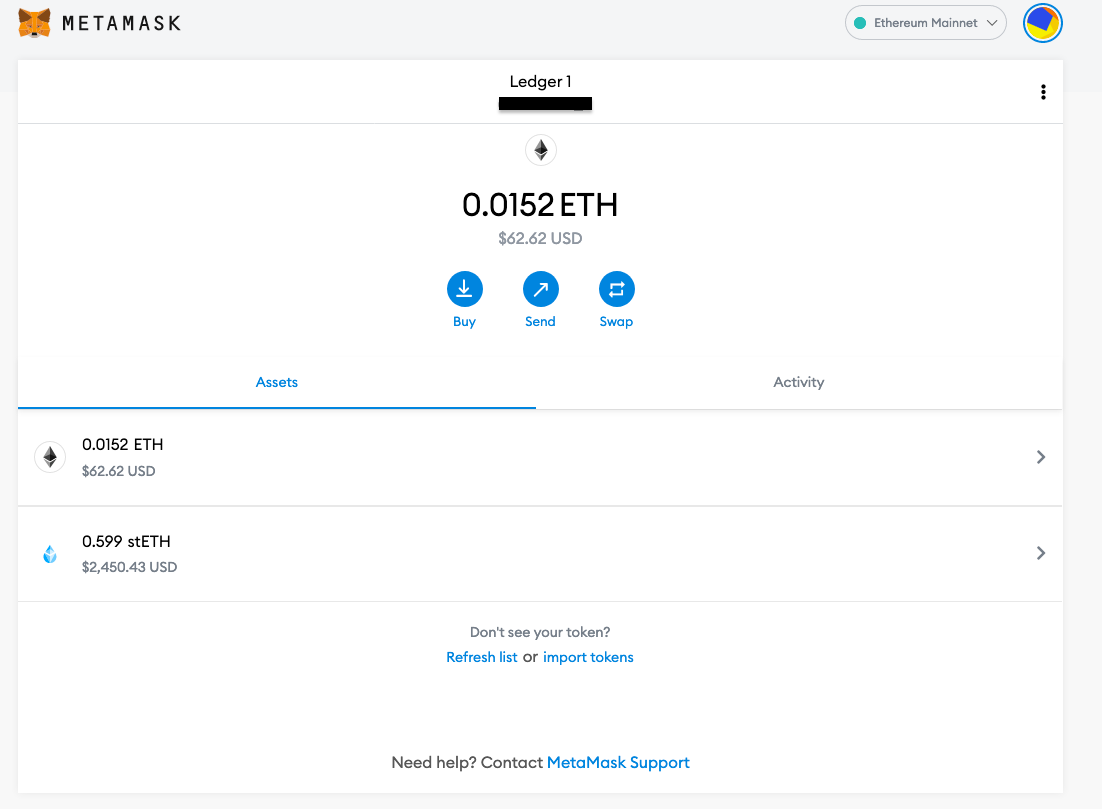 Expanding Your Collateral
The world of staking provides a whole new dimension of financial ability. In this part of the Ultimate Ledger Guide, you learned how to swap to stake your ETH in a ledger wallet within Lido, and receive stETH in return, which you can also earn a yield on! Furthermore, we covered how you can integrate your Nano S with Metamask to access other platforms which expands your staking menu.
Thanks for taking the time to learn how to Stake with your Ledger, and welcome to another world of financial possibilities! Interested in more possibilities, explore our next article on How to Use DeFi with your Ledger!