🚨 Alpha Alert: DYDX Retroactive Drop
What you need to know about the DYDX airdrop and how to participate in Epoch 0!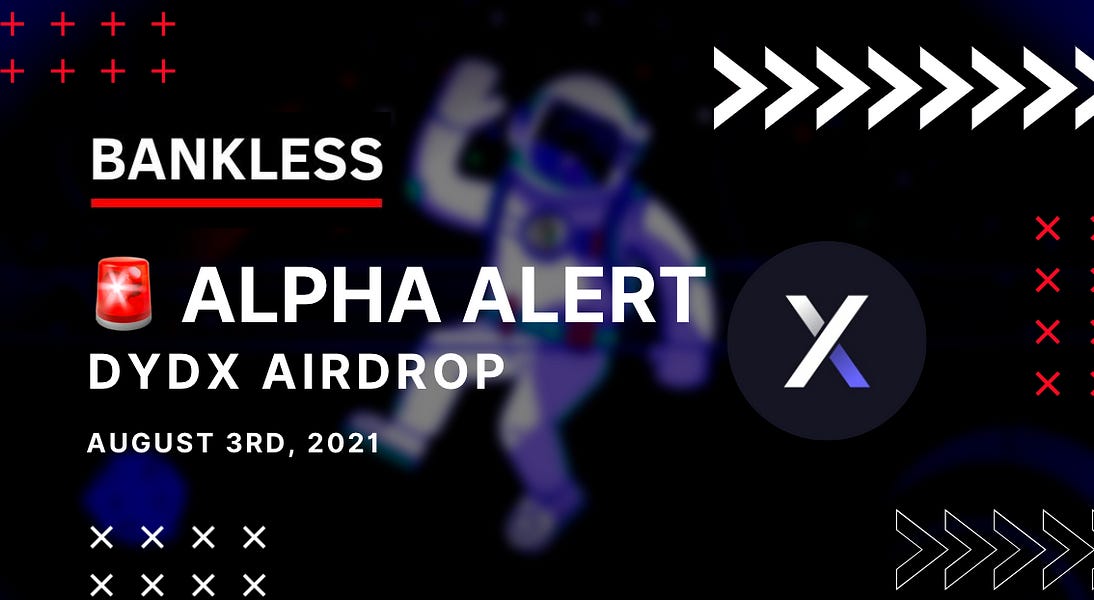 ---
Dear Bankless Nation,
Derivatives protocol dYdX announced their $DYDX governance token today.
And par for course, there's a retroactive airdrop for those of you who've used the protocol's Starkware Layer 2 implementation.
That means if you did your homework and completed this Bankless tactic in April you might be eligible! There are tons of market opportunities with this launch so here's what you need to know.
Let's get to the Alpha. 🚀

- RSA
P.S. We only send these Alpha Alerts to Bankless Premium members like you.
---
🚨 ALPHA ALERT: dYdX Governance Token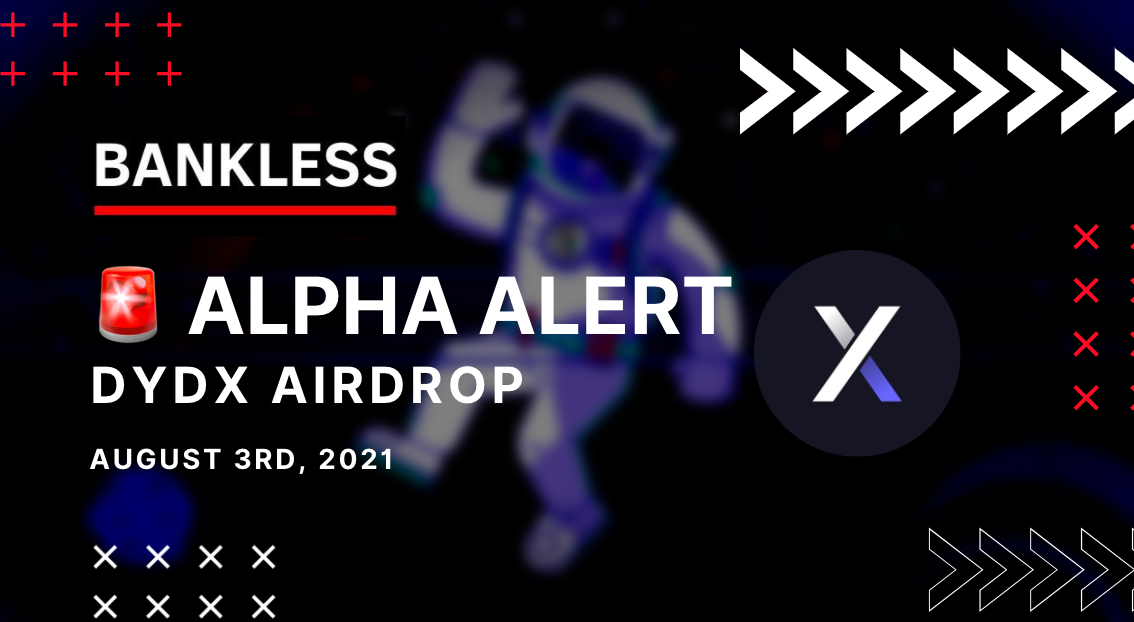 Market Opportunity: Claim your DYDX Airdrop
dYdX, the derivatives protocol known for its margin trading and perpetual contracts, released its highly anticipated governance token, DYDX.
The distribution will occur over the next 28 days, with the initial epoch ending on September 8th 15:00 UTC where the tokens will finally become transferable.
Within this launch, there's a ton of market opportunities including retroactive rewards for past users, liquidity mining for traders and LPs, a DYDX Safety Pool (earn rewards for staking DYDX as protocol collateral), and trading discounts based on the amount of DYDX users hold.
We should note that U.S. citizens are disqualified from participating in this program given the regulatory environment and the nature of the dYdX protocol. Sad.
Alpha: dYdX airdrop + earning opportunities
Asset: DYDX
Eligibility: Used dYdX Layer 2 + not U.S. citizen (rip 💀)
Distribution: 7.5% of total supply
Details: Official Blog Post and Retroactive Rewards Docs
ROI: N/A until tokens are transferable on September 8th.
If you're interested in learning more about some of the market opportunities with this token launch, you can read up on the official blog post.
---
Am I eligible for the airdrop?
Did you use Layer 2 dYdX? Did you pay fees? You may be eligible.
Below is the rewards retrospective formula. Full eligibility details here.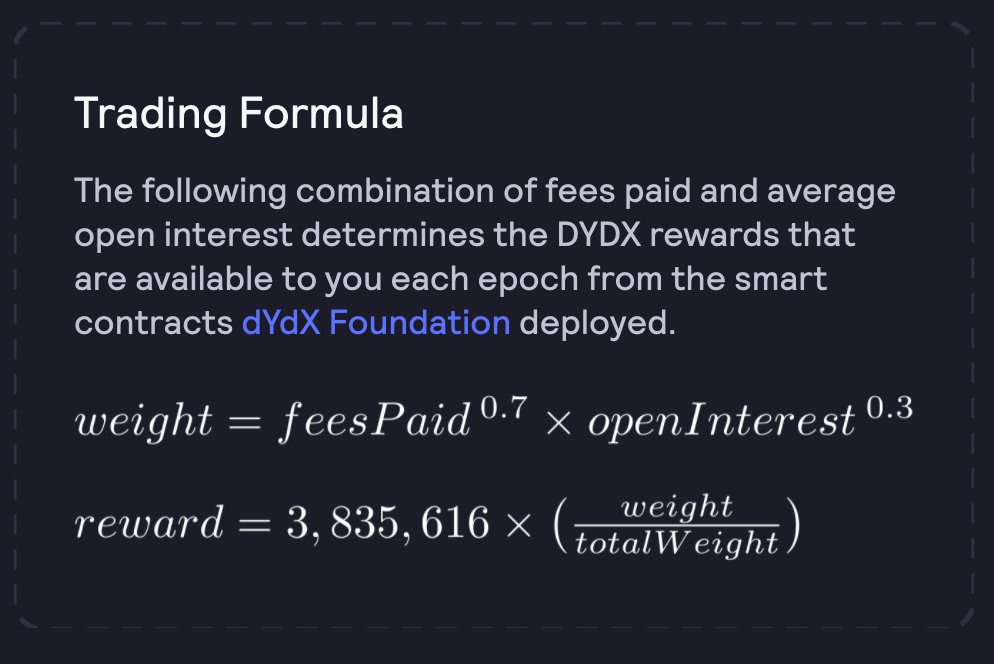 ---
How to get this Alpha:
You can check the official dYdX page here to see if you qualify for DYDX rewards.

Example of the a working interface with retroactive rewards 😎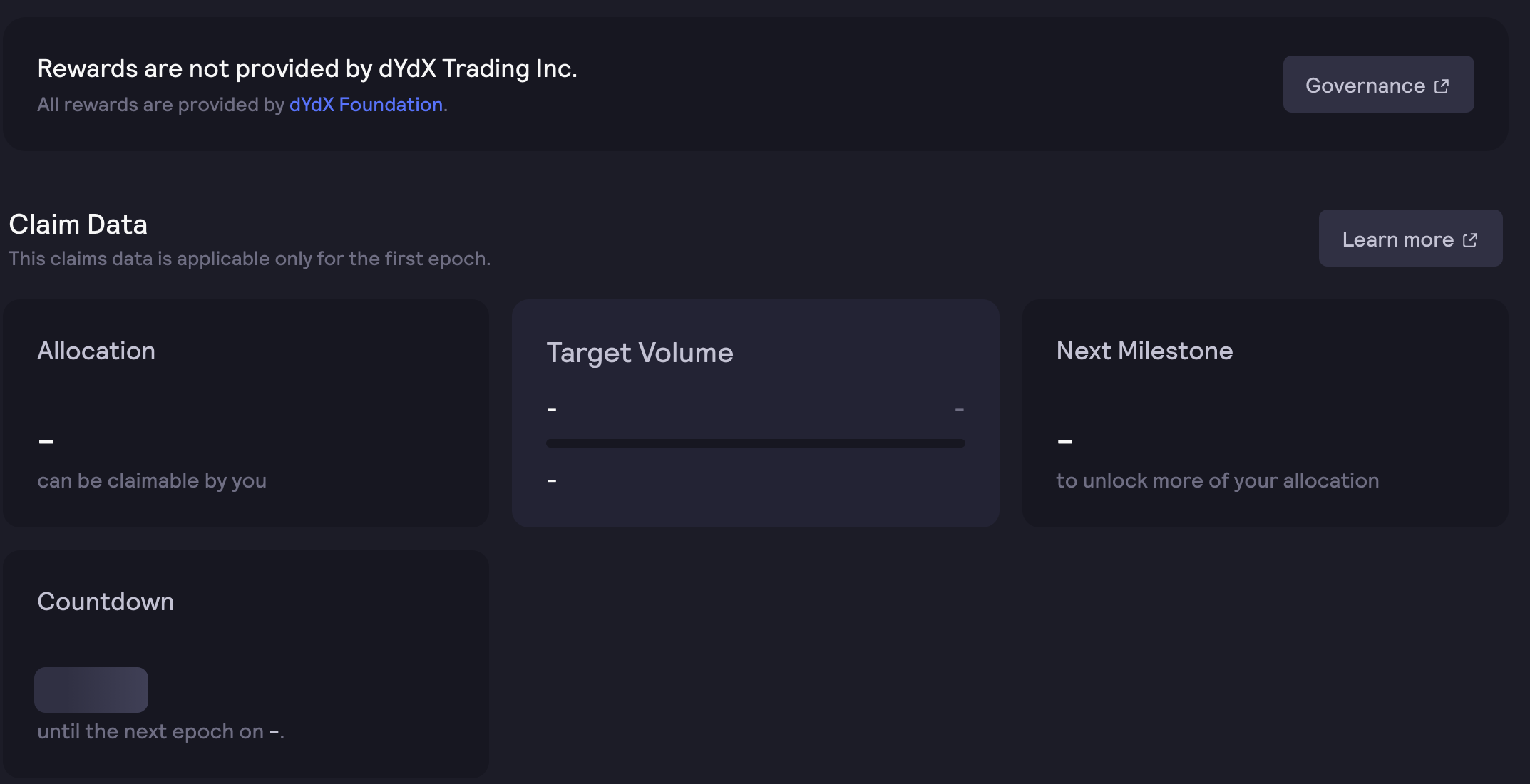 If you're qualified, you can start trading on dYdX during Epoch 0 to unlock your allocation.

More trading milestones = more token reward bonuses

That's it! All tokens will be made available on September 8th—until then they are lock and illiquid.

Congrats!
---
Considerations
---
🙏Thanks to our sponsor
Aave is a decentralised, open source and non-custodial liquidity protocol enabling users to earn interest on deposits and borrow assets. Aave Protocol is unique in that it tokenizes deposits as aTokens, which accrue interest in real time. It also pioneered Flash Loans and Credit Delegation as innovative DeFi building blocks. The Aave Protocol V2 makes the DeFi experience more seamless with features that allow you to swap your assets for the best yields on the market, and more. Check it out here.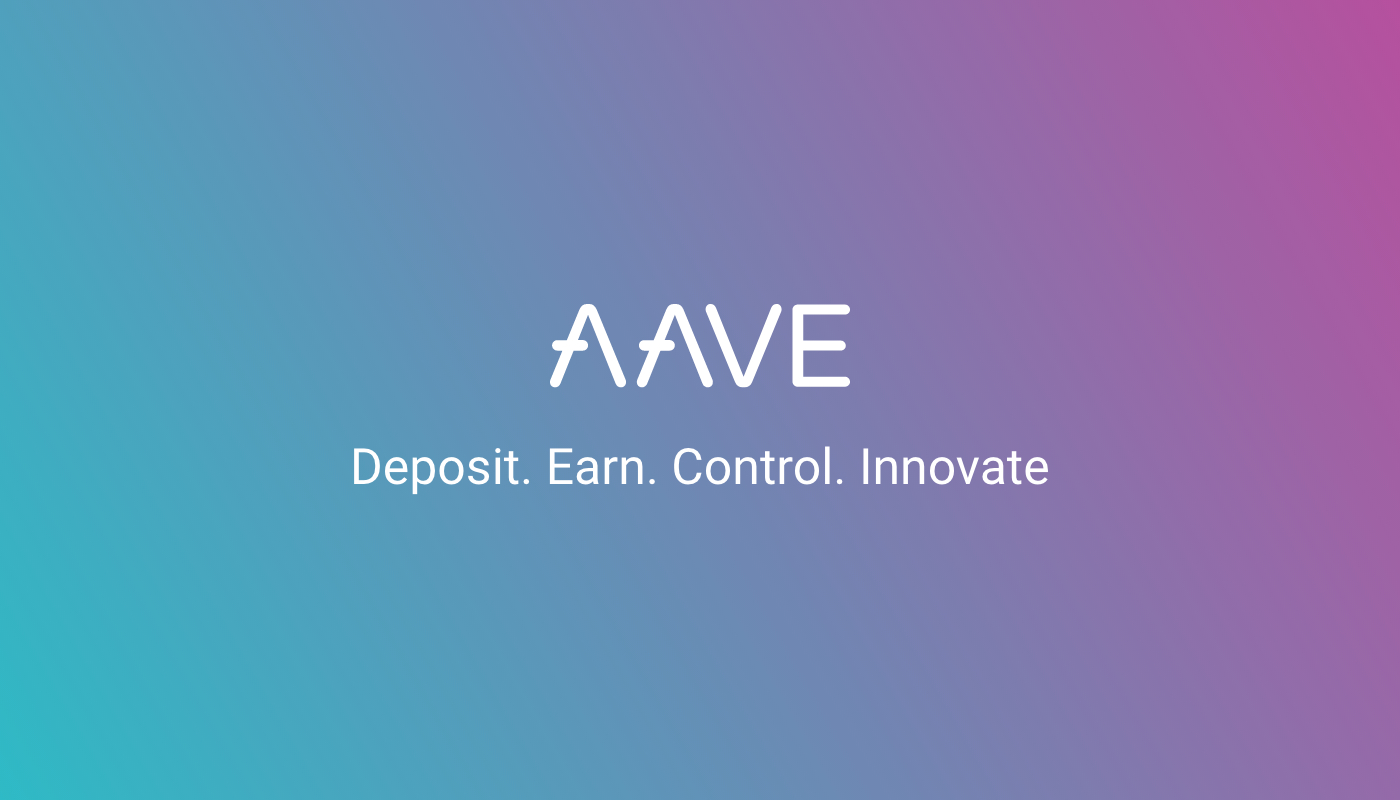 ---
Want to get featured on Bankless? Send your article to submissions@banklesshq.com
---
Not financial or tax advice. This newsletter is strictly educational and is not investment advice or a solicitation to buy or sell any assets or to make any financial decisions. This newsletter is not tax advice. Talk to your accountant. Do your own research.
---
Disclosure. From time-to-time I may add links in this newsletter to products I use. I may receive commission if you make a purchase through one of these links. Additionally, the Bankless writers hold crypto assets. See our investment disclosures here.