Newsletter
The Coinbase NFT platform 👀
Walking through everything we know about Coinbase NFT so far!

Metaversal is a Bankless newsletter for weekly level-ups on NFTs, virtual worlds, & collectibles
---
Dear Bankless Nation,
Cryptocurrency exchange giant Coinbase is launching an NFT platform, Coinbase NFT.
In its first decade in existence, Coinbase played a huge role in popularizing crypto in the United States and beyond. Can Coinbase NFT do the same for NFTs over the next 10 years?
That certainly seems in play. Consider how only ~300k wallets have interacted with OpenSea (the reigning NFT platform) to date, while over 3 million people and counting have already signed up for the Coinbase NFT waitlist!
Talk about pent-up demand. While details were scarce at first, we've now gotten a clearer understanding of how the platform will work, so let's walk through the main ideas to prepare 👇
-WMP
---
🙏 Sponsor: Zerion—Your Gateway to the Metaverse✨
---
A guide to the Coinbase NFT platform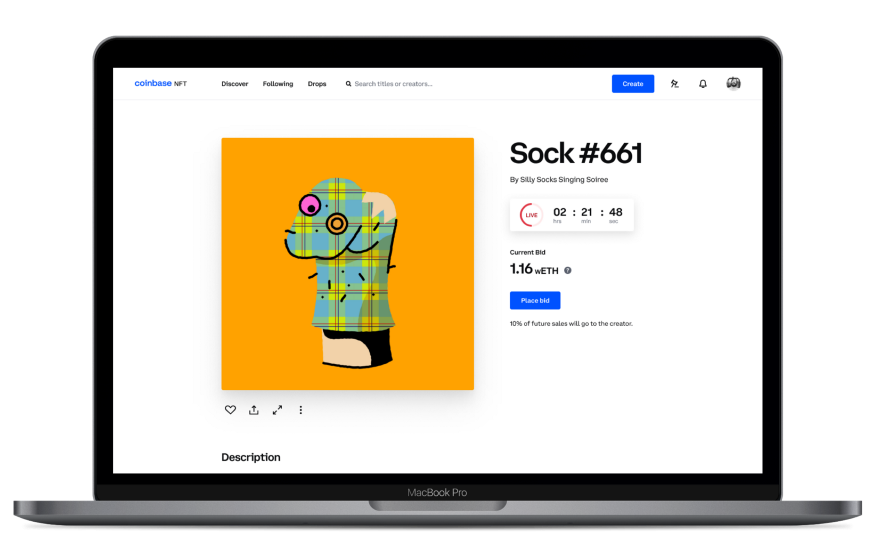 What it is
Coinbase NFT is "a peer-to-peer marketplace that will make minting, purchasing, showcasing, and discovering NFTs easier than ever."
Why it's important
Coinbase makes interacting with crypto easy for beginners and beyond. The NFT ecosystem has exploded in popularity this year and legitimized the notion of a new creator economy, yet there's no question that UX around NFTs can greatly improve from here.
That said, Coinbase's bread and butter is simple, friendly UX. Combine this reality with the company's massive user base, and we're looking at the prospects of the creator economy being much bigger this time next year via the Coinbase NFT talent pipeline.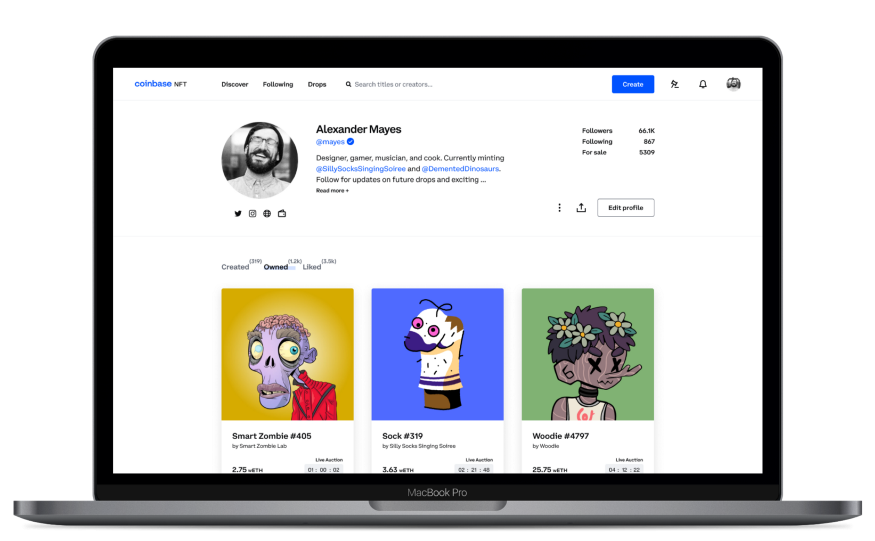 What Coinbase has said
📌 "Creating an NFT should be as simple as tapping a few buttons. Anything more complicated is a barrier to creativity."
📌 "A key part of that experience is control. We will make it effortless for artists to maintain creative control through decentralized contracts and metadata transparency. All NFTs are on-chain. The initial launch will support Ethereum based ERC-721 and ERC-1155 standards with multi-chain support planned soon after."
📌 "Your profile will showcase all your NFTs in one place, helping you connect with like-minded fans or artists. The social element shapes the future by sharing passions, birthing new collaborations, and firing up the imagination."
📌 "Our ambition with Coinbase NFT is to allow everyone to benefit from their creative spark; to contribute to a future where the 'creator economy' isn't a small subset of the "real" economy, but a central driver."
How to join
The Coinbase NFT platform is going live at some point in Q4 2021, that much we know for now. If you're over 18 and live in the U.S., Coinbase is running an "early access" waitlist and associated referral campaign for the launch.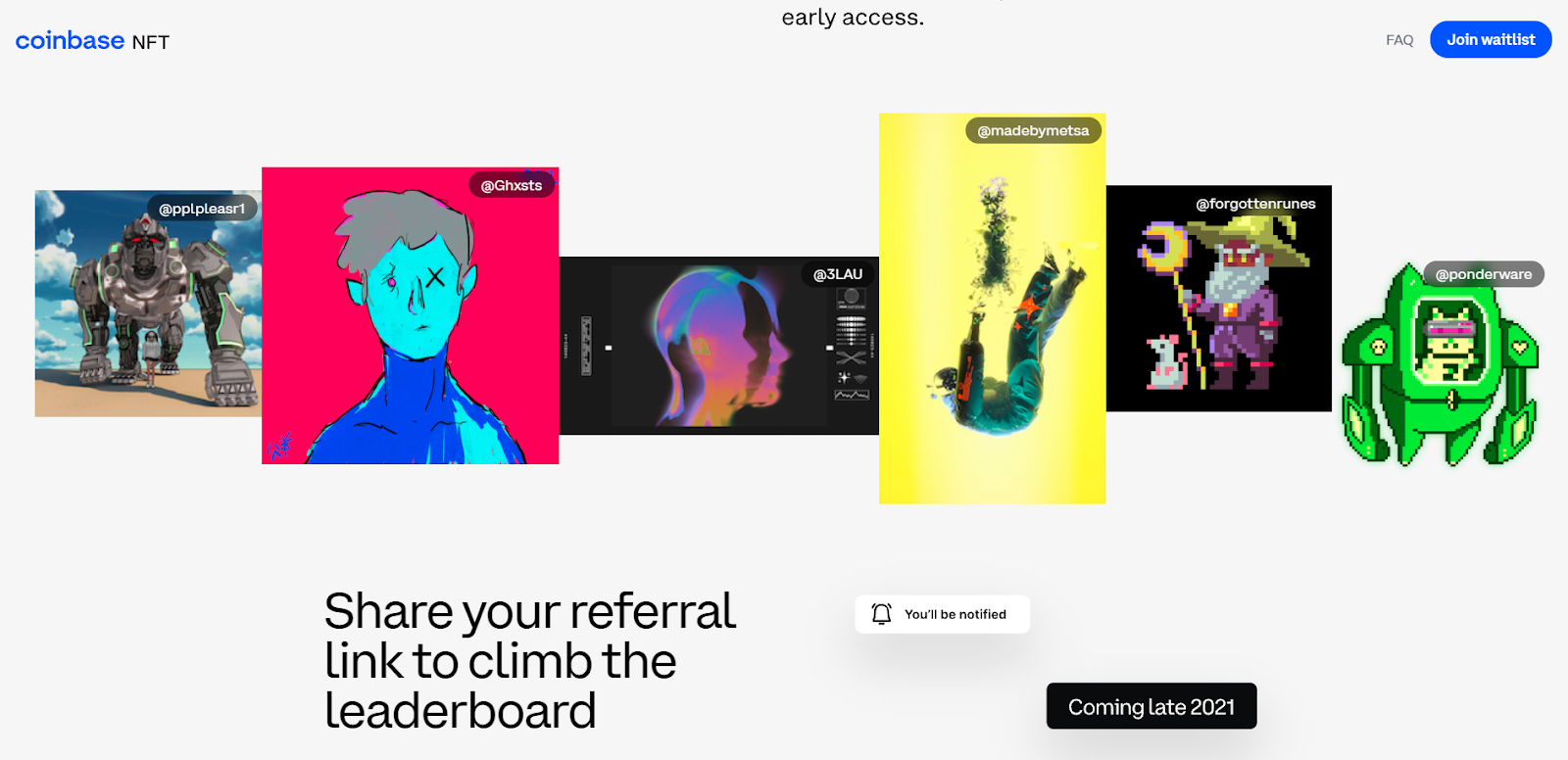 The idea here? You sign up for the waitlist, receive a referral link, and then improve your waitlist position by having people sign up through your link. Coinbase will then open up access later this year per the order of this waitlist. You can join the waitlist and receive your personalized referral link here.
Going deeper
A few days ago, Coinbase Vice President (VP) of Product Sanchan Saxena published a Twitter thread outlining some key elements to expect from Coinbase NFT.
The entire thread is worth a read, but I'll quickly summarize Saxena's main points here:
Coinbase NFT will be an open, rather than an invite-only, platform.
Coinbase NFTs will rely on decentralized metadata solutions like IPFS rather than centralized servers.
Thus you can mint your NFTs on Coinbase and sell them anywhere else; conversely, you'll be able to list any non-Coinbase NFTs on the platform's marketplace.
You'll also be able to use different currencies and different wallet solutions (from MetaMask to Coinbase custodial accounts) for NFT purchases.
Coinbase NFT is going to start with support for Ethereum but plans to support minting and markets across many chains.
Zooming out: Will Coinbase NFT be the spark that lights the fuse for the mainstream arrival of NFTs? Will the platform become the new "big fish" here, as OpenSea has been to date? What does this bode for other mint-and-market NFT projects?
These remain open questions for now. Yet it's also clear that there are major possibilities ahead, too. Not just for the rising creator economy, but for online economies in general.
For instance, Coinbase just became the official crypto platform of the NBA, WNBA, USA Basketball, and the NBA 2K franchise. Will we see a boom of NFT activity at these crossroads, and others like it, in the years ahead? Again, it certainly seems in play.
---
Action steps
---
Subscribe to Bankless. $22 per mo. Includes archive access, Inner Circle & Badge.
---
🙏Thanks to our sponsor
With Zerion, you can invest in DeFi from one place—now fully revamped for your NFT collection!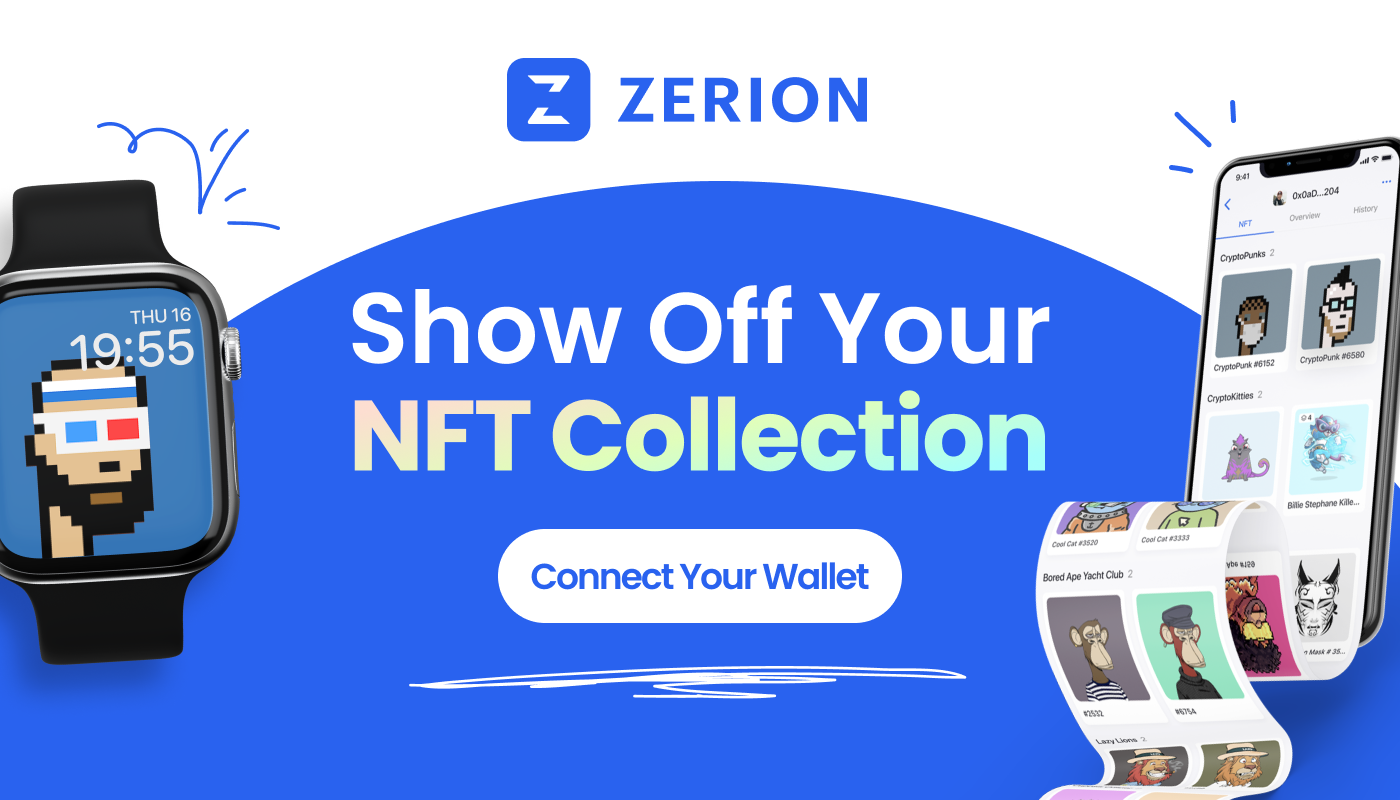 So you spent months building up your collection, but you're still viewing your NFTs on a website that looks like it's stuck in 2015? Have some fun with Zerion – send NFTs between wallets, convert them to iPhone widgets and flex them on your Apple Watch - all alongside your entire crypto portfolio.

👉 Look out for Zerion's L2 Support & Cross-Chain Composability.
👉 Connect Your Wallet & Show Off Your NFT Collection.
---
Not financial or tax advice. This newsletter is strictly educational and is not investment advice or a solicitation to buy or sell any assets or to make any financial decisions. This newsletter is not tax advice. Talk to your accountant. Do your own research.
---
Disclosure. From time-to-time I may add links in this newsletter to products I use. I may receive commission if you make a purchase through one of these links. Additionally, the Bankless writers hold crypto assets. See our investment disclosures here.