Article
Let's Govern
Introducing the community drop & our big governance opportunity

⚠️ UPDATE: All Bankless members can now claim their badge. New members will receive an email the first day of the month after they subscribe with minting details.
---
🙏Sponsor: Aave—earn high yields on deposits & borrow at the best possible rate!
---
Dear Crypto Natives,
The Bankless community has grown strong.
We are the vanguard of DeFi users. We hold yes—but we also pay, trade, borrow, and lend—we actually use the stuff! Now it's time for us to add a new money verb: govern.

Let's Govern
DeFi protocols have a governance distribution problem.
They have centralized teams, some funded by VCs—but they want to distribute their decision-making to a larger community of stakeholders. I'll get into the reasons why in a post tomorrow—but suffice it to say there's a need for community governance in DeFi protocols like Maker, Compound, Synthetics, and dozens more in the future.
Governance rights are usually imbued in a voting token of some kind:
COMP—governance token for Compound protocol
KNC—governance token for Kyber protocol
UMA—governance token for UMA protocol
LEND—governance token for Aave protocol
But here's the problem for DeFi protocols:
Most distribution just puts tokens in the hands of speculators and whales. It's hard for protocols to distribute tokens to an engaged community of hardcore DeFi users.
Well guess what?
Bankless has a community of hardcore DeFi users
We have an engaged community…they have a community to engage.
A perfect match!
So what if we gave DeFi protocols a way to drop governance tokens to our community?
And what if we used these tokens to make the protocols better for everyone?
And what if we leveled up on governance as a community?
DeFi can "Community Drop" tokens to Bankless members
We're going to give DeFi protocols a way to drop tokens to our community by:
Issuing Bankless members a Bankless NFT Token (👈we are here—claim yours)
Helping protocols "Community Drop" their gov tokens to Bankless NFT owners
Participating in governance using the tokens & establishing our reputation
Sound interesting? Here's the first step:
---
Claim your Token Badge
If you're a Full Bankless Subscriber you can claim your NFT token.
The token is a badge of honor and proof that you're a Class of 2020 Bankless community member. The Ethereum address holding this token would be the receipt of any future community drop.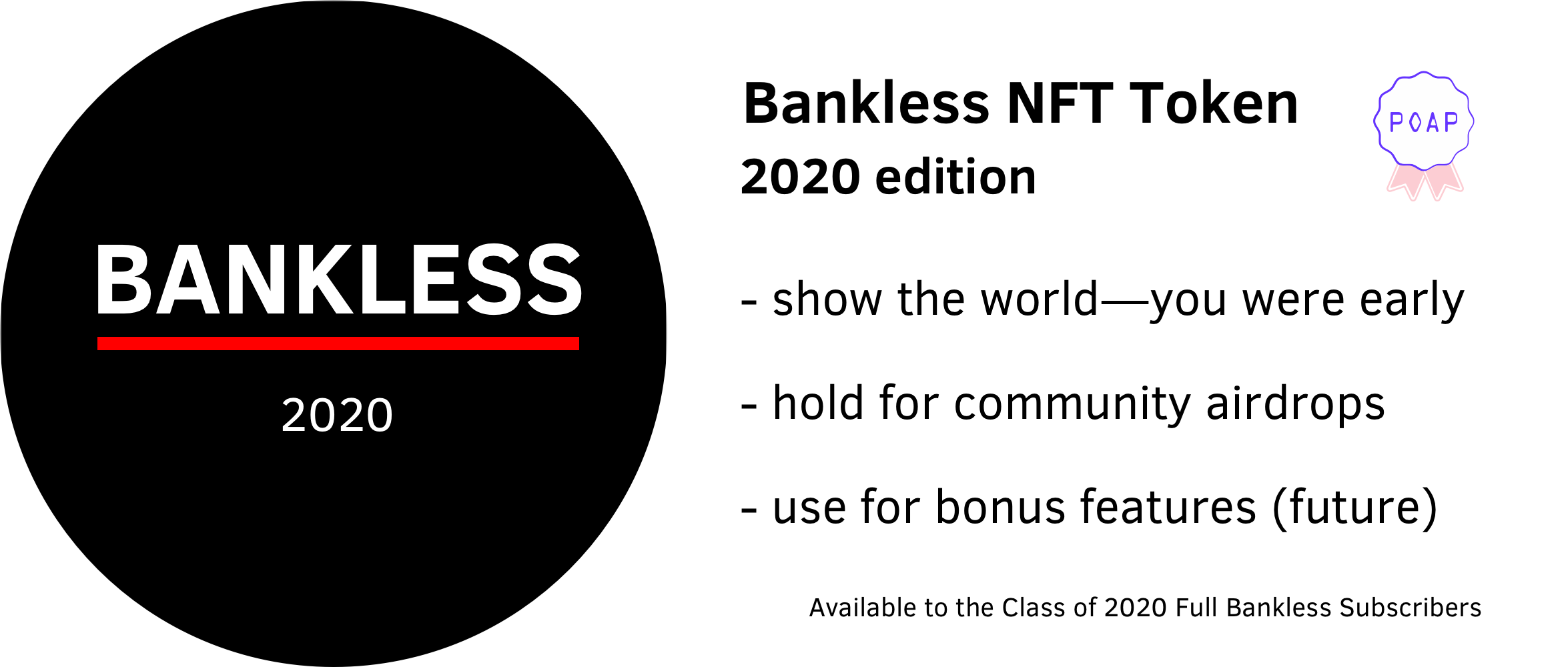 We'll issue the token in phases during May. Click below for more info on how to claim.
---
After tokens are claimed...
Once the Bankless NFT tokens are claimed by members we can get to work. We can come up with a list of DeFi protocols to focus on, develop position platforms for each, search out community drops, select protocol politicians for the community to represent us—maybe we'll even formalize all this in a DAO down the road.
The next steps depend on where the Bankless community wants to take this.
The frontier of governance
I promised to help you front-run the opportunity. To stay on the frontier of open finance. Well, this is it. Governance is the frontier—and the opportunity is wide open.
It'll take work. Sweat, effort, risk. But if you're bankless you're used to that. We'll just tackle it like we tackle everything else—as a community.
Let's do this.
Claim your token, join the conversation, and let's get started.  🚀
- RSA
---
Go Bankless. $12 / mo. Includes archive access, Inner Circle & Deals—(pay w/ crypto)
---
🙏Thanks to our sponsor: Aave Protocol
Aave protocol is a decentralized, open-source, and non-custodial money market protocol to earn interest on deposits and borrow assets. It also features access to Flash Loans, an innovative DeFi building block for developers to build self liquidations, collateral swaps, and more! Check it out here.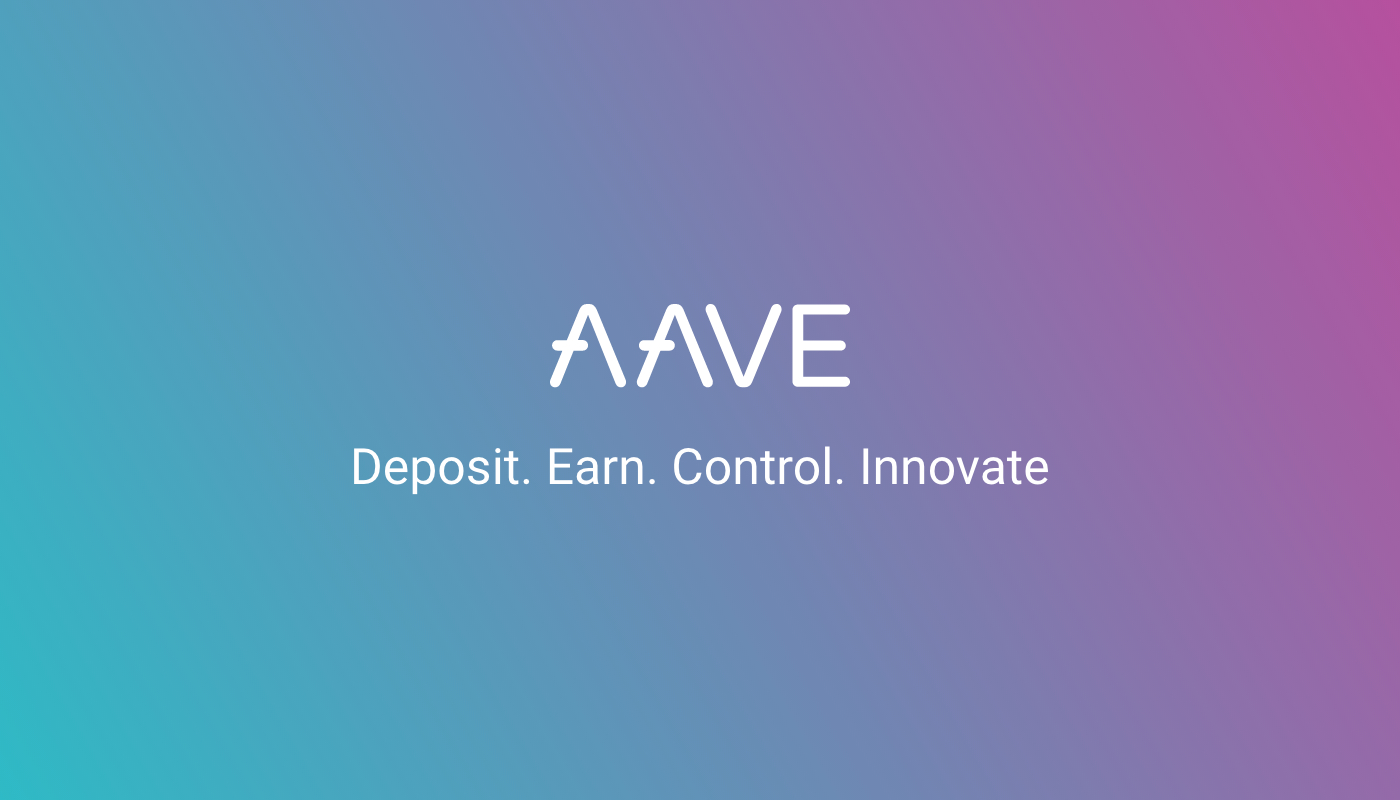 ---
Not financial or tax advice. This newsletter is strictly educational and is not investment advice or a solicitation to buy or sell any assets or to make any financial decisions. This newsletter is not tax advice. Talk to your accountant. Do your own research.
---
Disclosure. From time-to-time I may add links in this newsletter to products I use. I may receive commission if you make a purchase through one of these links. I'll always disclose when this is the case.