Article
How to stake ETH
A rundown of the best ways to stake ETH for the best risk-adjusted returns!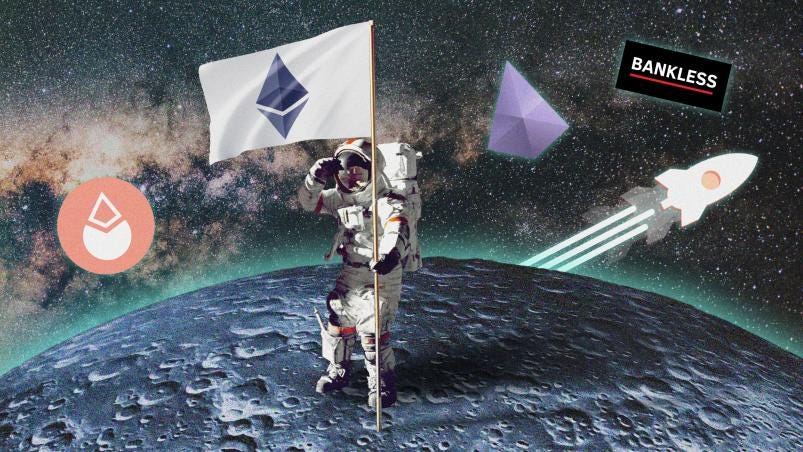 Dear Bankless Nation,
We celebrated the Beacon Chain's 1 year anniversary last week. 🎂
The deployment of the beacon chain last year was a foundational milestone in Ethereum's roadmap. Holders…you now have the ability to stake your ETH!
Last year, we were worried the community would struggle to hit the 500,000 ETH threshold to bootstrap this new network (remember our launch livestream?). Today, that number has crossed over 8.5M ETH across 250,000+ validators.
Insane. 🤯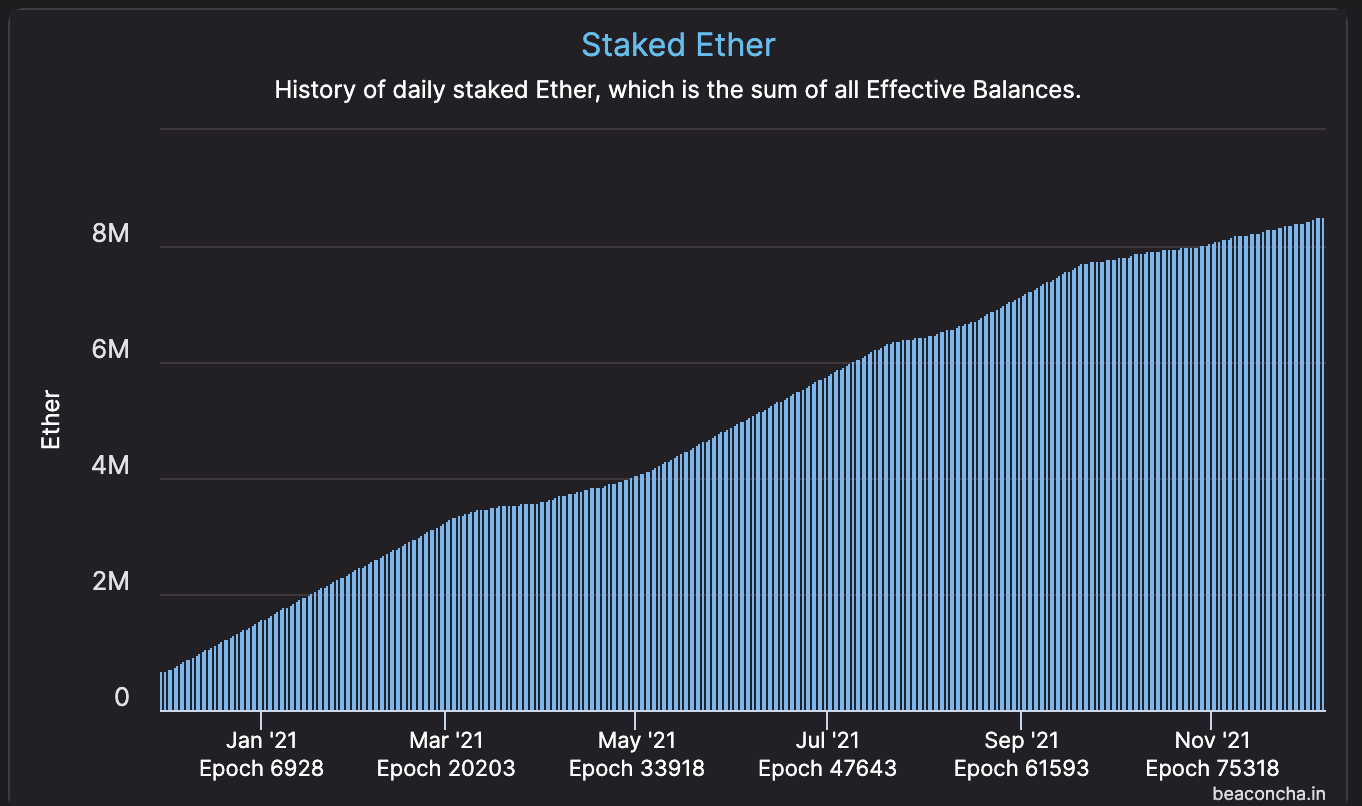 Now there are more ways to start staking your ETH than ever.
Centralized exchanges support it, decentralized staking protocols are coming online, and running your own validator is more accessible than ever.
Want to put your ETH to work and start staking?
Here's your guide.
- RSA
---
Did you know you can currently earn ~5% APR by staking your ETH?
This Bankless tactic will show you how to earn that through the different staking processes along with guides for decentralized staking platforms like Lido, Rocket Pool, and StakeWise!
---
Welcome to the Era of ETH Staking
ETH is the internet bond and its rate of return can be considered the "risk-free rate" (or risk-minimized). This is currently ~5% APR, but we could very well see higher yields in the future.
As far as the Ethereum roadmap goes, the Merge will take place in approximately 6 months. From there, it'll be another half year before people can withdraw staked ETH from the Beacon Chain.
The good news? There are plenty of opportunities to start putting your ETH to work today via different avenues. Better yet, we've also seen a range of ETH staking services via staking pools and staked ETH derivatives hit mainnet, e.g. stETH, rETH, and sETH2.
These staking platforms let users easily earn the Ethereum risk-free rate while maintaining liquidity in the here and now through their staked ETH derivative tokens.
We'll show you how to join the staking pool systems of Lido, Rocket Pool, and StakeWise along with the other options around today, categorized by difficulty!
Here's how you can start putting your ETH to work.
---
1. Centralized Exchanges (Beginner)
⚒️  Requirements: ETH, an account on any supported exchange
✅  Tradeoff: Easy to start, but you give up your private keys (not bankless)
Centralized exchanges provide one of the easiest ways to start staking your ETH. Multiple exchanges currently support ETH staking, allowing you to lock up your ETH and earn passive rewards in a few clicks.
There are two tradeoffs that come this simplicity though: (1) using exchanges centralizes the staking network and requires trust in a third-party (2) exchanges can take a hefty cut on your potential rewards!
With that said, a lot of major exchanges support ETH2 staking now. The most prominent are the following:
Coinbase: There are no minimums associated with Coinbase staking. Estimated yields are currently 4.5% APY.
Kraken: No minimums with estimated yields around 5%. Take rate sits around 15% of rewards.
Binance: Binance has no minimums for ETH2 staking, and importantly, takes no staking fees. Users also receive bETH for their deposit.
These exchanges all provide an intuitive UI for staking your ETH—just head to your ETH wallet on the respective exchange and it should be pretty straightforward to get started!
---
2. Staking Protocols (Intermediate)
⚒️ Requirements: ETH, a non-custodial wallet
💰 Estimated APY: 4.8%
✅  Tradeoff: Easier than running a validator, but validator set is permissioned
Lido is a liquid self-staking solution for Ethereum and other networks. It is a non-custodial service, meaning it has no central administrator and users remain in control of their funds. The validator set is currently permissioned, though there are commitments to make this permissionless in the future. As with any staking protocol, there is smart-contract risk.
The platform makes it easy for users to earn via staking any amount of ETH while keeping their ETH liquid. The open-source protocol, which is progressively evolving into trustless architecture, thus provides stakers with stETH on a 1:1 basis with their staked ETH.
For this reason, holders can then use their stETH as they please while their underlying ETH continues to yield staking rewards over time. For example, lending protocol MakerDAO recently integrated stETH as a supported collateral type for borrowers.
How to stake with Lido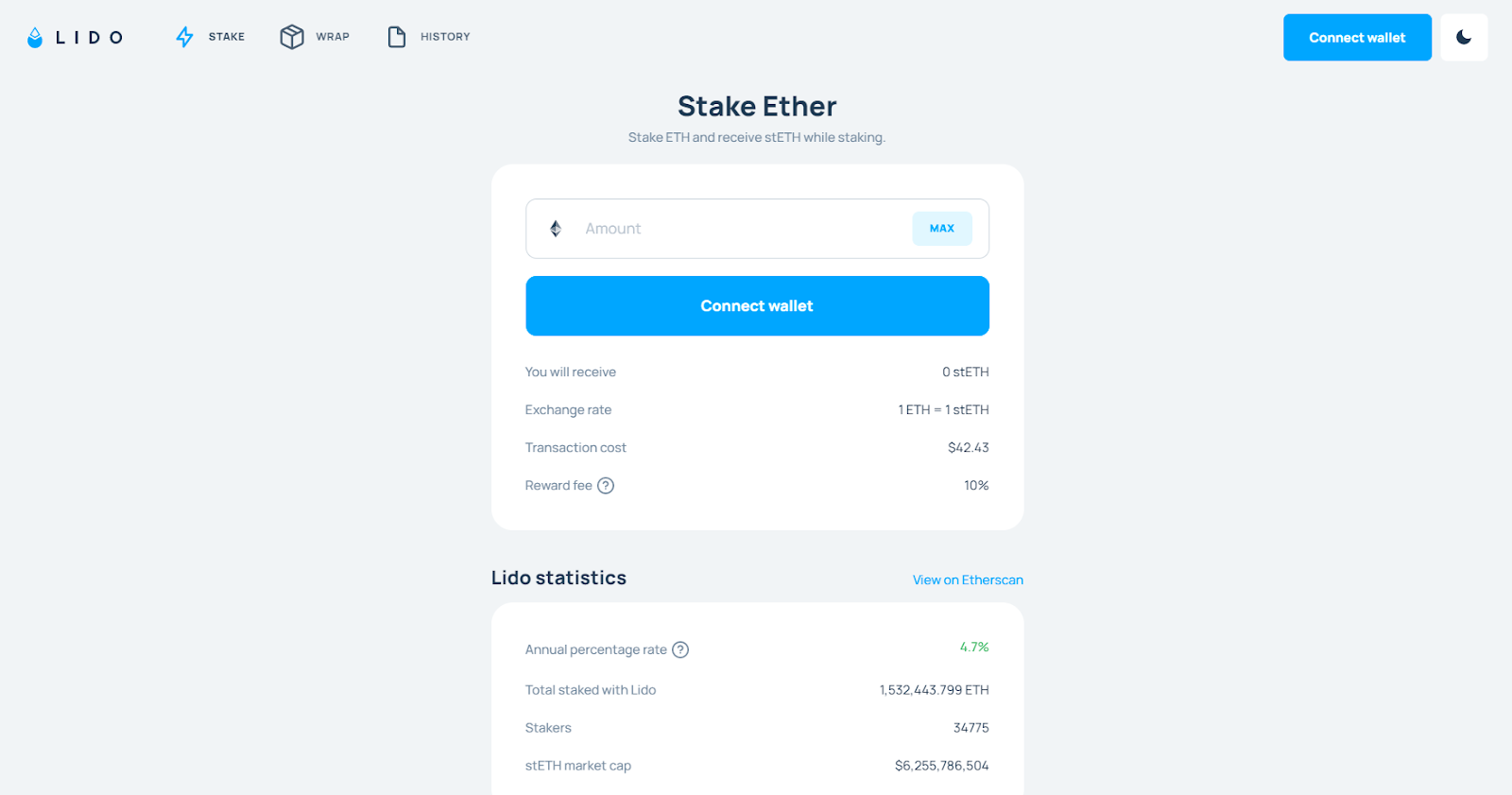 As Lido is a staking pool service open to any amount of ETH, staking through the protocol is straightforward for anyone interested in trying it out. For starters make sure you have some ETH!
Then you'd follow these steps:
Also, keep in mind that your new stETH holdings will update daily to reflect your earnings (Lido takes a 10% cut). Since Eth2 withdrawals aren't live yet, you can trade your stETH for ETH if you're inclined to unstake your holdings at any time.
---
Bankless Resources on Lido:
---
💰 Estimated APY: 4.8% (earn more if you run a validator node!)
✅ Tradeoff: Easier than running a validator & validator set is permissionless, but still new!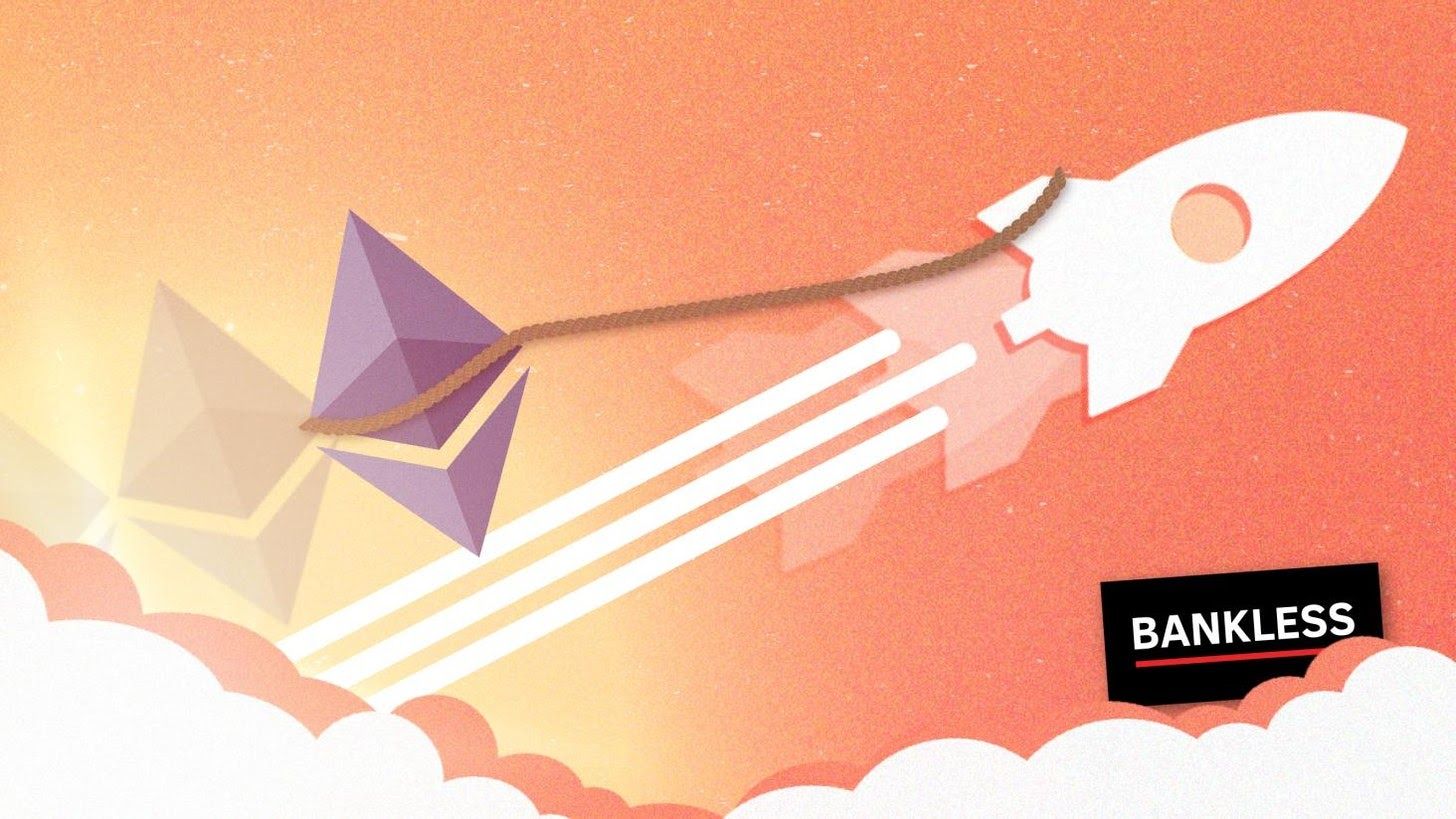 Rocket Pool is a decentralized staking-as-a-service (DSaaS) protocol for Ethereum with a permissionless validator set (any validator can join!). It is non-custodial and aligns with the ethos of self-sovereignty that's foundational throughout the Ethereum and DeFi ecosystems. As with any staking protocol, there is smart contact risk.
There are two main ways to stake through Rocket Pool:
Node Operator (16 ETH deposit minimum)
Tokenized Staking (0.01 ETH min) pool system.
Rocket Pool takes an operator's 16 ETH and combines it with 16 ETH from a staking pool to create a mini-pool, i.e. an Eth2 validator. This operator role entails various advanced responsibilities and is only for experts, but the staking pools are easy to use for anyone who wants to stake more than 0.01 ETH. The interesting part about becoming a node operator is that you earn commissions on the ETH rewards along with bonus RPL incentives!
Those who do opt to stake their ETH via Rocket Pool receive rETH, i.e. the liquid staking token that represents stakers' positions like stETH does for Lido users. Over time the yield from rewards grows the value of rETH against ETH, leading to a dynamic exchange rate.
How to stake with Rocket Pool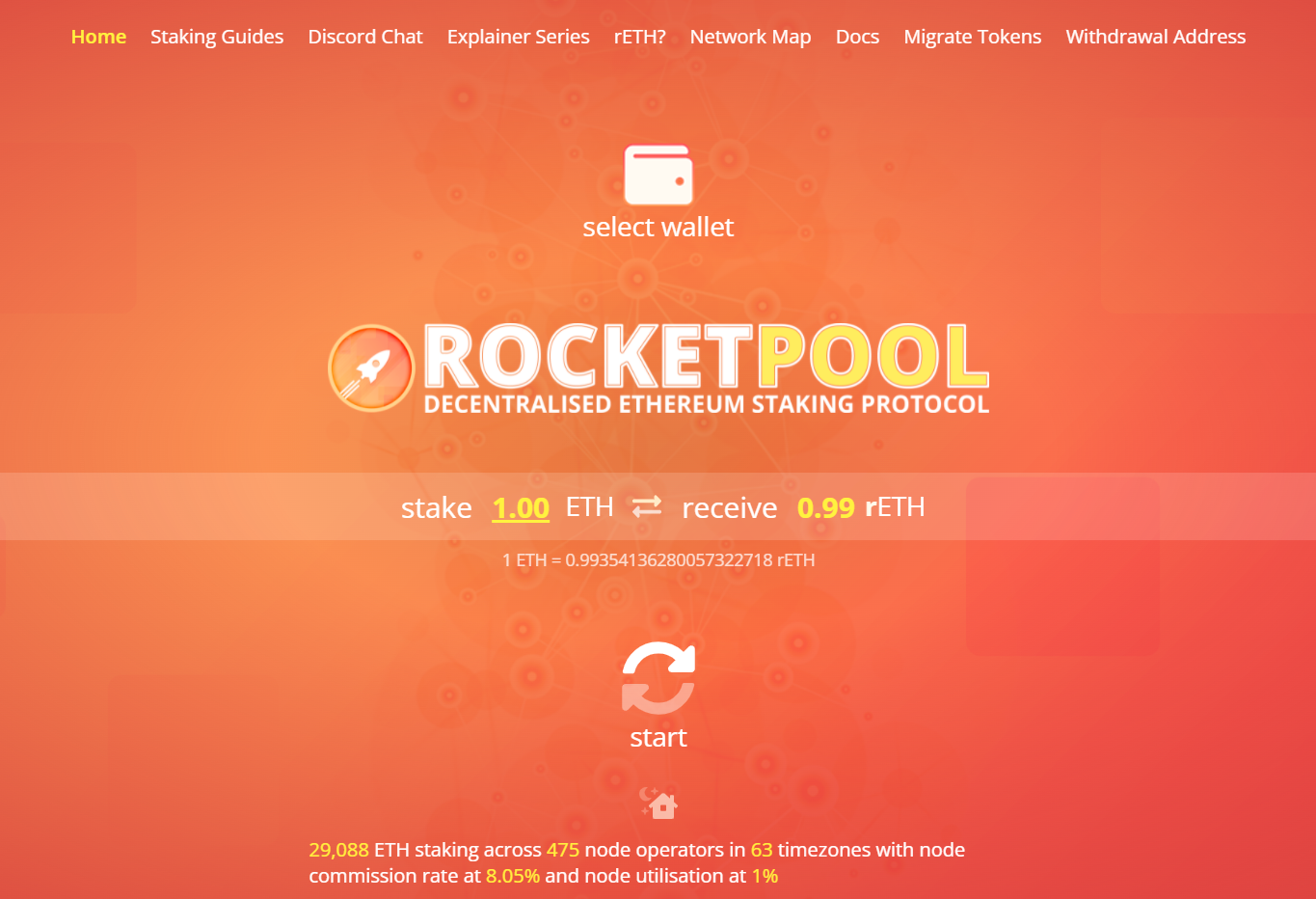 If you're interested in taking the more involved Node Operator route, be sure to check out the Node Operator's Responsibilities guide. With that said, the easiest way is tapping into the staking pools and receiving a tokenized deposit (rETH). You can join one of these pools by following these steps:
---
Bankless on RocketPool
---
💰 Estimated APY: 4.7%
✅ Tradeoff: Easier than running a validator, but less decentralized vs RocketPool
StakeWise is an Eth2 staking provider. As of April 2021, the platform offers non-custodial staking in both its StakeWise Solo and StakeWise Pool offerings.
For StakeWise Solo, users supply a minimum of 32 ETH at which point StakeWise's infrastructure and tools handle the validator work on your behalf. On the flip side is StakeWise Pool, which pools ETH from many users to create validators and has no minimum deposit amount.
Notably, StakeWise relies on a dual-token system: stakers receive both sETH2 (to represent staked ETH) and rETH2 (to represent staking rewards). This is a unique model as users can sell their rETH2 tokens and deposit them back into the pool, compounding their rewards.
How to stake with StakeWise
Want to take StakeWise's dual-token ETH2 derivative system for a spin?
You can join in by following these steps:
---
3. Run an ETH Validator (Advanced)
⚒️ Requirements: 32 ETH, dedicated hardware, a non-custodial wallet.
✅ Tradeoff: Difficult for newcomers & those with <32 ETH
Running your own ETH2 validator is the ideal way to stake your ETH. It helps with the decentralization of the network and creates a more robust ecosystem—but it's not the easiest thing in the world to do.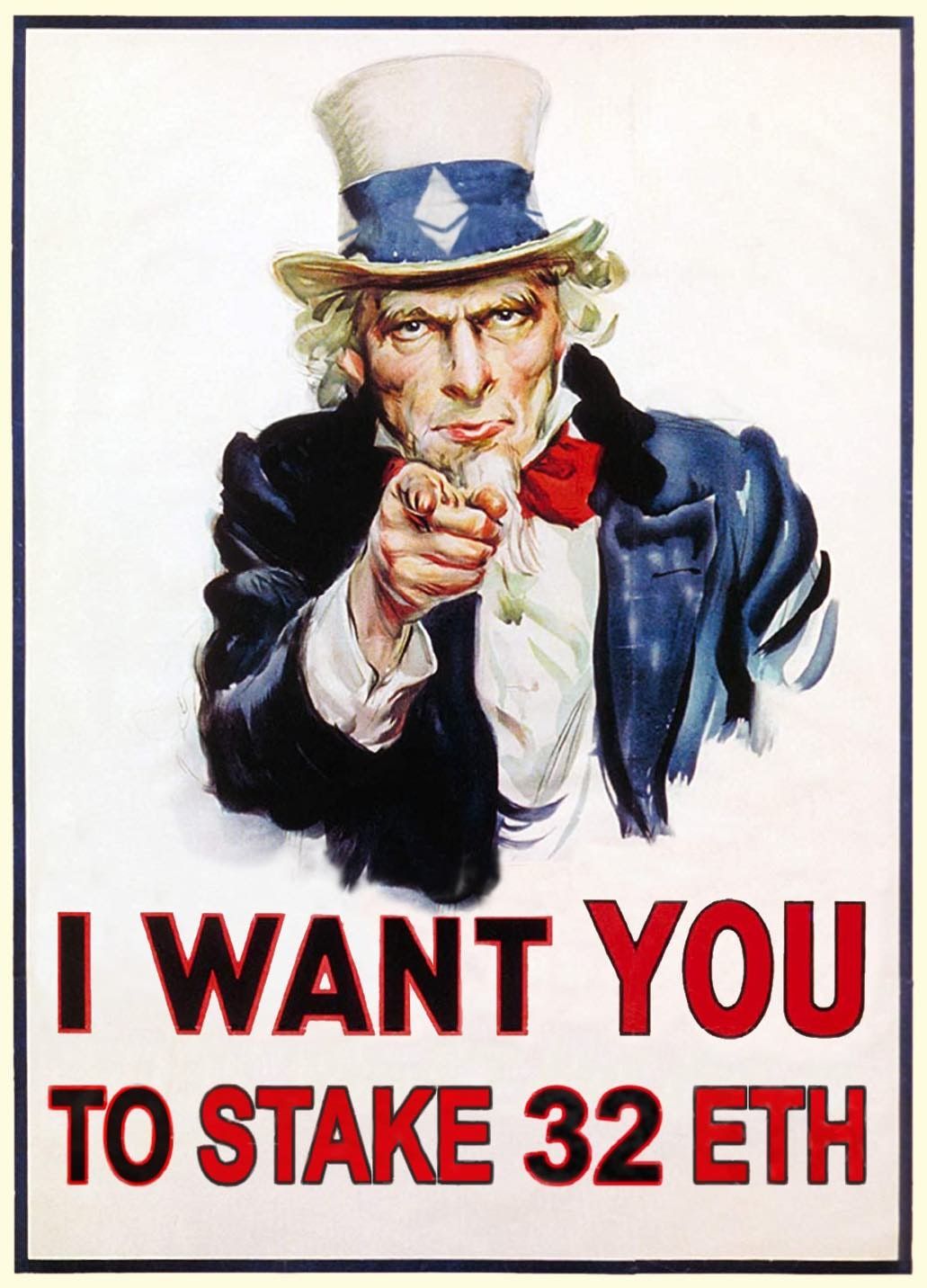 You have to run your own hardware, ensure a stable internet connection, and require users to have a significant amount of capital (32 ETH). With that said, it's definitely the most rewarding way to stake your ETH given you're helping improve the network's resiliency and aligning yourself with the community's core values.
If you're interested in getting started running your own node, here are some guides to check out:
---
Conclusion
"Staking pools and their staking derivatives are subject to similar market realities as MEV extraction, in the sense that their existence is inevitable. As long as there is a private benefit to creating and using them, they will exist and flourish. However, if the right solution wins and is sufficiently adopted, it can lead to systemic benefits for Ethereum as well."

— Hasu and Georgios Konstantopoulos, On Staking Pools and Staking Derivatives
Today, there are more than 8.5M ETH staked in the Eth2 Beacon Chain, and that's just after one year of this new chain being in existence.
What happens next?
Well, expect the amount of staked ETH to keep climbing for the foreseeable future as these services continue to make it easier to stake ETH. Centralized exchanges, staking protocols like Lido, Rocket Pool, and StakeWise, and running your own validator are all working towards the same mission—make ETH staking accessible!
So what are you waiting for?
Stake your ETH.
---
Action steps