Article
How to open an unsecured loan with Teller
Learning how to take out a loan on Ethereum without ANY collateral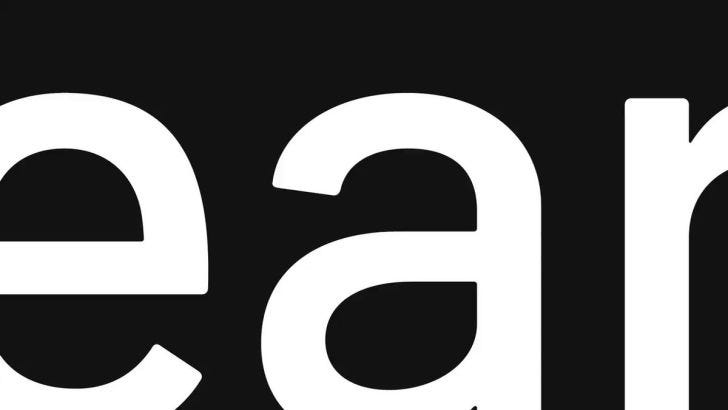 Fund the Bankless Gitcoin Grant! 1 DAI goes a long way in helping the world go Bankless.
---
Dear Bankless Nation,
DeFi needs unsecured lending.
It's hard to sell mainstream on a crypto loan once you tell them "yeah, you need to lock up more capital than you can actually borrow".
DeFi needs to provide more value than speculative use cases. We're driving a revolution in our banking system. We're creating an open banking system accessible by anyone in the world.
We need credit!
And credit on DeFi is exactly what Teller is creating. They're bridging the gap between traditional finance & bankless finance to give users access to unsecured loans. How? By pulling credit data from centralized financial institutions and originating the loan on Ethereum. Like an oracle for credit scores.
This is one of our favorite up & coming products.
It's still waitlisted…but opening up soon.
So let's learn how to use it.
- RSA
P.S. We're hosting an AMA this week with Hugh Karp, Founder of Nexus Mutual. Starts at 12pm EST on Thursday!
---
🙏Sponsor: Zerion – Invest in DeFi from one place. 🚀 (I use this app daily - RSA)
---
We just released episode 15 of State of the Nation!
📺 Watch State of the Nation #15
$MEME IS HOT RN, WHY EIP1559 ISN'T HERE, and IS UNI A BUY, HOLD, OR SELL?
We're now live streaming State of the Nation—join us at 2pm EST every Tuesday!
---
TACTICS TUESDAY
Tactic #56: How to open an unsecured loan with Teller
Guest Writer: Ben Noble, Communications Lead at Teller Finance
Crypto lending is still in its infancy, and for many, the processes still appear too complicated for comfort.
Today, virtually all crypto lending applications require over-collateralization and subsequently offer limited utility only to crypto traders with significant holdings. Now, with Teller Finance, the doors are opening to the broader public by making it possible for anyone to participate in crypto lending and borrowing.
This tactic will cover how you can take out an unsecured loan using Teller with competitive interest rates and zero collateral requirements.
Let's get into it.
Goal: Secure an unsecured crypto loan
Skill: Beginner/Intermediate
Effort: 5-10 minutes
ROI: Variable
---
📜 Teller is currently on a waitlist for any prospective users. Sign up here to get started!
---
How to open an unsecured loan with Teller
What is Teller Finance?
Teller Finance is a blockchain lending application that uses a novel algorithmic credit risk protocol for unsecured decentralized lending.
The protocol acts as a financial primitive that interoperates with centralized consumer data to calculate credit risk. Teller was designed to enable risk-assessment for the entirety of the decentralized finance (DeFi) industry, offering developers the freedom to develop a new wealth of trustless financial instruments.
The Systemic Challenge of Credit
One of the greatest challenges for decentralized finance is shifting trust from centralized authorities to decentralized systems. Crypto assets pose significant disruptions to traditional financial institutions, but those institutions are deeply rooted in society. Today, banks are still the epicenter of all things finance, and concepts like credit permeate into everything from how we secure a mortgage to how we purchase a car.
Credit is an ethereal construct of trust that we forged from years of transacting with several linchpin institutions. Cutting out credit means rewriting the entirety of centralized trust we've relied on for both convenient and efficient exchange. Therefore, it's unlikely we will see a global overnight transition to trustless/creditless environments.
Enter Pragmatic Decentralization
When industry disruption is too disruptive it can quickly devolve into chaos. So, to reduce shellshock, many blockchain projects have started to create compartmental solutions that slowly introduce concepts of decentralization to different areas of finance.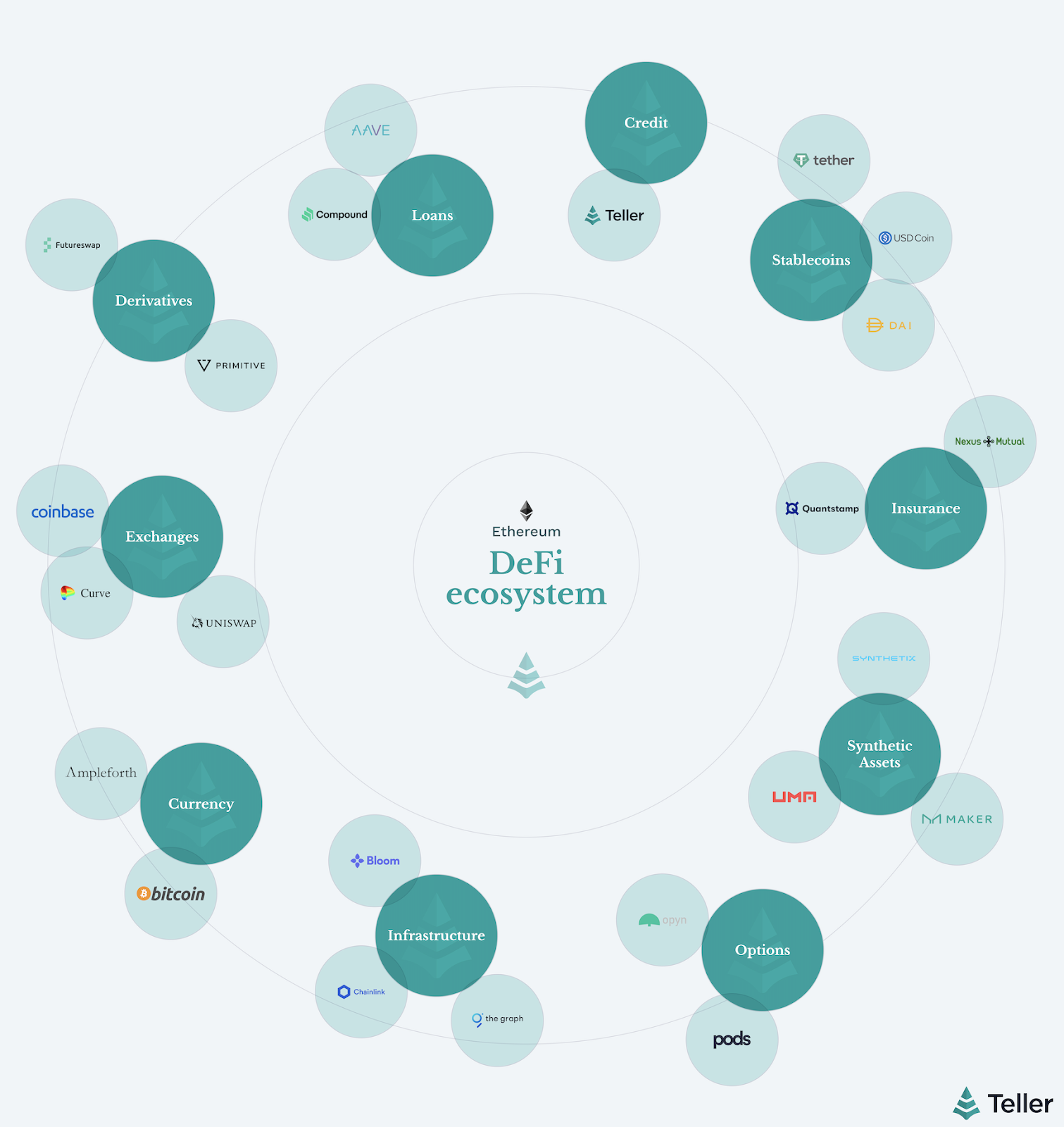 While all of these decentralized solutions provide value within crypto environments, credit and lending carry critical weight as a lingering obstacle to mainstream adoption.
A Bridge Between CeFi and DeFi
Without a formal "credit system," crypto lending is restricted to overcollateralized systems. This means capital efficiency is restricted and more money must remain "locked up" to counterbalance the risk of trustless transactions.
To solve this problem, Teller Finance created a bridge between centralized and decentralized worlds. The protocol offers the first major solution to this capital efficiency problem in DeFi by hybridizing smart-contracts and centralized financial data.
Essentially, Teller has found a way to create collaboration between banks and blockchain. At the protocol level, Teller can register a person's financial profile, which they've cultivated from years of transacting in the centralized world, and leverage that data to offer better lending terms in the decentralized world.
Eventually, the creation of decentralized credit bureaus and governance may dilute the relevance of centralized trust for facilitating loans. But, as we mentioned, this is unlikely to be a sudden transition.
Teller provides flexibility for the future of lending and offers a credit risk system that can adapt to the shifting importance of central credit. It's governance structure and risk scoring algorithms account for ecological changes and new data paradigms. That means, when the lending community is ready to fully depart from the centralized world, Teller can conform.
Unsecured Loans Add Gas to the DeFi Fire
With value locked approaching $10 billion, DeFi has charted a meteoric rise over the past few months... and that's with training wheels still attached. The convection of value in DeFi has yet to scratch the surface of the world's $215 trillion lending market; but that just shows us how much room there is for growth.
Consider that today's crypto lending applications require over-collateralization by as much as 300% the value of a loan. That collateral stagnates, serving only as a security blanket for the suppliers. By eliminating the collateral requirements for crypto loans, Teller could very well open flood gates to an ocean of capital currently stuck in risk mitigation.
How to use Teller to borrow an unsecured loan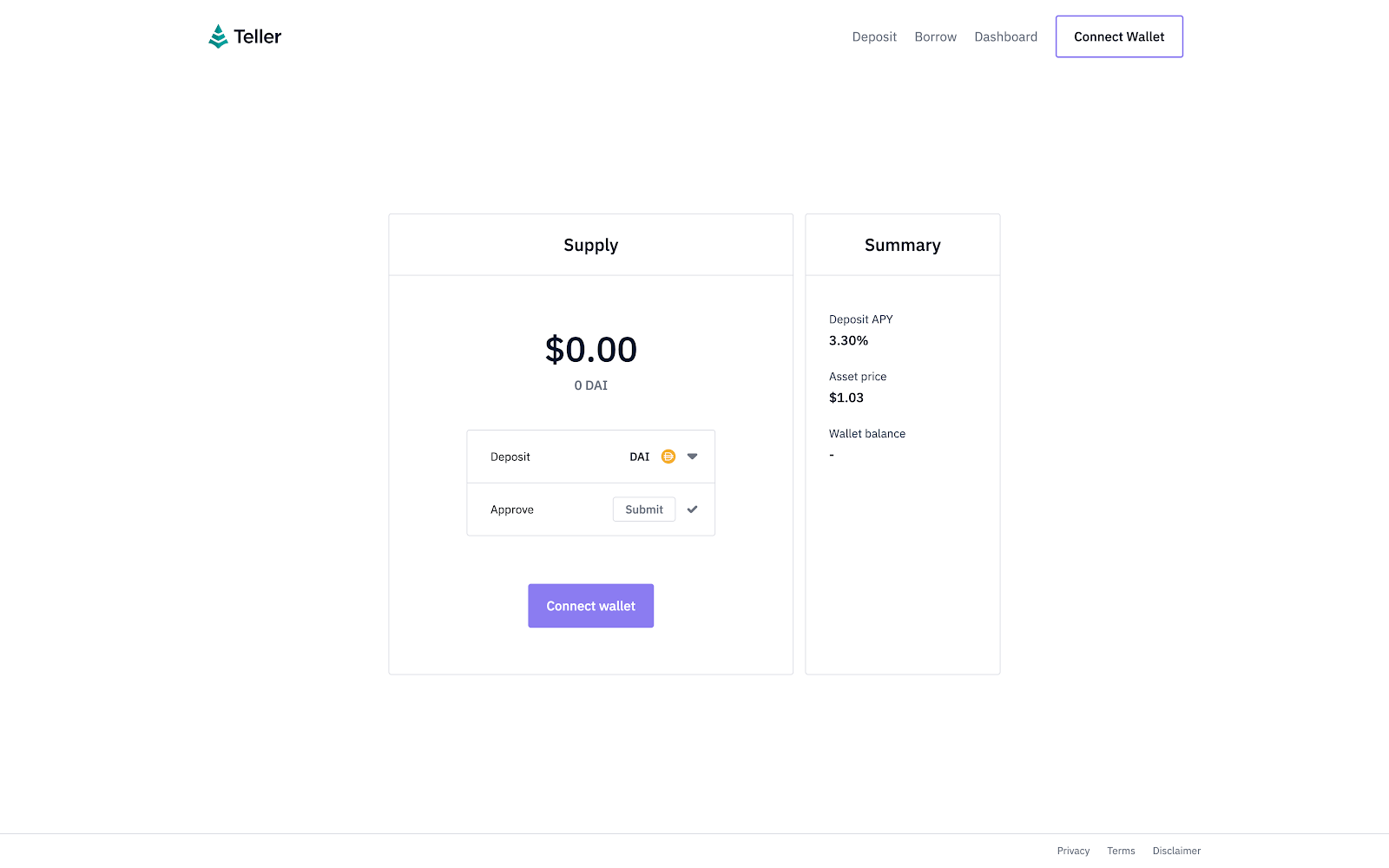 Visit Teller.Finance. At launch, Teller Finance will have a native web application available on its homepage. The app is mobile friendly and integrates with several popular browser wallets. By default, the application initially shows the "supply" function and provides a widget for connecting your wallet.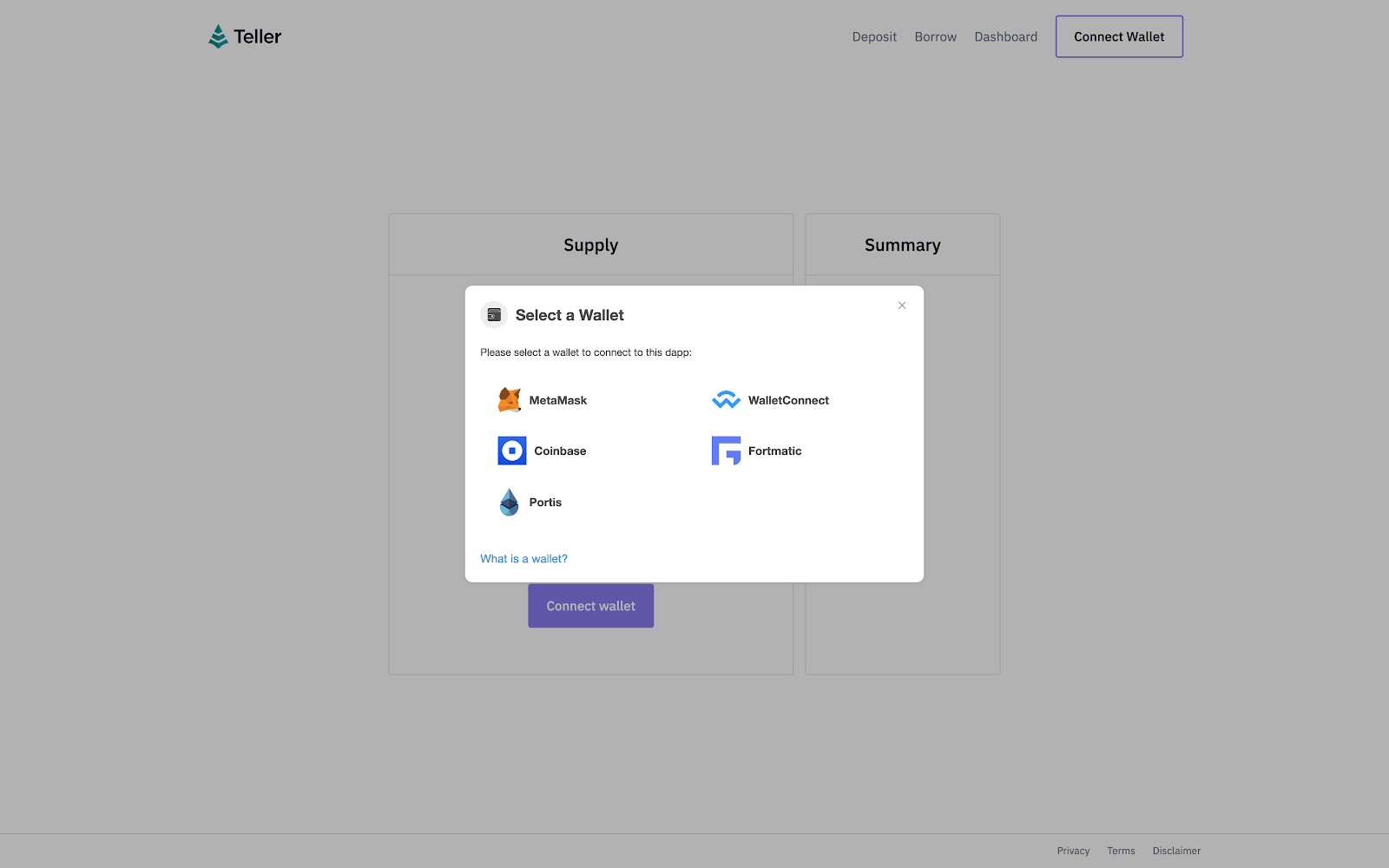 In the borrow function, you will see two different types of loans available for users: Unsecured and Secured. As the descriptions state, to apply for an unsecured loan we will need to connect your bank account. This will enable Teller to bridge our centralized financial data into its credit risk protocol to give us better collateral terms.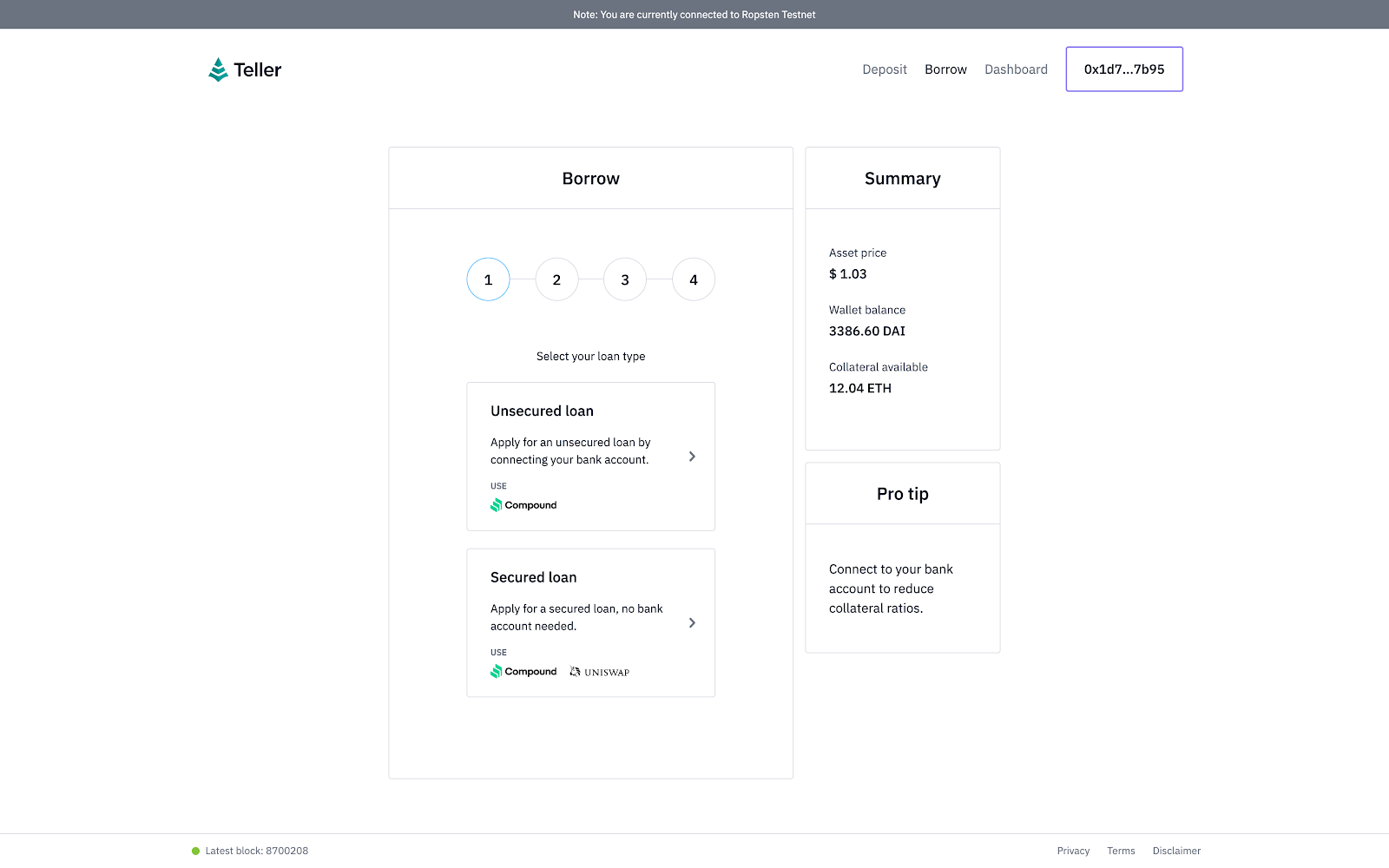 Once we've selected our preference, the app will navigate us to step two where we can select loan size and period, and the collateral type and percentage. Here, we will also see a field prompting us to connect our bank account.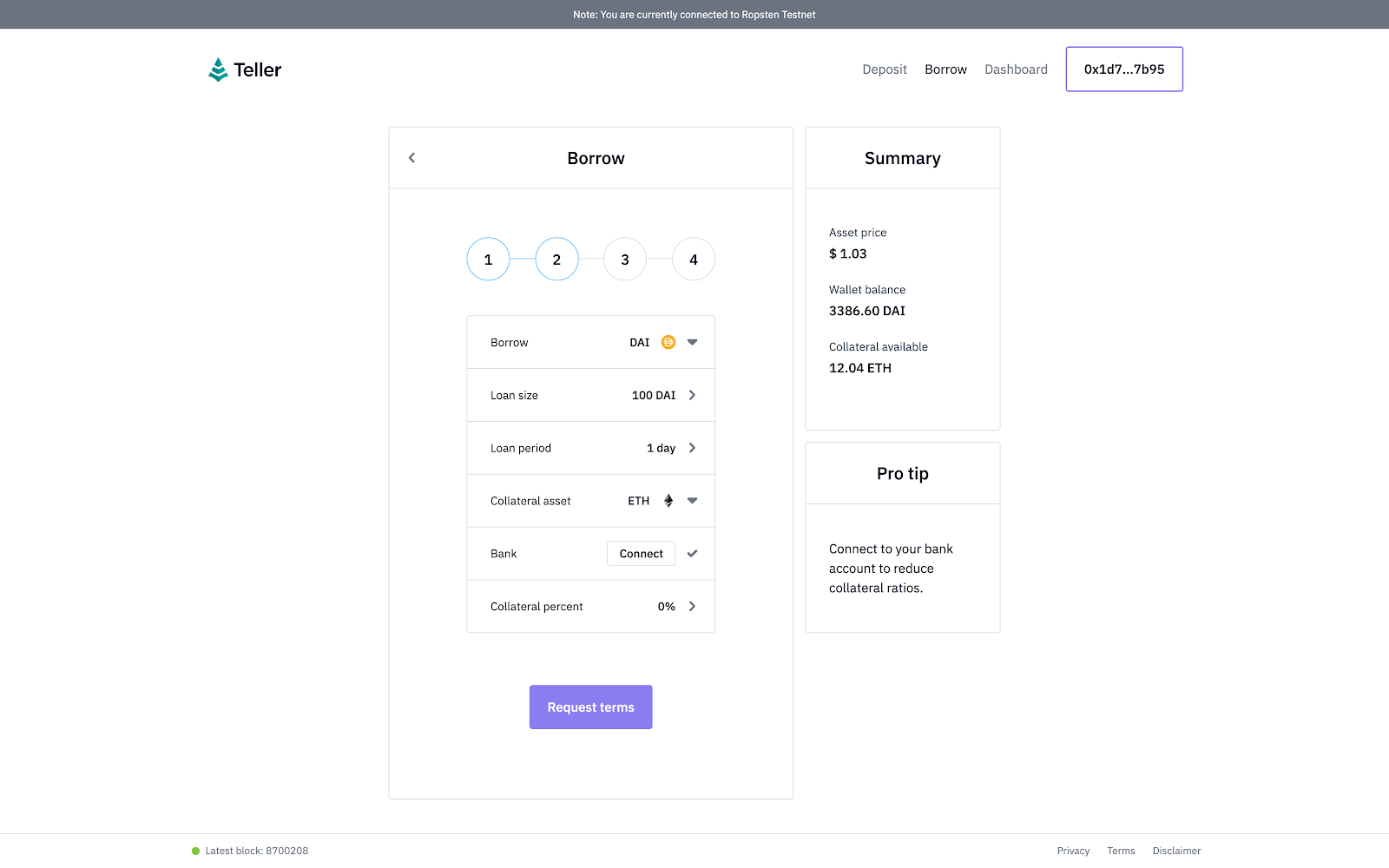 When we select connect we will have a full list of integrated banks to select from. Once we make our selection and login, we will authorize access, which will enable the protocol to transfer information to and from the Teller application.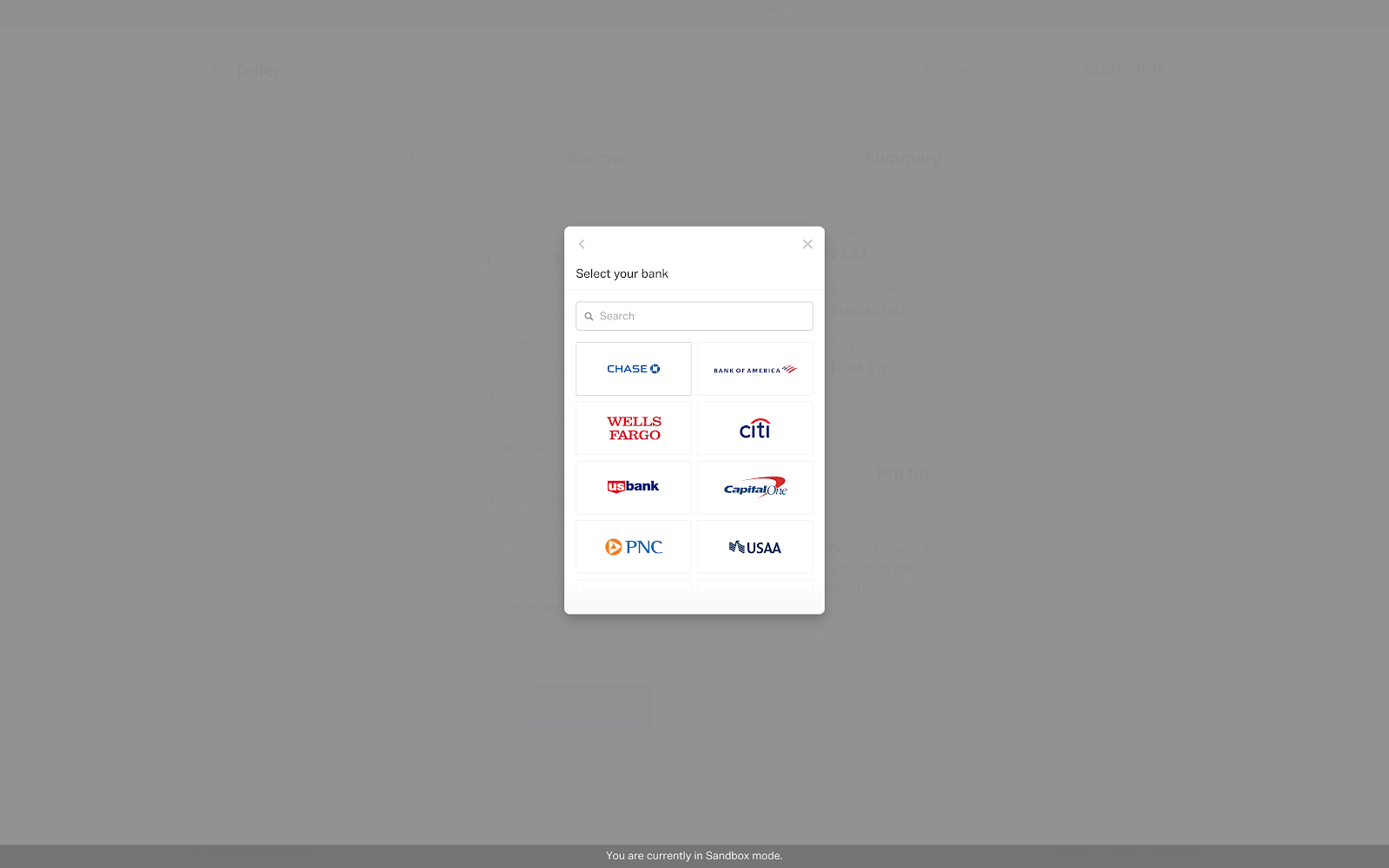 Approving our bank account brings us back to the main fields and enables us to request terms and move into our next step. Here we will review our loan terms calculated based on our request. As you can see, the interest rate for our loan is automatically calculated by the Teller Credit Risk algorithm.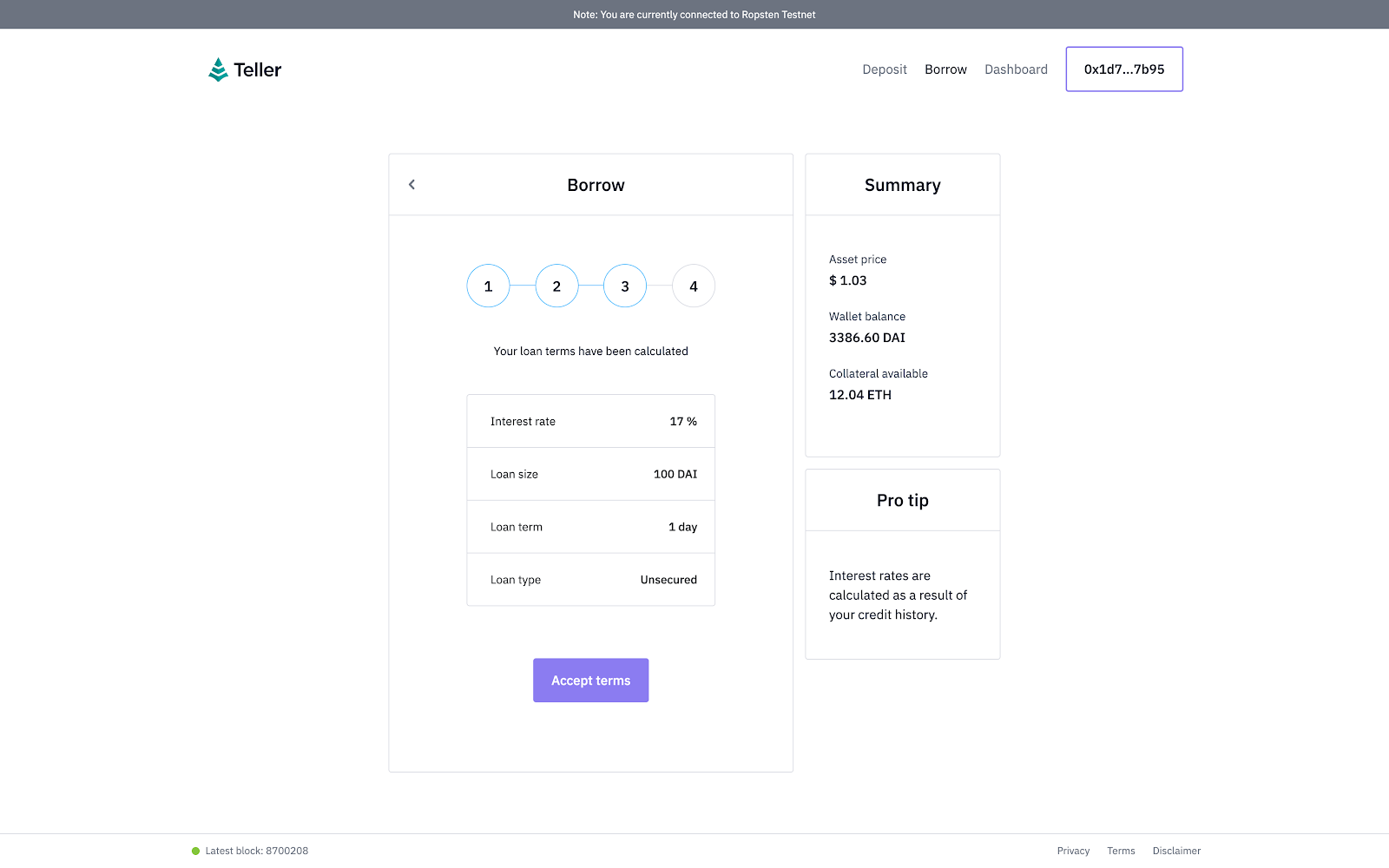 By accepting terms, we will formalize the Ethereum smart contract and prime our final step for securing our loan. Now, all we need to do is enter our collateral amount commensurate with the loan terms (in this case 0) and click "request loan."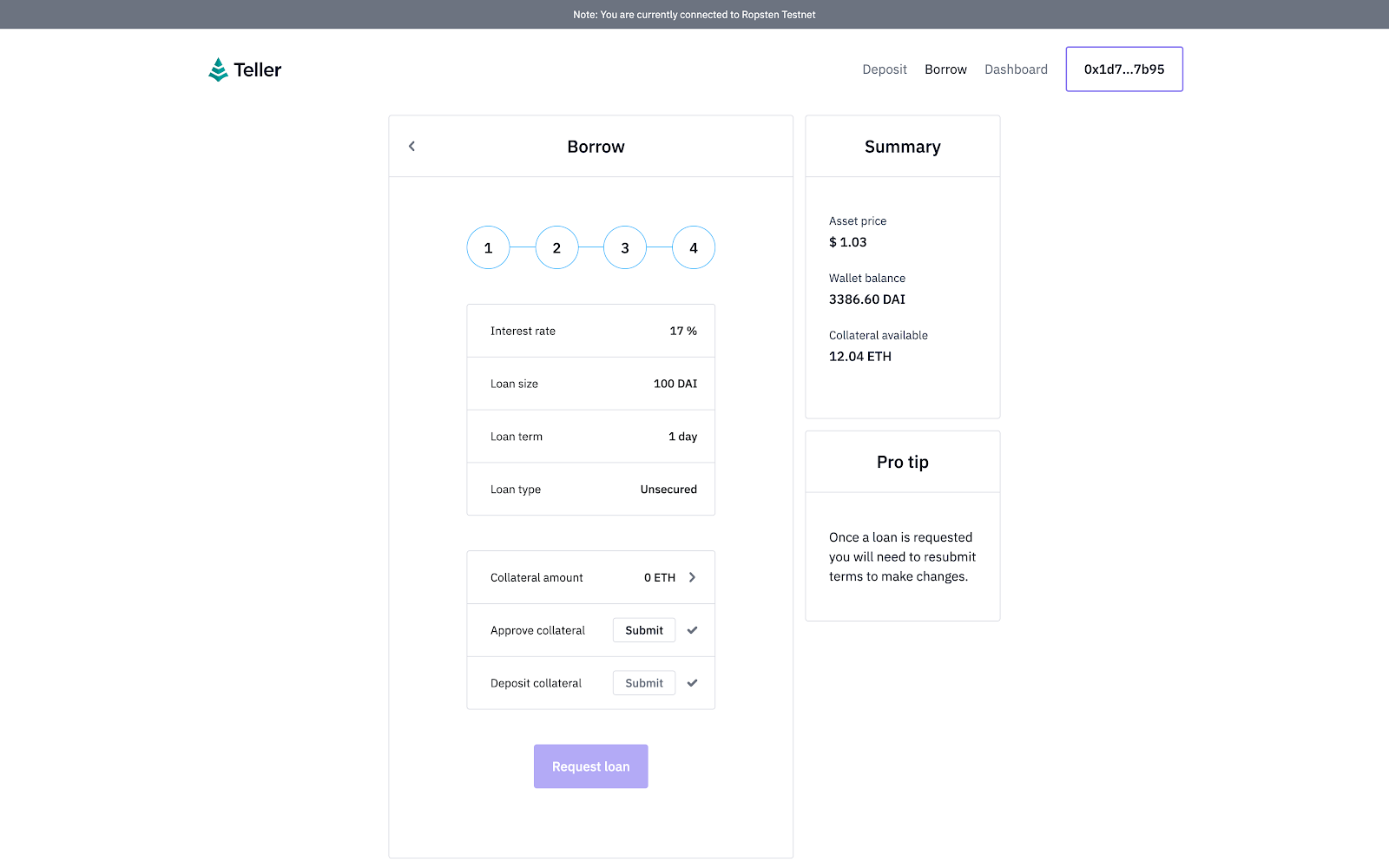 An accepted loan appears as follows and prompts us to return to the dashboard. There, we will be able to track our loan standing and make payments accordingly.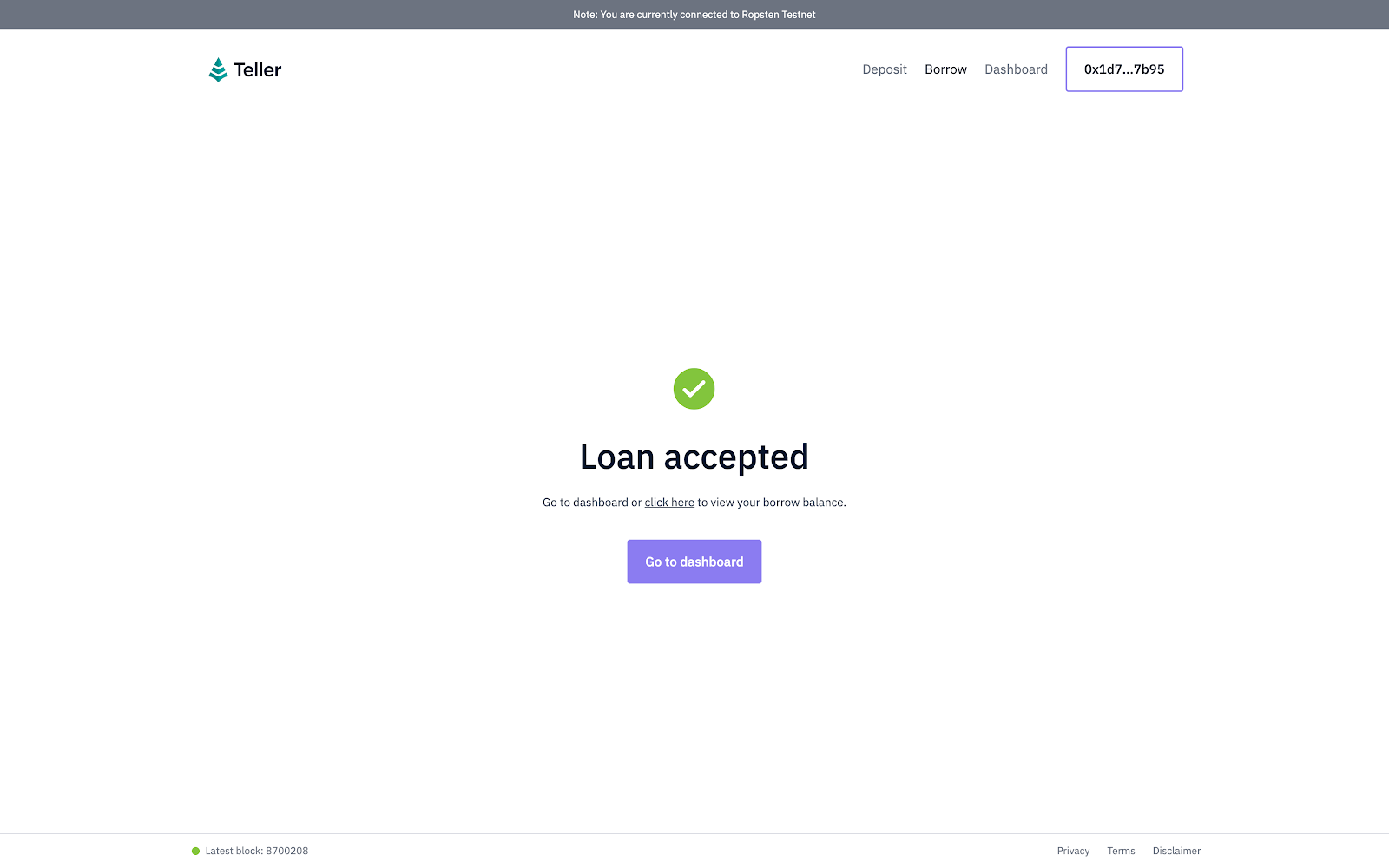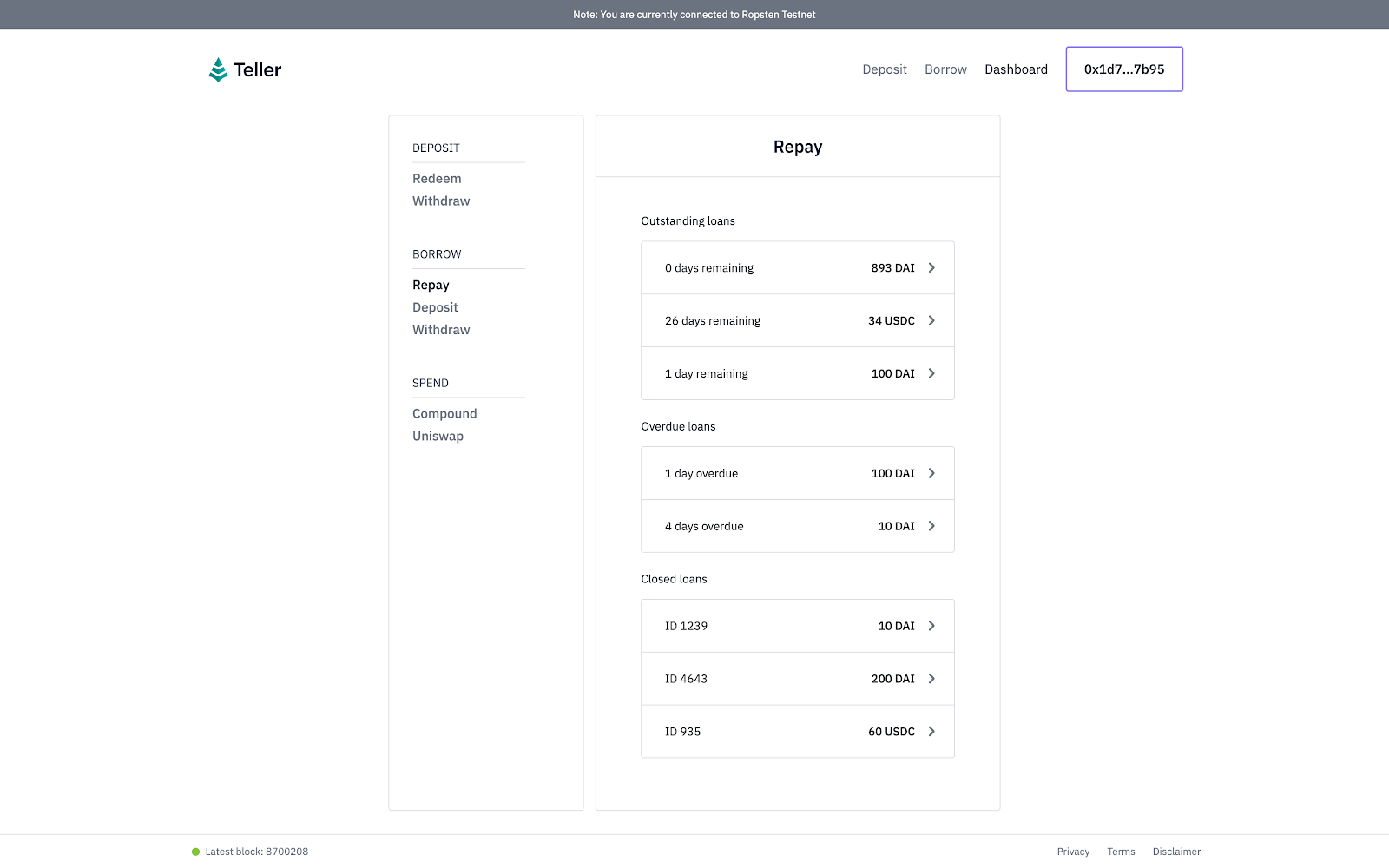 And there you have it! You've taken out a crypto loan with zero collateral.
Teller has opened the door for trillion-dollar debt markets. Crypto traders can access leverage with minimal collateral & competitive interest rates while others can finally access DeFi loans without having to collateralize more money than they need to borrow!
The future of DeFi is here.
For those interested, here's a full video demo:
---
Author Bio
Ben Noble is the communications lead for Teller Finance and co-owner of Multiplied, a blockchain-native public relations agency.
---
Action steps:
Join the waitlist for Teller's unsecured lending application

Read our previous Bankless pieces on unsecured lending
---
Go Bankless. $12 / mo. Includes archive access, Inner Circle & Deals—(pay w/ crypto)
---
🙏Thanks to our sponsor
Zerion is the easiest way to manage your DeFi portfolio. Explore market trends, invest in 170+ tokens, view returns across wallets and see your full transaction history on one sleek interface. They're also fully bankless, which means they don't own your private keys and can't ever access your funds. I use this app daily! Start exploring DeFi with Zerion on web, iOS or Android. 🔥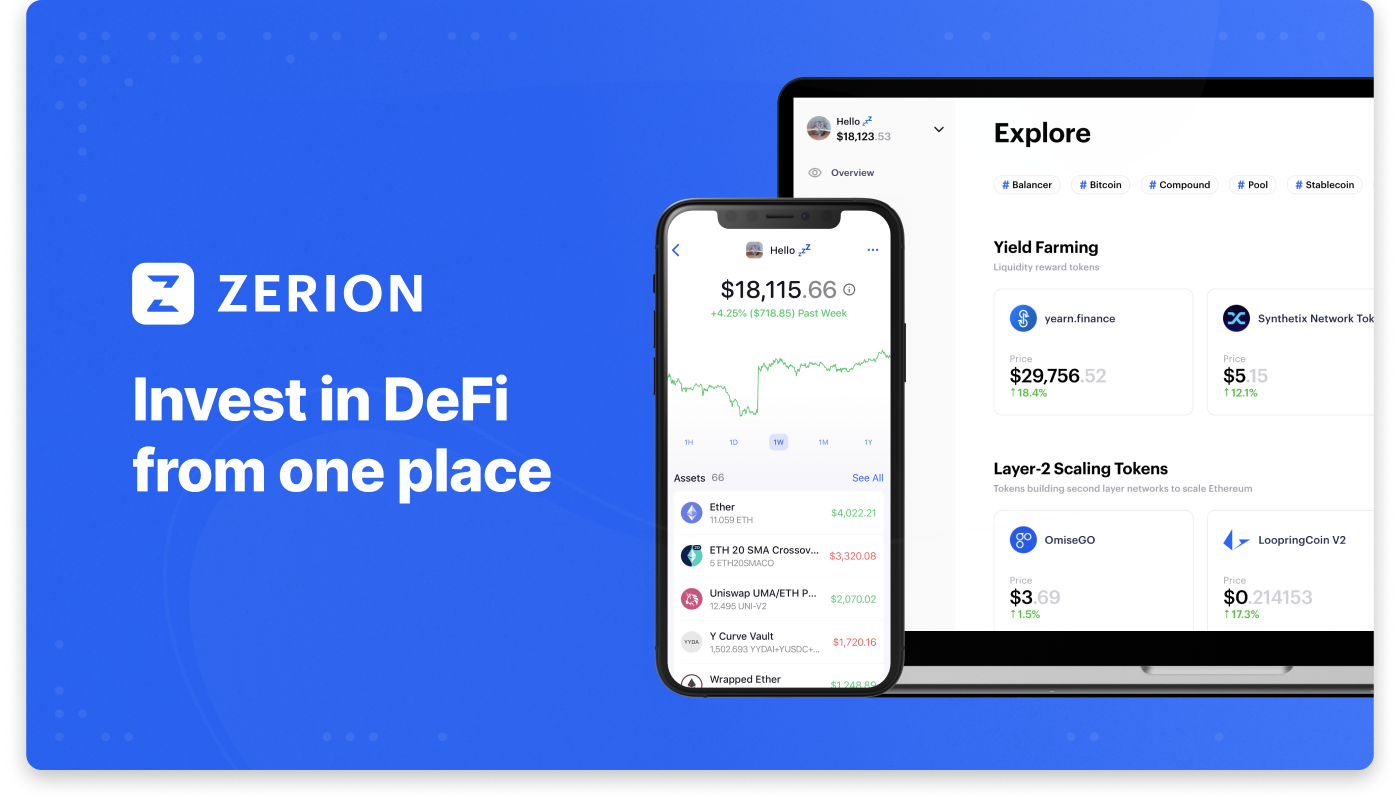 - RSA

P.S. Don't forget to get check out Zerion's new Uniswap integration. 🦄
---
Not financial or tax advice. This newsletter is strictly educational and is not investment advice or a solicitation to buy or sell any assets or to make any financial decisions. This newsletter is not tax advice. Talk to your accountant. Do your own research.
---
Disclosure. From time-to-time I may add links in this newsletter to products I use. I may receive commission if you make a purchase through one of these links. I'll always disclose when this is the case.