Article
How to get the best prices using 1inch
Learn to use the improved 1Inch DEX aggregator to get the best price on your tokens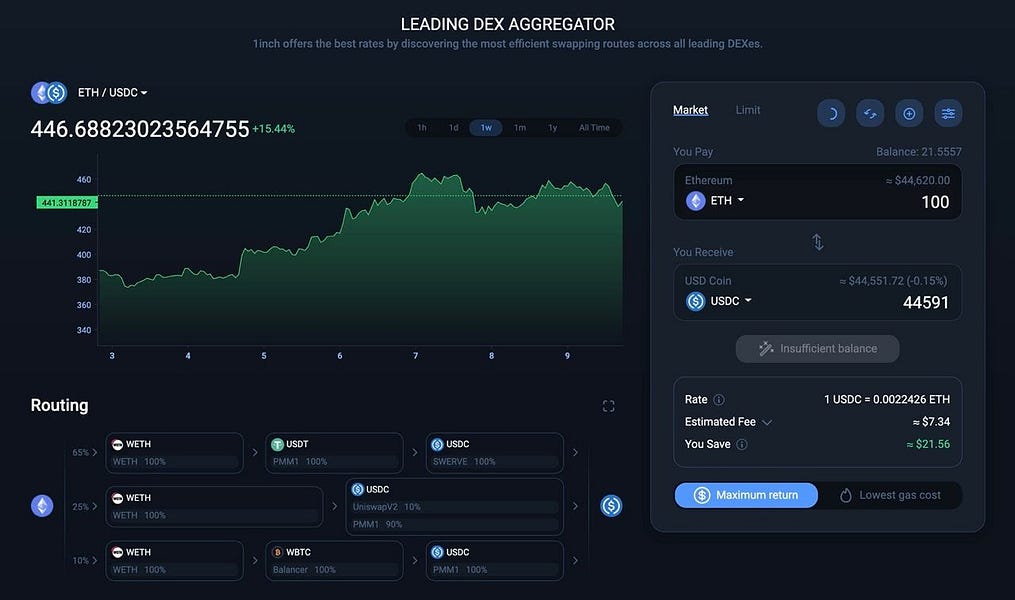 Hey dev & entrepreneurs! Let's use Filecoin to make the world more decentralized and earn some cash. Get a $20K grant + over $1M in funding. Just 5 days left! Apply now!
---
Dear Bankless Nation,
Why use Uniswap for trades if you can get a better price on Balancer or Kyber?
Because it's time consuming to go from pool-to-pool in search of the best price. That's where aggregators come in! We talked about this before in our Matcha tactic.
But there's more than one aggregator in the game. And at $5b in volume 1inch is one of the largest. They also just released a major V2 upgrade last week, giving them a new, clean interface along with Pathfinder—some fancy tech for more efficient routing.
They also have an automated market maker (AMM) called Mooniswap, the CHI gastoken, and more. There's a lot to unpack here. So let's do a rundown.
Here's how to use the new 1inch Exchange.
- RSA
P.S. We're hosting an AMA with the founders of Zapper on Thursday! Ask them anything about building one of the best dashboards for investing in DeFi. Starts at 12pm EST.
---
🙏Sponsor: Aave—earn high yields on deposits & borrow at the best possible rate!
---
📺 Watch State of the Nation #22: BONDING w/ @StakeETH
ETH as the Internet Bond, Staking returns, and how much ETH does David need to retire??
We're now live streaming State of the Nation—join us at 2pm EST every Tuesday!
---
TACTICS TUESDAY
Tactic #65: How to get the best prices on trades with 1inch Exchange
Guest Writer: Jessica Salomon of 1inch Exchange
1inch.exchange is a decentralized exchange aggregator that sources liquidity from the top DEXes and liquidity protocols to save traders money on swaps. What's unique is 1inch's capabilities to find the best possible trading paths and split them among multiple market depths, providing users with an optimized trading experience.
Just last week, the 1inch team unveiled 1inch version 2—a major upgrade for the DEX aggregator. This tactic will show you how to leverage 1inch exchange to get the best price on token swaps.
Goal: Optimize customized swaps on 1inch Exchange Version 2
Skill: Beginner/Intermediate
Effort: Minimal
ROI: High (Less money and less time spent on swaps!)
---
1inch just updated to V2…here's what you need to know
The launch of 1inch V2 includes Pathfinder which is an API for an optimized discovery and routing algorithm. It also shipped with a more intuitive UI that's a whole lot more customizable. Pathfinder is nice because it uses multiple 'market depths' within the same protocol—long-story short: this helps ensure the best rates on trades across 21 different DeFi liquidity source and cuts response time by a lot.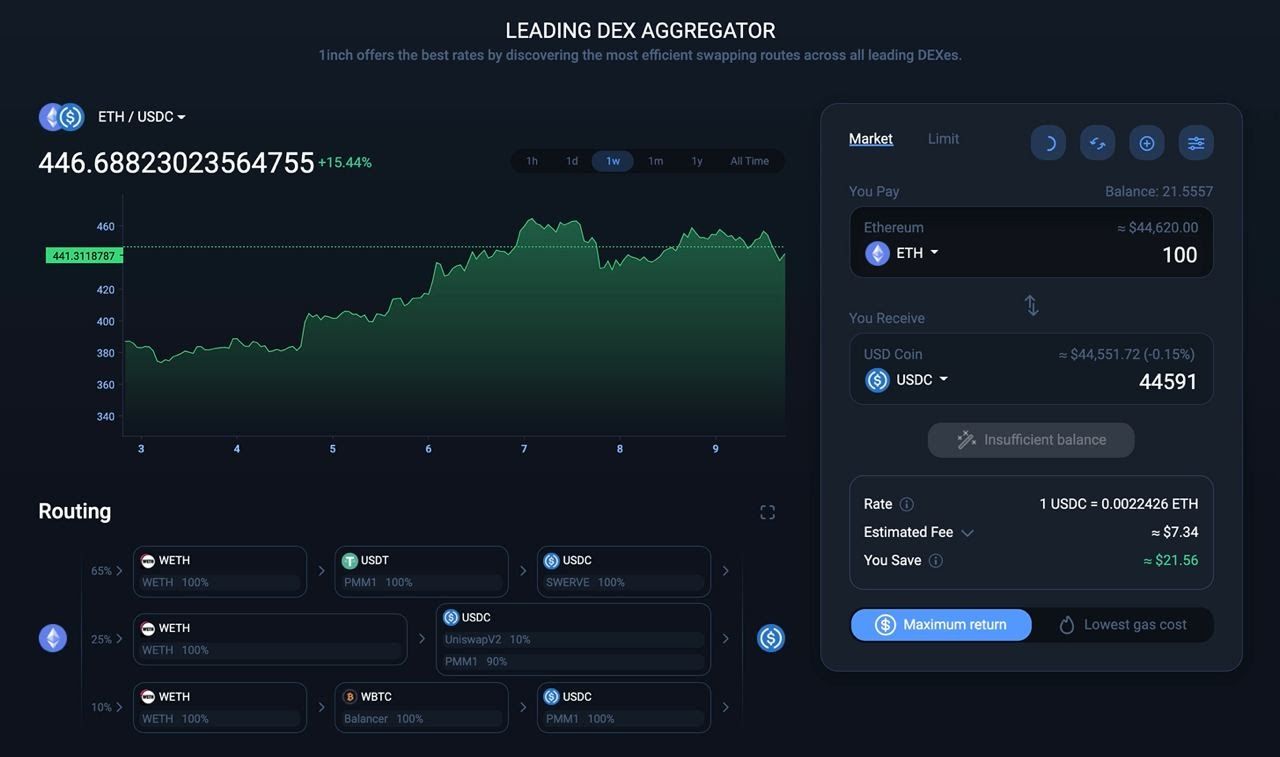 1inch has already surpassed $5 billion in total volume and continues to act as a primary aggregator for traders in the DeFi community. The launch of v2 serves as evidence that they'll continue to ship competitive products for DeFi.
---
🤖 Didn't 1inch enter the AMM game too? Yep. 1inch launched Mooniswap in August 2020 which is a new AMM where liquidity providers earn more than most other AMMs. Mooniswap achieves higher earnings by slowing down price changes and preventing arbitrage traders from earning all the swap slippages.
---
Using 1inch Exchange for Token Swaps
Step 1: Connect your wallet by going to 1inch Exchange. Click on the 'Connect wallet' button in the upper right corner and make sure to read and accept Terms of Service, Legal Disclosure and Privacy Policy.
From there, you can choose your wallet (e.g. MetaMask) in the popup window and hit the connect button. 1inch currently supports all the leading wallet providers, including Metamask, Wallet Connect, Ledger, and more.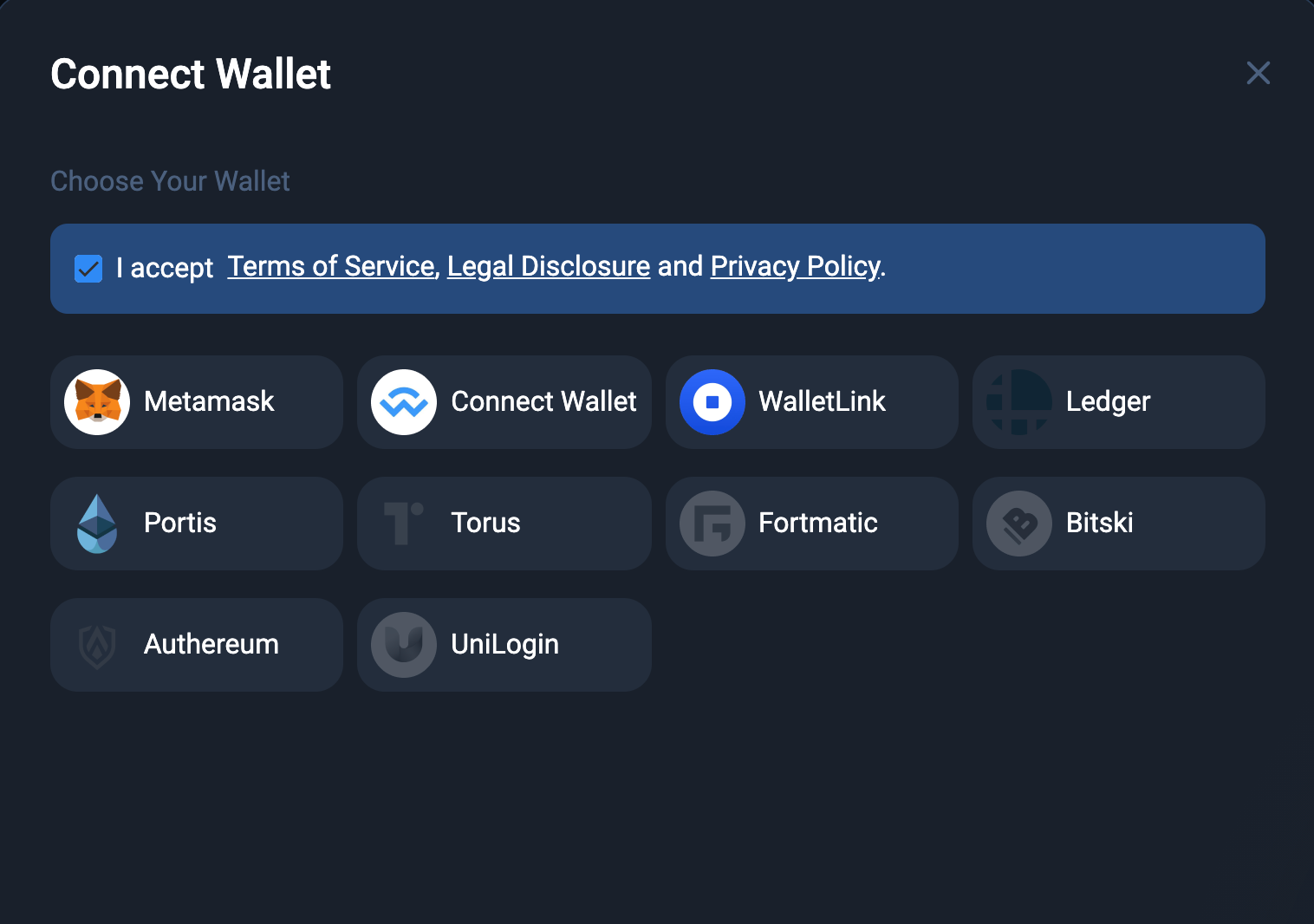 Step 2: Choose which tokens you want to trade and apply any trade settings. You can select your desired token and the respective trading pair in the dropdown window. 1inch also allows you to add custom tokens by clicking on the "+" in the top right of the order box.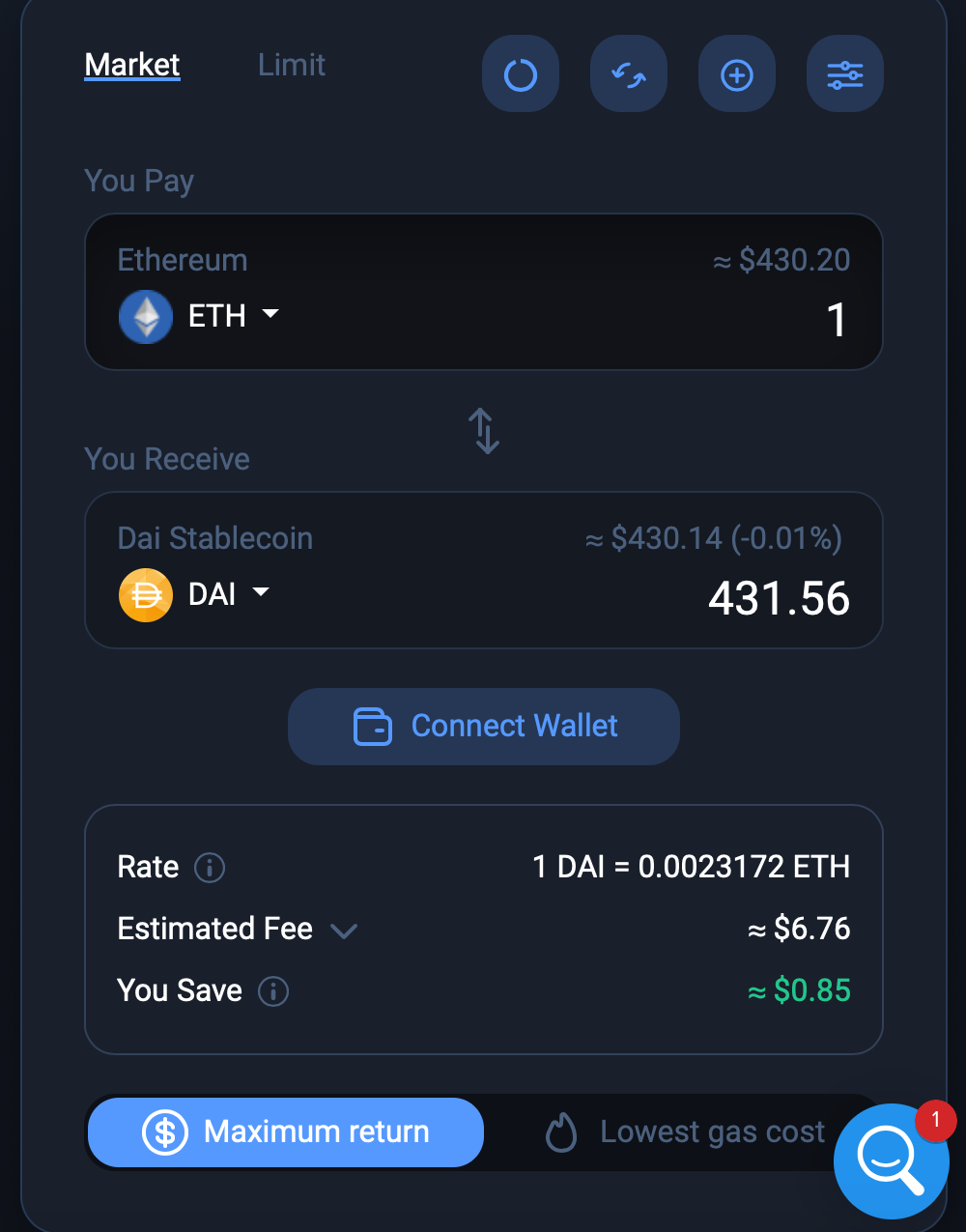 Traders can choose between the 'Maximum return' and 'Lowest gas cost' options. If you choose the 'Maximum return' option, the algorithm will use complex routes for the swap to make sure that you get the best rates. Alternatively, you can go for the 'Lowest gas cost' option where the pathfinder algorithm will find the best option in terms of gas costs.
The 'lowest gas cost' option can be valuable on small trades where you're being fee conscious and don't want to pay significant fees on small amounts, e.g. 1 USDT to WETH. Small trades optimize less liquidity sources and thus the lowest gas cost option will most likely deliver the best end price.
Step 3: Explore the advanced settings. In the upper right corner of the swap console, hit the 'Advanced settings' which will give you the option to tune your trading experience and understand what's happening under the hood. You can adjust your slippage tolerance, which liquidity sources to use, and even show the routing path for the trade.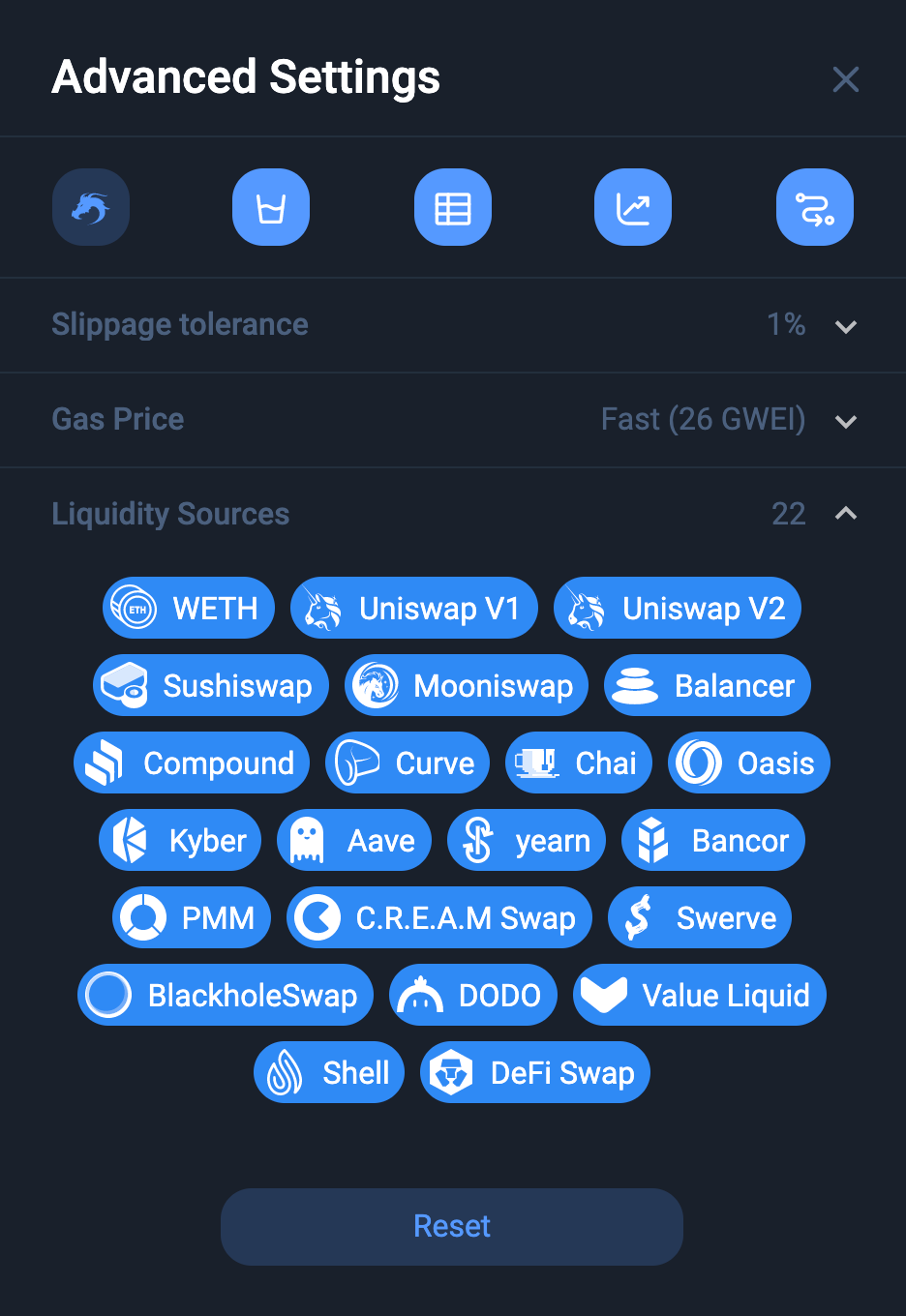 The 'Activate CHI' button on the left allows you to enable 1inch's CHI gas token which can reduce gas costs by 43%! In order to activate and receive the benefits of CHI, the user should begin with a CHI balance of at least 5 CHI.
---
⛽ Want to learn more about CHI? Read more about 1inch's gas token here.
---
The 'Disable Partial Fill' button allows users to disable and enable swap orders only filling partially—something that can be useful when the rate in one or more routes has changed, in turn becoming less attractive. Thanks to the partial fill feature, any route can be easily cancelled, and the user's un-swapped tokens will return to their wallet.
The advanced settings also allow a user to see a comparison table, charts and the entire routing for the swap they want to do. With the advanced settings, the user can set slippage tolerance, the gas price and choose between the 22 liquidity sources 1inch offers.
The slippage tolerance feature allows the user to select their swap's level of slippage. The user can choose: 0.1 %, 0.5%, 1 %, 3% or they can enter a custom amount. If the rate changes more than the selected percentage of "slippage tolerance" during the execution of the transaction, the transaction will be partially filled or reverted to save user funds
Step 4: Swap your tokens. Now that you understand more about 1inch, swap and enjoy the best rates and shortest possible response time! You can view your history directly on the exchange at any time.
In summary
The new 1inch looks great. Trades are much more customizable. Liquidity is better aggregated which means it provides some of the most competitive prices on trades in DeFi. Gas fees are decreased through CHI tokens.
In short, we think 1inch provides one of the best trading experience in DeFi.
So use this tactic and give it a try!
---
Action steps:
---
Author Bio
Jessica Salomon leads marketing and strategy at 1inch Exchange. She previously worked over at MakerDAO, the protocol behind the popular DAI stablecoin.
---
Go Bankless. $12 / mo. Includes archive access, Inner Circle & Deals—(pay w/ crypto)
---
🙏Thanks to our sponsor
Aave is an open-source and non-custodial protocol for money market creation. Originally launched with the Aave Market, it now supports Uniswap and TokenSet markets and enables users and developers to earn interest and leverage their assets. Aave also pioneered Flash Loans, an innovative DeFi building block for developers to build self-liquidations, collateral swaps, and more. Check it out here.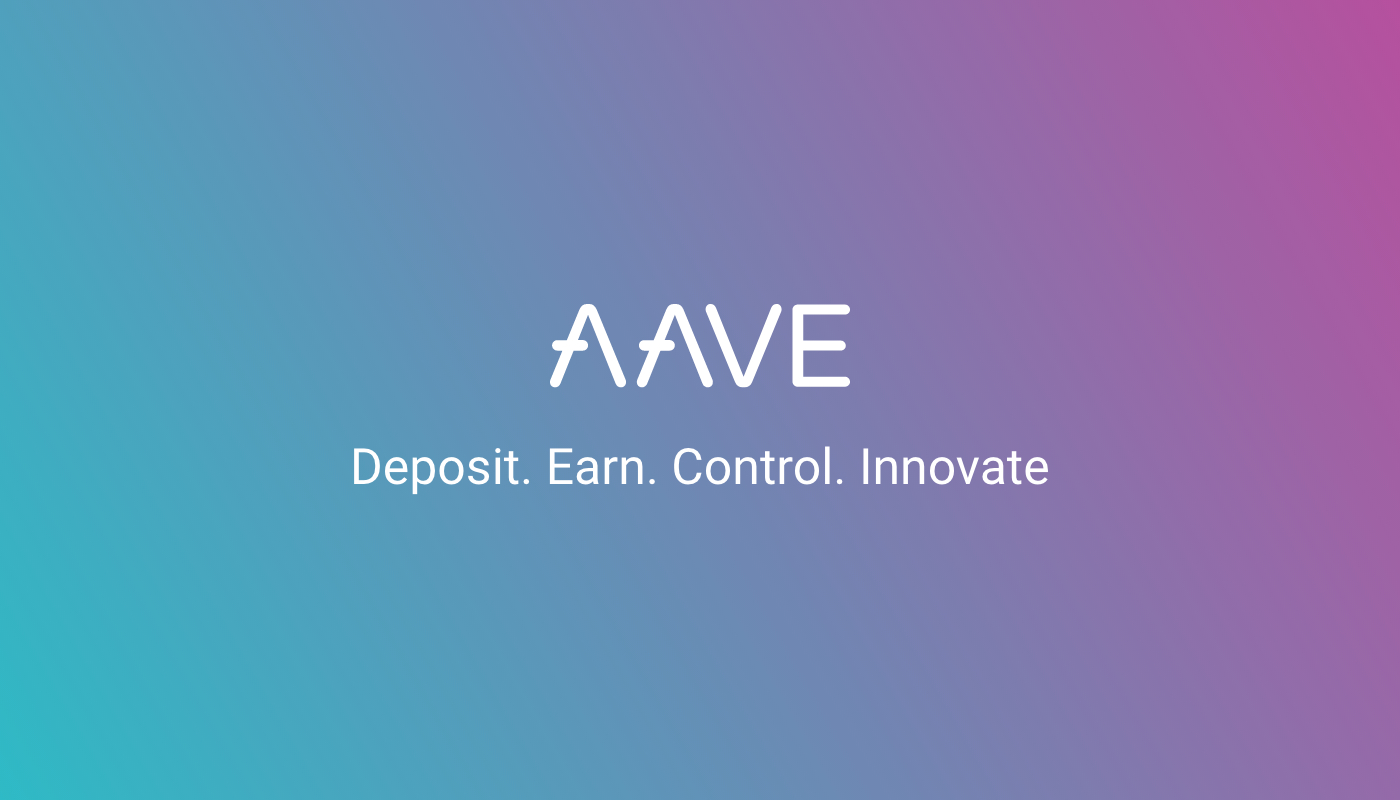 ---
Not financial or tax advice. This newsletter is strictly educational and is not investment advice or a solicitation to buy or sell any assets or to make any financial decisions. This newsletter is not tax advice. Talk to your accountant. Do your own research.
---
Disclosure. From time-to-time I may add links in this newsletter to products I use. I may receive commission if you make a purchase through one of these links. I'll always disclose when this is the case.