Article
Bankless 2022 Predictions
The best predictions from the Bankless Team for the new year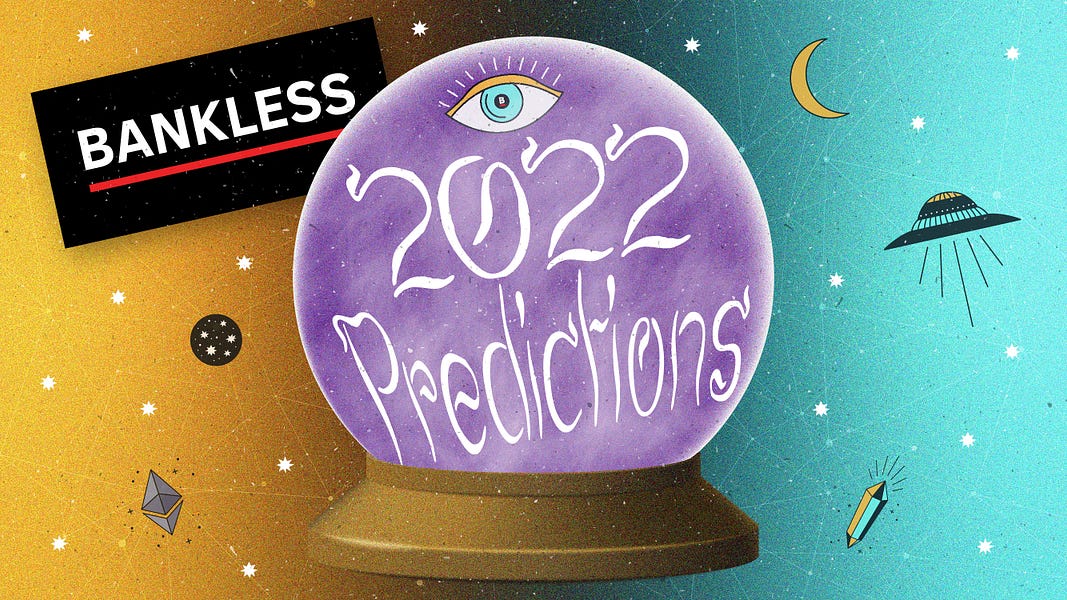 Dear Bankless Nation,
In 2021 we saw:
Building. Breakthroughs. Bull market. It was the best year in crypto yet.
No one could have predicted everything…though I think we got the big things right.
So we're going to try it again for 2022—just for fun.
Here are the Bankless crypto predictions for the next twelve months.
Hint: We're still bullish.
- RSA
P.S. Check out the latest Bankless DAO MetaFactory Merch—BED Constellation Socks & Blanket!
---
Layup Predictions
No one said we were good at layups…
Crypto crosses new ATHs and the total market cap reaches $5T. The bull run is not over. We're still in the same secular bull run that we were in 2020 and 2021. That doesn't mean that the entire year is up only mode, but we'll definitely see new ATHs. Crypto reaching $5T feels like a safe bet…but maybe more?
Eth2 merge happens. All the research is done, testnets are running, and it's only a matter of debugging right now. All of the core researchers are confident it'll happen this year, and we are too. Say goodbye to Ethereum PoW in 2022.
Bitcoin gets adopted by another nation-state. El Salvador kicked things off in 2021 as the first sovereign state to adopt BTC. The first domino has fallen. Global fiat inflation is starting to hit countries and central banks will have to look for alternatives. Turkish Lira is experiencing hyperinflation, global reserve currencies are reportedly inflating by 5% or more. Inflation is hitting non-G20 countries hard and they'll look to hedge. BTC is the answer, at least for one country in 2022.
Ethereum becomes a trillion-dollar network. The Merge, Proof of Stake, EIP 1559, all of this is brewing a storm for Ethereum to join Bitcoin as a trillion-dollar network. We theorized that this would happen eventually back in 2019. This is the year!
Layer 2 reaches $25B in total value locked. Layer 2 tokens are coming, eth gas prices continue to be an issue, all of this will fuel Layer 2s for a big year. L222.
NFT sales hit $30B. In 2021, total NFT sales hit $15B. We think that will double based on Coinbase NFT platform, the potential for an OpenSea token, and more popular use cases for NFTs.
One DeFi Protocol will reach the top 10 in market cap. Last year we bet that two DeFi protocols would reach this status. We were dead wrong. But we think DeFi will rebound this year and replace some of the weaker projects in the top 10. Potential candidates to reach the Top 10 include: AAVE, UNI, YFI, COMP, SNX, and MKR, and some of the stronger DeFi 2.0 projects.
DAOs will make an 8-figure purchase for an IRL item. The industry was close with ConsitutionDAO. So close that it happening is a lay-up for us. DAOs will mature and figure out more optimal ways to bid and purchase real-world items, allowing them to reel in some big wins this year.
Michael Saylor buys more bitcoin. We're already 5 days into 2021 and he still hasn't. Wen more BTC Michael?!!?
Ryan Sean Adams - Founder
Bullish on the Layer 2s.
💰  Biggest W in 2021: AXS
EIP1559 gets shipped and we start burning ETH. ✅
The Internet Bond gets memed into existence. ✅
A central bank will acquire Bitcoin.✅
You'll get text messages. ✅
The digital Yuan will launch. ❌ (so close!)
Stablecoin marketcap exceeds $250b ❌
2022 Predictions
🚀  Bet for Biggest Win in 2022: Layer 2 tokens
Crypto above $7 trillion. Bullish 2022 with crypto market cap exceeding at least $7 trillion at some point during the year. With it, a second central bank will publicly disclose crypto on its balance sheet (following El Salvador).
ETH to $10k. Catalysts for ETH including the merge and L2 adoption will send it above $10k. ETH adds "index asset for L2s" as a narrative as the ecosystem moves to L2 (chain of chains).
L2s enter Top 10. At least two Layer 2 tokens will enter the top 10 cryptoassets by marketcap (#L222). Active addresses and transactions of at least three Layer 2 networks will exceed L1 Ethereum (great migration). At least two new token launches for Layer 2s (L2 drops)
Bridges to billions. Bridge projects (Eg. Hop, Connext, Across) issue tokens and exceed multiple billions in value (bridge to everywhere).
BTC to $100k. BTC gets a second wind with prices over $100k at some point this year (BTC not dead).
Web3 gets social. Decentralized identity finally gets its moment to shine with a breakout project (DeID). Most major social media launch NFT features marking the beginning of their integration with public blockchains (metaverse front end)
DeFi returns. Ethereum ecosystem DeFi tokens get second-growth catalyst driven by L2 and new use cases (DeFi szn). TVL in DeFi to $500 billion.
Crypto Banks IPO. A least one more crypto exchange or crypto bank IPOs on a traditional public exchange (the IPOoooor).
DAOs get weirder. A DAO makes headlines buying something culturally significant for over $50 million (culture DAOs). Politics discovers DAOs and at least one sizable political DAO is launched (politic DAOs). At least one social token or culture DAO grows to exceed $1 billion in value (DAO szn)
NFTs add extensions. NFT communities formed in 2021 organize to launch games, TV shows, member benefits, and governance tokens (NFT extensions).
GameFi builds niche. Indie games on L2 have an exceptional building year with a few notable breakouts.
David Hoffman - Founder
Lucas wouldn't let me use ETH as my biggest W next year…
💰  Biggest W in 2021: MATIC
One uncollateralized/algorithmic stablecoin will reach $1B in market cap. ✅
One uncollateralized/algorithmic USD stablecoin will also explode ✅
Tokenized real-world assets will continue to underperform as a sector ✅
UDS yields on Ethereum will sustain >10% APY for the majority of the year. ✅
One major game studio will announce their intentions to integrate NFT asset integration inside their game ✅
None of the core blue-chip DeFi protocols will get hacked. ✅
Yearn will lose some users' funds due to a faulty strategy. ✅
Significant hype around decentralized staking-as-a-service providers ✅
Discord will become the dominant platform to discuss crypto ✅
Tron will go the same way as XRP, one way or another. ✅
Stablecoin supply on all other non-Ethereum blockchains will be an afterthought  ❌
There will be an unsustainable social token mania.  ❌
No significant new L1s  ❌
Desktop usage will lose dominance to mobile usage  ❌
Desktop DeFi usage will continue to be dominated by MetaMask
Libra (Diem) will launch  ❌
2022 Predictions
🚀  Bet for Biggest Win in 2022: MATIC
"The Coming Bear Market" will be frequently discussed until it becomes a meme. The bear market will not come.
Crypto newcomers that do not care for decentralization will continue to increase in size and energy.... sadly
The merge will happen. ETH APY will be < 17% for the first few weeks. It will quickly taper down to much more sustainable levels (<10%) and ETH staked will pass 15m ETH. The ETH price will break whatever the ATHs within 3 months of this occurring.
Ethereum competitors will try to fix their monetary supply schedules. The first order of business is getting their chains to finally stablize. Once they do, they will turn towards this.
Meaningful fee markets will arise on some Ethereum competitor chain. It won't fix the high inflation rate of the asset itself.
Both Optimism and Arbitrum will develop into thriving metropolises. Gas optimizations and the gradual unconstraining of the networks brings a lot of developer attention and user traction that Ethereum lost to other competitors.
EVM equivalence will give Optimism the extra long-term tailwinds needed to make up for its slower start, and may be the property that leads it to becoming the dominant optimistic rollup form factor.
NFT flipping will quickly become consolidation into enthusiests and those who like to stay 'up with the times'. NFT flipping will become a game of catching fads.
RAI will receive adoption tailwinds due to the continued inflation of the US dollar.
Bored Apes will flip Punks, further proving that there is no such thing that can win by standing still. Punks will still be 100x cooler tho.
'Web3' will become adopted as household name, loosely known for being a populist reaction against the current internet institutions of the world.
The 'bankless' meme will also be adopted by a smaller and more engaged cohort of people, for similar reasons.
Politicians will rise to defend Web3 protocols in order to gain support and funding. Some will even defend Web3 because its the right thing to do!
Bankless will finish the year without missing a single Monday Podcast, Tuesday Livestream, or Friday weekly rollup. Just like it did in 2021. Same goes for the newsletter. (today was close tho)
Realized I'm not good at predictions.
💰  Biggest W in 2021: FWB, BAYC
Retroactive distributions will become highly lucrative for power users ✅
Uniswap will reach $1T in annualized volume ❌
The value of crypto art sales will cross $1B. ❌
There will be a DAO-like black swan event ❌
DPI crosses $1B in market cap ❌
DeFi derivatives will boom ❌
2022 Predictions
🚀 Bet for Biggest Win in 2022: Music NFTs
The flippening will happen. Momentum is in the ETH/BTC chart. This paired with the merge, EIP 1559, staked ETH, DeFi, and demand for NFTs will create a massive supply-side liquidity crisis for ETH that will drive it to take the #1 spot. Whether or not it's sustained is a different question.
Creator Economy hype cycle. We saw this unfold last year with NFTs and the wave of artists that came in with their own NFT projects. I think this trend will continue with Music NFTs (keep an eye on Catalog and Sound.xyz) and a hype cycle around social tokens.
Collector & Culture DAOs will get crazy. You can launch a DAO for virtually anything. We'll see communities form overnight with 8-figures in capital. Constitution DAO, LinksDAO, Gnar Collective, and more are all on this path.
DeFi makes a comeback. Definitely didn't see 2021 being a slump year for DeFi. I think we'll make a rebound on revamped token economic models (projects will adopt the veTOKEN model) and a trend in protocol mergers as the sector consolidates.
Airdrops keep happening. The only thing I got right in last year's predictions! However, this time around I expect that distribution designs will get more complex/strict—airdrops won't be as easily gameable and/or will require work to unlock (i.e. providing a valuable service to the protocol to receive your allocation). Personally looking to Layer 2s and PFP ERC20s (BAYC, Cool Cats, etc.) for the airdrops this year.
We like the jpegs.
💰  Biggest Win in 2021: AXS
🚀 Bet for Biggest Win in 2022: RON
TVL in Ethereum DeFi will x2. In 2021, the total value locked in Ethereum DeFi projects surpassed $100B for the first time ever. We'll see this number reach $150B by April 2022 and $200B by year's end.
TVL in Ethereum L2s to reach $100B. According to L2Beat, +$6B is currently deposited in Ethereum L2s. Look for this sum to surge nearly x20 in the new year as new token incentives and UX advances lead to a major DeFi migration to rollups.
A top 50 DeFi project will go bust. As old challenges come to a head and new challenges emerge, a prominent DeFi project will effectively close up shop in 2022 as its woes become seemingly insurmountable.
U.S. politicos will keep warming to Web3. U.S. legislators will increasingly embrace the cryptoeconomy as they come to realize its many great potentials, e.g. like how the stablecoin industry can be a major force multiplier for USD in the decades ahead.
All-time NFT sales will hit +$50B. At the end of 2021, all-time NFT sales have reached $13B USD per NonFungible. This sum will grow nearly x5 next year as NFTs continue to blaze into the mainstream.
Cool Cats become a top 3 NFT brand. The Creatures expansion will serve as a Meebits / Mutant Ape Yacht Club moment and lead to a surge of new interest around Cool Cats in the new year. This surge will temporarily push the Cats (60k ETH traded to date) into the top 3 most traded NFT projects of all-time behind CryptoPunks (740k ETH traded) and Bored Apes (250k ETH traded).
💰  Biggest Win in 2021: RARI
🚀 Bet for Biggest Win in 2022: GMI
5 non-Ethereum L1 networks will cross $50 billion in TVL. My guesses are Arbitrum, Optimism, ZK Sync, Solana, and Terra.
Structured products (Options vaults in particular) explode in popularity across DeFi. This will be driven by degens seeking alternative sources of yield not based on token emissions
Tokens for liquid staking protocols like Lido and Rocket Pool outperform in the run up to the merge. As a result, each will see their TVLs surpass eleven figures. That's $10B each!
L2s radically change the competitive landscape of Ethereum DeFi. with native projects and early adopters outperforming and displacing incumbents on L1
Nearly all major DeFi protocols rework their tokenomics. Personally betting that many will pivot to a veModel similar to CRV.
More protocols gamify their UIs. After seeing the success of DeFi Kingdom, protocols will look to follow suit, making DeFi a lot more fun to use!
💰  Biggest Win in 2021: Pudgy Penguins
🚀 Bet for Biggest Win in 2022: Wanderer NFTs
Core blue chip DeFi apps will break into top 20 crypto market cap list, accelerated by L2 scaling and adoption. AAVE and Sushi will outperform due to their multi chain surface area.
Top CEX fiat on-ramps will all have Ethereum L2 off-ramps. This will facilitate tons of interest and volume into Layer 2s as people capitalize on cheap transactions!
💰  Biggest Win in 2021: VeeFriends
🚀 Bet for Biggest Win in 2022: Overpriced Jpeg podcast viewership!
NFT market has a big downswing—probably midyear—and some PFP projects never recover.
Digital art & the generative art market surges to become a bigger piece of the contemporary art pie (could measure by auction house sales).
A streaming service will buy the rights to produce a film or TV show based on an NFT IP.
New NFT marketplace emerges and actually starts to rival OpenSea (not necessarily coinbase)
💰  Biggest Win in 2021: FWB
🚀 Bet for Biggest Win in 2022: GMI
2022 will be the year of DAOs - DAOs are the easiest way for people to engage in crypto with low risk (cost is only time). With tooling, onboarding, and compensation continuing to evolve, DAOs will take off in 2022. That doesn't necessarily mean their tokens will.
SubDAOs will go mainstream - DAOs will begin to spin out working groups as subDAOs. We'll see interesting tokenomic experiments in aligning subDAOs with their parentDAOs.
Some DAOs will go bust. Others will be acquired. DAO treasuries or community activity will dry up in certain DAOs. We may see larger DAOs attempt to acquire the technology or human capital of these dying DAOs. This may happen in the form of token mergers.
---
Best Predictions from Bankless Nation
We're excited for Permissionless 2022. We'll be sipping some drinks with Jack. Are you gmi?

Some solid predictions…but no flippening??

Michael Saylor buys ETH? That would be the biggest turn of 2022.

But what if they launch tokens with incentive programs??

We'd bet on the Polymarket for that.

---
Bankless HQ Predictions
We hit all of last year's predictions…just FYI. Here's what we have for 2022
Ray Dalio will appear on the Bankless Podcast 🤞
Bankless Nation will grow to 500k 🚀
Cumulative podcast downloads will reach 25M 💣
---
Action steps