Podcast
📺 SotN #47: Gitcoin DAO & $GTC Token with Kevin Owocki
Decentralizing Gitcoin and Slaying Moloch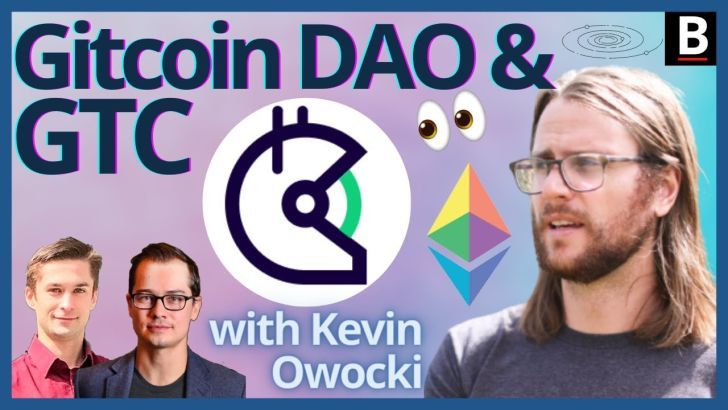 Last week to claim your Bankless Badge! Bankless DAO has a present for you next week.
---
Gitcoin is turning itself into Gitcoin DAO, governed by the community and GTC holders.  Come learn all about Gitcoin DAO, GTC distribution, and the responsibilities of the governors!
Kevin Owocki is former Philosopher King of Gitcoin, and now he's a member of the DAO.
State of the Nation is live-streamed on the Youtube Channel – Tuesdays at 11am PT.
---
📺 Episode 46 of State of the Nation
🎙️Listen to Podcast Episode | 📺 Watch the Episode
---
Bankless Sponsor Tools:
💰 GEMINI | FIAT & CRYPTO EXCHANGE
https://bankless.cc/go-gemini​
🔀 BALANCER | EXCHANGE & POOL ASSETS
https://bankless.cc/balancer
👻 AAVE | LEND & BORROW ASSETS
https://bankless.cc/aave
🦄 UNISWAP | DECENTRALIZED FUNDING
http://bankless.cc/uniswap​
---
State of the Nation #47: Gitcoin DAO & $GTC Token
Guest: Kevin Owocki
May 25th, 2021
In this week's State of the Nation, we bring on Kevin Owocki to discuss the decentralization and DAO-ization of public goods funding platform Gitcoin, and the launch of their $GTC token. Kevin is the former benevolent dictator (CEO) of Gitcoin and a General in the war against Moloch (human coordination failure).
The purpose of Gitcoin is to provide a platform for open-source software developers to acquire funding for their projects. Kevin mentions that open-source creates $500B in economic value yearly. In the crypto space, and on the internet at large, open-source development means that something is free to use, fork, or build on. This accessibility has been a driving force behind web development, and Gitcoin's mission is to create a business model for open-source software developers. Gitcoin has raised around $20M since its initial launch in November 2017.
Gitcoin DAO is seeking to meme itself into the Quadratic Lands, where public goods are well-funded and digital democracy reigns. As Gitcoin has grown, it has come to the point in which a DAO is more well-served for Gitcoin's goals of activism and open-source development. Anti-fragility and distributing points-of-failure are key benefits of transitioning into a DAO. The alignment of incentives between the individual and society is crucial for optimizing capital efficiency and organically generating a better society.

GTC = Grow The Community
---
Resources:
---
🏴 JOIN THE NATION 🏴
Subscribe: Newsletter | iTunes | Spotify | YouTube | RSS Feed
Follow: Twitter | Instagram | Reddit | TikTok | Facebook
---
Not financial or tax advice. This newsletter is strictly educational and is not investment advice or a solicitation to buy or sell any assets or to make any financial decisions. This newsletter is not tax advice. Talk to your accountant. Do your own research.
---
Disclosure. From time-to-time I may add links in this newsletter to products I use. I may receive commission if you make a purchase through one of these links. Additionally, the Bankless writers hold crypto assets. See our investment disclosures here.