Podcast
🎙️ Legitimacy | Vitalik Buterin
The Most Important Scarce Resource is Legitimacy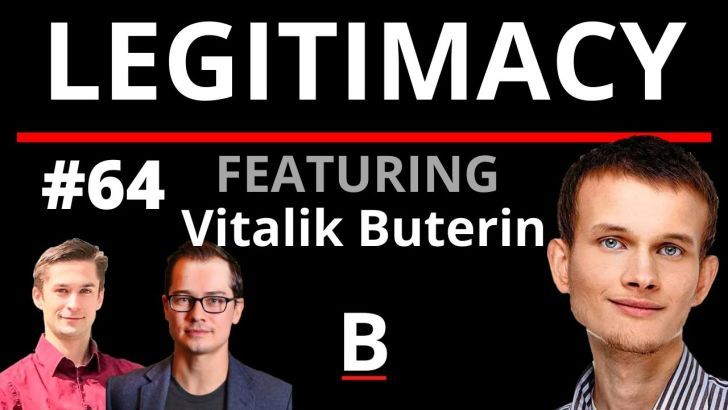 Become an NFT Appraiser with Upshot! Beta Access for Badge Holders.
---
Vitalik Buterin is back on Bankless to discuss his recent blog post: The Most Important Scarce Resource is Legitimacy.
👀 Want to hear Ryan & David's after-the-podcast conversation? Full subscribers get access to the raw, unfiltered debrief conversation recorded directly after the episode.
---
Listen in Podcast App | iTunes | Spotify | YouTube | RSS Feed
---
Bankless Sponsor Tools:
💰 GEMINI | FIAT & CRYPTO EXCHANGE
https://bankless.cc/go-gemini​
🦊 METAMASK | DEFI PASSPORT
https://bankless.cc/metamask​
🦄 UNISWAP | DECENTRALIZED EXCHANGE
http://bankless.cc/uniswap​
🔀 KWENTA | SYNTHETIC ASSET EXCHANGE
https://bankless.cc/kwenta
---
Bankless Podcast #64: Legitimacy
Guest: Vitalik Buterin
May 10, 2021
Ethereum co-founder Vitalik returns to Bankless – "the greatest Ethereum podcast" – for a deep dive into one of his recent blog posts, titled "The Most Important Scarce Resource is Legitimacy." The catalyzing example for Vitalik's discussion of legitimacy comes from Bitcoin and Ethereum, who both have the power to mobilize a tremendous amount of capital but are restricted in how this capital is used. Vitalik posits that legitimacy is the deep and powerful social force behind this.
Legitimacy is a social phenomenon that describes things that are broadly and generally accepted in a coordination system. Without ascribing moral values, legitimacy can be seen as social reality - the status quo. Legitimate things include the de facto norms and collective expectations of groups, whether you like it or not.
According to Vitalik, there are a number of ways to achieve legitimacy: brute force, continuity (inertia), fairness, process, performance, and participation – these are not mutually exclusive. Cryptocurrencies and blockchain ecosystems 'earn' legitimacy by community acceptance and adoption, but the continued legitimacy of these things is dependent on maintaining that which made it legitimate in the first place: promises and proofs of decentralization & security.
Vitalik turns this discussion towards funding public goods. Ethereum can't summon capital for public goods without sacrificing the decentralization and soundness that give it legitimacy. However, these expectations are not carried as strongly in the app layer. This gives the ecosystem flexibility to coordinate and provide for the health of the network beyond base layer security & decentralization. Legitimacy determines our best practices for interacting with the world – understanding and wielding the power of this concept is necessary to maximize the benefits we bring to it.
---
Resources:
---
THIS WEEK ON BANKLESS:
---
🏴 JOIN THE NATION 🏴
Subscribe: Newsletter | iTunes | Spotify | YouTube | RSS Feed
Follow: Twitter | Instagram | Reddit | TikTok | Facebook
---
Not financial or tax advice. This newsletter is strictly educational and is not investment advice or a solicitation to buy or sell any assets or to make any financial decisions. This newsletter is not tax advice. Talk to your accountant. Do your own research.
---
Disclosure. From time-to-time I may add links in this newsletter to products I use. I may receive commission if you make a purchase through one of these links. Additionally, the Bankless writers hold crypto assets. See our investment disclosures here.