Podcast
🎙️ Crypto, Legacy, and Value | Mark Yusko
Defeating Incumbents, Money vs. Currency, The Road Forward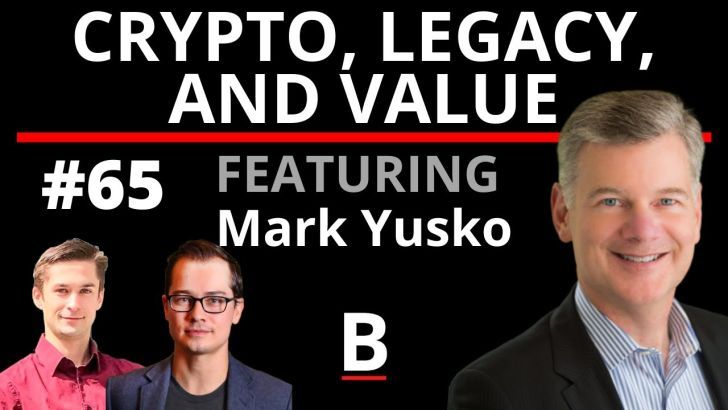 Get full access to Market Mondays reports, the Inner Circle, the Bankless Badge and more 🔥
---
Mark Yusko has been at the forefront of institutional investing throughout his career, in both legacy and crypto. He is the Founder, CEO and Chief Investment Officer of Morgan Creek Capital Management.
---
Listen in Podcast App | iTunes | Spotify | YouTube | RSS Feed
---
Bankless Sponsor Tools:
💰 GEMINI | FIAT & CRYPTO EXCHANGE
https://bankless.cc/go-gemini​
🔀 BALANCER | EXCHANGE & POOL ASSETS
https://bankless.cc/balancer
👻 AAVE | LEND & BORROW ASSETS
https://bankless.cc/aave
🦄 UNISWAP | DECENTRALIZED FUNDING
http://bankless.cc/uniswap​
---
Bankless Podcast #65: Crypto, Legacy, and Value
Guest: Mark Yusko
May 17, 2021
Mark W. Yusko is a seasoned investor in both traditional and crypto finance, and is the managing partner of Morgan Creek Capital. Notably, he is also an avid fan of Pokemon Go. In this episode, Mark provides a deep and logical basis for a sound decision matrix in the world of investing. He emphasizes broad narrative context, addressing themes reminiscent of our episode with historian Joshua Rosenthal 'The Crypto Renaissance.'
Mark explores the speculative frenzy in the markets and how it is indicative of a fiat-based financial system that has run its course. Continuous printing has gameified the economy, and crony capitalism has created an environment where you are either in or you're out. If you're in, then you're an incumbent who is incentivized to maintain the status quo. The centralization of power makes progress hard and proper equity even harder.
As a long-term investor who prioritizes values & principles, Mark discusses money as a shared illusion, and notes that value is relative. He presents salient takes on crypto's role in the broad shifts driven by the inevitable failing of incumbent institutions. His worldview feels compatible with the Bankless narrative, and towards the end of the episode, we discuss how Ethereum fits into all of this.
---
Resources:
---
🙏Sponsor: Consensus 2021 Conference by Coindesk | Save $20 w/ BANKLESS Code
---
THIS WEEK ON BANKLESS:
---
🏴 JOIN THE NATION 🏴
Subscribe: Newsletter | iTunes | Spotify | YouTube | RSS Feed
Follow: Twitter | Instagram | Reddit | TikTok | Facebook
---
Not financial or tax advice. This newsletter is strictly educational and is not investment advice or a solicitation to buy or sell any assets or to make any financial decisions. This newsletter is not tax advice. Talk to your accountant. Do your own research.
---
Disclosure. From time-to-time I may add links in this newsletter to products I use. I may receive commission if you make a purchase through one of these links. Additionally, the Bankless writers hold crypto assets. See our investment disclosures here.