Podcast
50 - Crypto Dollars, Regulation, and DeFi | Jeremy Allaire
Jeremy Allaire is a serial entrepreneur and the Co-founder and CEO of Circle, the firm behind USDC, and he is a front-line advocate for the U.S. crypto industry in Washington. Listen to our conversation as we discuss stablecoins and their role in regulation and DeFi!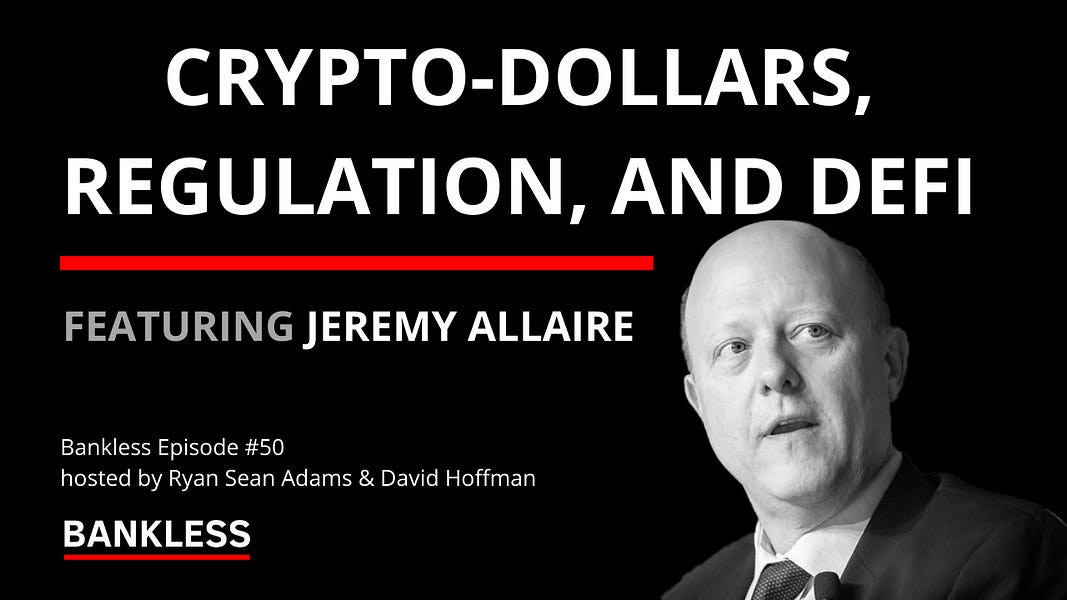 USDC and other stablecoins saw a massive influx throughout 2020 into Ethereum and DeFi as demand skyrocketed, providing a glimpse of possible long-term impacts on the future of money. Jeremy argues for a full-reserve money system based on Austrian Economics, moving away from the money creation inherent to today's fractional-reserve systems.
Jeremy details the synergy between fiat stablecoins and non-sovereign, store-of-value, commodity assets. He envisions a future of synthetic digital currencies balanced by a basket of non-sovereign assets.
This is a vital time for instituting effective regulatory measures for cryptoassets and protocols, and as a front-line advocate, Jeremy stresses the importance of the crypto industry itself taking the initiative to front-run regulatory issues via creative innovation. Jeremy self-describes as "cautiously optimistic" about establishing meaningful dialogue with regulators like Gary Gensler, Janet Yellen, and FinCen, with a focus on specific issues like criminal abuse, self-sovereign identity, and consumer protection.
Jeremy concludes with broad market predictions and analysis of DeFi as a massively underrated space, with the long-term goal of DeFi interacting broadly with real-world identities.
This was an extremely interesting conversation that shed some much-needed light on stablecoins in a regulatory context, and Jeremy remains a key component throughout this development.
---
Resources:
---
Give Bankless 5 stars on the podcast!
Let's get to the top of the charts 📈
Also...subscribe to Bankless YouTube to watch State of the Nation every Tuesday.
---
Subscribe to the podcast on iTunes | Spotify | YouTube | RSS Feed
Leave a review on iTunes
Share the episode with someone you know!
---
Don't stop at the podcast!
---
Go Bankless. $12 / mo. Includes archive access, Inner Circle & Deals—(pay w/ crypto)
---
Not financial or tax advice. This newsletter is strictly educational and is not investment advice or a solicitation to buy or sell any assets or to make any financial decisions. This newsletter is not tax advice. Talk to your accountant. Do your own research.
---
Disclosure. From time-to-time I may add links in this newsletter to products I use. I may receive a commission if you make a purchase through one of these links. I'll always disclose when this is the case.