Article
How to Surf Web3 Like a Pro 🏄‍♂️
With Zapper V2, one browser tab is all you need in navigating the Web3 world.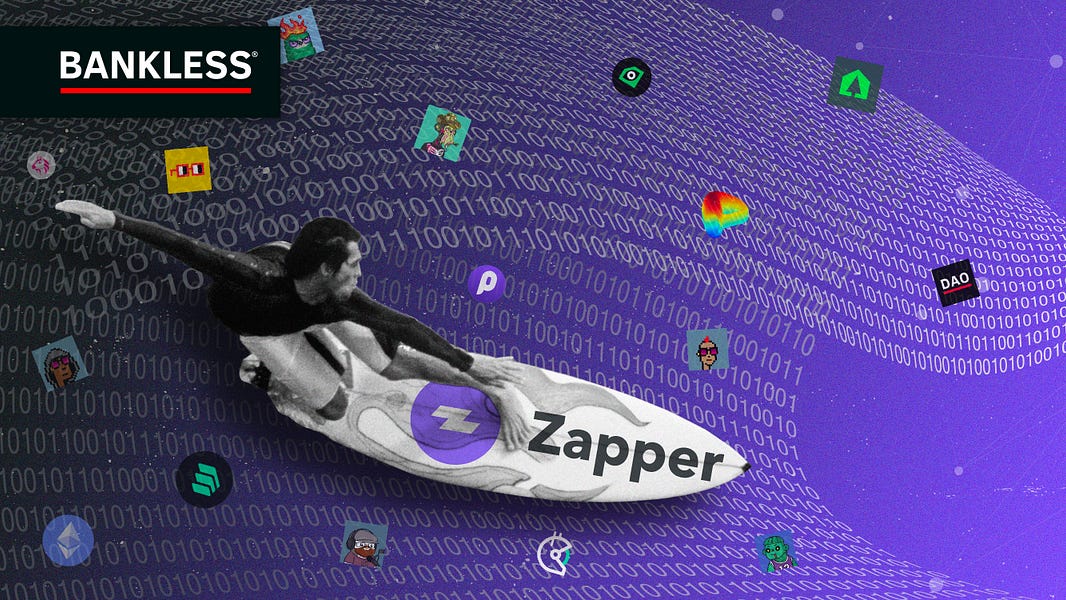 Dear Bankless Nation,
Getting into Web3 isn't the easiest thing to do.
On-chain data is in abundance but disorganized, siloed, and at times conflicting.
That's what aggregators like Zapper solve by scaling all information in an accessible way.
Zapper is your one-stop shop dashboard for browsing on-chain activity across the entire spectrum of Web3, coupled with token swap and bridging features.
Its userbase ranks in the millions and V2 launched earlier today after a year of development.
So we had the Zapper team help William give us a walkthrough of V2 today.
Here's how you can surf web3 like a pro.
— Bankless team
---
Zapper is a web3 asset management platform that makes tracking crypto wallets a breeze.
Take note, because Zapper V2 just arrived, and it makes exploring NFT, DeFi, and DAO happenings that much easier.
This Bankless tactic will walk you through how to use the new and improved Zapper.
Goal: Learn how to use Zapper V2
Skill: Beginner
Effort: 15 minutes
ROI: Familiarizing yourself with a new web3 command hub
---
Tracking NFTs, DeFi, and DAOs with Zapper V2
Out of the gate, Zapper was initially focused on helping users navigate DeFi. The platform accomplished this by serving as a one-stop crypto portfolio tracker, bridge hub, and decentralized exchange aggregator.
Recently, Zapper underwent its major V2 upgrade. As part of this rollout, the project unveiled new NFT and DAO dashboard integrations. Now, the platform is more like a full-on web3 search service that is designed to help users surface trending NFT, DeFi, and DAO information on the go.
Ready to dive for web3 opportunities in all these on-chain rabbit holes?
Here's how to get started with Zapper V2.
Home
Once you head over to Zapper, you can start exploring web3 from the new "Home" dashboard. The Home page will serve as a central hub where you can glimpse top trending accounts, NFTs, DAOs, and DeFi apps.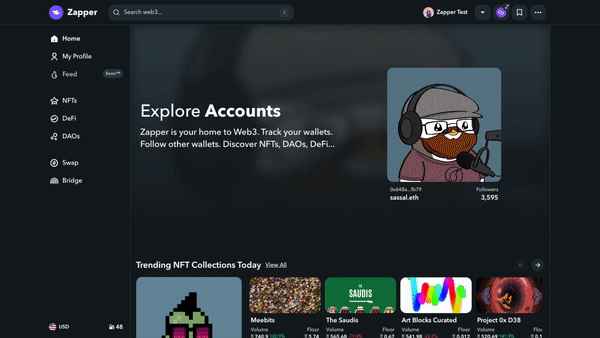 Along with this starting overview of on-chain happenings, users can also scroll through a more extensive list of trending data on the Home page.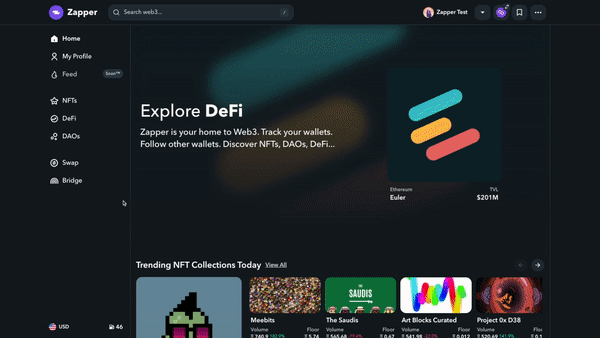 Another big feature that has been updated for V2 is Zapper's web3 search bar. The search bar now supports not only tokens but also dApps, DAOs, NFTs, and wallet accounts.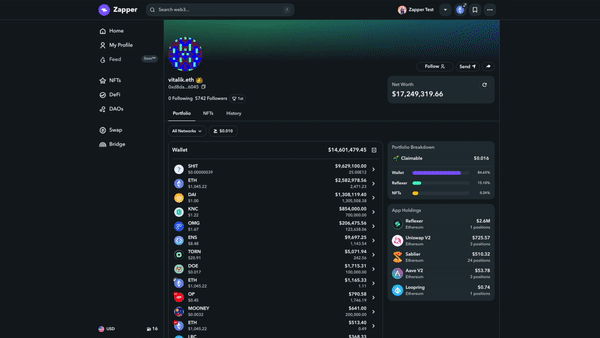 My Profile
Zapper continues to accurately display wallet data for a user's profile. Each profile can be broken down into five easy-to-understand sections: Net Worth, Wallet, NFTs, Apps and App Holdings, and a Portfolio Breakdown.
Net Worth — This area of the Profile page shows the total net worth of the user across all supported networks and apps
Wallet — This section shows users the current token balances of their connected wallet(s)
NFT — Here users can find the NFTs (both ERC721s and ERC1155s) that they currently hold
Apps and App Holdings — This section displays all the DeFi apps a user has deposited assets into
Portfolio Breakdown — This part of the dashboard shows the distributions of a user's assets across all web3 applications as percentages of their total net worth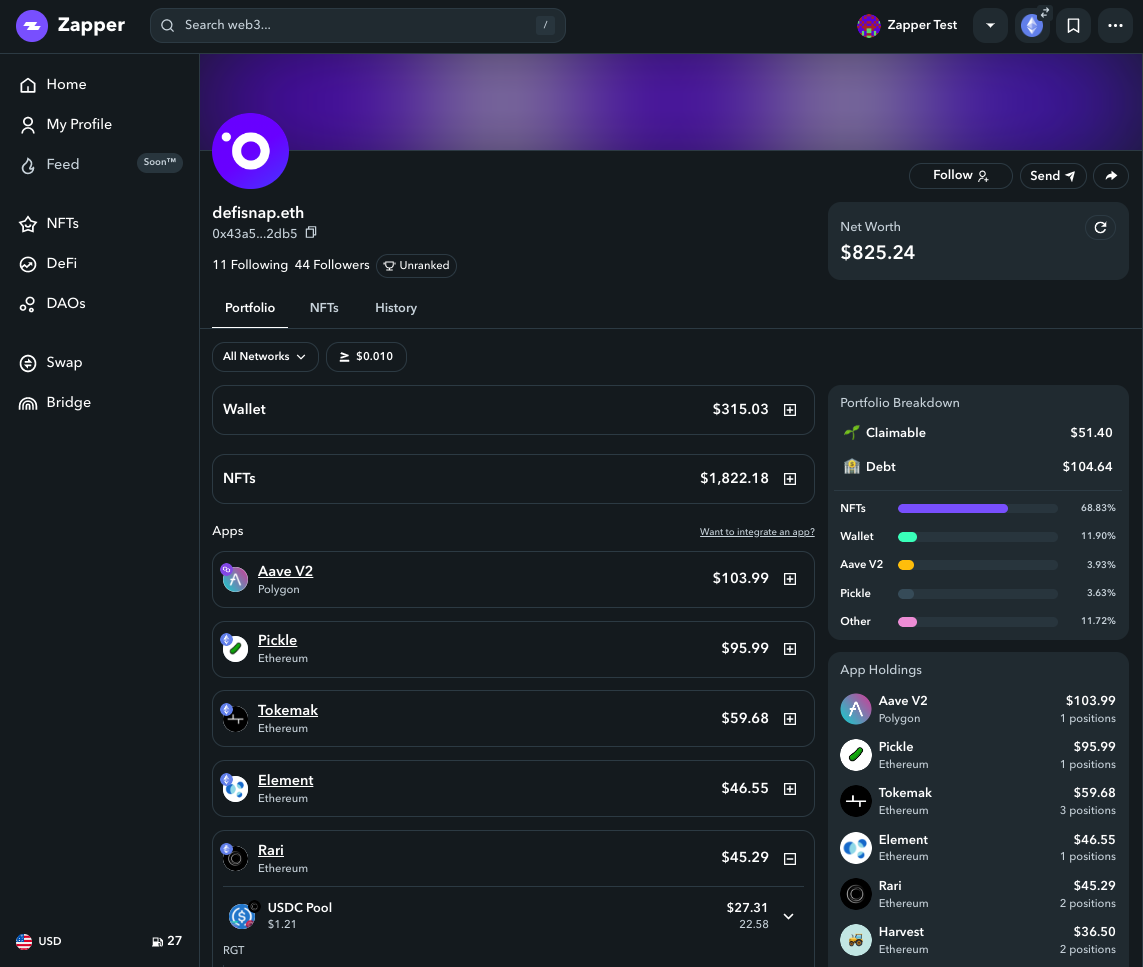 Along with web3 token and app holdings, your Profile page will show additional Zapper-specific data, including followers and a follower leaderboard ranking.

Discovery
Discovery and exploration are the bread and butter of Zapper V2. To start exploring web3 more deeply, you'll want to check out Zapper's new NFT and DAO dashboards, plus the platform's updated DeFi center.
NFTs
The NFT exploration page surfaces all NFT collections indexed by Zapper, which is effectively all NFT collections in web3.
At the top of the NFT page, a banner is displayed. This banner shows the top NFT sale prices of the top trending NFT collections based on the selected time period (last day, week or month).

The main NFT page also shows trending NFT collections based on trading volume over the last day, week, or month. Along with volume data, the NFT page will display the percentage difference in trade volume over a given time period, the floor price, the market cap, and the supply. Users can toggle each category (except supply) to sort and search for collections based on their preferences.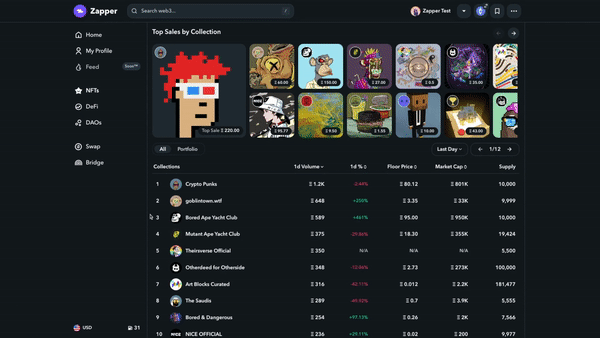 Once a user has chosen which NFT collection they want to view, they will be redirected to the NFT collection page where they will be able to see more extensive information about the collection.
This includes the collection name, floor price, number of holders, 24 hr volume, and a short description. As they continue to explore, they can browse through each NFT within the collection and look through the rarity rank, last sale price, and estimated value.
If the user already has a specific NFT they want to view, they can use the Zapper search bar to look for an account that owns the NFT or the token ID itself. The NFT page also has different market-centric filtering options.
These options currently include:
Sale: Low to High
Sale: High to Low
Value: Low to High
Value: High to Low
Rarity: High to Low
Rarity: Low to High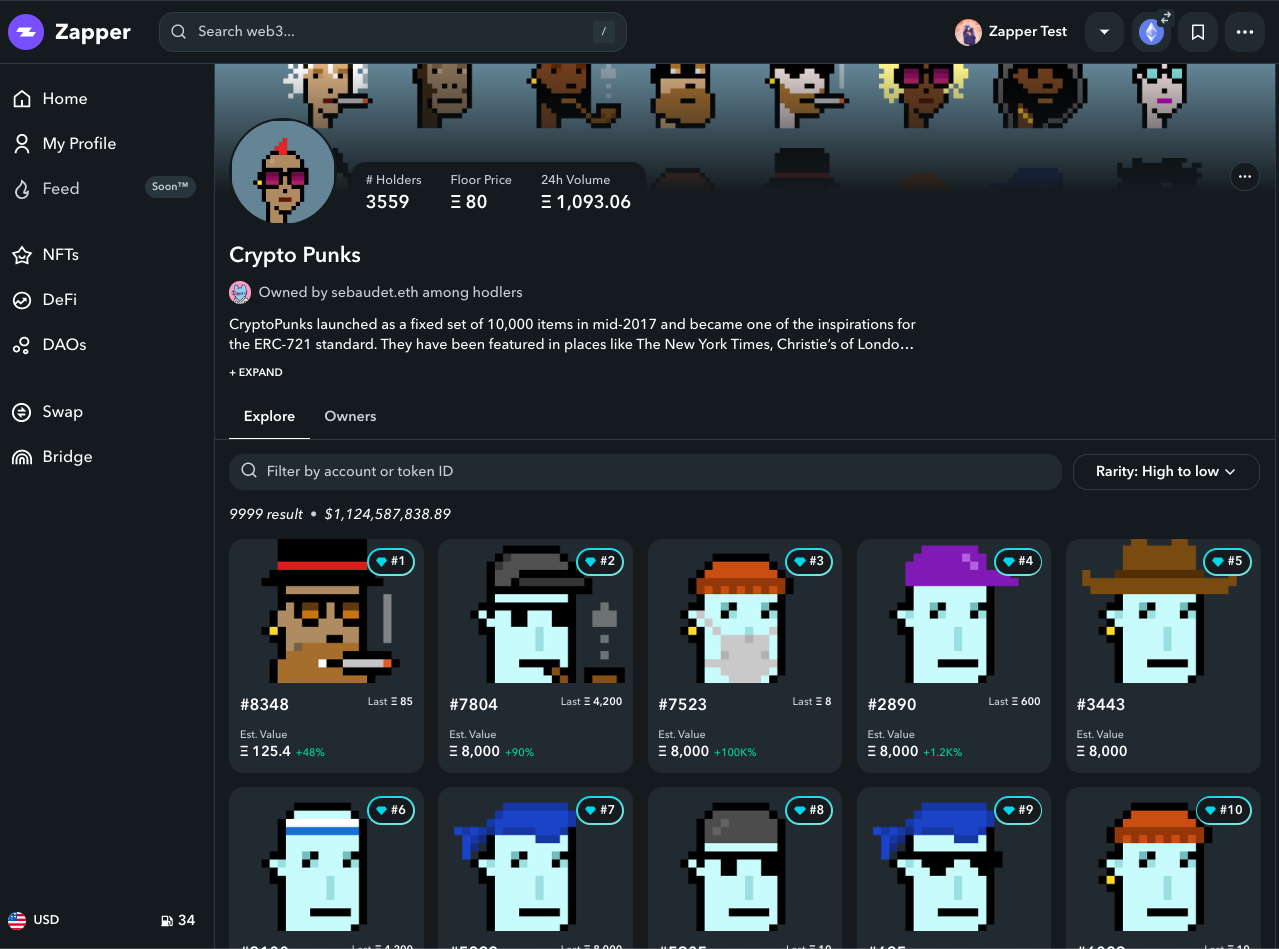 Each individual NFT page will display the holder's wallet address or ENS, the token ID, the estimated value, the last sale price, rarity level (based on Zapper's rarity rankings), a list of traits, and the owner history.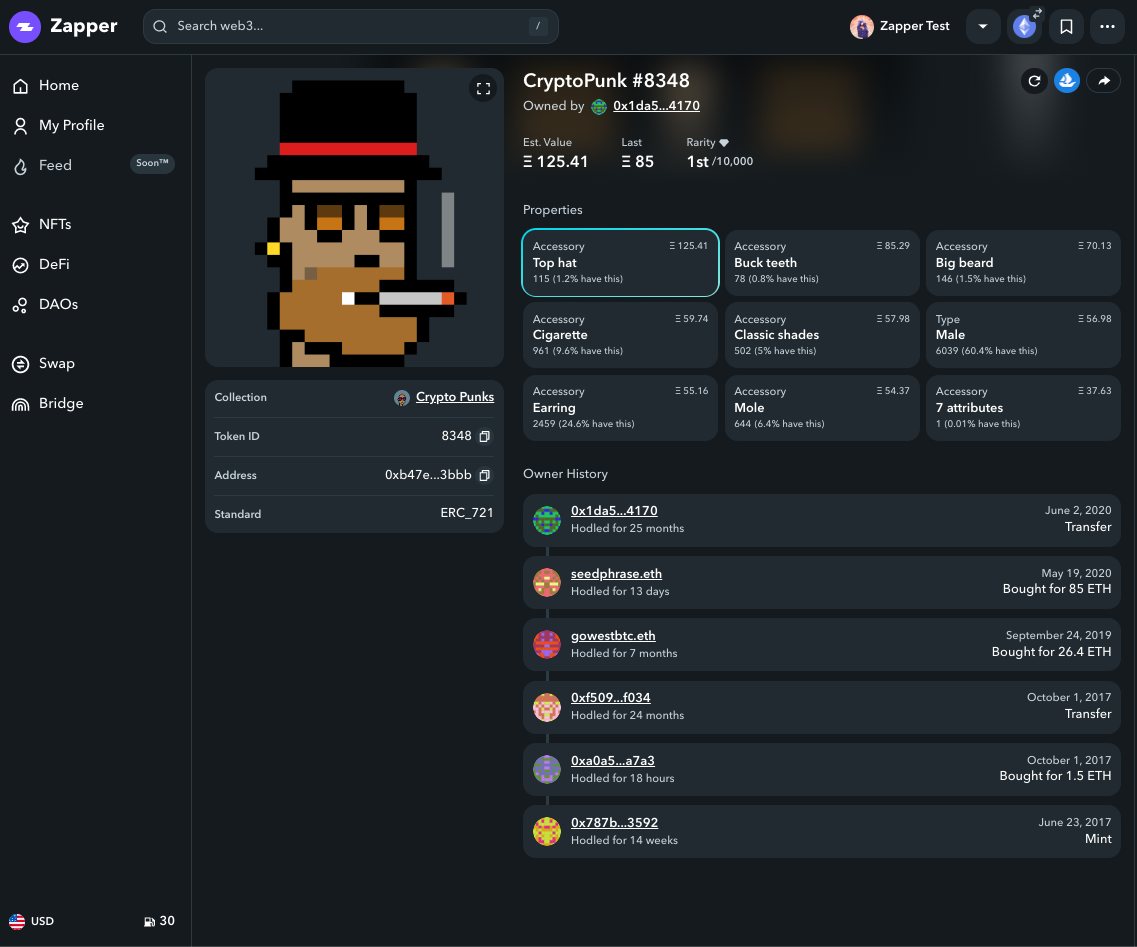 DeFi
The DeFi page of Zapper V2 shows the DeFi apps that have been integrated on Zapper. Users will first see a project carousel banner at the top of the page showing different trending apps on various networks.
Just under that banner, all the integrated apps are sorted by highest to lowest total value locked (TVL), but users can also sort by alphabetical order (of the app name or by network name).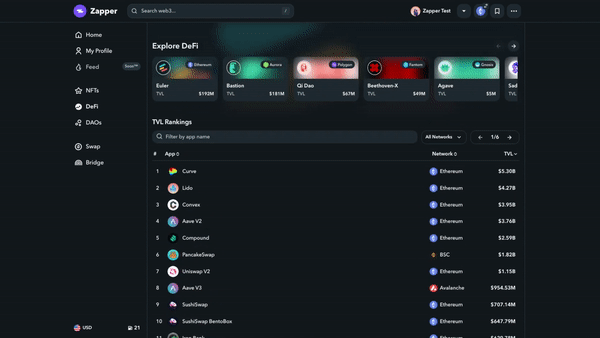 Users can also filter the DeFi apps list to show specific apps on select networks. Zapper currently supports apps on 14 different networks. Each app will have its own individual page that breaks down the app even further, so you can zoom in on the space's top lending protocols, decentralized exchanges, yield aggregators, and beyond.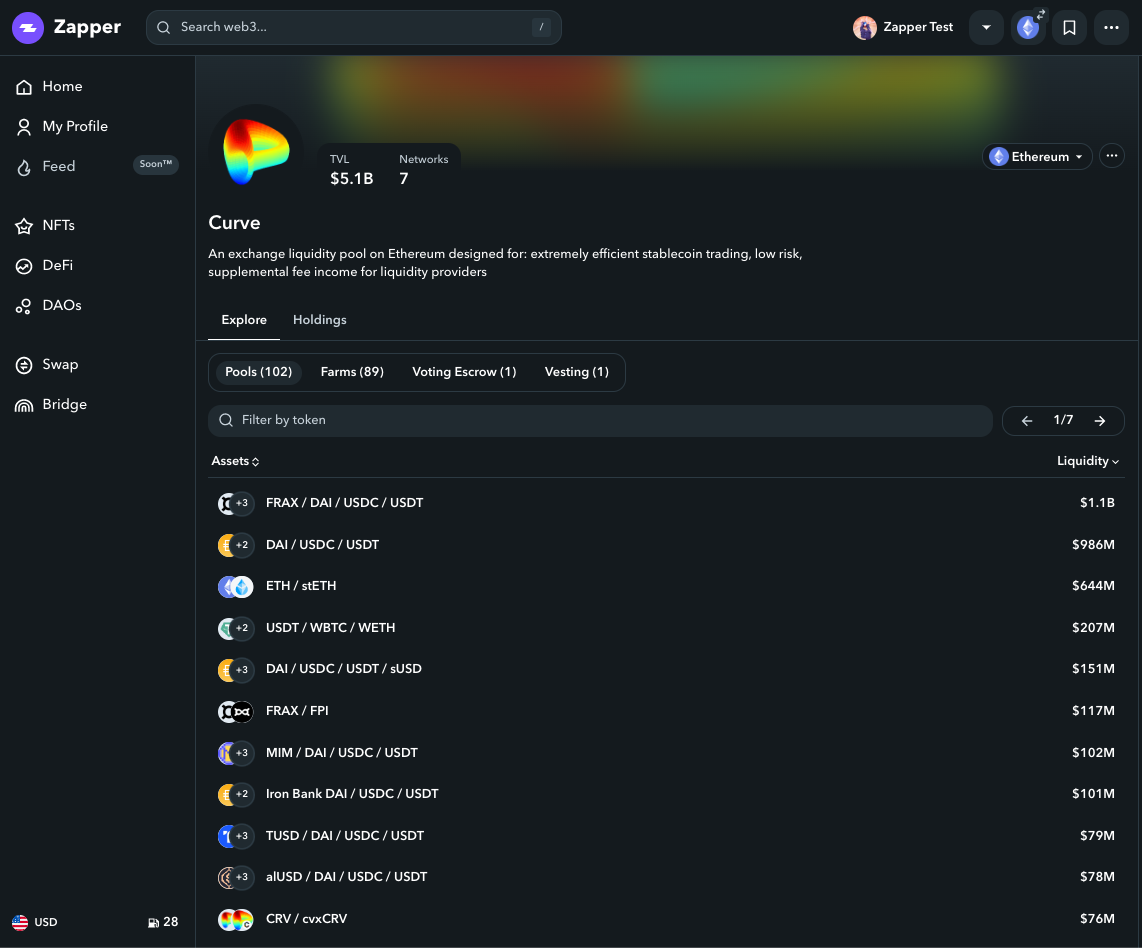 DAOs
Users can explore through the DAO page to view the many DAOs that are active in web3. This page has been curated by the Zapper team and has a good variety of DAOs. The main DAO page will display projects across fields like DeFi, gaming, and more.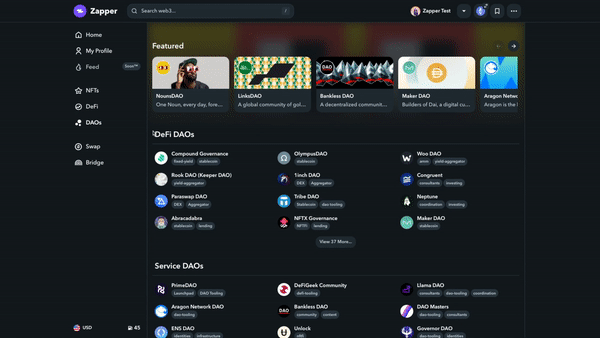 Each DAO page will include treasury information, the number of current users, and the DAO's token and its price. Along with that info, the page will have a short description of the mission of the DAO and show the contents and app holdings of the treasury wallet. Accordingly, users can learn about DAOs in the space and potentially join and contribute to the progress of each DAO.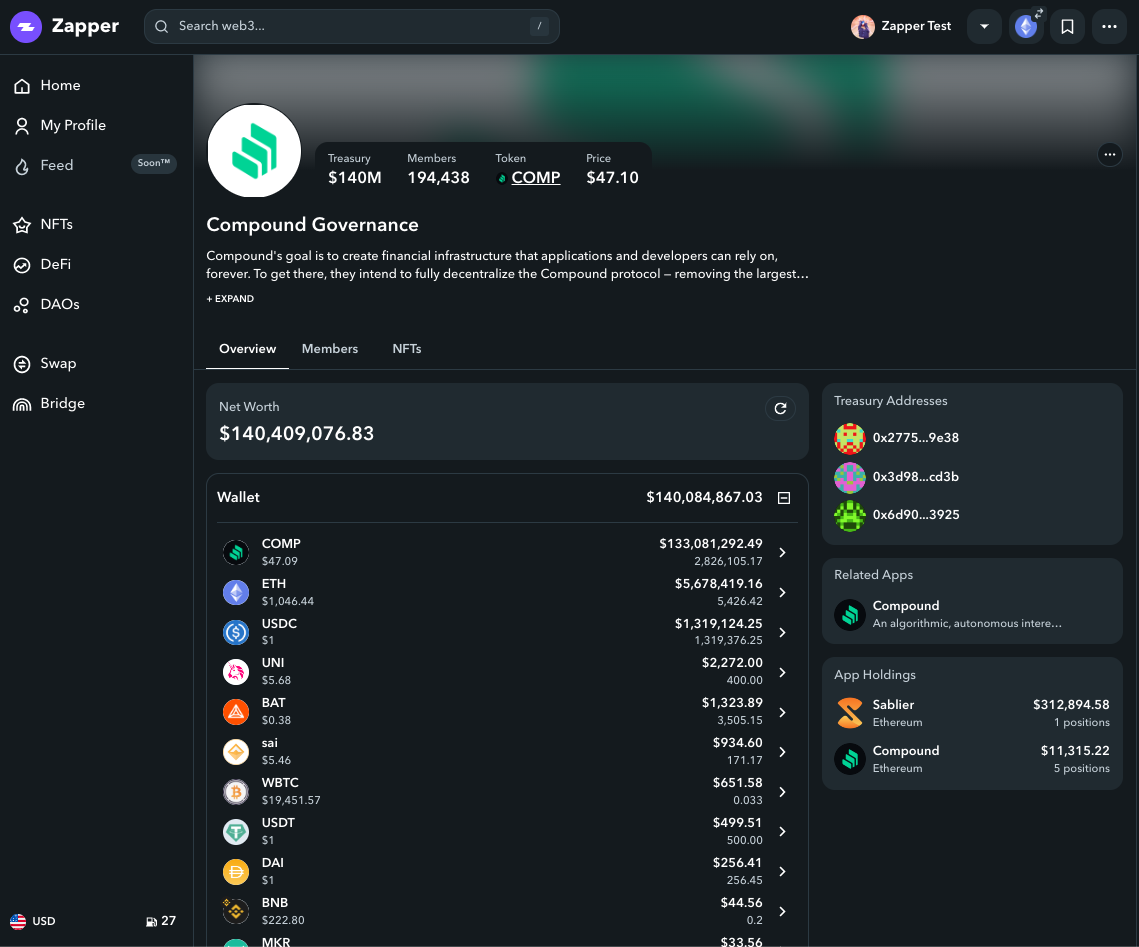 Social Features
Discovery alone doesn't promote deeper web3 immersion, so Zapper V2 allows users to follow other wallet profiles that are related to their own NFTs and DeFi holdings. There's also a new share button that web3 explorers can use to share their wallet profiles, NFTs, and more.
Moreover, on the NFT exploration page users can browse through all of the trending NFT collections and look at all of the holders of a given collection. On each collection page is a list view of current holders that's great for searching through to find other interesting projects.
---
The Best Tools For DeFi
Mostly a DeFi user? No worries.
Zapper V2 still supports swaps, bridges, and token transfers to cover all your DeFi needs.
Swap
The Swap feature is powered by Matcha and can facilitate trades on six networks: Arbitrum, BSC, Ethereum, Fantom, Optimism, and Polygon.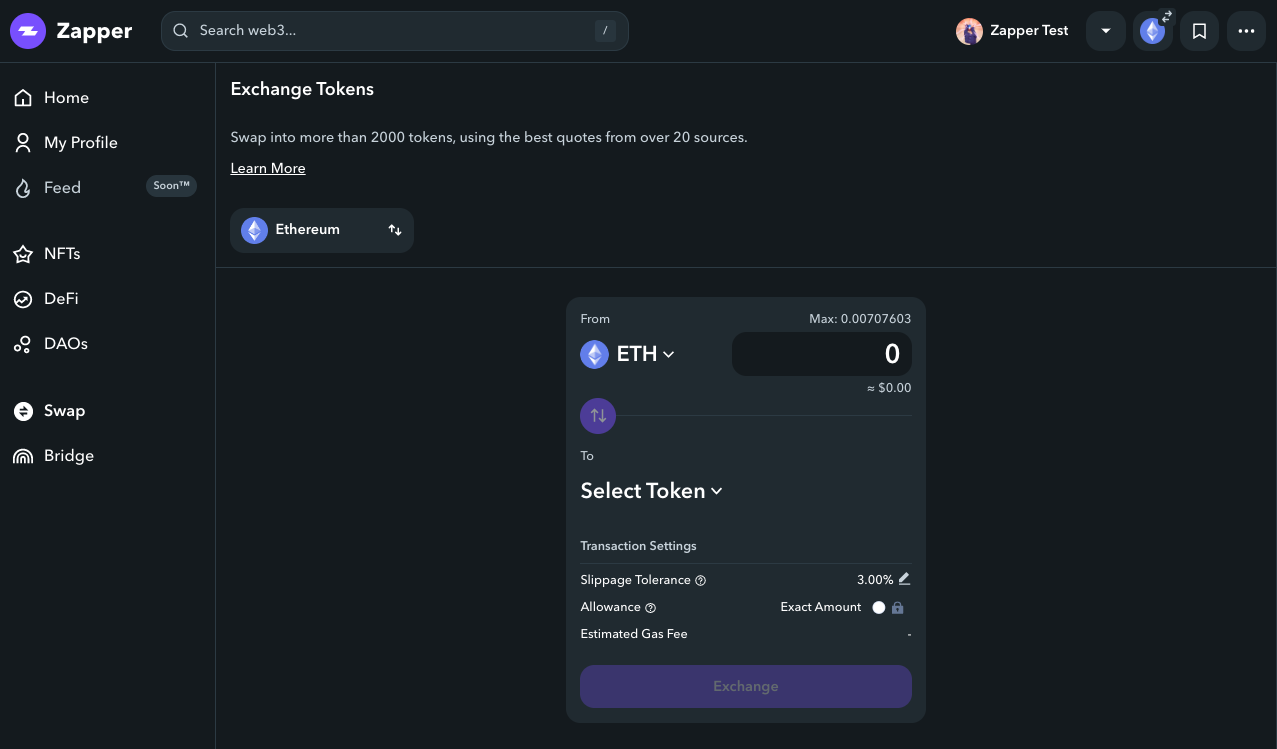 Bridge
Powered by the Socket team, the Zapper bridge system aggregates the best route for users to send their tokens from one network to another. The supported networks for the Bridge feature are Arbitrum, Avalanche, BSC, Ethereum, Fantom, Gnosis Chain, Optimism, and Polygon.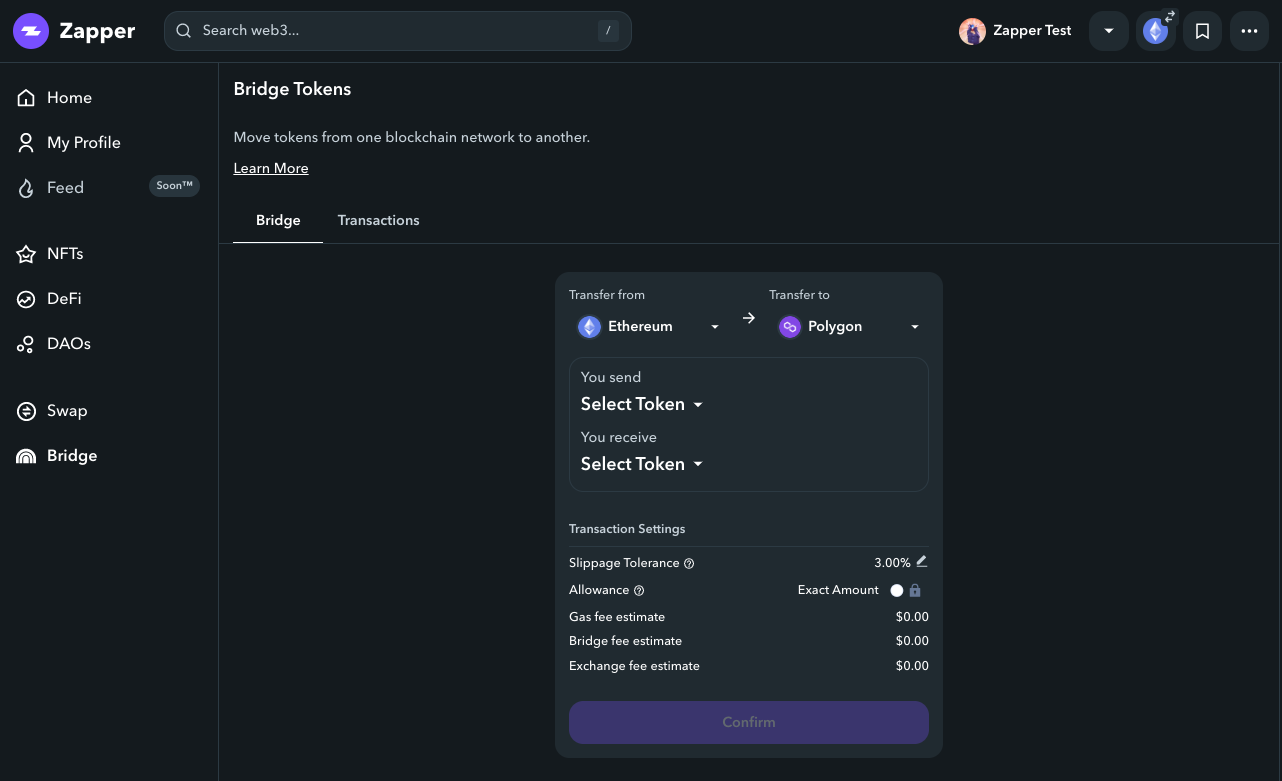 Send & Transfer Tokens
When users are browsing through different wallet accounts on Zapper, they have the ability to send tokens to that account by pressing the send button on the top right corner of the account page. This feature is supported for all 14 networks supported on Zapper.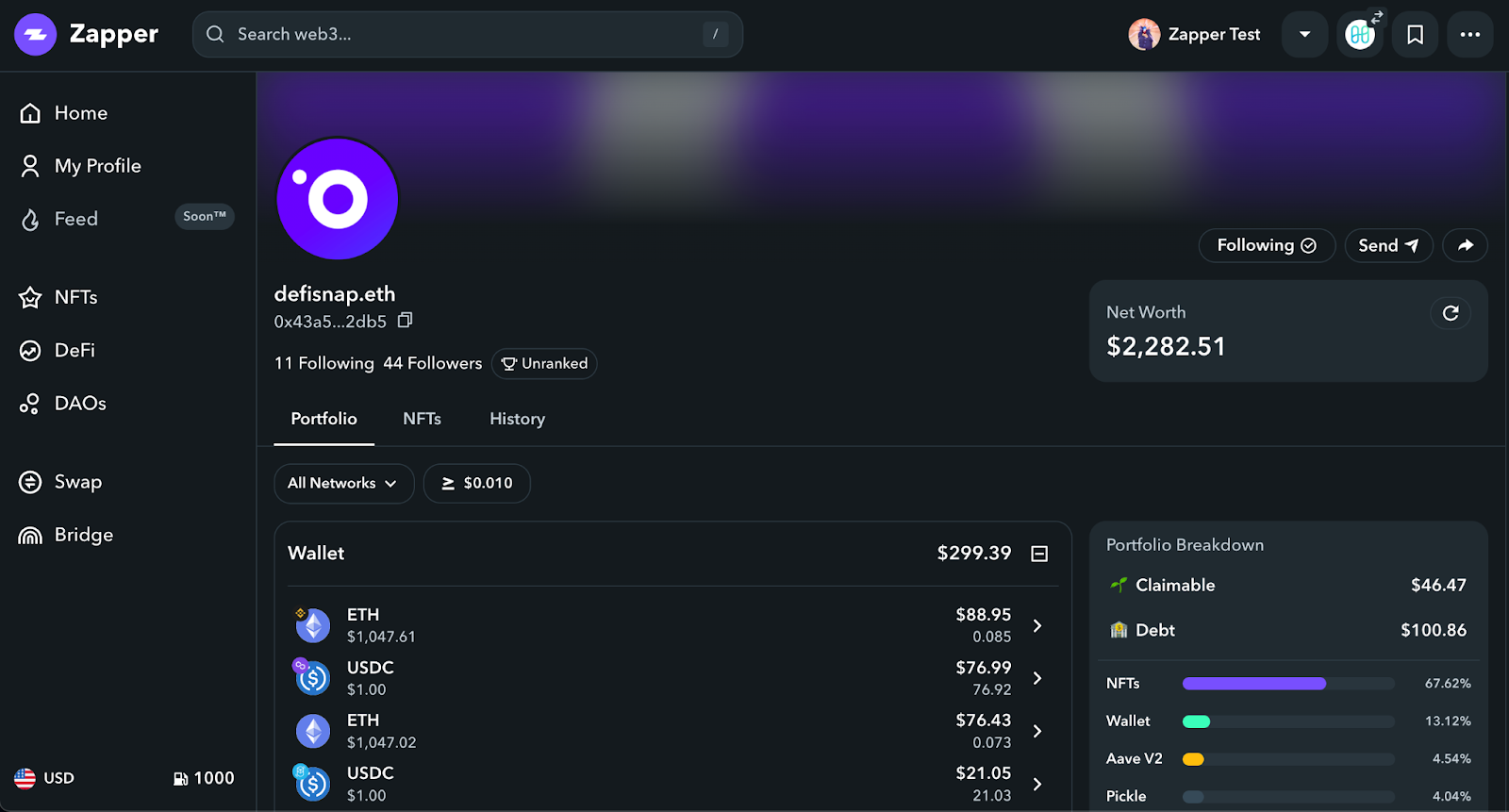 An On-Chain Rabbithole
With its V2 release, the Zapper team aims to give people everywhere the resources they need to surface our space's most important NFT, DeFi, and DAO happenings through easy-to-use dashboards.
There are on-chain rabbit holes all around us, and Zapper is angling to be at the forefront of helping folks discover and explore the many opportunities therein.
---
Action steps