Podcast
📺 TribeDAO - The Biggest Protocol Merge Ever
Joey Santoro of FEI and Jai Bhavnani of Rari are Changing the DAO Landscape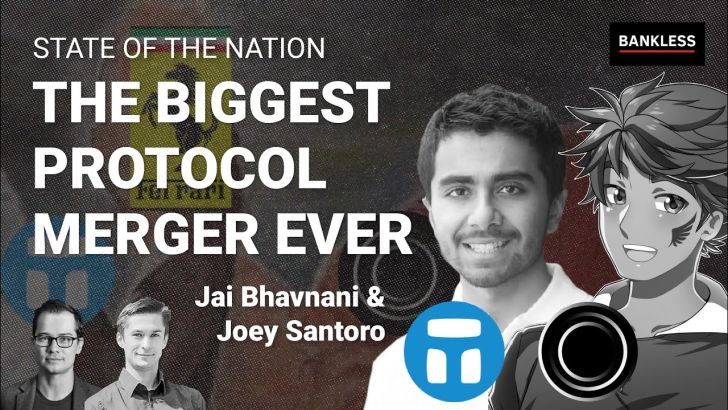 With OnJuno, you can Earn, Save and Invest crypto with your checking account!
---
In the latter half of 2021, Jai Bhavnani of Rari Capital and Joey Santoro of FEI Protocol went to each other's governance forums and proposed the FEI RARI token merge: the biggest protocol merger that we've ever seen in the space.
The concept garnered high engagement and a ton of community response, and the formal votes received overwhelming support on both sides. This unprecedented merge is a historical moment for DAOs. The verticalization of DeFi is happening with new 'mafias' emerging in several corners of DeFi. Uniting capital efficiency, values, and communities, we are right alongside Jai with his excitement to see how this all plays out.
With new conversations of anti-trust and competition, it's clear that the DAO space is continuing to mature. Integrated DeFi stacks are increasingly exciting, and in this episode, we dive into the details with two pioneers of interDAO relationships.
---
Listen to podcast episode | iTunes | Spotify | YouTube | RSS Feed
---
Bankless Sponsor Tools:
⚖️ ARBITRUM | SCALING ETHEREUM
https://bankless.cc/Arbitrum
🍵 MATCHA | SMART ORDER ROUTING
https://bankless.cc/Matcha
🚀 SLINGSHOT | LAYER 2 SOCIAL TRADING
https://bankless.cc/Slingshot
🏦 GEMINI | TURN FIAT INTO CRYPTO
https://bankless.cc/Gemini
🦁 BRAVE | THE BROWSER NATIVE WALLET
https://bankless.cc/Brave
🦄 UNISWAP | DECENTRALIZED FUNDING
https://bankless.cc/UniGrants
---
RESOURCES
---
🏴 JOIN THE NATION 🏴
Subscribe: Newsletter | iTunes | Spotify | YouTube | RSS Feed
Follow:  Twitter | Instagram | Reddit | TikTok | Facebook
---
Not financial or tax advice. This newsletter is strictly educational and is not investment advice or a solicitation to buy or sell any assets or to make any financial decisions. This newsletter is not tax advice. Talk to your accountant. Do your own research.
---
Disclosure. From time-to-time I may add links in this newsletter to products I use. I may receive commission if you make a purchase through one of these links. Additionally, the Bankless writers hold crypto assets. See our investment disclosures here.