Newsletter
The Secret Weapon of DeFi 2.0 | Zeus from Olympus DAO
Unpacking Protocol Owned Liquidity and a New Generation of Protocols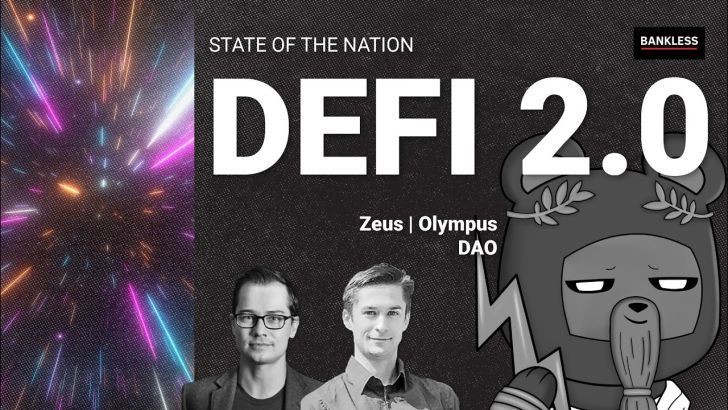 🌞 PoolTogether's V4 Is Launching! Thousands of Prizes, Easy to Get Started 🏊‍♀️
---
(3,3)
Olympus DAO and its native OHM token have taken over the meme-osphere. With its novel tokenomics, it has become an emergent powerhouse in this DeFi 2.0 phenomenon. With Olympus Pro on the way, the DAO seeks to change the current mercenary structures of yield farming and replace it with a sustainable and stable ecosystem.
This week, we bring on pseudonymous founder Zeus to discuss this new generation of protocols, and how realigned incentives could change the fundamentals of crypto.
State of the Nation is live-streamed on the Youtube Channel – Tuesdays at 11am PT.
---
🎙️Listen to Podcast Episode | 📺 Watch the Episode
---
Bankless Sponsor Tools:
⚖️ ARBITRUM | SCALING ETHEREUM
https://bankless.cc/Arbitrum
🍵 MATCHA | DECENTRALIZED EXCHANGE AGGREGATOR
https://bankless.cc/Matcha
🔐 LEDGER | SECURE YOUR ASSETS
https://bankless.cc/Ledger
🧙‍♀️ ALCHEMIX | SELF-PAYING LOANS
http://bankless.cc/Alchemix
---
Resources:
---
🏴 JOIN THE NATION 🏴
Subscribe: Newsletter | iTunes | Spotify | YouTube | RSS Feed
Follow:  Twitter | Instagram | Reddit | TikTok | Facebook
---
Not financial or tax advice. This newsletter is strictly educational and is not investment advice or a solicitation to buy or sell any assets or to make any financial decisions. This newsletter is not tax advice. Talk to your accountant. Do your own research.
---
Disclosure. From time-to-time I may add links in this newsletter to products I use. I may receive commission if you make a purchase through one of these links. Additionally, the Bankless writers hold crypto assets. See our investment disclosures here.