Podcast
🎙 85 - The Crypto Gaming Revolution | Arianna Simpson
Crypto Gaming has a Total Addressable Market of 8 Billion People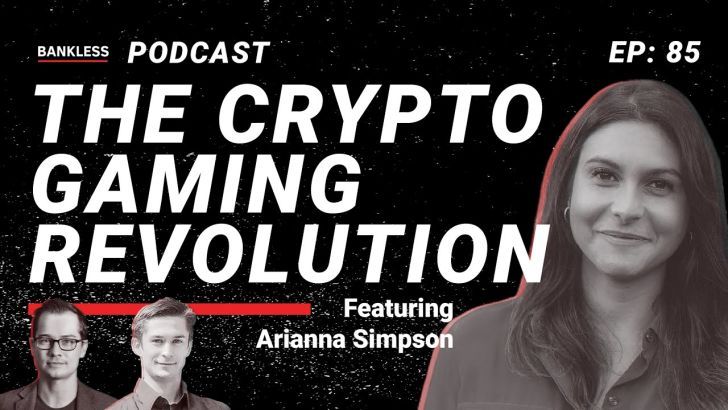 Perpetual Pools are now Live on Aribtrum! Check out TracerDAO on Layer 2 >|<
---
Arianna Simpson of a16z comes on the Bankless Podcast to explore the insane momentum we've seen around crypto gaming. The product-market fit between the gaming and crypto worlds is palpable. The scaling and maturation of the crypto economy make for a ripe inflection point for an explosion of cultural applications.
What does Play-To-Earn mean for the investor? Is ETH money for the metaverse? Arianna's takes offer a huge amount of insight as we dive into the future of both work and play.
---
🚀 Get this episode's exclusive debrief to hear Ryan & David's unfiltered takes on the podcast.
---
Listen to podcast episode | iTunes | Spotify | YouTube | RSS Feed
---
Bankless Sponsor Tools:
⚖️ ARBITRUM | SCALING ETHEREUM
https://bankless.cc/Arbitrum
🍵 MATCHA | DEX AGGREGATOR
https://bankless.cc/Matcha
🔐 LEDGER | SECURE YOUR ASSETS
https://bankless.cc/Ledger
🦄 UNISWAP | DECENTRALIZED FUNDING
https://bankless.cc/UniGrants
---
RESOURCES
---
🏴 JOIN THE NATION 🏴
Subscribe: Newsletter | iTunes | Spotify | YouTube | RSS Feed
Follow:  Twitter | Instagram | Reddit | TikTok | Facebook
---
Not financial or tax advice. This newsletter is strictly educational and is not investment advice or a solicitation to buy or sell any assets or to make any financial decisions. This newsletter is not tax advice. Talk to your accountant. Do your own research.
---
Disclosure. From time-to-time I may add links in this newsletter to products I use. I may receive commission if you make a purchase through one of these links. Additionally, the Bankless writers hold crypto assets. See our investment disclosures here.