Podcast
The Next Phase of Humanity with Metadreamer | Layer Zero
Intersubjective Emergent Democracy and Other Heady Topics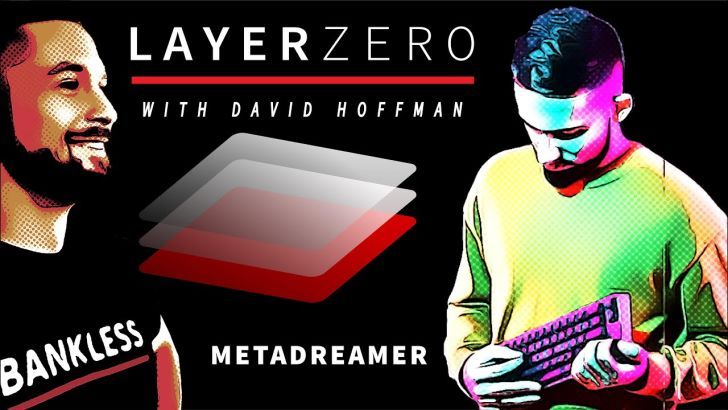 The Next Phase of Humanity with Metadreamer | Layer Zero
⬆️ Join The Bankless Nation to listen to the Ad-Free version of this episode 🚀
---
Metadreamer is the founder of Metafactory, the "digiphysical culture factory for the metaverse." He is a software engineer and designer in the DAO space, and has contributed to MetaGame, SourceCred, Coordinape, and Metacartel Ventures.
Dreamer is a DAO-er, touching many different parts of the Ethereum ecosystem. Every conversation we have with him is cerebral, as he is a cosmically deep thinker. He embodies core values of crypto such as optimizing for collaboration over competition, an abundance mentality, and a 'Yes And' approach to coordination.
The code we write can impact society for the better, and throughout this conversation, we explore the purpose of the crypto movement—with this new technology, we can change culture. Metadreamer's is a revolution to build a better society.
---
Zerion is Mission Control for Web3. Manage your portfolio, trade tokens, and display NFTs!
---
Listen to podcast episode | Apple | Spotify | YouTube | RSS Feed
---
Bankless Sponsor Tools:
👀 POLYGON | LAYER 2 DEFI
https://bankless.cc/Polygon

❎ ACROSS | BRIDGE TO LAYER 2
https://bankless.cc/Across

🦊 METAMASK | THE CRYPTO WALLET
https://bankless.cc/metamask

💳 LEDGER | THE CRYPTO LIFE CARD
https://bankless.cc/Ledger

🧙‍♂️ ALCHEMIX | SELF REPAYING LOANS
https://bankless.cc/Alchemix

🦄 UNISWAP | DECENTRALIZED FUNDING
https://bankless.cc/UniGrants
---
RESOURCES
---
🏴 JOIN THE NATION 🏴
Subscribe: Newsletter | iTunes | Spotify | YouTube | RSS Feed
Follow: Twitter | Instagram | Reddit | TikTok | Facebook
---
Not financial or tax advice. This newsletter is strictly educational and is not investment advice or a solicitation to buy or sell any assets or to make any financial decisions. This newsletter is not tax advice. Talk to your accountant. Do your own research.
---
Disclosure. From time-to-time I may add links in this newsletter to products I use. I may receive commission if you make a purchase through one of these links. Additionally, the Bankless writers hold crypto assets. See our investment disclosures here.