Article
Punk'd | Market Monday
Did this weekend's CryptoPunk mania turn crypto bullish?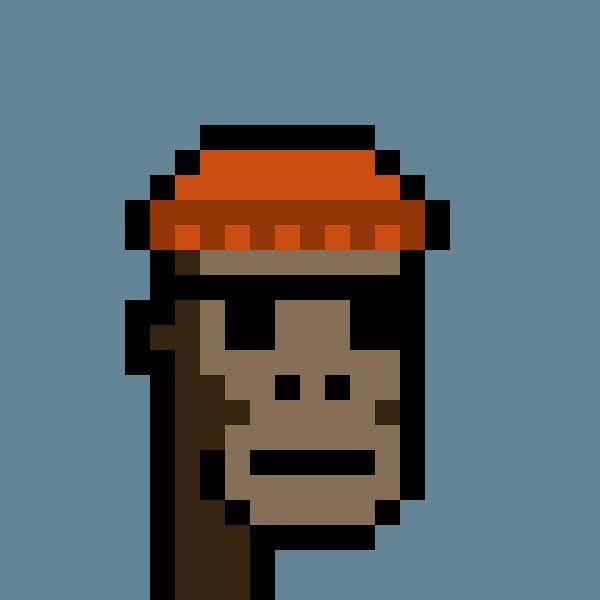 Dear Bankless Nation,
Watching Ethereum is like watching a TV show that moves forward 1 frame every 12 seconds.
As a transparent ledger, we get to watch the story of Ethereum progress with every new block. New events in the Ethereum soap opera are appended to the blockchain, and we collectively get to watch the drama unfold in real-time.
That's what watching 'Ethereum TV' was like this weekend; watching drama unfold in real-time.
Here's my summarized interpretation on the events that unfolded over the last few days, the weeks leading up to them, and what lies ahead:
EIP 1559 goes live this week and checks a significant box in the overall story of Ethereum progress. After this, all eyes are on the Merge.
Meanwhile, the NFT Bear Market was actually the NFT Land-Grab Opportunity, and the broader market finally realized it.
As Ethereum progresses through its roadmap, more and more people become convinced that Ethereum will dominate as the world's value-settlement layer.
If #3 becomes true, then the OG Ethereum cultural artifacts will have an insane premium associated with them. People that longed CryptoPunks and ArtBlocks NFTs this weekend are longing the dominance of Ethereum as a value-settlement layer, and therefore also a cultural-transmission layer on the internet.
Grabbing What's on the Table
CryptoPunks were already a pretty hot market throughout all of last week, but things turned a new corner when someone purchased a knitted-cap ape cryptopunk for 1,600 ETH ($3.7M).
That someone turned out to be Gary Vee. (Remember when we had him on Bankless?)
Just three hours later, someone followed up that purchased with a 2,250 ETH ($5.5M) purchase of bought a gold-chained ape.
…and then after that, a twitter rumor circulated that Three Arrows Capital, led by Su Zhu and Kyle Davies, purchased 100 different CryptoPunks, and even went as far as coordinating with miners to ensure that all purchases got included in the same block.
Later it would turn out that this particular purchase wasn't 3AC, but a member of the CryptoPunk community instead, who "swept the floor" and bought all the cheap Punks they could get their hands on!
But, as it turns out, Three Arrows Capital had coincidentally already been buying CryptoPunks and other 'blue chip' NFTs.
All this was enough to send the CryptoPunk markets into a frenzy this weekend. New CryptoPunk all-time highs were set across basically all metrics: total sales, unique new buyers, average USD value, total exchange volume.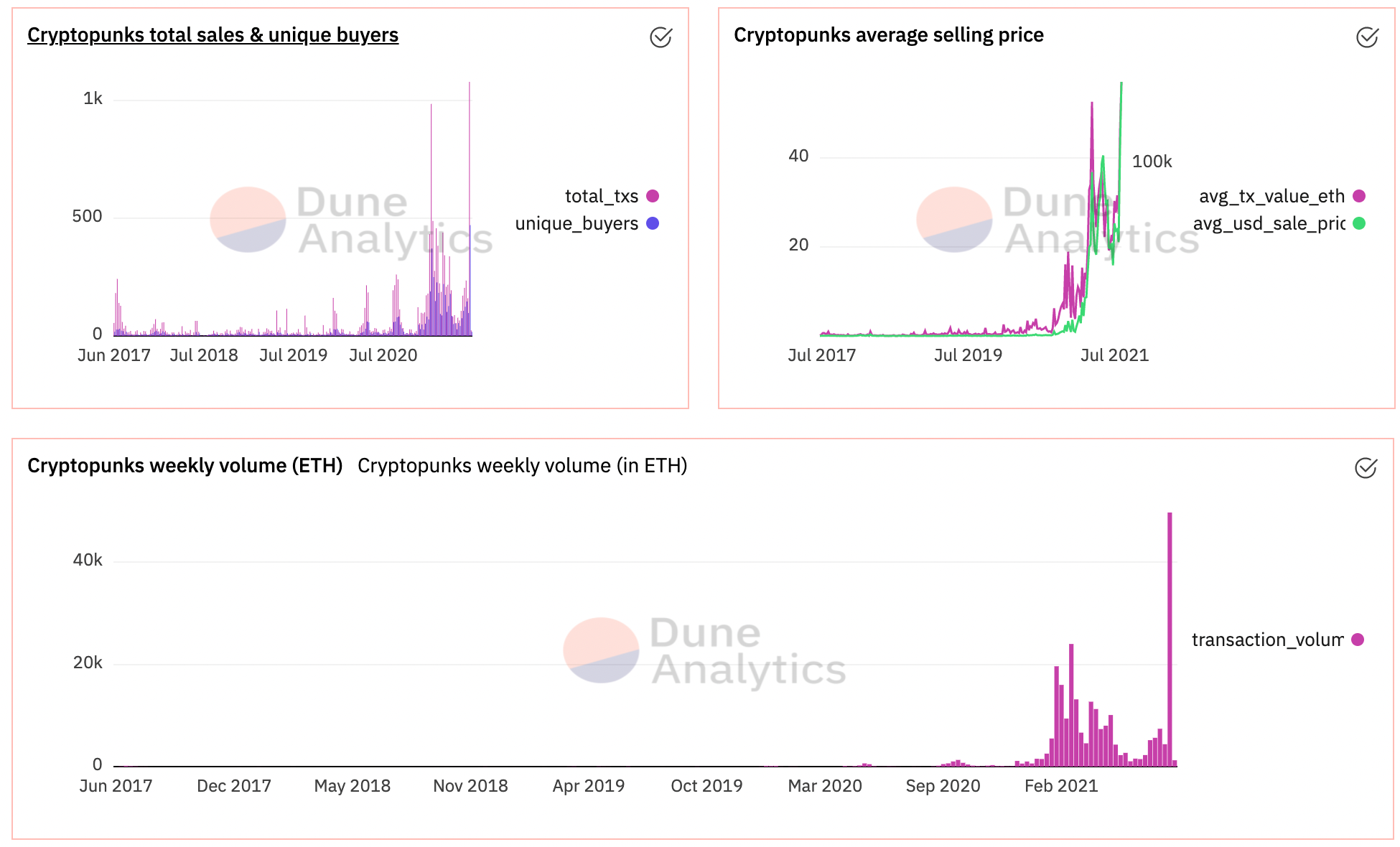 "CryptoPunks" even began trending on Twitter.

The Punk frenzy has massive spillovers into other NFTs too. The floor prices (the lowest price found for an NFT of a particular set) all steeply rose from previous levels, putting a final nail in the "NFT Bear Market" meme.
Why Now?
So why did this happen now? What was so special about Friday and Saturday that triggered the Punk weekend mania?
For the past few months, you might have heard the NFT Bear Market phrase being thrown around. That phrase was uttered largely by those who weren't paying attention and had cast the NFT industry as a one-and-done.
While many speculators got burned and left, there was a deep consolidation towards quality in the NFT world…and that ultimately resulted in a secondary market supply shortage.
This weekend's Punk mania was the result of a frenzied grab to claim the remaining supply of OG Ethereum cultural NFTs, as a bet that Ethereum is on the cusp of going full mainstream.
The bankless thesis believes crypto protocols like Ethereum will become the settlement layer for the world's value. CryptoPunks and other fundamental NFTs with deep ties to Ethereum are the earliest cultural artifacts native to this revolution and therefore are inextricably linked to the protocol itself.
As Ethereum rises to global recognition, so do the NFTs on it that represent a core part of Ethereum itself.
While the crypto-revolution is a revolution in money and finance, it will manifest instead as a revolution in art and culture. I believe enough people are tuned into that reality, either consciously or subconsciously, and felt major FOMO about owning a piece of the OG NFT project, as Ethereum slowly rises to dominate the global conversation around money and assets.
At least, I can only speak from experience, because I caught the FOMO bug myself, and finally decided to pull the trigger on Punk #1118: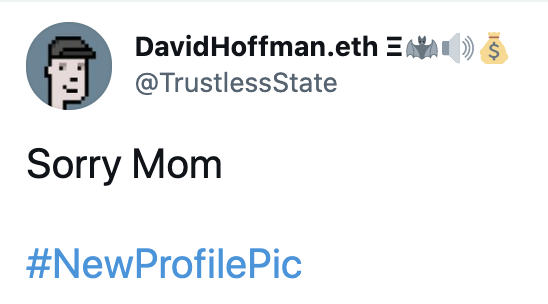 ---
NFT projects driving Gas prices up
Last week, several new NFT projects spiked gas prices to well above 1,000 gwei.
Mila Kunis' Stoner Cats NFTs sold out within 35 minutes, triggering some not-so-nostalgic memories of 2017 ICOs, and also spiked gas prices to 1,500.

Just a few hours after the Stoner Cats all got sold, gas prices were back to over 1,000 gwei for the Vogu Collection NFT sale event, and a few recent ArtBlocks released have pushed gas prices back above 100 gwei levels as well.
It's now obvious that NFTs have been hot all along, and the market has just realized that the NFT Bear Market meme was just a meme all along.
On top of all this…it's EIP 1559 week!
All of this NFT craziness is ahead of EIP 1559, which goes live THIS THURSDAY 🔥
Moving forward, all the NFT speculation and minting going on Ethereum will start burning ETH, and this last week showed that NFT demand was sufficient in-of-itself to produce meaningful block space demand for Ethereum.
But NFTs are just one of the many things that are alive and well in the Ethereum ecosystem.
---
Join our three EIP 1559 Livestreams this week! 🔥
Mark your calendars for the Bankless EIP 1559 livestreams this week!
---
Did Crypto Turn Bullish?
As gas markets heat back up again, so has the ETH price 📈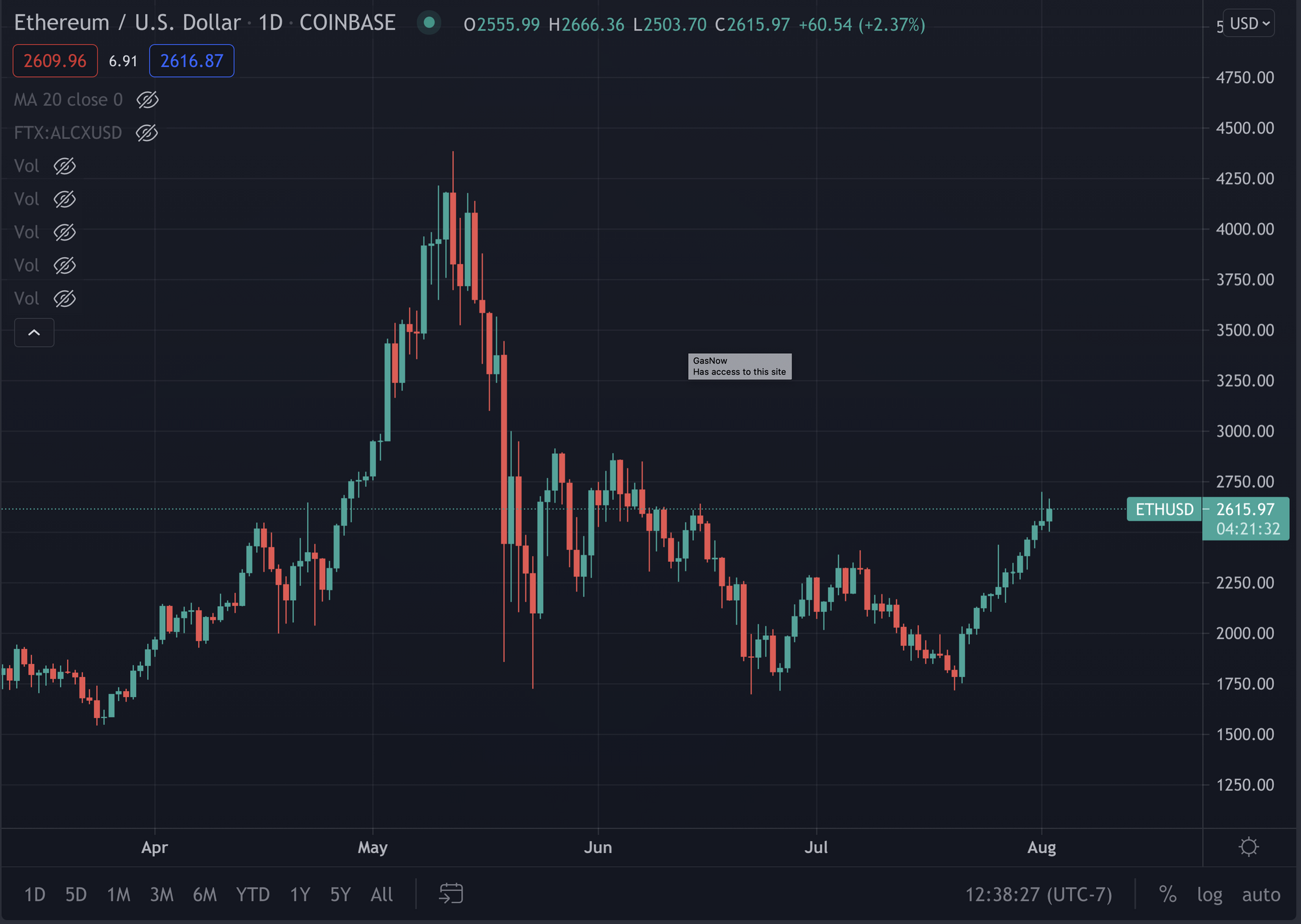 So, this run from $1,750 on the 19th of July, to where it is now at $2,600…
Was this in anticipation of EIP1559?
Was this the market realizing how alive the NFT market on Ethereum is?
Are we still in Crab Market season, or are people getting bullish?
One interesting thing to note is that ETH is on 13 daily green candles in a row (BTC has 10/13 green), which is in spite of a wave of new regulatory headwinds that our entire industry faces. The regulation story is still playing out, but it's important to note that you do not see the regulatory headwinds reflected in the price of ETH.
When the U.S. infrastructure bill came out on the 30th, ETH price went from $2,383 to $2,465. ETH doesn't care about regulatory FUD right now.
Anyways, an Alien CryptoPunk just got put up for sale for $90M.
Any takers?
- David
---
Actions