Podcast
31 - Nexus Mutual to Billions | Hugh Karp
Talking with the Founder of the biggest insurance protocol in DeFi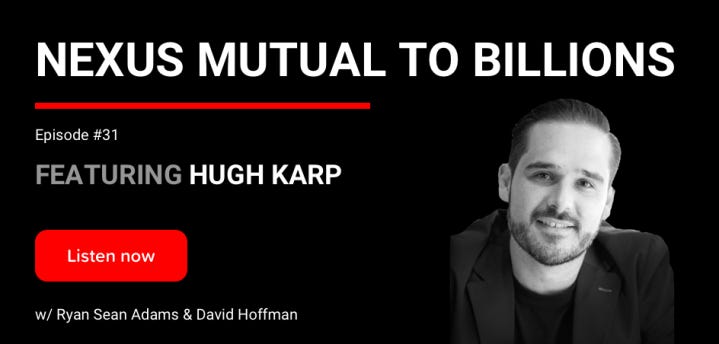 Hugh Karp is the founder of Nexus Mutual, a DeFi insurance protocol

Nexus Mutual has $80M ETH covering over $240M worth of DeFi insurance, up from $8M last July. Nexus has paid out millions in insurance claims to previous DeFi hacks, and is one of the fastest-growing protocols in DeFi.
Hugh comes from the world of insurance and worked as an actuary before moving into crypto. He brings his real-world insurance knowledge to the DeFi universe through Nexus Mutual, a reconstruction of real-world insurance mechanisms, but built on Ethereum.
Join us as we go through the history of Nexus Mutual, the NXM token, and the future road map with founder Hugh Karp!
TOPICS
1) Current state of DeFi insurance / safety
2) Benefits of smart-contract based insurance
3) Quick history of insurance
4) Building Nexus
5) Integrating NXM
6) NXM Bonding Curve
7) Future vision of Nexus
---
RESOURCES