Article
MoonCats Explained 😸
Catch up on all things MoonCats ahead of the Sotheby's auction next month!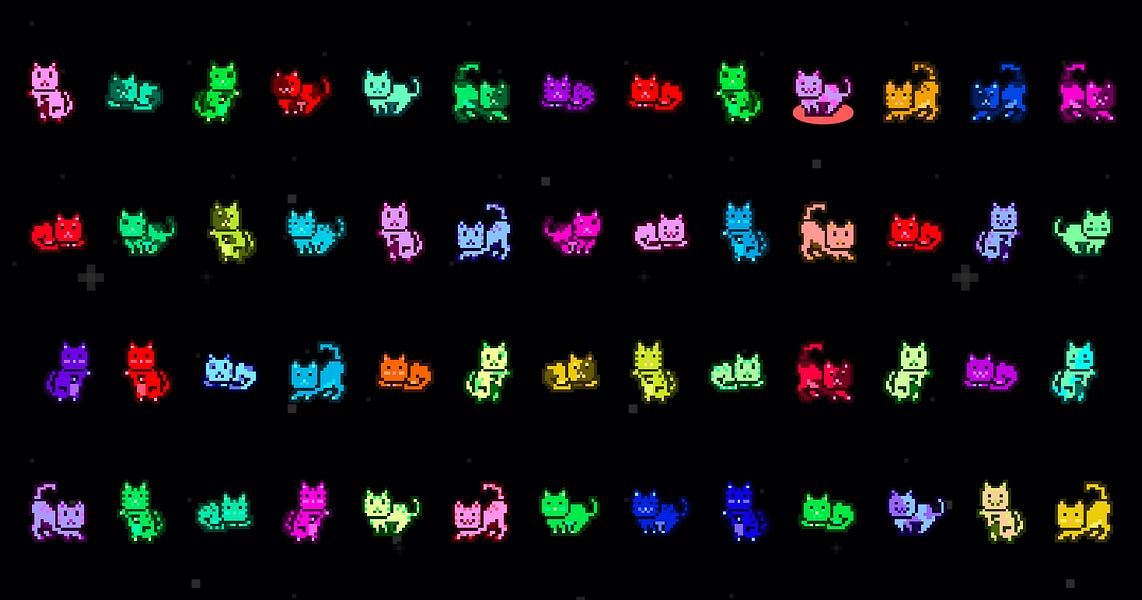 Dear Bankless Nation,
2021 has been brimming with incredible NFT stories. Up there with the most interesting has been the revival and resurgence of MoonCats.
Launched in 2017 and then temporarily forgotten to time, MoonCats rose again when "NFT archeologists" rediscovered them back in March. Since then MoonCat creators Ponderware returned to the project, built new innovations, and helped grow the community to new heights.
This rise from the dead has led to the old-turned-new MoonCats NFTs gaining something of a "vintage nouveau" status in the NFT ecosystem. Accordingly, powerhouse auction house Sotheby's has taken notice and is notably preparing to auction off a clutter of MoonCats in two weeks!
With the Sotheby's event coming up, people have been asking me how to catch up with what the MoonCats project is all about. That's why when writer Mason Marcobello reached out this month with a proposed "MoonCats 101" guest post, the timing was perfect.
Starting to learn about the 'Cats? Mason has you covered with this beginner's guide 👇
-WMP
---
The beginning of MoonCats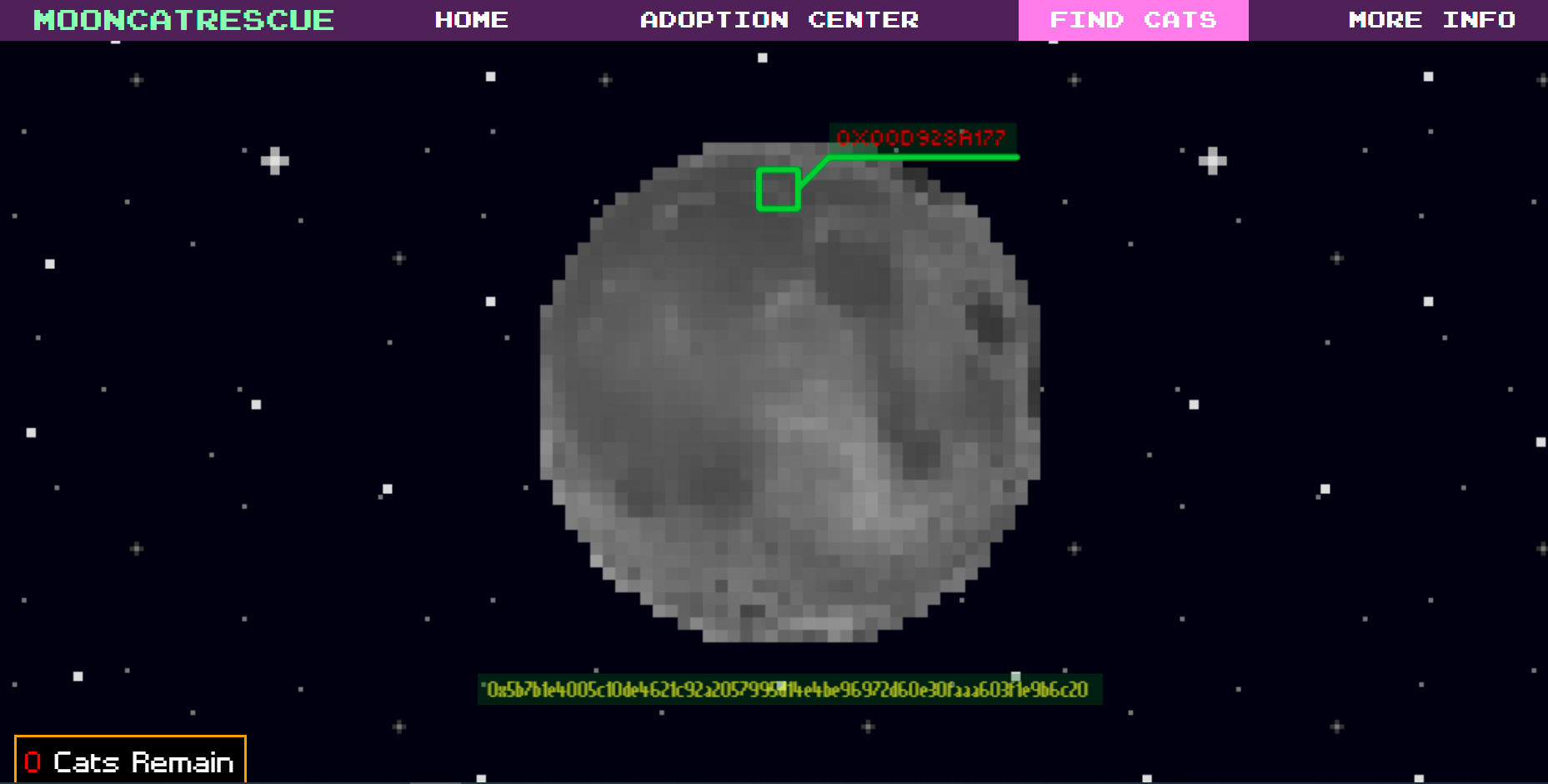 Launched on August 9th, 2017, MoonCats are now considered the first on-chain generative NFT, cat NFT, and "naming-enabled" NFT built on top of Ethereum.
MoonCats were developed by two creators collectively known as Ponderware. The duo created MoonCats as their first foray into exploring the possibilities of decentralized applications.
MoonCats lore centers around an "insanely cute operation" to save the cats from a solar eclipse that threatened their existence. To ensure their species lived on, collectors were tasked with rescue by bringing the cats to exist as NFTs on Ethereum.
At the time of the MoonCats creation, there was no charge to rescue one (excluding Genesis MoonCats) other than the cost of gas.
There were originally over four billion possible MoonCats variations, yet only 25,600 were addable to the project's smart contract, or rather the creators' "spaceship with the latest litter-box technology."
Understanding "Genesis MoonCats"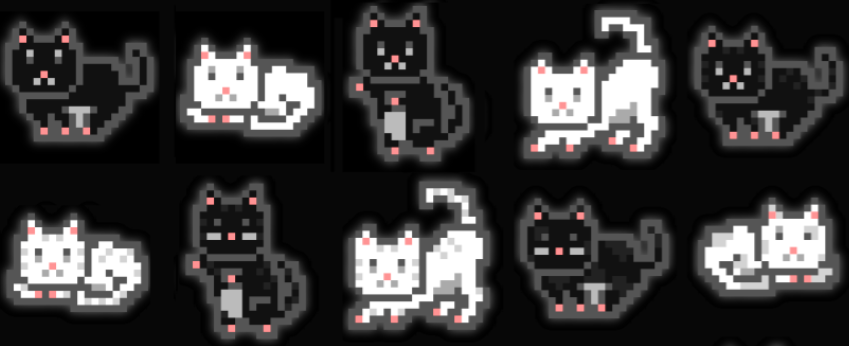 Complementary to the 25,600 cats were another 256 (later reduced to 96) known as Genesis MoonCats, i.e. aditional unique MoonCats "cloistered in the moonbase" and suspected to be direct descendants of the Genesis cat pair.
Genesis MoonCats can be identified by deep black and milky white coats. Based on recorded data, 64 GenesisCats are pure black or white, with the rest brandishing coats mottled with shades of grey.
Initially released in batches of 16, the distinctive aspect between Genesis MoonCats is that initially they could only be adopted and not rescued.
The first Genesis MoonCats were adopted for 0.3 Ether each, with each subsequent round costing an additional 0.3 Ether more than the last.
Ether collected to adopt the Genesis MoonCats was burned via allocation to 0x0000000000000000000000000000000000000000, an address that no one can access.
Genesis Cats have an array of expressions and display various shades of grey, Black Genesis cats are only featured in either Standing and Pouncing poses. White Genesis Cats are only displayed as either Sleeping and Stalking.
Irrevocable Naming
Another unique feature Ponderware integrated to help buyers experience a more interactive dynamic was Irrevocable Naming, or the ability for owners to decide whether they want to name their MoonCat or not.
MoonCat names can only be 32 bytes (between 8 and 32 characters in UTF-8), and they can't be removed or replaced once chosen.
Hence the reason some MoonCats on offer at the Adoption Centre have names like "Vitalik," "CryptoCat," and "Whiskers."
Some collectors prefer unnamed cats believing there is more value if the option is left open to name them later; others remain indifferent either way.
Qualities and characteristics
With 25,600 cats created, understanding the various properties and attributes can be an arduous task at first. However, there are several distinct characteristics highlighted by the MoonCat community buying guide for collectors to reference. Some notable distinctions are as follows.
Acclimated vs Wrapped MoonCats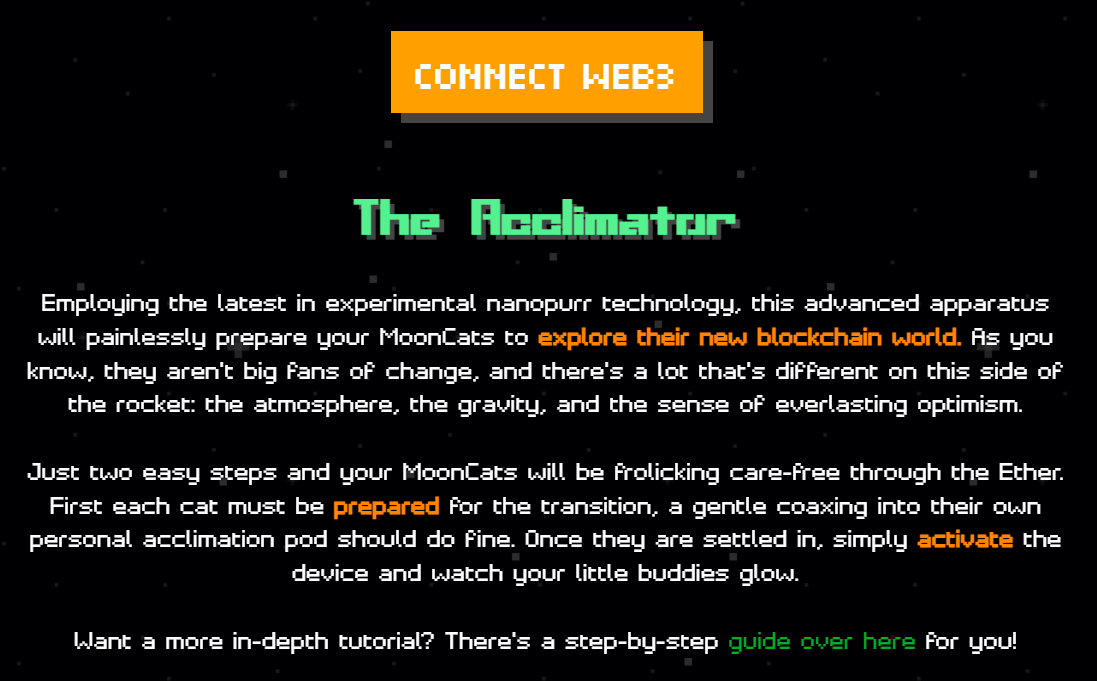 Official Wrapped MoonCats (Acclimated) is the official ERC-721 Wrapper developed by the original project creators (Ponderware). +17.8k Acclimated cats are available on OpenSea with a small fee from each transaction going to the creators to help finance and support future projects. Collectors can use the official Acclimator any time.
The alternative MoonCat page listed on OpenSea, Wrapped MoonCatsRescue (Unofficial), features cats created by an independent developer upon rediscovery of the project in March 2021. These are legitimate MoonCats, they just use a 3rd-party NFT "wrapper" service. Because of this, they won't have any integrations with future Ponderware developments. There is also no metadata provided for Unofficial Cats.
Timeline
The date of creation, rescue, and adoption for the MoonCats also factors in to their ensuing rarity or resale value.
Early Rescue Cats (2017–2020):
Character Cats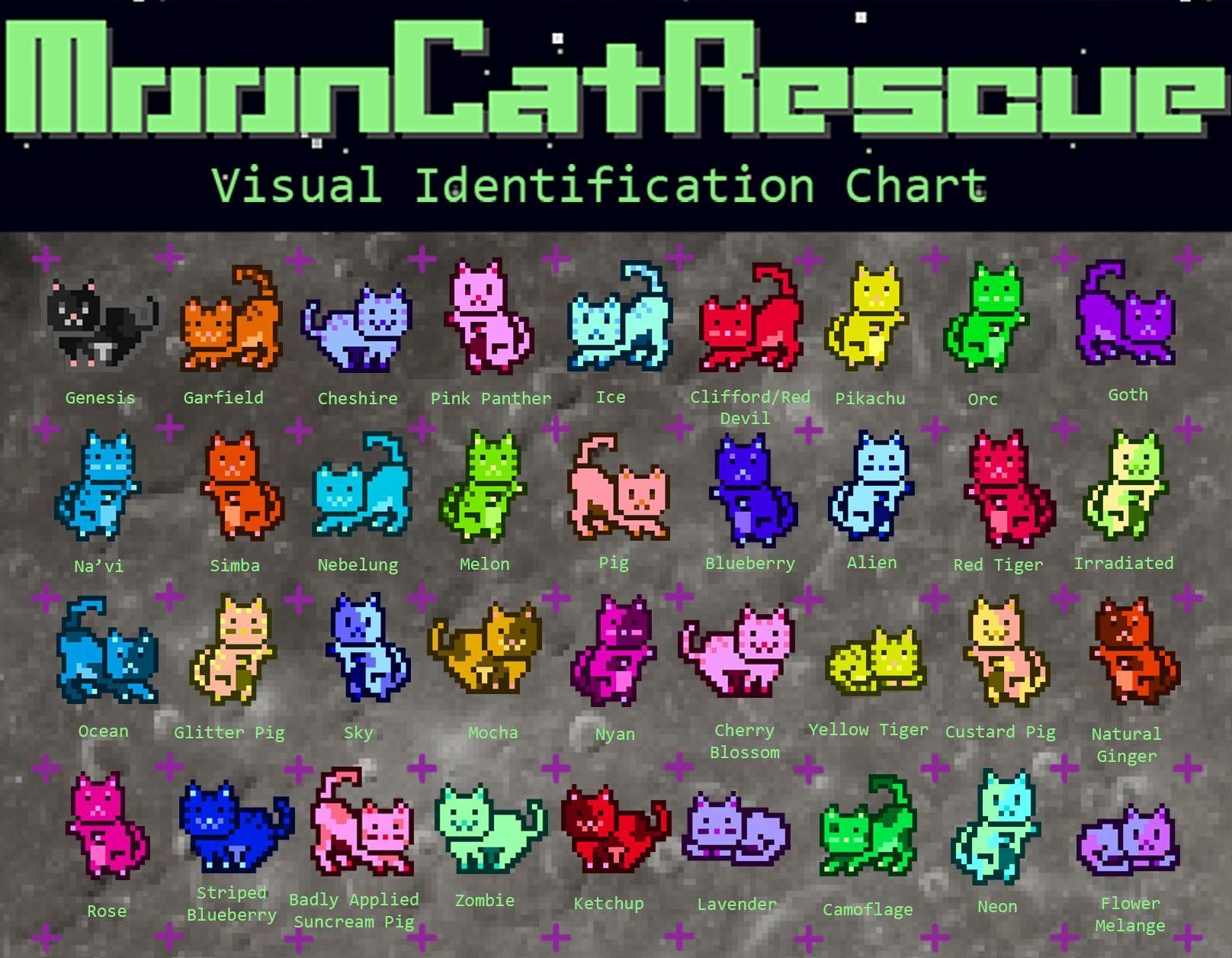 Some collectors prefer 'Cats that reference pop culture or mainstream cartoons. These are known as character cats.
So far, the most popular character cats are Garfields, i.e. Orange Tabby Cats, as they have consistently sold above floor prices.
Another popular style includes Cheshire Cats, i.e. Pale Purple Tabby or Pale Magenta Tabby cats in reference to Lewis Carroll's Alice in Wonderland.
More recently and as homage to rare "Alien" CryptoPunks, Alien Cats are increasingly in demand for their distinct Pale Blue or Pale Sky Blue with a Pure Coat. Another reference to the Punks are Zombie Cats, Pale Green or Pale Teal cats with a Pure Coat.
Accessories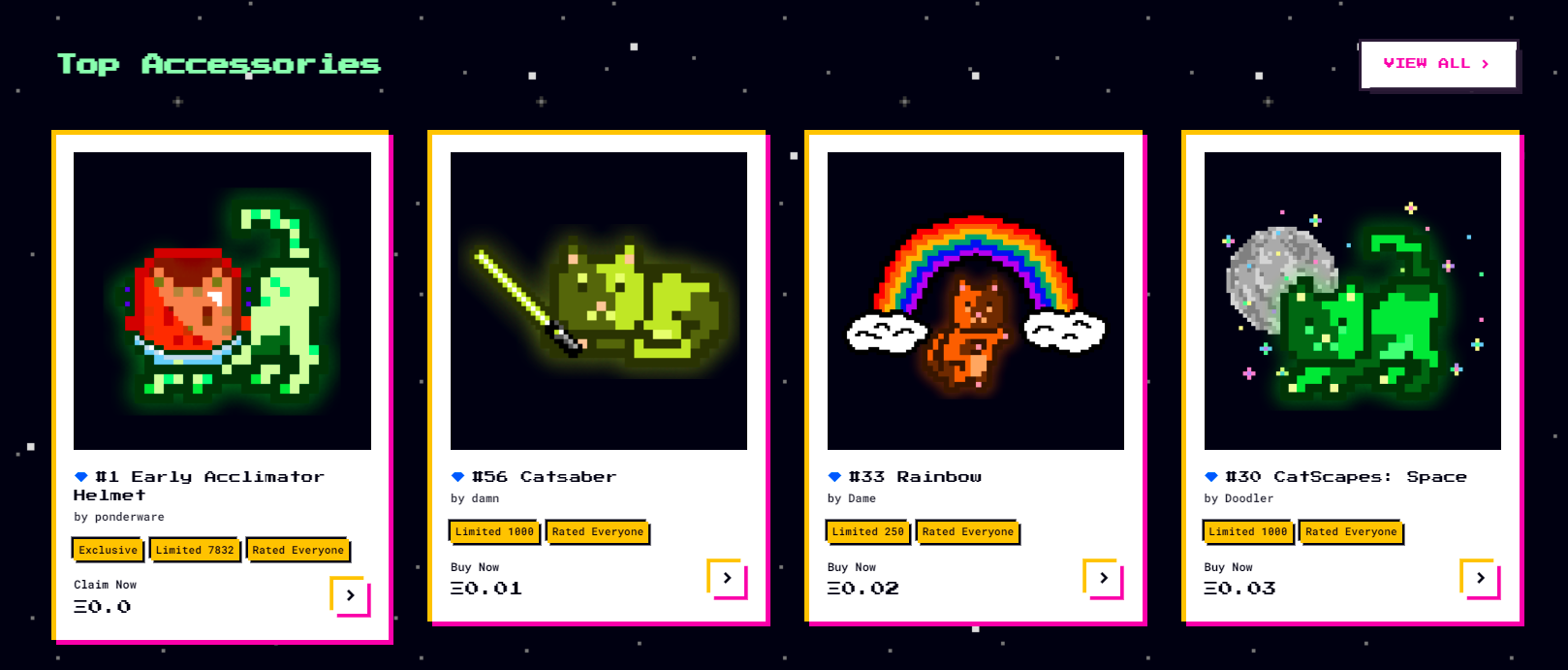 Recently Ponderware created an Accessory Designer open for anybody to design and sell in the MoonCat Boutique.
While accessories vary in their underlying uniqueness and corresponding value, an interesting aspect is that once bought, they will stay with the associated MoonCat and cannot be transferred or sold independently. Collectors can, however, choose whether they'd like to display or hide their accessories at any time.
Conclusion
Will MoonCats continue to firming up as among the most definitive and beloved early NFT projects? We'll have to wait and see, yet there's no denying many more folks are seeing the project as historic and culturally significant after the events of the last 6 months.
Sotheby's stamp of approval will bring newfound attention to the project, to be sure. But only those who dig into the context and history of the project have a shot at really understanding why it's captured the imaginations of NFT collectors around the globe this year! 😺
---
Author Bio
Mason Marcobello is a writer, entrepreneur, and aspiring creative technologist. He currently works alongside Zhou Holdings, a family office in the U.K., and is a recipient of the 2015 Huayu Enrichment Scholarship, which allowed him to take intensive Mandarin courses at NCKU in Southern Taiwan. While avidly curating, creating, and collecting NFTs, Mason is also currently in the process of building Apollo's Atlas; a library for the metaverse inspired by two dogs, Apollo and Atlas.
---
Action steps