Article
How to Trade NFTs
You've got options when it comes to NFT-to-NFT trading platforms!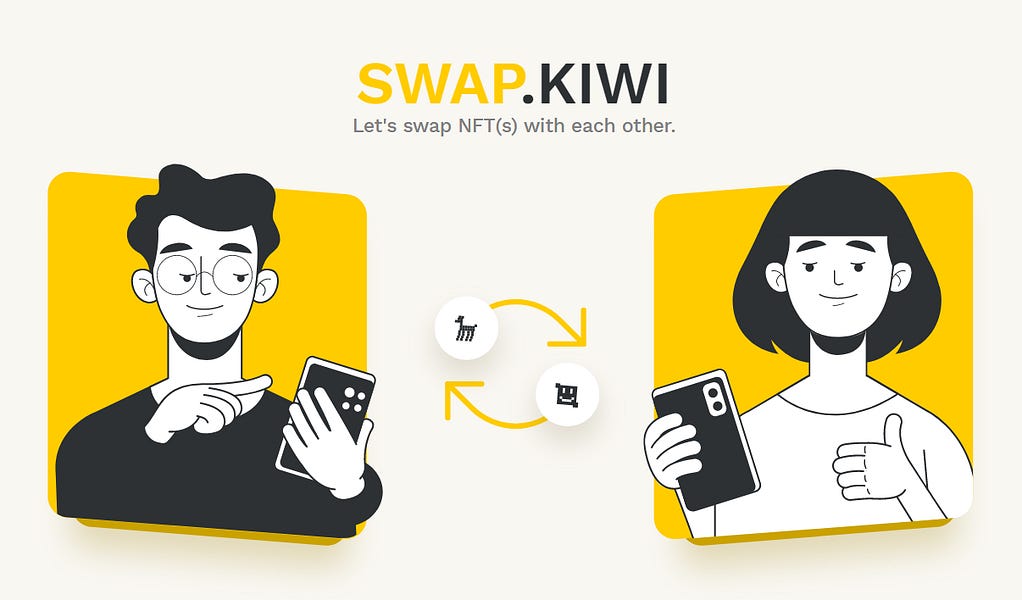 Bankless Nation,
Let's say a colleague who's into NFTs approaches you with a proposed trade, i.e. a specific set of their NFTs for a specific set of yours.
Hmm, not a bad offer indeed!
So what's next if you want to proceed? The NFT trading arena is still nascent, sure, but there are more than a few avenues available that traders can consider using in the here and now.
Let's walk through a selection of these options, and some of the options we know are coming, in today's Metaversal 👇
-WMP
---
How to Trade NFTs
First, it goes without saying that NFT trades should only happen from positions of mutual understanding and acceptance.
If you feel like a final offer is off the mark, or if you're not totally familiar with a new trading platform yet, stand down! It's safety first and then fun when it comes to DeFi and NFTs, so be smart, do your homework, and trust your gut if you start feeling like patience should prevail.
All that said, let's say you do have an NFT trade in mind and you're interested in pursuing it — below are some NFT trading avenues you could try today.
OpenSea
Consider the hypothetical example of a close friend who wants to trade you a bit of ETH and a handful of floor-priced Bored Ape Yacht Club (BAYC) collectibles for a selection of your collected Art Blocks pieces.
Above, I say close friend because this particular OpenSea trading method would entail an asynchronous swap, meaning whoever sends their half of the deal first will be totally dependent on trusting the second party to follow up. However, OpenSea's easy and reputable to use if that trust does exist. So in the aforementioned case you could:
Create a bundle of the desired Art Blocks pieces.
Click the "Privacy" button in the bundle listing dashboard. This will bring up an area where you can input your counterparty's address.
Input the negotiated ETH portion of the deal, confirm the listing, and then send the URL over to your friend. They can buy via the link, and then repeat this same process on their end and send you a bundle URL in kind.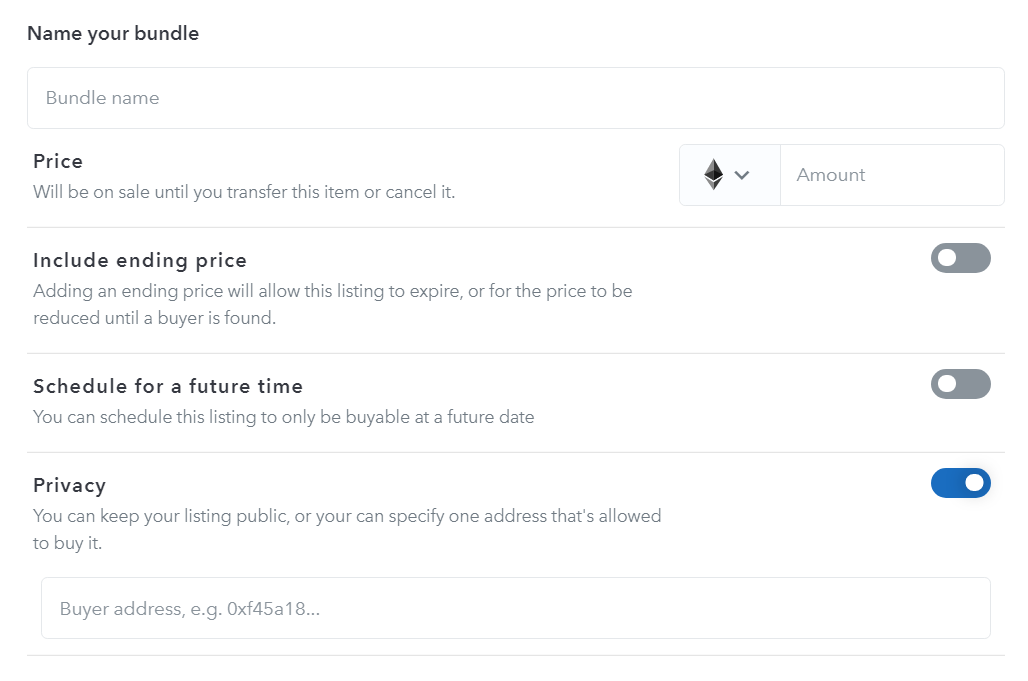 Sudoswap
Unlike the OpenSea process described above, Sudoswap is a dapp explicitly designed for trading baskets of ERC20s, ERC721s, and ERC1155s for any other combo of these types of tokens. As such, it's awesome for NFT trades!
Sudoswap's built by Owen Shen, a talented and reputable builder also behind the 0xmons NFT project. Sudoswap notably offers:
P2P trades — "just send a link to your trading partner"
Safety — "assets never leave your wallet until swap is completed"
Good UX — "gas-optimized, no extra fees, only pay for approves and swap"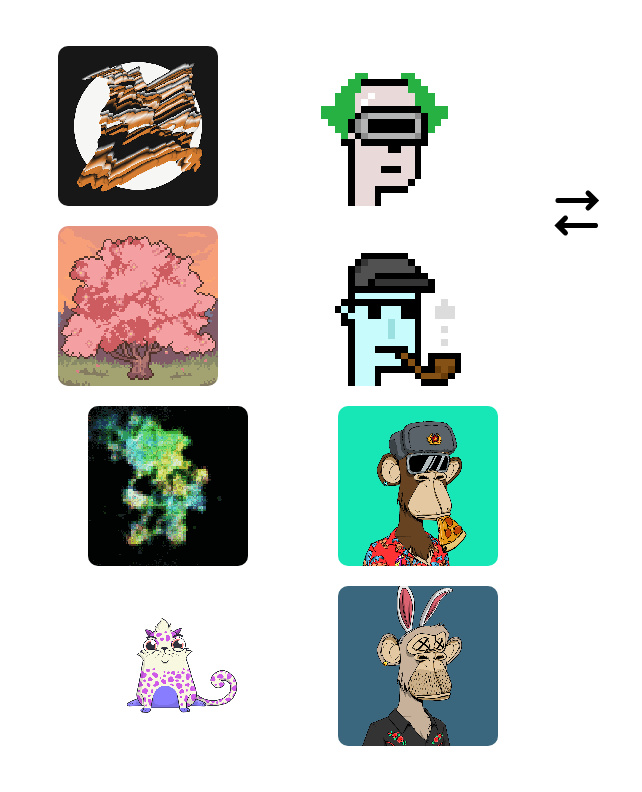 NFT Trader
I'm personally not very familiar with the NFT Trader dapp yet. I came across it recently and after some basic digging, it does appear to offer a pretty slick UI for making NFT trades so it's worth considering here.
The project's swapping process is straightforward — simply select the desired NFTs from your wallet and the desired NFTs from your counterparty's wallet, and boom, you've got a trading link ready to rip after a small transaction.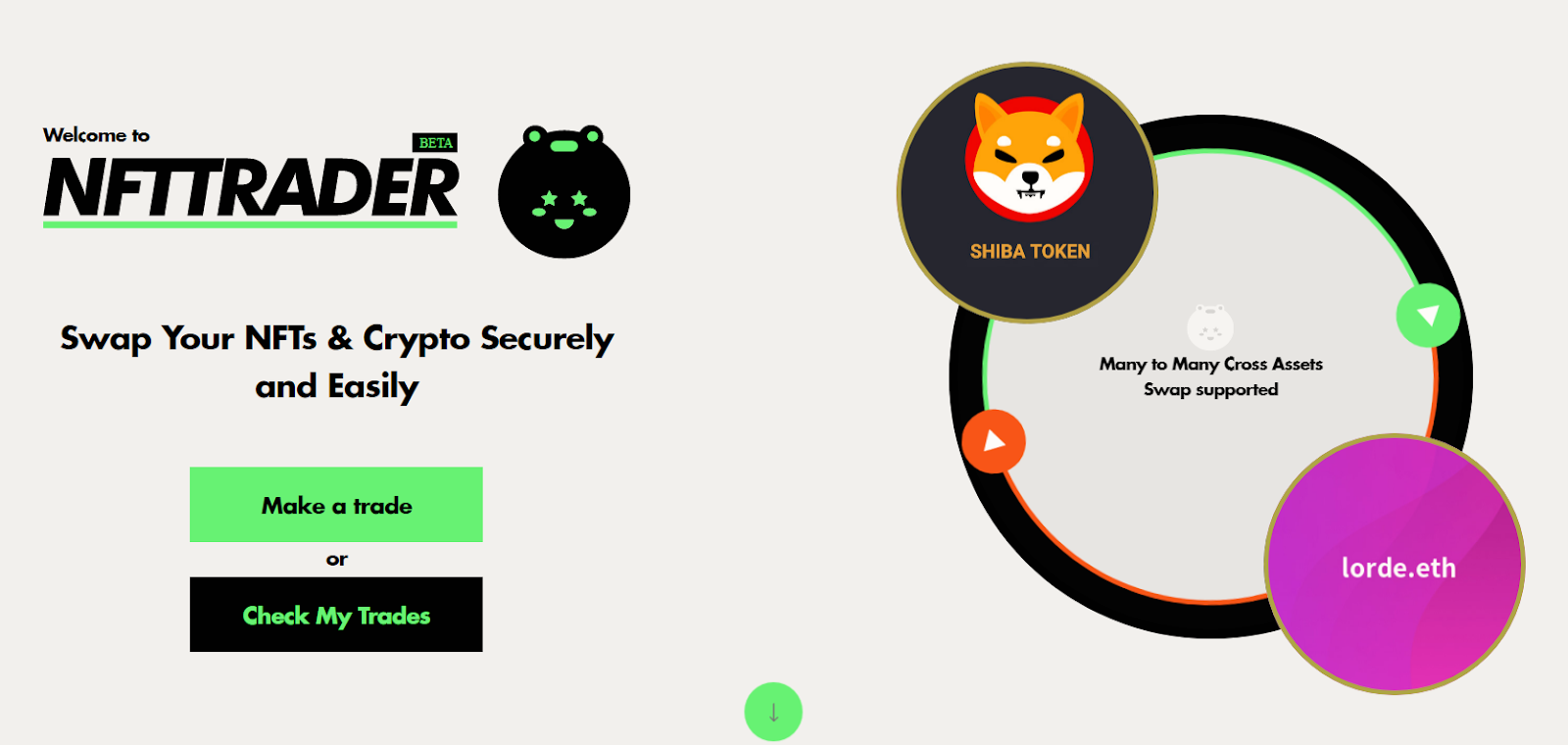 swap.kiwi
The newest NFT trading project that I'm aware of is swap.kiwi. The dapp just arrived last week so I haven't personally experimented with it much yet either, but from the looks of it the project works similarly to NFT Trader. If you're in the mood for exploring around upstart NFT projects, this is one to consider.
Upcoming options
The projects discussed above are NFT swapping avenues available right now. But there are other avenues coming that are just around the corner, too.
For example, some worth tracking currently are Rarible's DEX system and also the powerful Cross-Asset-Swap protocol that's in the works by the talented dev Vasa. So keep your eyes peeled, because our NFT trading infrastructure is going to keep blooming for the foreseeable future.
---
Action steps
👀 Check out the NFT trading platforms described above. Which one would you be inclined to try first, and why? Sound off in the comments below!