Article
How to make money with digital art on Rarible
A step-by-step guide to create and trade digital art on Rarible while also earning RARI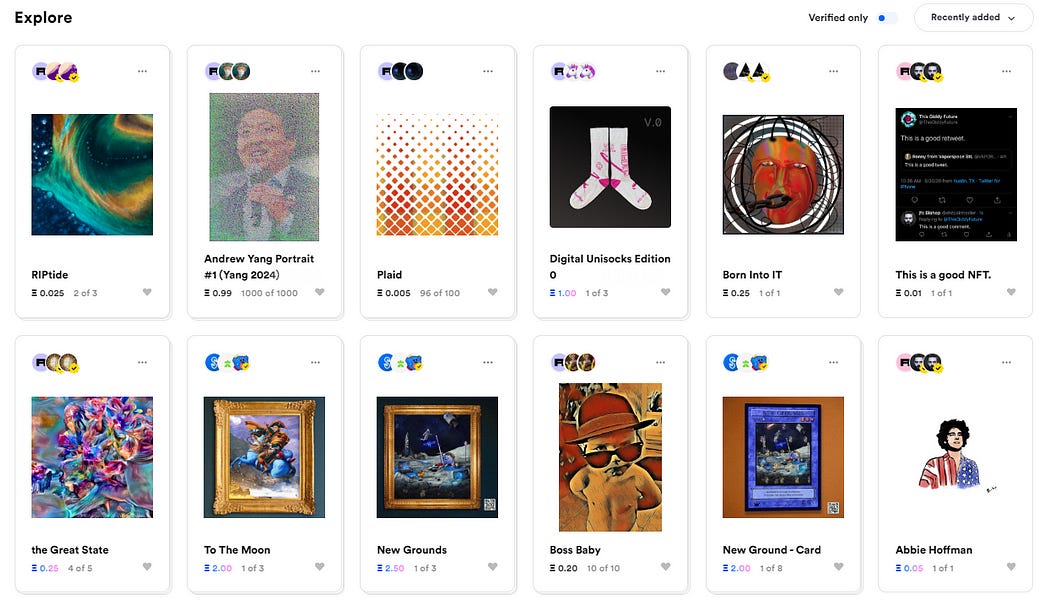 Level up your open finance game five times a week. Subscribe to the Bankless program below.
---
Dear Bankless Nation,
NFTs have gotten a fair amount of attention in recent weeks.
We laid out the bull case with Jake & Andrew last week. We've covered them a few times in the past.
But how exactly do you create one? And where can they be traded?
That's where Rarible comes in. Rariable is an NFT marketplace that allows anyone to mint, buy, and sell unique digital collectibles. It's also one of the first marketplaces to add liquidity mining with their native governance token, $RARI.
You can create & trade collectibles and earn RARI in return. What's the end goal? Rariable wants become a public good owned and governed by its community.
This is the the ownership economy at work. (Just wait until your hear our podcast ep on the ownership economy…coming Monday) .
Double tactics this week! We use dips to level up harder.
Here's how to make money by creating & trading digital art on Rarible.

- RSA
P.S. 📢 Coindesk's Invest: Ethereum Economy event is on Oct 14. This is gonna be 🔥🔥🔥. Register with "BANKLESS" to get $25 off. Early bird special ends today!
---
🙏Sponsor: Aave—earn high yields on deposits & borrow at the best possible rate!
---
We released a new episode of Meet the Nation!
Meet the Nation: André 'RAC" Anjos
André is a grammy-award winning artist and an active participant in DeFi. We discuss how he's leveraging Ethereum to better connect with his fans along with the launch of his community token, $RAC.
Give it a watch!
---
TACTICS TUESDAY
Tactic #59: How to make money with digital art on Rarible
Guest Writer: Alex Salnikov & Alexei Falin, co-Founders at Rarible
Rarible is a community-governed NFT marketplace where you can create, buy, and sell digital items on Ethereum, currently ranked №1 by volume on OpenSea and DappRadar.
It is also the first marketplace to introduce liquidity mining to the NFT space, rewarding its most active creators and collectors with RARI, the native governance token for the marketplace.
This is a step-by-step guide to create and trade digital art on Rarible while also earning RARI.
Goal: Learn how to tokenize and trade digital art (and yield farm in the process!)
Skill: Beginner/Intermediate
Effort: 10 mins
ROI: Depends on the art you trade
---
The Importance of NFTs
Non-fungible tokens (NFT) have received a lot of attention in recent weeks. These unique digital tokens and marketplaces allow users to trade liquid IP rights with licensing, directly connecting creators and collectors of digital art, in-game assets, metaverse lands, and more.
Why is it valuable?
All copyrights and ownership details registered via NFT platforms are automatically recorded on Ethereum, providing "provenance" for digital content that can be accessed and verified at any time.
In the era of rapid digitization, this provides protection of content creators' and owners' rights, including digital artists, musicians, developers, and more.
---
🧑‍🎨 Creators: How to mint digital art
Rarible provides a free-market environment for creators, where your work will get guaranteed exposure without any third parties involved. To start showcasing your work to the community, you can create your first NFT (ERC-721 or ERC-1155 token) in just a few clicks!
Setup you profile
Brand yourself! As in the traditional art world, your personality is important. Even if you decide to remain anonymous or under an alias, make sure to work on:
your bio (who are you, what is your art about)
cover image & avatar
links to your social media
Mint your NFT
First step — connect your wallet to Rarible. If you already have a wallet, connect it via Metamask, WalletConnect, or WalletLink. If you don't—sign up with Fortmatic (the easiest option, connected to your phone number).
Rainbow and Coinbase wallet are also good options. It's important to note that Rarible does not own your private keys and cannot access your funds without your confirmation!
Click on "Create collectible" on Rarible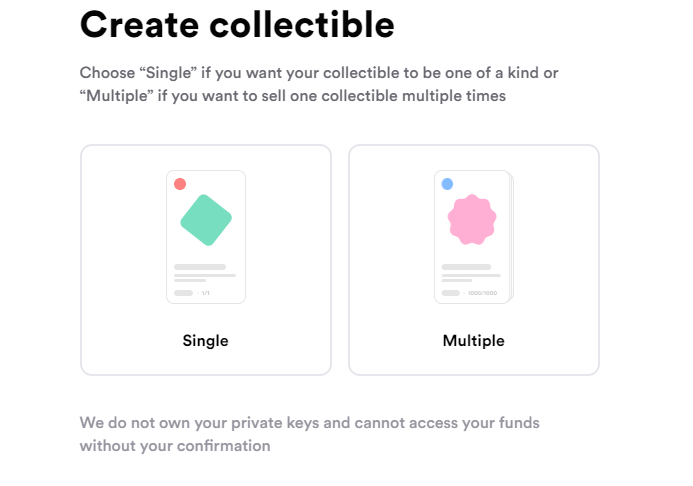 Choose "Single" if you want your collectible to be one of a kind, or "Multiple" if you want to sell your collectible multiple times.

Upload your asset (.jpg, .png, .gif; we recommend to upload files under 10mb).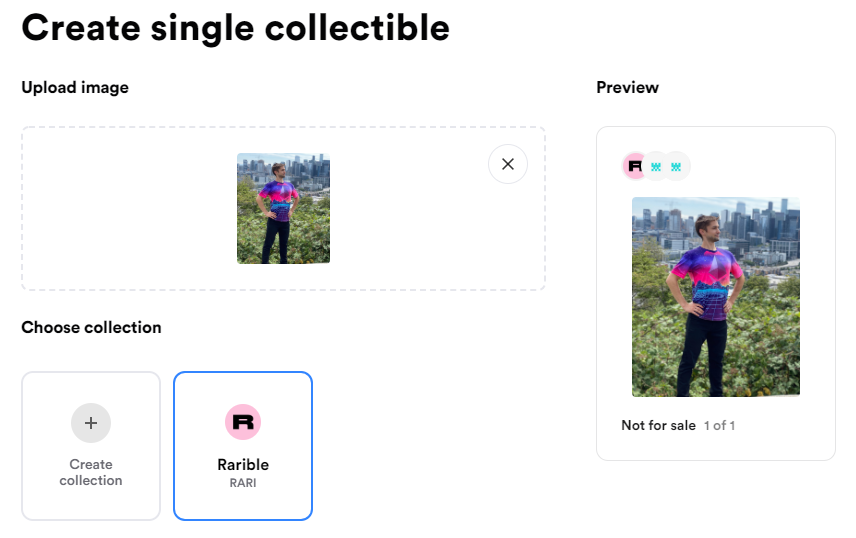 Choose an existing collection or create your own Collection. Each created item is associated with a particular collection. You can choose our default Rarible collection, or create your own with a specific name, symbol and address with your items only.


Name & describe your work. Capitalize the name of your piece (e.g. Name) and add a description! People love stories behind the art they purchase.

Set the price in ETH or let the market bid for it! If you want to build a relationship with collectors, it might be good to set the price low so they can resell. Or keep it premium & expensive. Note that there's a 2.5% service fee!

Set royalties(if someone buys your work and then resells it, you will receive a % from each secondary sale).


Confirm & sign! You'll have to approve Rarible to execute transactions with your wallet. Once approved, you'll have to mint the token and then sign the sell order.
And there you go! You're NFT is minted and for sale on Rarible's marketplace. You'll be able to view it in your profile's collection.
If you want to buy this amazing NFT art of David, you can bid for it here.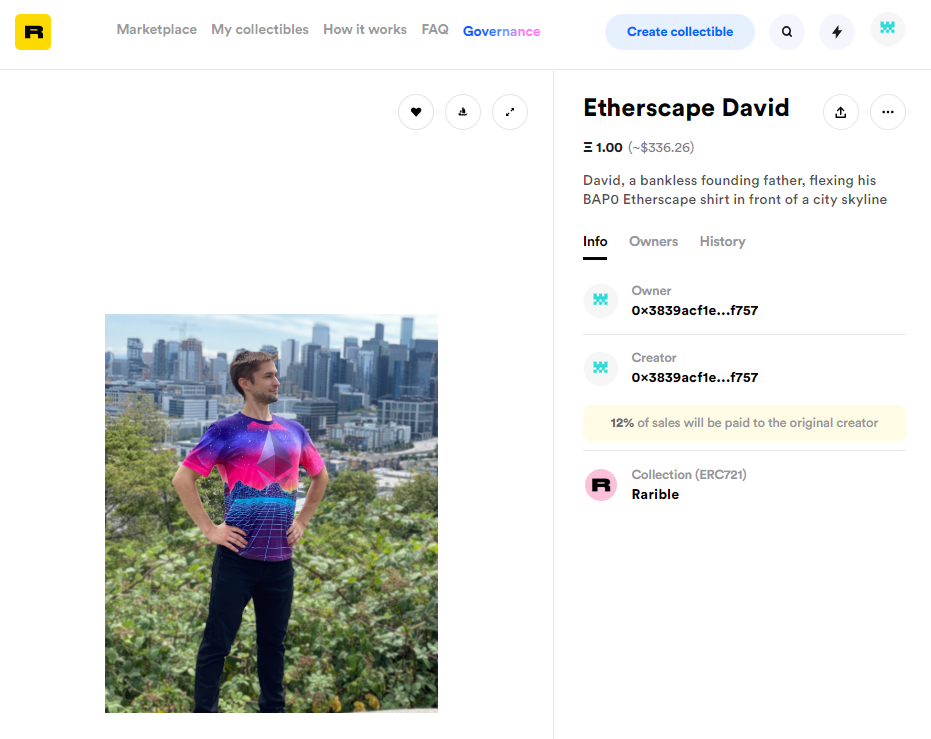 Find your audience
Being active in the community is important to find your target audience and get your pieces sold. The same rules apply.
Be active on Twitter
Look for chats in Telegram
Explore Rarible's Discord
Visit Metaverse meetups & exhibitions
Initiate discussions with artists & collectors
Pro Creators: Build your own exhibition
Try to get it to the Leaderboard!
---
Hint: Try mass following Rarible Twitter subscribers 😉
---
🧐 Collectors: How to trade digital art
With Rarible, you can explore thousands of artwork by both established and new artists. Browse existing collections and get the best out of your deals with all the available information.
You can explore Rarible's marketplace here.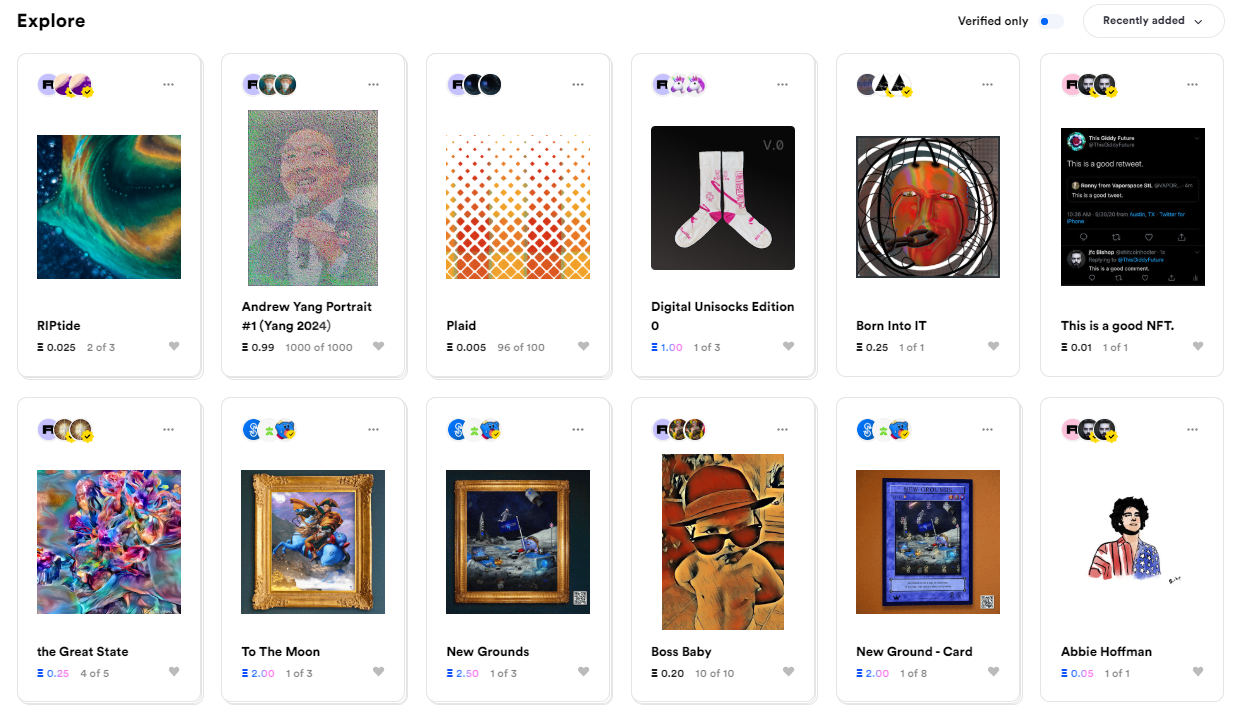 In each collectibles' page, you can see the general information, the number of pieces available (if the work is not exclusive), and ownership history.
A number of good practices for a collector:
Sort pieces by verified artists and price ranges
Explore the weekly/monthly Leaderboard and their follows & likes when searching for art
Don't forget you need branding too! Come up with a collection Thesis. First Edition is a wonderful example.
Promote the art you collected, refer them to art exhibitions. Be an agent!
Pro Collectors: Build your own exhibition
---
🧑‍🌾 How to yield farm RARI
Once you start using the platform, keep going. Being an active marketplace participant is the only way to be eligible for weekly $RARI distribution.
RARI is designed in the first place to give active Rarible community members the power to shape the platform's future, curate, vote for new features, community grants, and more.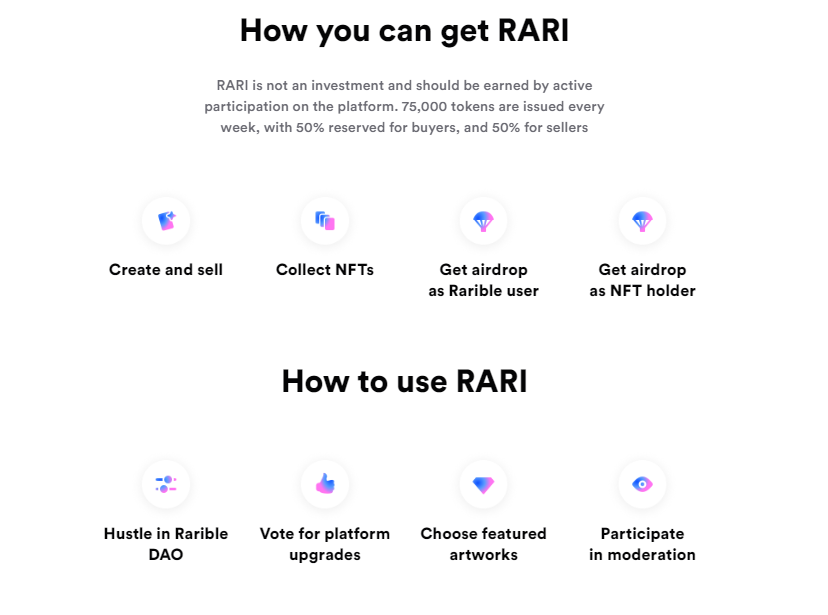 Each Monday, 75,000 $RARI is distributed to genuine creators and collectors that made a sale or a purchase during the past week, according to the volume of transactions. The more NFTs you buy or sell, the more RARI you get! It's important to note that Rarible tracks wash trading and will eliminate any eligibility for RARI rewards if found.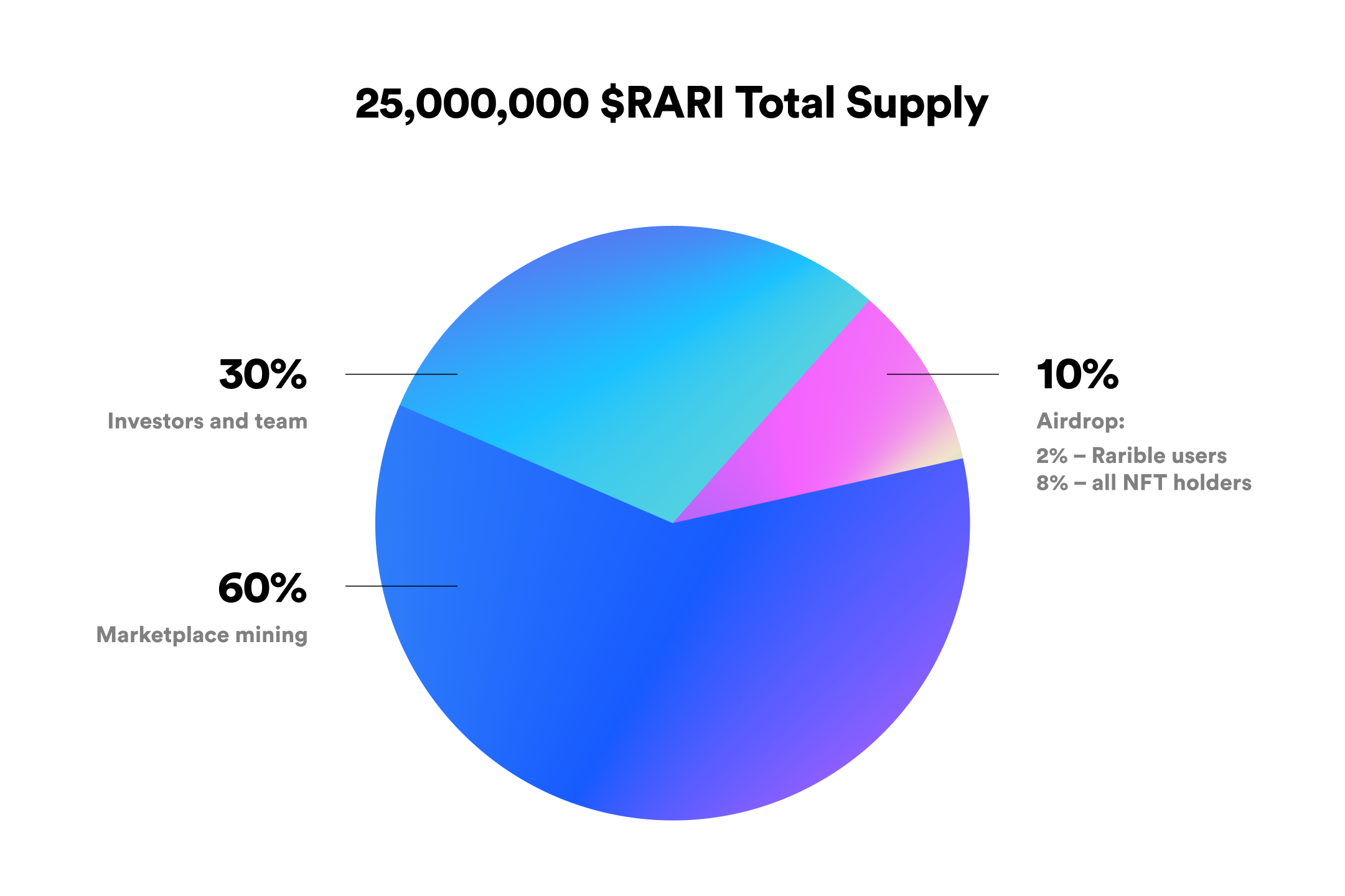 Ultimately, Rarible's long-term goal is to evolve into a fully Decentralized Autonomous Organization (DAO), where all governance and decision rights belong to the platform users.
Rarible is already walking this path, having successfully passed the first governance proposal mid-September. If you're interested in learning more about the RARI token & Rarible governance, check out our official blog post!
Here's what's cool…
NFTs could grow to trillions.
And with Rarible acting as one of the primary NFT marketplaces where anyone can mint, buy, and sell digital collectibles, it enables creators and collectors to earn most of that upside.
Importantly, those same people that use the platform today are the ones that will own it in the future. By distributing RARI via liquidity mining, Rarible is the first NFT marketplace to capitalize on the yield farming trend and the idea of the ownership economy. Whether it's voting on system upgrades, moderating creators, and curating artwork, the community controls the future of Rarible.
Rarible becomes a public good for its users, responsive directly to its community members. A platform for the world's future creators.
---
Action steps:
Mint your first digital art on Rarible

Collect your favorite piece of art — it could be valuable one day!

Level up with these past bankless resources on NFTs
---
Author Bio
Alex Salnikov is a co-founder and Head of Product at Rarible, the first community-owned NFT marketplace.
Alexei Falin is a co-founder and CEO at Rarible. He previously co-founded Stickerplace, a neural networks-based app for customized sticker generation.
---
Go Bankless. $12 / mo. Includes archive access, Inner Circle & Deals—(pay w/ crypto)
---
🙏Thanks to our sponsor
Aave is an open-source and non-custodial protocol for money market creation. Originally launched with the Aave Market, it now supports Uniswap and TokenSet markets and enables users and developers to earn interest and leverage their assets. Aave also pioneered Flash Loans, an innovative DeFi building block for developers to build self-liquidations, collateral swaps, and more. Check it out here.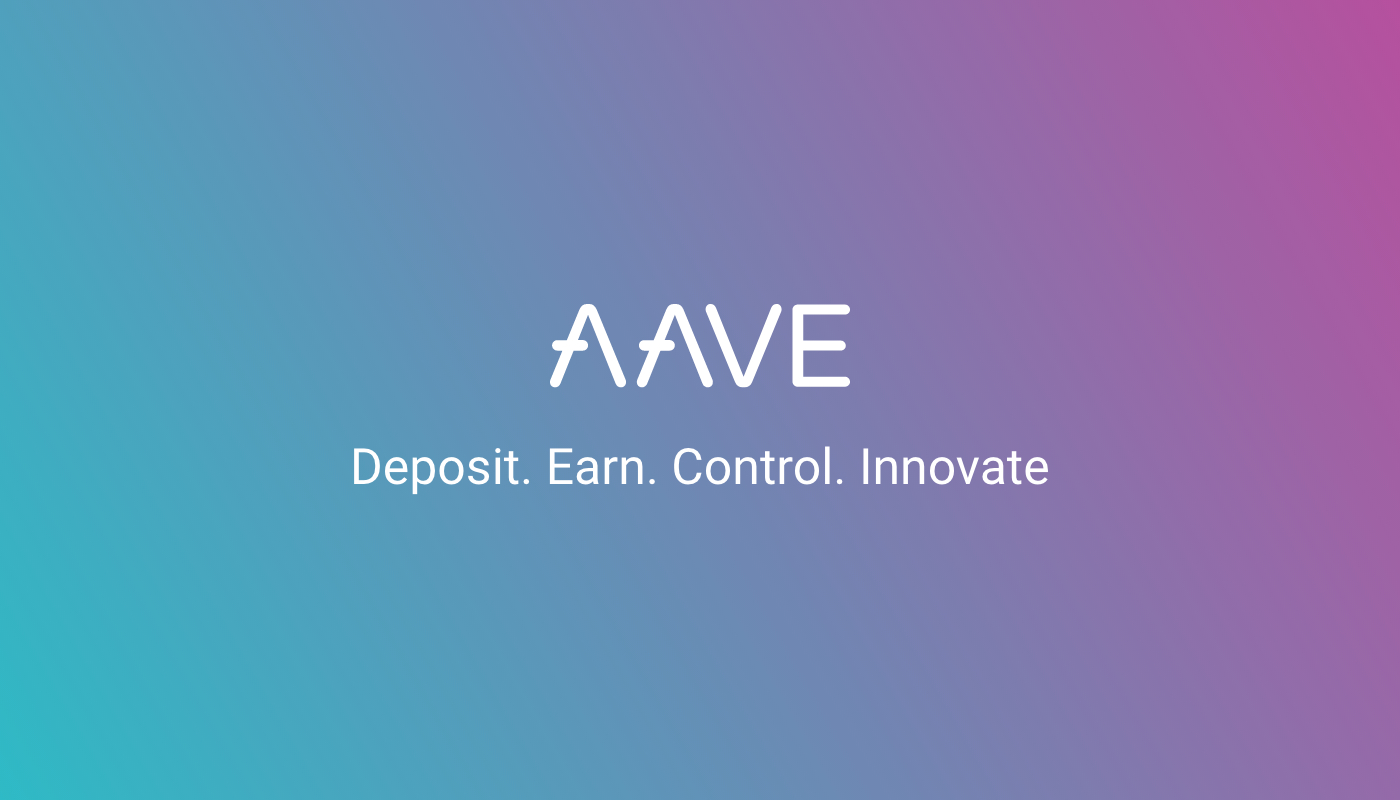 ---
Not financial or tax advice. This newsletter is strictly educational and is not investment advice or a solicitation to buy or sell any assets or to make any financial decisions. This newsletter is not tax advice. Talk to your accountant. Do your own research.
---
Disclosure. From time-to-time I may add links in this newsletter to products I use. I may receive commission if you make a purchase through one of these links. I'll always disclose when this is the case.