Article
How to get your first crypto Visa card
Ever want to spend your crypto in the real world? A crypto Visa card allows you to spend crypto anywhere that accepts Visa.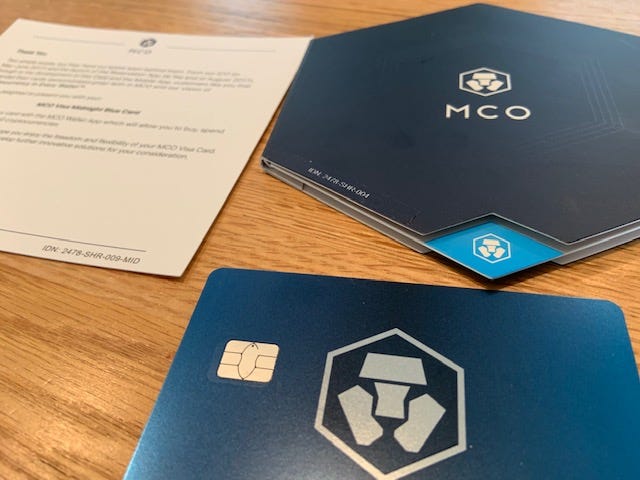 I'm sending this article to everyone—including free subscribers. Don't miss Thursday's article with featuring a 🔥post from David Hoffman! Subscribe to the full program or you'll miss it.
---
Dear Crypto Natives,
I've been searching for a crypto Visa card on and off for a while now. I shared thoughts on my ideal card with the Inner Circle recently:
my ideal: card holds stablecoin like DAI or cDAI in smart-contract (no custody), earns interest while it sits, converts to USD when used as a Debit card, safe to leave 1-3 month amount in card account, no unnecessary token

Also, easy export for taxes
Oh, and it has to be available in the U.S. where I live.
My ideal card isn't available today of course, though some might be getting close. And I'm hopeful I won't have to wait long—there are many cards coming to market in the coming months. In the classic crypto bank vs. money protocol dynamic you have some with custody by crypto banks  & some self-custodied via smart contract wallets—all fighting to carve out their niche.
I decided to do a quick vetting of the cards available to me today, pick one that seemed decent, and gave it a whirl. It caused me to give some thought to questions like—when is a crypto card really useful? what are the risks and rewards? what are the tax implications?
Sound interesting? Ok! Let's level up on crypto cards.
- RSA

P.S. I secured a deal for us on a crypto Visa card that I really like. Look for the 🎁 in this post.
---
TACTICS TUESDAY:
Tactic #12:
How to get your first crypto Visa card
Ever want to spend your crypto in the real world? A crypto Visa card allows you to spend crypto anywhere that accepts Visa. These are structured as debit cards not credit cards, so you can't spend more than the value of the crypto in your account. This  means no credit checks, but it generally does requires AML/KYC.
Today we're going to learn how to get started with a crypto Visa card. I'll draw on my experience with one card in particular so we can dig into the details.
Goal: Learn how to select and get started with your first crypto Visa card
Skill: Beginner
Effort: 1-2 hours
ROI: Spend crypto in the real world—card perks can generate ROI but do the math first
Before we begin—no, crypto Visa cards aren't the full bankless revolution we signed up for. This is an interim step. It's using crypto money as a value store (no central bank!) but wrapping it in a credit card payment networks so you can spend it in the real world. Partially bankless. Remember the early internet days when people uploaded pdfs of their magazine instead of using web native html? This is like that.
---
Why a crypto card?
Yes, a crypto card is useful for spending crypto in the real world. But, the deeper question—why would you want to spend your crypto in the first place?
I subscribe to the "hold your ETH spend your DAI" school of thought.
So generally I see store-of-value crypto reserve assets like ETH and BTC as investment assets. You hold these, you use them as collateral, you lend them out to accrue more—you don't spend these unless you have to, and if you do spend them, you replace them with more.
Stablecoins? Different story. Spend away. These don't appreciate in value over the long-run. These are meant for daily spending not long-term holding. (This is why I like DAI so much—backed by ETH so it's still bankless but also perfect for daily spending).
So, I'd primarily use a crypto card to spend stablecoins rather than ETH or BTC.
That said I might also use a card to spend:
Interest earned from ETH/BTC I lend out
Small amounts of ETH/BTC I planned to sell anyway
Non-money crypto assets I didn't have high enough conviction to hold
Ideally, a crypto card is somehow paired with a lending service. That way I could park some of my store-of-value crypto money in an interest-yielding account and spend only the interest proceeds. I'd be spending the house money. I'll admit the difference between spending interest vs spending principle is purely psychological—but then again, good crypto investing is mainly a psychological game. Better to train your brain to HOLD your crypto money—holding is often the hardest part.
The last reason for a card is perks. Do I get cash back? Do I pick up rewards? Does spending with card provide a higher ROI than other options?
So card makes sense for some types of spending. Time to select one.
Selecting a crypto card
There are many crypto cards available. Here's a list. Here's another. As in traditional finance the availability of cards is geography dependent.
For Europe I hear most often about:
Wirex—supports DAI, monthly cost, cashback for in-store purchases, have heard fees are high for loading card and spending it
Monolith—still new, supports DAI, card charging fee 2% (less if you use token), smart contract wallet means self-custody! (I'd try this if it was available in U.S)
Coinbase—no DAI support, 2.49% fees domestic, good place to start if you're a Coinbase user
In the U.S. I've checked out:
Blockcard—supports DAI, easy setup, not confident on their custody solution, their TERN token is Stellar not ERC20
Linen—uses Compound to generate interest while USD is idle, tested product, good UX, self custody on mobile (most bankless option in U.S. but still in beta)
Crypto.com—solid UX, custody by Ledger Vault, good compliance certifications, does not support DAI w/ card, use a speculative utility token (pros/cons to this)
I passed on Blockcard mostly because I didn't have time to vet their custody solution. I'd love to try out Linen, though they are still in beta and their Wyre fiat on-boarding is not available in my state. And I'll try Monolith and Coinbase when they become available in the U.S.
For me, Crypto.com was the best option to test.
The MCO Visa Card from Crypto.com
There were a few things about Crypto.com I had to get past.
First, they raised funds through an ICO token called MCO. The MCO token is a utility token used for perks within the Crypto.com economy. In the context of Visa cards, you can stake MCO (lock it up for a period of time) to receive better perks. The MCO token reminds me of Binance's BNB, however MCO does not entitle holders to a share of Crypto.com profits as BNB tokens do for Binance. Think of MCO tokens as a membership points system of sorts.
Second, this is a crypto bank, so you have to give up custody of your crypto assets and trust both Crypto.com's custody and risk management processes. While they don't have the longevity and trust of a Coinbase or BitGo yet, they use Ledger Vault so they're not rolling their own security, they're audited by one of the Big Four accounting firms, and they've attained some hard to get ISO and PCI compliance. Enough good stuff here for me to risk loading a Visa card.
Third, their marketing is slick. So slick that it turned me off at first. But the best way to separate the substance from the sizzle of a product is to use it and when did so I was pleasantly surprised. Their mobile app is well put together, the process of ordering and activating a card straight-forward, and their packages and fees easy to understand—at least, once you wrap your head around the MCO token…we'll get to that.
Picking an MCO Visa Card
You can see the five different options for a MCO Visa card here. The Blue card doesn't require you to buy and stake MCO, the rest do. In exchange for staking MCO, these higher-tier cards rewarded your with additional perks like a free Spotify subscription and LoungeKey Airport lounge access.
With all of the cards you get a % of your spending back denominated in MCO.
Are the higher-tier cards worth it?
Here's how I think about higher-tier cards—let's take the Red card for example:
You need to buy 50 MCO tokens (at $4.30 per token that's $215)
You need to lock up (e.g. stake) the 50 MCO tokens for at least 6 months
You can sell the MCO after lock up but if you do your perks will disappear
Essentially, you're incurring opportunity cost on the $215 you invest in MCO tokens, which isn't much. But you're taking speculative risk on the value of MCO tokens themselves which at one point were valued over $22 per token but have also dropped below $2—your $215 investment could do very well or you could lose it all.
In return you're getting an extra 1% reward on your spending, a free Spotify Premium account ($9.99 monthly), and LoungeKey access (worth ~$12.50 monthly). Back of the napkin, that's about $300 in value assuming you spent about $3k on card.
If the MCO token dropped to the low of $1.80 they hit earlier in 2019, that's a loss of about $125 on your $215. Of course, price could double too—but speculating on bank utility tokens isn't part of the crypto money portfolio so don't count on the upside.
Benefits worth $300, worst case cost loss of $215, less worse case loss of $125. Even if you ignore the upside potential it's not bad. Of course, if MCO tokens were $10 instead of the $4.30 they are today, the Red card might not make sense.
You'll want to run your own calculations, especially if you're interested in the higher card tiers. But below is a deal that'll help you get another $50 worth of benefits.
---
🎁Bankless Deal—Get $50 worth of MCO tokens
Get $50 worth of MCO tokens when you sign up for any of the Crypto.com metal cards. (Note: all cards listed here are metal aside from the Blue card).
👉Click here and use referral code "bankless"
---
If you don't want to mess with MCO tokens just start with a Blue card. No cost, no hidden fees—that's where I started.
Ordering & activating your card
After you determine the card you want the process of ordering it is simple:
Download the Crypto.com app
Complete AML/KYC via the in-app instructions
Order your card in-app
You should receive your card a week or two later: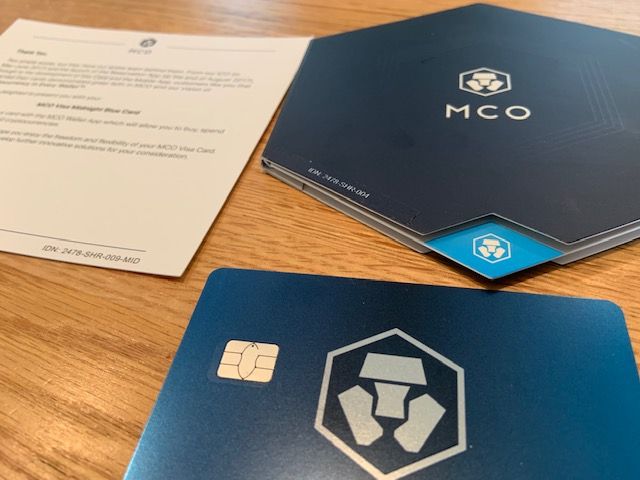 Above: packaging for crypto.com Blue card

Now, activate and top-up card:
Active your card through the Crypto.com app
Add BTC/ETH to Crypto.com wallet by depositing to the address provided in app
Once BTC/ETH is in Crypto.com wallet top up your Card by converting it USD
Tax note: for U.S. tax purposes you are probably realized capital gains when you "top-up" your Visa card and your crypto is converted to USD not when you are depositing the BTC/ETH to the crypto.com wallet—talk to your tax advisor this is not tax advice.
Congrats! Once topped up your card is all set. Go buy some coffee with your crypto.
A few final thoughts…
The Crypto.com app does a good job notifying you when crypto deposits are received and money is spent. I do wish DAI was an option for spending on the Card, but since Crypto.com's lending service now supports DAI I bet it's coming soon.
Next I'll be doing some due diligence on Crypto.com's lending products. The rates look good and as with the card, they are amping up the benefits when you stake MCO tokens while you lend. This may be a good alternative to BlockFi for certain loans (10% for a 3-month DAI loan?), but requires more institutional trust in Crypto.com than a Visa card—lending and crypto cards do pair nicely though. There are a few other Crypto.com products I plan to try too—will report back soon.
For today's tactic it's just the Visa card. And from what I've seen so far, I'd say the Crypto.com cards are a solid option. There are others I intend to try in the future, ideally some of the more bankless options from teams like Monolith and Linen. But if you've used something good, share it with me. I'll include any interesting feedback in Friday's recap.
Action steps
Consider a crypto Visa card for a way to spend your crypto anywhere
Evaluate a crypto.com Visa card (U.S. primarily but w/ Europe soon)
---
Subscribe to the Bankless program. $12 per mo. Includes Inner Circle & Deal Sheet.
---
Filling out the skill cube
Learning about crypto Visa cards mean you're leveling up on the banks & protocols layer of the skill cube. Awesome work!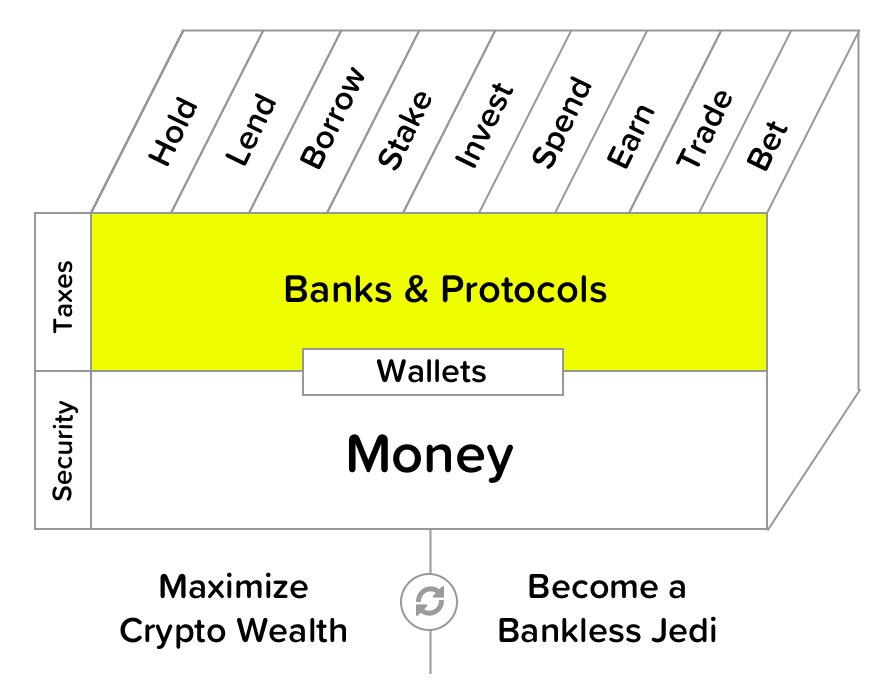 ---
👉Send Bankless a DAI tip for today's issue
---
Not financial or tax advice. This newsletter is strictly educational and is not investment advice or a solicitation to buy or sell any assets or to make any financial decisions. This newsletter is not tax advice. Talk to your accountant. Do your own research.
---
Disclosure. From time-to-time I may add links in this newsletter to products I use. I may receive commission if you make a purchase through one of these links. I'll always disclose when this is the case.