Article
How to Earn by Migrating Aavegotchi to L2
Aavegotchi's built a bridge to Matic Network. Now you can earn by migrating over.

Dear Bankless Nation,
Aavegotchi is trailblazing at the crossroads of DeFi and NFTs, which is why it's no surprise it's one of the first blockchain gaming enterprises to make the layer-two (L2) leap.
Indeed, games are likely going to end up being one of Ethereum's most powerful sectors, but to get there we'll need to be able to accommodate massive and increasingly global user bases, i.e. scaling.
That's why Aavegotchi's new bridge to the Matic Network solution is so interesting. It points the way a future where many players can play Ethereum-based games without worrying about L1 fees or congestion.
Mind you, though, we're definitely pioneering here and that can scare people away. That's why Aavegotchi and Matic are incentivizing the migration of Aavegotchi's GHST token to L2 with an interesting two-week yield farming campaign. Bring your activity, and get rewarded for doing so.
Submitted by Aavegotchi community members, today's op-ed (only lightly edited by myself) is a migration guide that will show you how to reap these L2 farming rewards via both an easy strategy and an advanced strategy.
Of course, never lose sight of the possible risks that are involved with such novel farming programs. But if you do your research and you feel comfortable joining in, by all means, welcome to the frontier of NFTs. Just always have safety and caution in mind and only play around with small sums at first.
- WMP
Aavegotchi on the Rise …
Aavegotchis are 100% on-chain collectible ghosts staked with Aave's interest-generating aTokens.
These next-gen crypto pets are packed full of innovative new features like "dynamic rarity," which enables your ghosts' metadata to evolve in relation to their on-chain transactions!
That said, don't neglect your pets. Ghost owners are incentivized to give attention and improve their Aavegotchi's personality traits and kinship scores along the way, and all of this is coupled with earning badges and equipping unique wearable NFTs. Welcome to a fascinating experiment, then, where you build each Aavegotchi's unique identity over time!
Yet all these on-chain interactions would be a tall order to settle on the Ethereum mainnet, and that's exactly why Aavegotchi will be launching first on layer 2 via the Matic Network! EVM-compatible and MetaMask-friendly, Matic is quickly becoming a premiere settlement layer for blockchain gaming.
But is it worth your time?
Pixelcraft Studios, the team building Aavegotchi, is incentivizing the L2 migration. Additionally, Matic is matching with 50k in MATIC rewards and QuickSwap, Matic's most popular early DEX, is offering 10x their typical LP pool rewards during the two week migration period
None of this even factors in the massive 500k GHST reward campaign (currently valued at ~$285,000) for Season One of Aavegotchi Rarity Farming, set to commence a few weeks after launch. But Rarity Farming is still a month away and there's farming to do now!
So today, let's focus on the over $100,000 USD worth of incentives available to farm between January 29th and February 12th, 2021.

How to Earn Amid the Great GHST to Matic Migration
There are two paths to farming GHST, MATIC, and more during the aforementioned two-week window. We'll detail exactly how to get involved, starting with the easiest method and then offering the more advanced route.

---
Pre-farming … get your MetaMask ready for Matic!
Migrating value from Ethereum to Matic is friction free. Before embarking across "The 'Gotchi Bridge" you'll want to add Matic Network to your already existing MetaMask wallet and then you'll be good to go.
Adding Matic Network is just as simple as adding a custom token. You can read a detailed guide here on the excellently maintained Aavegotchi Wiki. But if you are cozy, stay here for the shorthand: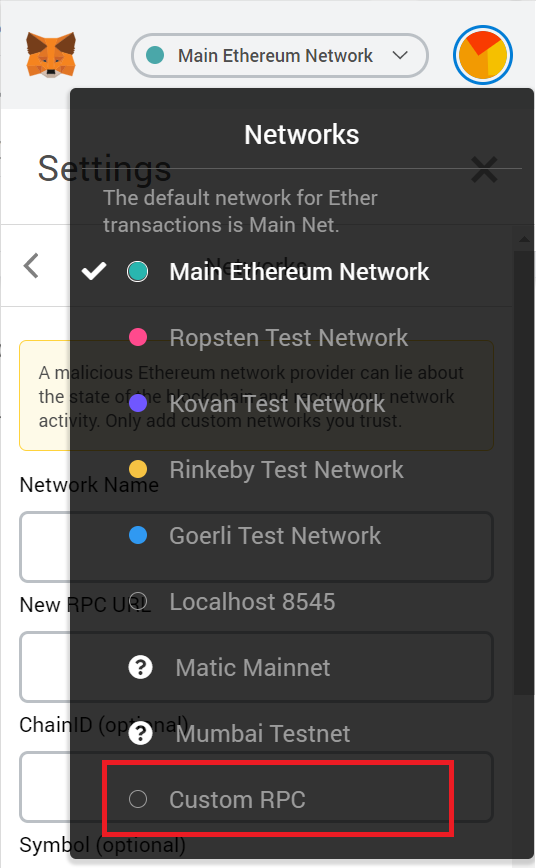 Click the MetaMask network dropdown
Choose "custom RPC"
Copy and paste the following info as needed and you're set:
Network Name: Matic Mainnet
New RPC URL: https://rpc-mainnet.maticvigil.com/
Chain ID: 137
Currency Symbol (optional): MATIC
Block Explorer URL (optional): https://explorer.matic.network/
Click save and you're ready for Matic!
---
How to Farm the Matic Migration (Easy)
Skill: Easy
Effort: 30 minutes
Risk: Low - just stake it!
ROI: High
---
Follow these easy steps to harvest from 30k USD worth of GHST, MATIC, and Aavegotchi FRENS points.
Get GHST

The deepest liquidity currently is at aavegotchi.com/curve, but it requires KYC.

Binance and Uniswap also have solid liquidity.

*Note: 100 GHST is the minimum to buy yourself a launch day Aavegotchi.
Bridge GHST
Stake GHST

Visit aavegotchi.com/stake-matic to stake your GHST tokens.

Enjoy earning FRENS points (these are used to mine Aavegotchi NFTs in upcoming on-chain raffles).

Enjoy earning your share of 30k USD worth of GHST and MATIC tokens.
---
How to Farm the Matic Migration (Advanced)
Skill: Advanced (LP experience preferred)
Effort: 1-2 hours
Risk: Moderate (factor in impermanent loss)
ROI: High and diversified
---
Follow these few extra steps to harvest from 70k USD worth of GHST and MATIC as well as earn QuickSwap's QUICK tokens and still grow your Aavegotchi FRENS points.
Get GHST

Again, the deepest liquidity is at aavegotchi.com/curve, but it requires KYC

Binance and Uniswap also have solid liquidity.

*Note: 100 GHST is the minimum to buy yourself a launch day Aavegotchi.
Bridge GHST
Get QUICK
Become QuickSwap LP
Stake LP tokens

Visit aavegotchi.com/stake-matic.

Stake your GHST-QUICK LP tokens and earn FRENS + 70k USD worth of GHST & MATIC rewards.

Also earn stkGHST-QUICK receipt tokens.
Deposit your staked LP tokens into QuickSwap
Feet on desk and chill!

You're now simultaneously farming GHST, MATIC, QUICK and FRENS points!
---
Action Steps
Migrate some GHST tokens to the Matic Network and stake them in Aavegotchi's staking portal.
Research how the advanced GHST migration strategy is riskier (hint: IL).