Article
How to build a portfolio like a crypto native
Build & track a crypto money portfolio w/ no mgmt fees, no middlemen, & no bank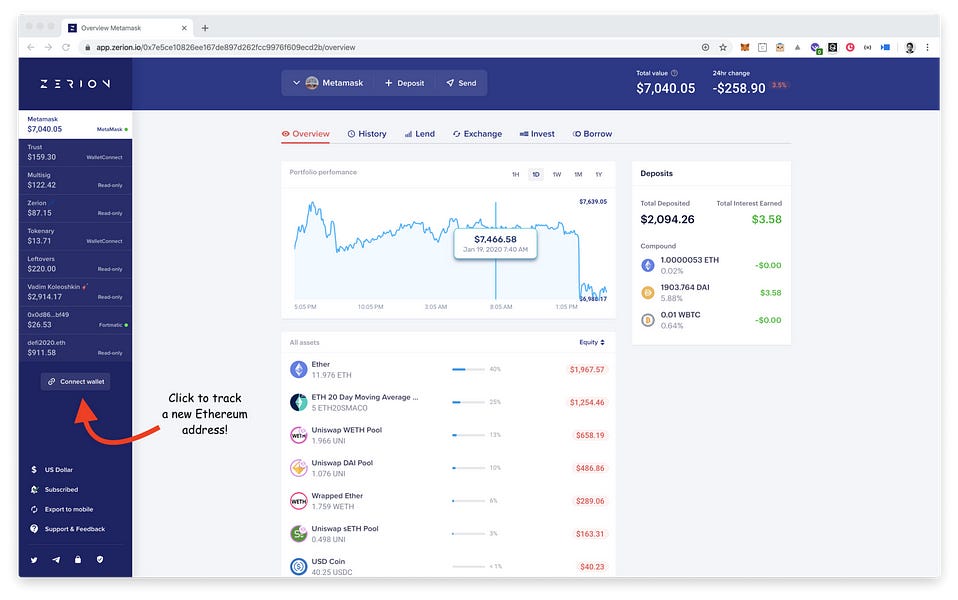 1 DAI gives 1 scholarship. The final chance to fund the grant—it all ends today. Do it now!
---
Dear Crypto Natives,
I'm beyond excited about this.
We're now at the point where it's possible to build and track a sophisticated crypto money portfolio without a broker and without a bank.
👉Check out my "Bankless portfolio"
This cost $1 to make. Scale it up to any size investment—still $1 to make.
Wall Street extracts 20% GDP to do the stuff you can do on Ethereum for pennies.
Let's level up while the banks are sleeping on this.
Today we'll learn how to build a crypto portfolio like a crypto native.
- RSA
p.s. I'll be reporting the performance of the Bankless portfolio on a regular basis—stay tuned!
---
TACTICS TUESDAY:
Tactic #20: How to build a portfolio like a crypto native
Build a crypto money portfolio of any size for $1. No management fees, no middlemen, and no bank. Track it in a beautiful interface. Share it with friends. The Bankless way.
Goal: Build and track a crypto money portfolio in Zerion without a bank
Skill: Intermediate
Effort: 1 hour
ROI: 2-3% per year savings on the fees middlemen would charge you
---
A crypto-native way to build your portfolio
Post by: Evgeny Yurtaev Founder of Zerion
When RSA started Bankless, he introduced the concept of the crypto money portfolio. Specifically, he defined three classes of asset bets:
Money bets (e.g. ETH and BTC)
Bank bets (e.g. MKR, BNB)
Stablecoin Bets (e.g. DAI, USDC).
At Zerion we're creating the easiest interface for people to manage and track crypto money portfolios. We worked together with Ryan to create 3 portfolios comprised of these three asset classes that we will track throughout 2020. We put $100 in each of these portfolios to have the same reference point and we won't make changes to these portfolios this year.
This tactic will show you how to 1) track the performance of the portfolios we made and 2) create your own crypto money portfolio using Zerion.
Three Portfolios
1) Stable portfolio
Possible annual returns: 3-8%
As the name suggests, this is the portfolio with the lowest risk, mainly consisting of stablecoin bets locked on Compound to produce fixed income yields (3-8% annually). The second component of this portfolio provides liquidity to Uniswap to produce income. This is a stable, relatively low risk, fixed income style portfolio.
60% stablecoin bets (50% DAI on Compound, 50% USDC on Compound)

40% Uniswap Pools (60% ETH-DAI, 40% ETH-USDC)

ENS: stable.zerion.eth

Possible these swap-outs:

Swap DAI on Compound for DAI in the DAI Savings Rate--a way to remove risks inherent in Compound will keeping similar returns (trackable in future versions of Zerion)
2) Bankless portfolio
Possible annual returns: -60% to +300%
Balanced portfolio with heavy weighting on crypto money bets. The rest is put into bank bets to have exposure to money protocols (DeFi) with some liquidity remaining in Stablecoin bets for fixed income yields.
70% money bets (75% ETH / 25% BTC auto-balanced using ETHBTC7525 Set)

20% bank bets (MKR—50%, SNX—15%, KNC—15%, REN— 5%, LEND— 5%)

10% stablecoin bets (50% DAI & 20% USDC Compound, 30% ETH-DAI Uniswap)

ENS: bankless.zerion.eth

Consider these swap-outs:

Swap the ETHBTC7525 Set for 75% ETH and 25% BTC to reduce smart-contract and wBTC custody risk (but lose auto-rebalancing)

Swap out half of the DeFi bank bets for CeFi bank bets by adding sCEX which is a synthetic that tracks the top centralized exchange tokens—I'd wait until Snythetix is more tested and sCEX is more widely tested

Swap DAI on Compound for DAI in the DAI Savings Rate
3) DeFi Maximalist portfolio
Possible annual returns: -60% to +300%
Portfolio that bets on the growth of the DeFi money protocols primarily. It mainly consists of ETH, money protocol tokens, and highly used Uniswap liquidity pools.
50% bank bets (25% MKR, 25% SNX, 25% KNC, 25% LEND)

30% money bets (100% ETH)

20% Pools (50% Uniswap ETH-MKR, 50% Uniswap ETH-DAI)

ENS: defimax.zerion.eth

Consider these swap-outs:

Track the performance of your favorite portfolios
To track the performance of any of the portfolios above simply click on their ENS links (👉 bankless.zerion.eth) or do the following steps:
Click on the Connect wallet button in the Zerion interface!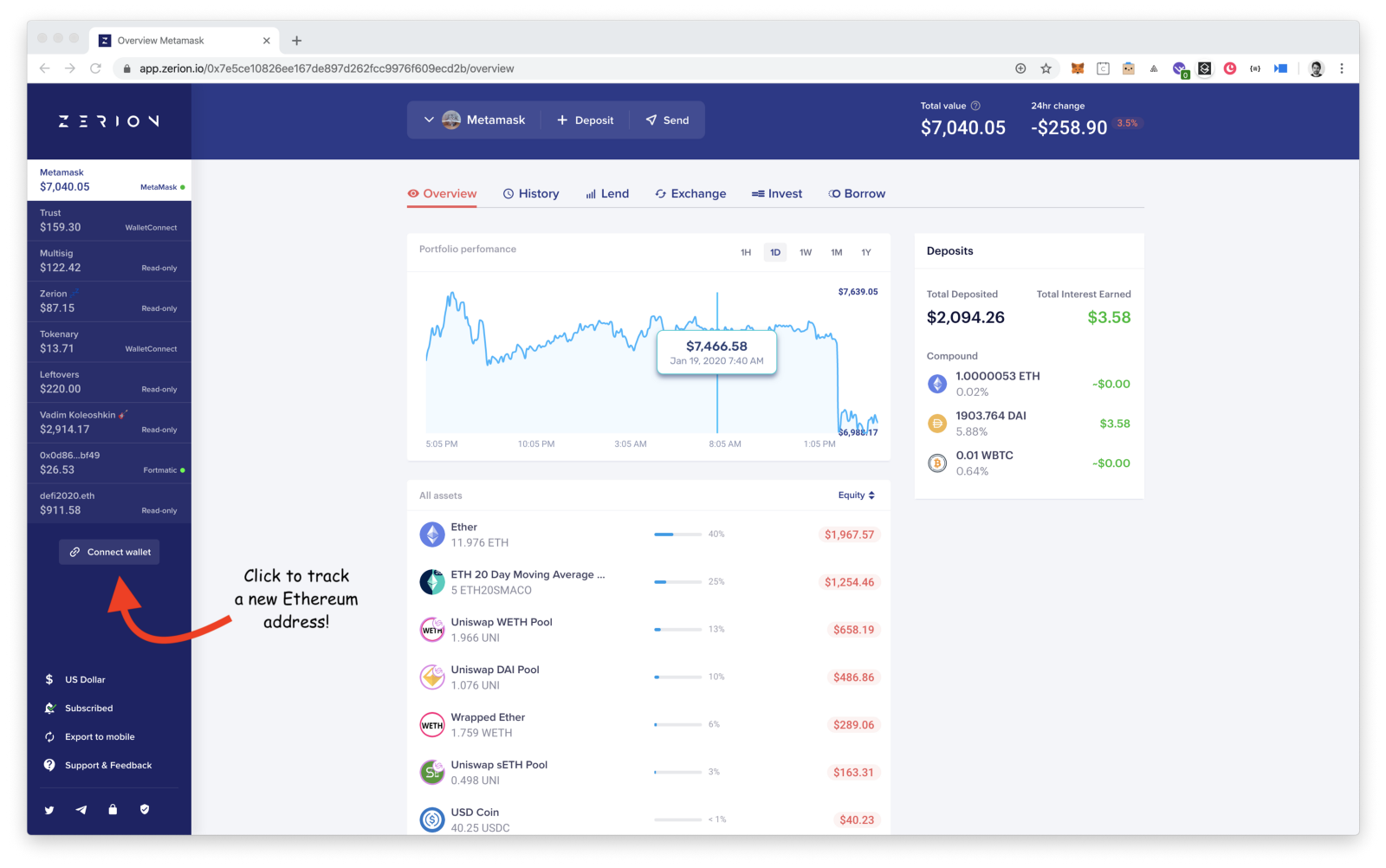 2. Click on the "Watch Address" button.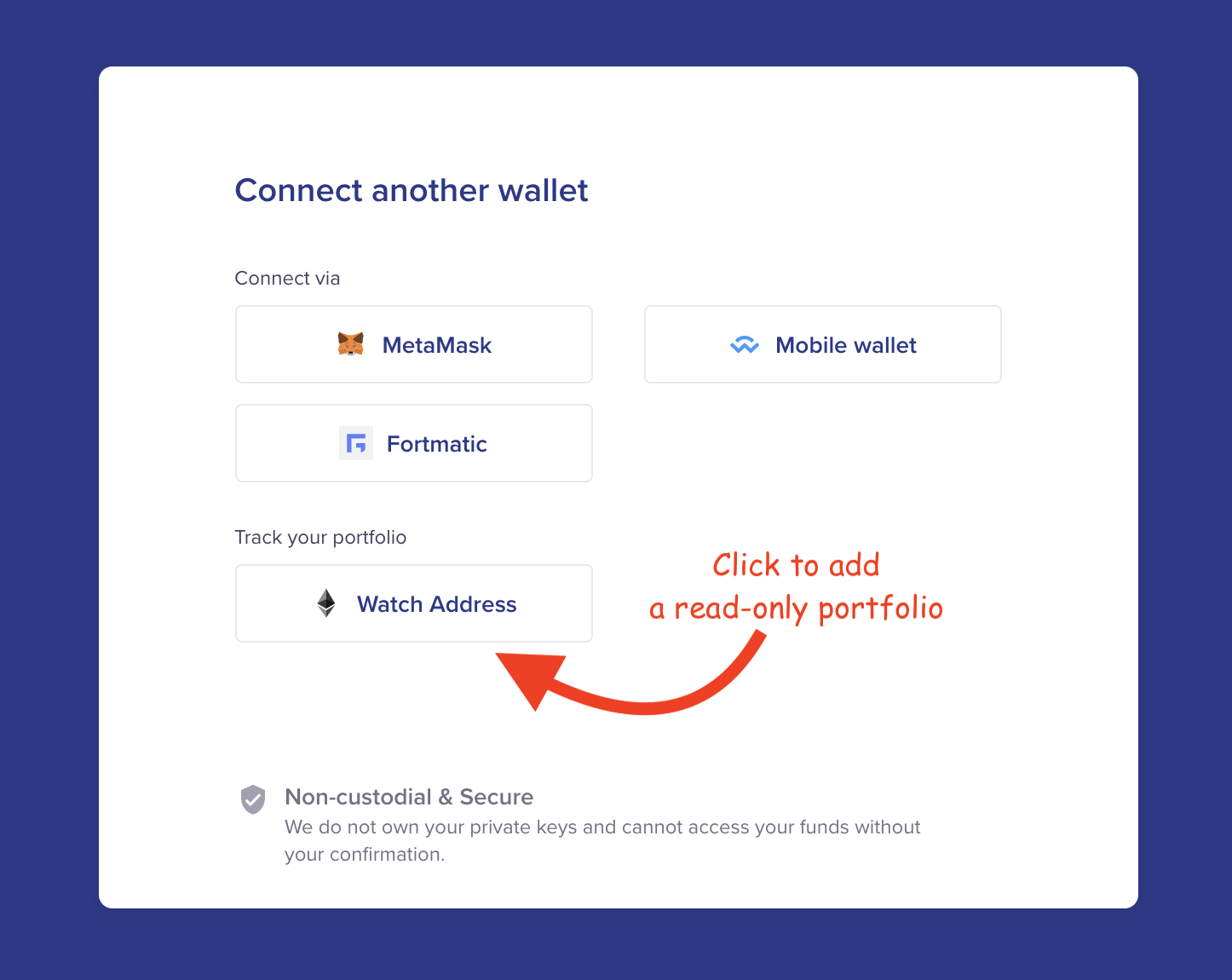 3. Put the ENS of the portfolio you would like to add (e.g. bankless.zerion.eth) and click connect.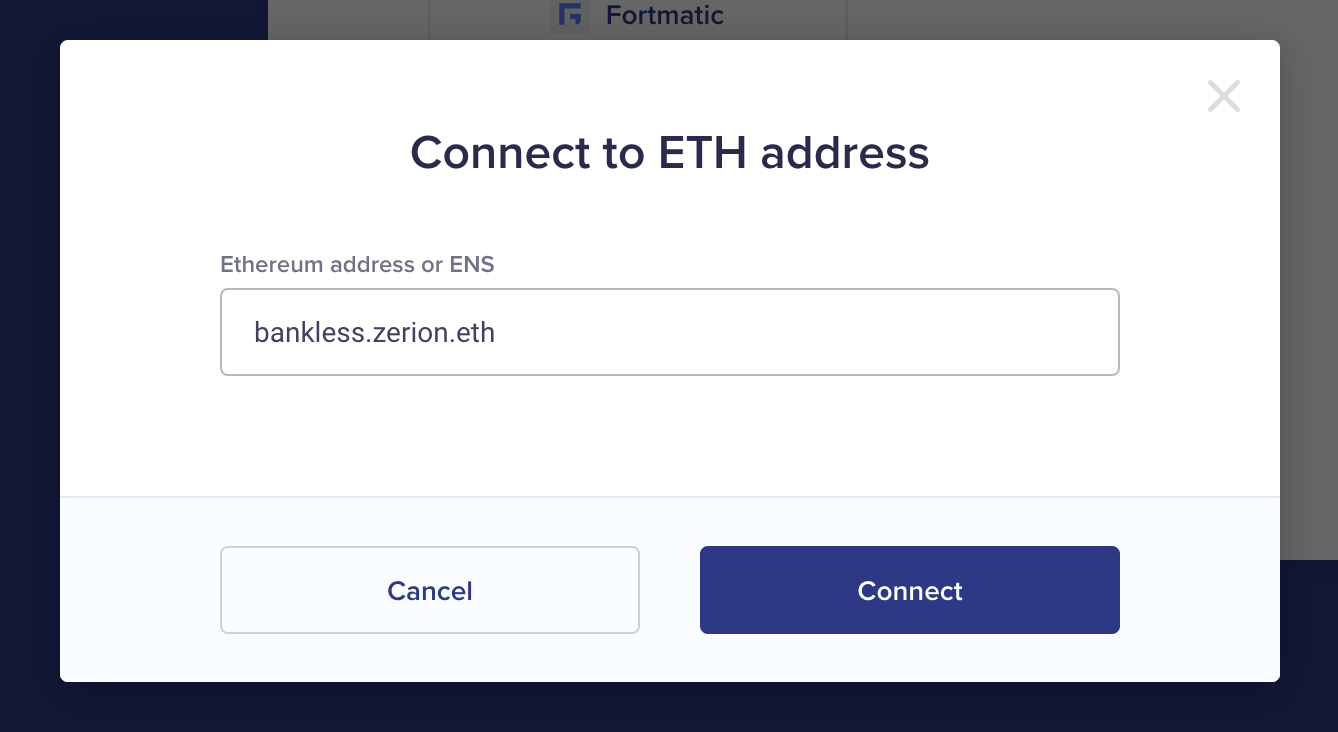 Build your own portfolio
Prerequisites
For the purposes of this tactic, we assume that you have already installed MetaMask on desktop. You could also use mobile wallets like Trust Wallet via WalletConnect. If you don't want to manage your own private keys, you can use Fortmatic wallet through Zerion sign up process.
You have some Ether on your wallet to pay for gas and some assets (like ETH / DAI / USDC) that you will use for crafting a portfolio.
Building "Bankless" portfolio
Just to remind you, this is the "Bankless" portfolio composition:
70% money bets (75% ETH / 25% BTC auto-balanced using ETHBTC7525 Set)
20% bank bets (MKR—50%, SNX—15%, KNC—15%, REN— 5%, LEND— 5%)
10% stablecoin bets (50% DAI & 20% USDC Compound, 30% ETH-DAI Uniswap)
In our case, we are going to build a $100 portfolio, so this is the final list of assets we need to have on our wallet after you have followed all the steps:
$70 worth of ETHBTC7525 Set
$10 in MKR
$3 of SNX and KNC
$2 of REN and LEND
5 DAI and 2 USDC on Compound
$3 in Uniswap ETH-DAI pool
Setting up—start with about $105 worth of ETH
Open Zerion and connect Metamask if you haven't done it already. If you don't have any assets on your wallet, it will look somewhat like that:

Deposit enough ETH by clicking on the Deposit button (recommend about $105 for a $100 portfolio—you'll have some leftover), you have multiple deposit options including from exchanges or other wallets. (If you live in Europe, you can also purchase ETH using a credit card or your bank account).

The $105 in Ether in needed in order to buy the assets and transact—about $1 in ETH is needed to pay for gas to assemble this portfolio.
Buying DAI & other assets
To simplify accounting, we are going to mainly use DAI to purchase different assets. We need 70 DAI to buy ETHBTC7525, 5 DAI to put into Compound and 1.5 DAI to lock in ETH-DAI Uniswap pool. In total, 76.5 DAI.
To exchange ETH for DAI you can navigate to the "Exchange" tab, enter 76.5 DAI in the second field and press "Exchange".

Wait for the transaction to be mined (which should not take longer than 1 minute). You can watch the status of your transaction using Zerion's History tab.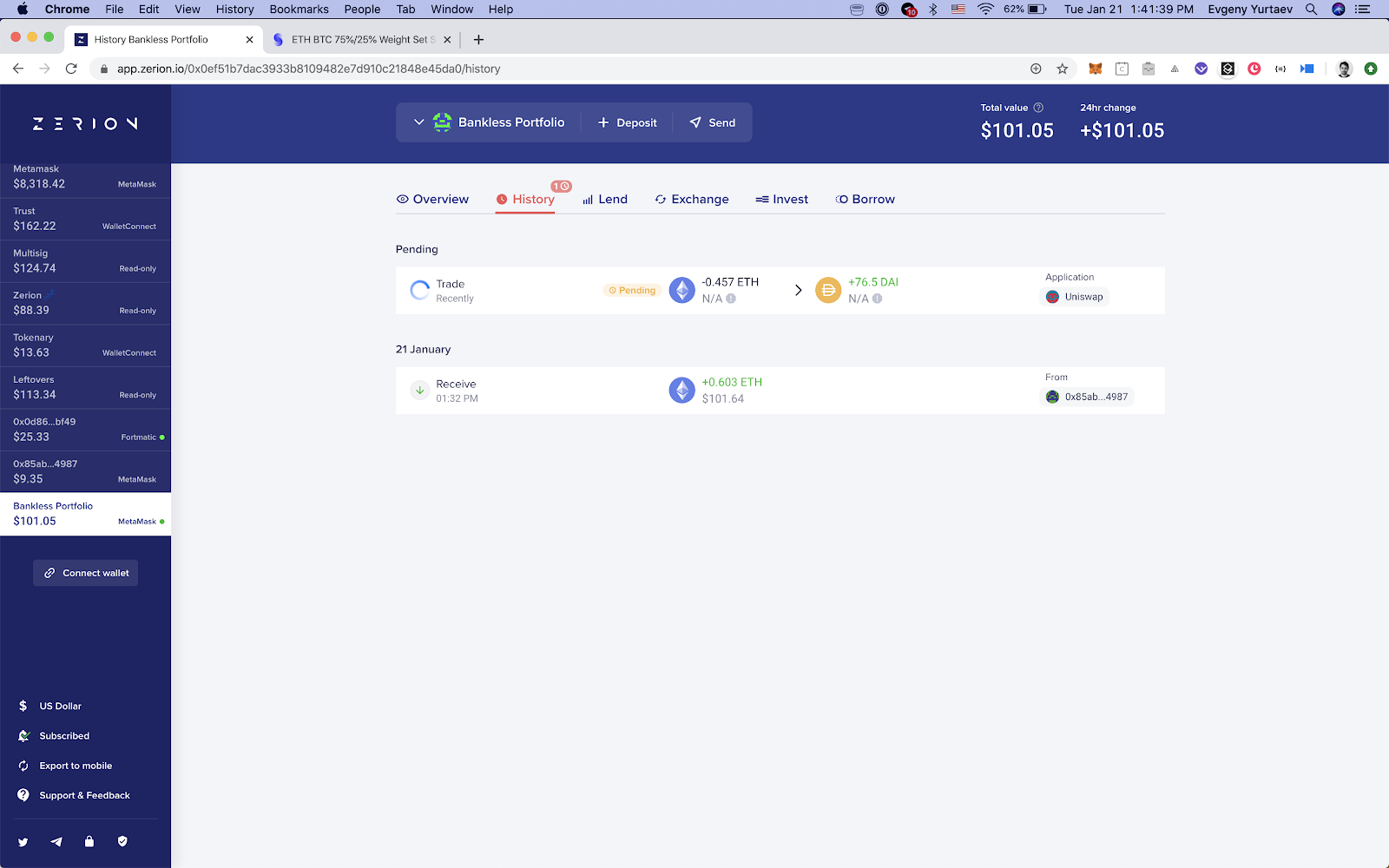 By repeating the steps above, trade ETH for the precise amounts of $10 MKR, $3 SNX, $3 KNC, $2 REN, $2 LEND and $2 worth of USDC.
Buying Set tokens
Set tokens are not currently available to purchase directly in Zerion, so we're going to use Tokensets to purchase ETHBTC7525.
Open Tokensets and connect your Metamask account.

In the list of all available sets, find ETH BTC 75% / 25% Weight Set. Each unit of this Set is going to hold 75% in Ether and 25% in Bitcoin (wBTC to be precise). If the price of one against the other moves significantly, the Set will automatically rebalance to match the target weights.
Deposit to Compound
Compound allows you to earn passive yield on your tokens. In our case, we allocate a small portion of our portfolio for stable passive investments.

Remember 76.5 DAI that we acquired and spent 70 DAI on a Set? This time we are going to use 5 DAI of the remaining amount to lend on Compound. Open the "Lend" tab and select DAI. You need to sign a transaction to enable DAI on Compound first.

Once it is done, input the amount you want to lend, in our case, 5 DAI and sign a transaction. It will look something like this in your History.

Follow steps 1-3 to Lend your $2 in USDC on Compound as well.
Buying Uniswap Pool tokens
The last thing we need to do to complete the "Bankless" portfolio is acquire Uniswap Pool tokens. To do that, open the "Invest" tab, find a Uniswap DAI pool, and click on "Add liquidity".

As we are dealing with a new protocol this time, you need to enable DAI on Uniswap by clicking on the "Enable" button. Once you sign the transaction, you are ready to mint pool tokens.

After you are done, the portfolio will look something like the below. In total, $1.1 was spent on the transactions fees—here's what's crazy—you could have built a $10,000 portfolio for the same cost (woah, DeFi)!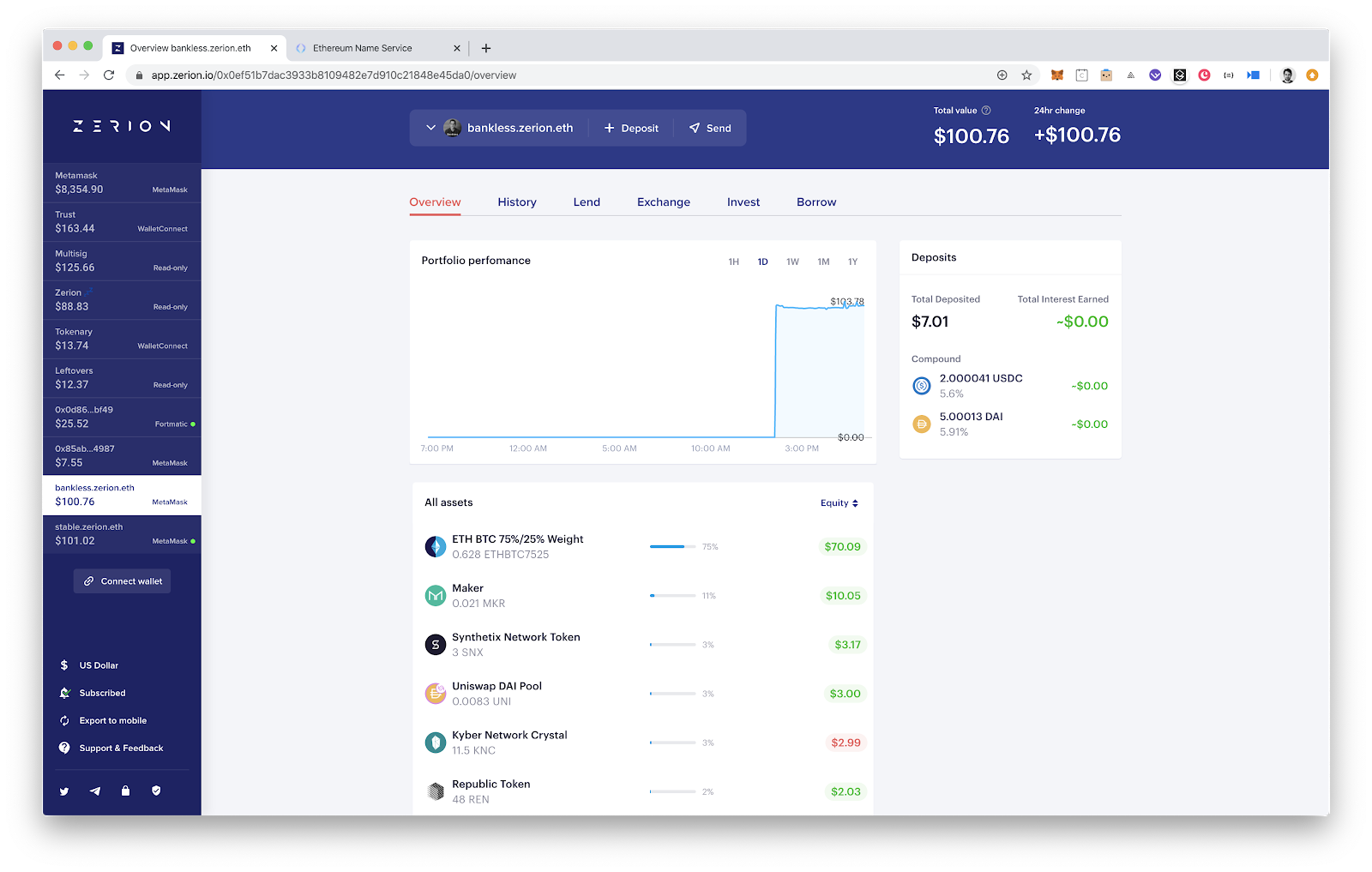 Using the same approach, you can mix and match the components to create your own portfolio of crypto money. If you want to track the returns of different portfolios, I advise you to create separate accounts in Metamask and add all of them to Zerion. That way you will be able to see the historical performance of the portfolio on its own using the chart on Zerion.
Congratulations! You have just built your crypto money portfolio in less than an hour! 😱
---
Submit your portfolio—get featured on Bankless!
Have a creative idea for a portfolio? If you think it deserves a *.zerion.eth ENS reach out to us. RSA will pick the best ones to include in a future edition of Bankless!
---
Action steps
Build and track your own crypto money portfolio in Zerion
Submit your portfolio to get a .zerion.eth address (best ones featured on Bankless)
---
Author Blub
Evgeny Yurtaev, CEO and co-founder at Zerion. Evgeny got involved in the blockchain space in 2014 as a Solidity developer, and later as a founder of CryptoTrader, an aggregator of cryptocurrency exchanges for professional traders with more than half a million downloads. Previously, he worked at Google as an iOS engineer.
---
Subscribe to the Bankless program. $12 per mo. Includes Inner Circle & Deal Sheet.
---
Filling out the skill cube
You just built a crypto money portfolio without an exchange? Magic. Today you leveled up in the Money, Banks, Protocols, and Invest areas of the skill cube!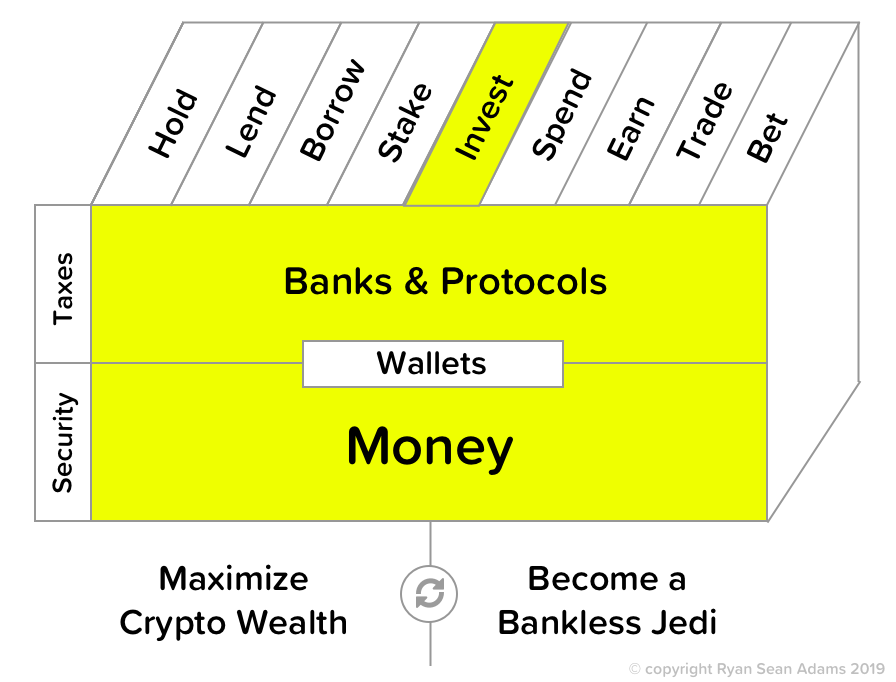 ---
👉Send us a tip for today's issue (rsa.eth)
---
Not financial or tax advice. This newsletter is strictly educational and is not investment advice or a solicitation to buy or sell any assets or to make any financial decisions. This newsletter is not tax advice. Talk to your accountant. Do your own research.
---
Disclosure. From time-to-time I may add links in this newsletter to products I use. I may receive commission if you make a purchase through one of these links. I'll always disclose when this is the case.