Podcast
Beyond Coin Voting | Vitalik Buterin
Discussing Vitalik's Recent Article on Decentralized Governance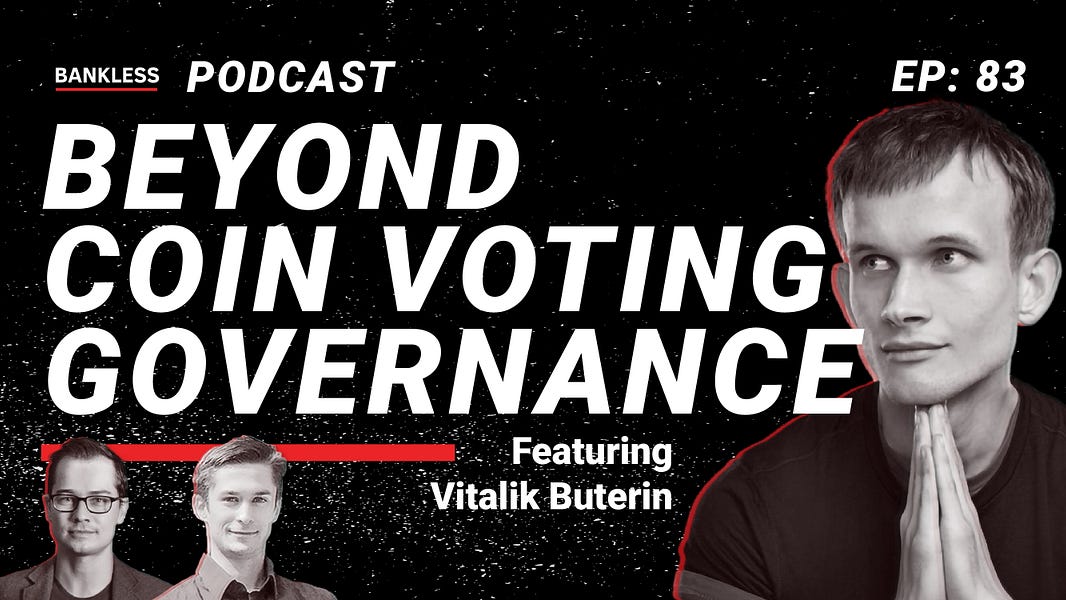 Perpetual Pools are now Live on Aribtrum! Check out TracerDAO on Layer 2 >.<
---
Vitalik Buterin returns to the Podcast to discuss his recent article 'Moving Beyond Coin Voting Governance.' As always, Vitalik comes with a birds-eye view of high level challenges facing the crypto space with a moral & philosophical slant.
Building sufficiently decentralized governance mechanisms is a hugely challenging endeavor. Tackling elegant solutions to coin voting, we also cover the benefits of running your own node, the metaverse, and Vitalik gives an update on the Ethereum ecosystem.
When Vitalik comes on Bankless, it's time to listen closely.
---
Listen to podcast episode | iTunes | Spotify | YouTube | RSS Feed
---
Bankless Sponsor Tools:
⚖️ ARBITRUM | SCALING ETHEREUM
https://bankless.cc/Arbitrum
🍵 MATCHA | DEX AGGREGATOR
https://bankless.cc/Matcha
🔐 LEDGER | SECURE YOUR ASSETS
https://bankless.cc/Ledger
🦄 UNISWAP | DECENTRALIZED FUNDING
https://bankless.cc/UniGrants
---
RESOURCES
---
🏴 JOIN THE NATION 🏴
Subscribe: Newsletter | iTunes | Spotify | YouTube | RSS Feed
Follow:  Twitter | Instagram | Reddit | TikTok | Facebook
---
Not financial or tax advice. This newsletter is strictly educational and is not investment advice or a solicitation to buy or sell any assets or to make any financial decisions. This newsletter is not tax advice. Talk to your accountant. Do your own research.
---
Disclosure. From time-to-time I may add links in this newsletter to products I use. I may receive commission if you make a purchase through one of these links. Additionally, the Bankless writers hold crypto assets. See our investment disclosures here.