Bankless Bags 101
All of your questions answered.
Bankless Bags is a private investment club formed to execute on the highest risk and highest return opportunities in the Token Hub.
You cannot invest in Bankless Bags.
The Bankless Bags position and performance data is for entertainment purposes only.
YOU CANNOT INVEST IN BANKLESS BAGS.
What is it?
You can think of Bankless Bags as a way to measure the performance of the highest upside and highest risk "Bullish" tokens covered in the Token Hub. We publish these openly to Bankless Citizens in the form of regularly updated Token Ratings.
👉 View Performance and Portfolio

How does a position get added to Bankless Bags?
When a token is flagged under the 'Bankless Bags' tab in the Token Hub, it means that it has an active position in that token. Bankless Bags will take long positions on a selected set of tokens assessed as "Bullish".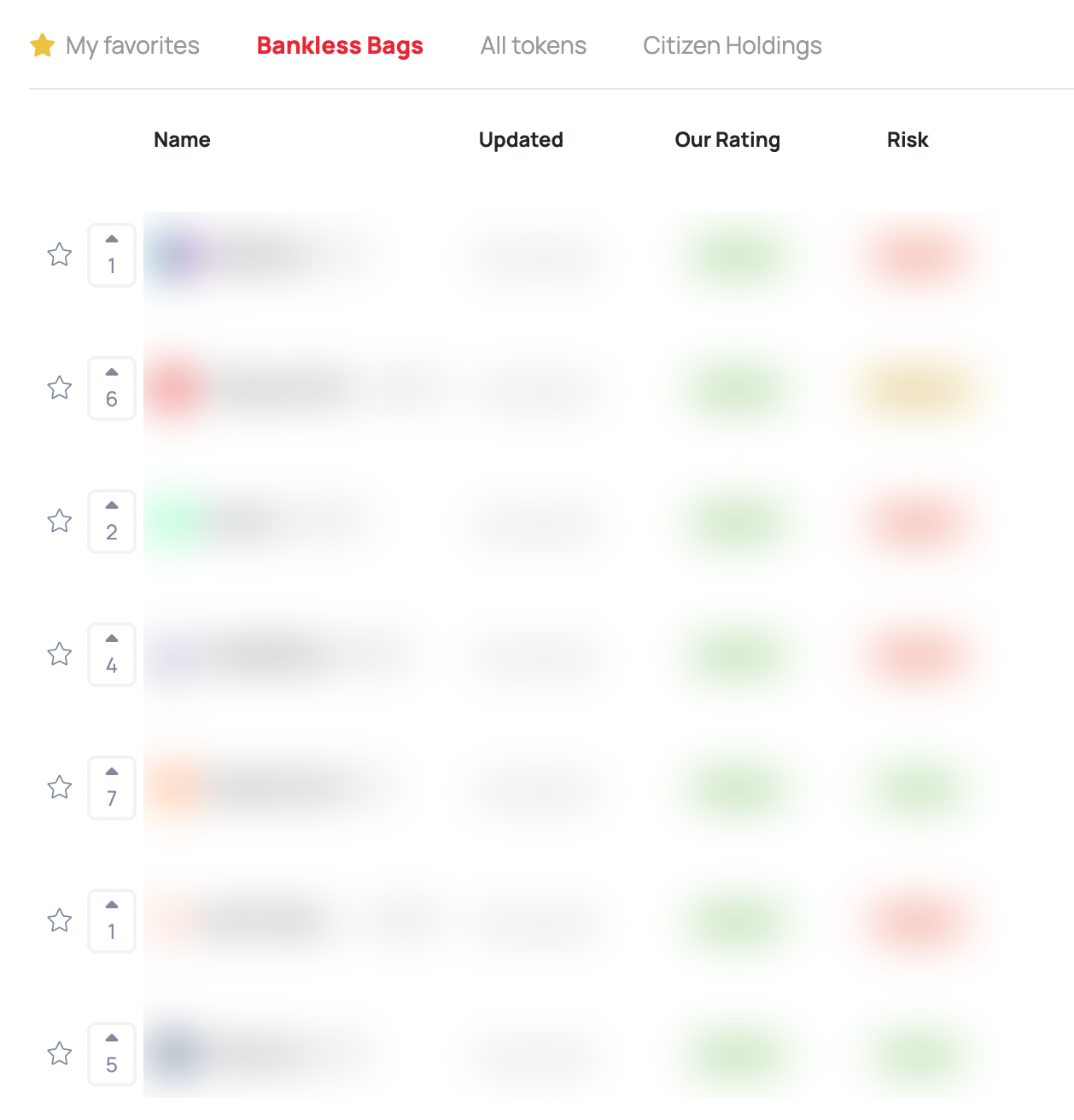 How does a position get removed from Bankless Bags?
When the BF believes the investment catalyst has played out, it may choose to sell a position. Sold positions are unflagged and updated in the Token Hub. Ratings for the token may also change concurrently.
👉 View Address Activity for Bankless Bags
Why are we doing this?
Bankless Bags aim is to outperform ETH on a 6-24 month time horizon.
But that's not why we're doing this.
We're doing this to inspire the Bankless Nation by putting our own skin in the game to back up our calls.
In doing so, we want you to level up your analysis skills and to learn how to research and execute on opportunities. We hope 1,000 investments clubs and 100,000 analysts may bloom from our example.
So, can I invest?
Guys—no you CANNOT invest in Bankless Bags.
We're sorry. Those are the rules.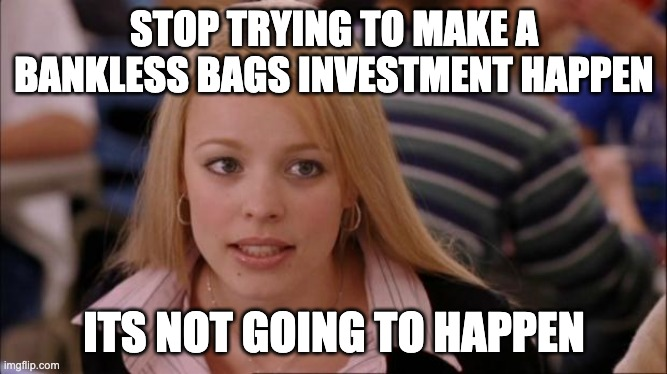 But…your investment opportunity is even better.
You have the opportunity to create your own portfolio and invest in yourself. ✨
---
FAQs:
Who owns Bankless Bags?
Bankless Bags is an investment club owned and managed by members of the Bankless team.
What are the performance goals?
Bankless Bags invests exclusively in liquid tokens and NFTs while employing a long-only strategy. It is primarily focused on identifying asymmetric opportunities in Ethereum infrastructure, gaming, DeFi, and emerging L1 and L2 ecosystems.
It aims to outperform ETH.
When did this start?
Bankless Bags was created on July 27, 2022.
Does Bankless Bags disclose its positions?
We are transparent and disclose all of our wallet addresses and positions.
To view a comprehensive breakdown of our portfolio composition, click here.
To view our wallet addresses, click here.
NOTE: This wallet tracker does not display our CANTO position, which you can view by clicking here. This position is reflected in the portfolio spreadsheet.
NOTE: We keep about $10,000 in our fiat bank account. This is reflected in the portfolio spreadsheet.
Does Bankless Bags publish its investment theses?
We publish our thesis for each investment in the Bankless Token Hub.
To view these, click here.
Why doesn't Bankless Bags invest in all 'Bullish' tokens covered in the Token Hub?
Bankless Bags is the instantiation of what we feel are our highest conviction, highest upside "overweight" bets. We feel that pursuing high-risk, high-reward opportunities is appropriate given the small size (for now) of Bankless Bags and the risk appetite of our members.
Can I invest in Bankless Bags?
No, Bankless Bags is not open to outside investment.
Is Bankless Bags on social media?
Yes!
You can follow our Twitter by clicking here.
Bankless Bags members are also active in the Bankless Nation Discord server, where we hold weekly alpha calls for Bankless Citizens.
We also host monthly Twitter Spaces recapping all ratings changes and new investments for the month.