Article
Announcing Bankless AMAs every 2nd & 4th Thursday!
Upcoming guests include Robert Leshner, Rune Christensen, Stani Kulechov, & Kain Warwick...
Become a full subscriber so you never miss an AMA! Subscribe to get all the Bankless level ups.
---
On Sundays I do the occasional announcement…I think you're gonna like this one.
---
Dear Bankless Nation,
What's going on with DeFi tokens?
These are the types of questions we have. So how about we bring in the founders and experts and ask them directly!
That's why I'm launching Bankless AMAs for us. So we can learn from the best.
Our first round of AMA guests are incredible. We're kicking off with Stani Kulechov next Thursday. LEND token will def be on the menu.
Join us Thursday. Then mark these dates on your calendar!
- RSA
---
AMA SCHEDULE FOR SUMMER 2020

DeFi Founders Series
Stani Kulechov - Aave, June 25th (12pm EST - 4pm UTC)
Robert Leshner - Compound, July 16th (12pm EST - 4pm UTC)
Rune Christensen - MakerDAO, July 23rd (12pm EST - 4pm UTC)
Kain Warwick - Synthetix, August 13th (6pm EST - 10pm UTC!)
Antonio Julian - dYdX, August 27th (2pm EST - 6pm UTC)
Matthew Finstone - Loopring, September 10th (12pm EST - 4pm UTC) 👈
Hugh Karp - Nexus Mutual, September 24th (12pm EST - 4pm UTC)
Felix Feng - Set Protocol, October 8th  (12pm EST - 4pm UTC)
Danny Ryan - Ethereum Foundation, October 22nd (12pm EST - 4pm UTC)
---
BANKLESS AMAs
What?
Every 2nd & 4th Thursday Bankless will host an "Ask Me Anything" with an interesting guest. Bankless members get 1 hour to ask anything they wish.
Where?
Each AMA will be livestreamed on the Bankless Youtube with questions from the Bankless Inner Circle Discord channel.
Who?
Anyone. Questions will come from all full Bankless members.
When?
The 2nd & 4th Thursday of every month. Usually around 12pm EST (4pm UTC).
Guests?
Guests will include prominent DeFi community members ranging from founders to builders to leading investors and more. You'll definitely recognize the names. 😎
---
Join us for our next AMA on Thursday, August 27th…

GUEST: ANTONIO JULIANO, DYDX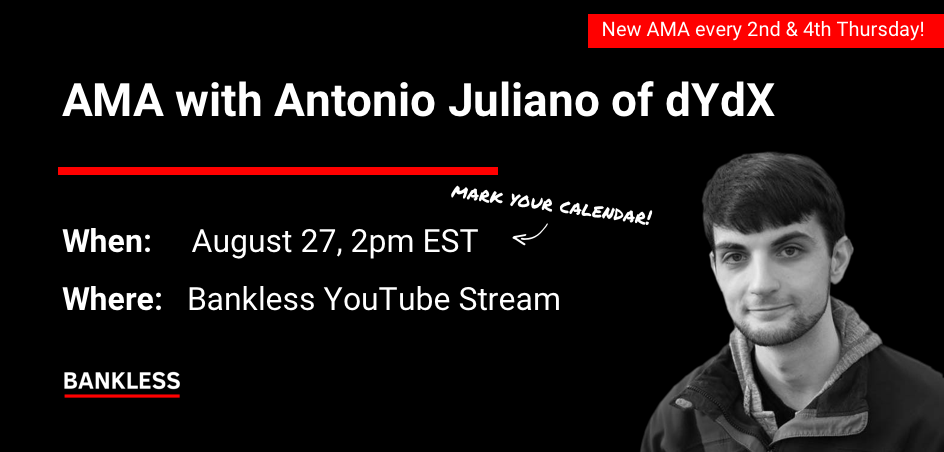 ---
The Bankless AMA Series is only available to full Bankless subscribers.
If you'd like to get in on the action become a full member!
You'll get the best minds in crypto coming directly to you, to answer any of your burning questions. Just one of the many perks available for Bankless subscribers.
It's time to level up your open finance game. 👇
---
🙏Thanks to our sponsor
Aave is an open source and non-custodial protocol for money market creation. Originally launched with the Aave Market, it now supports Uniswap and TokenSet markets and enables users and developers to earn interest and leverage their assets. Aave also pioneered Flash Loans, an innovative DeFi building block for developers to build self-liquidations, collateral swaps, and more. Check it out here.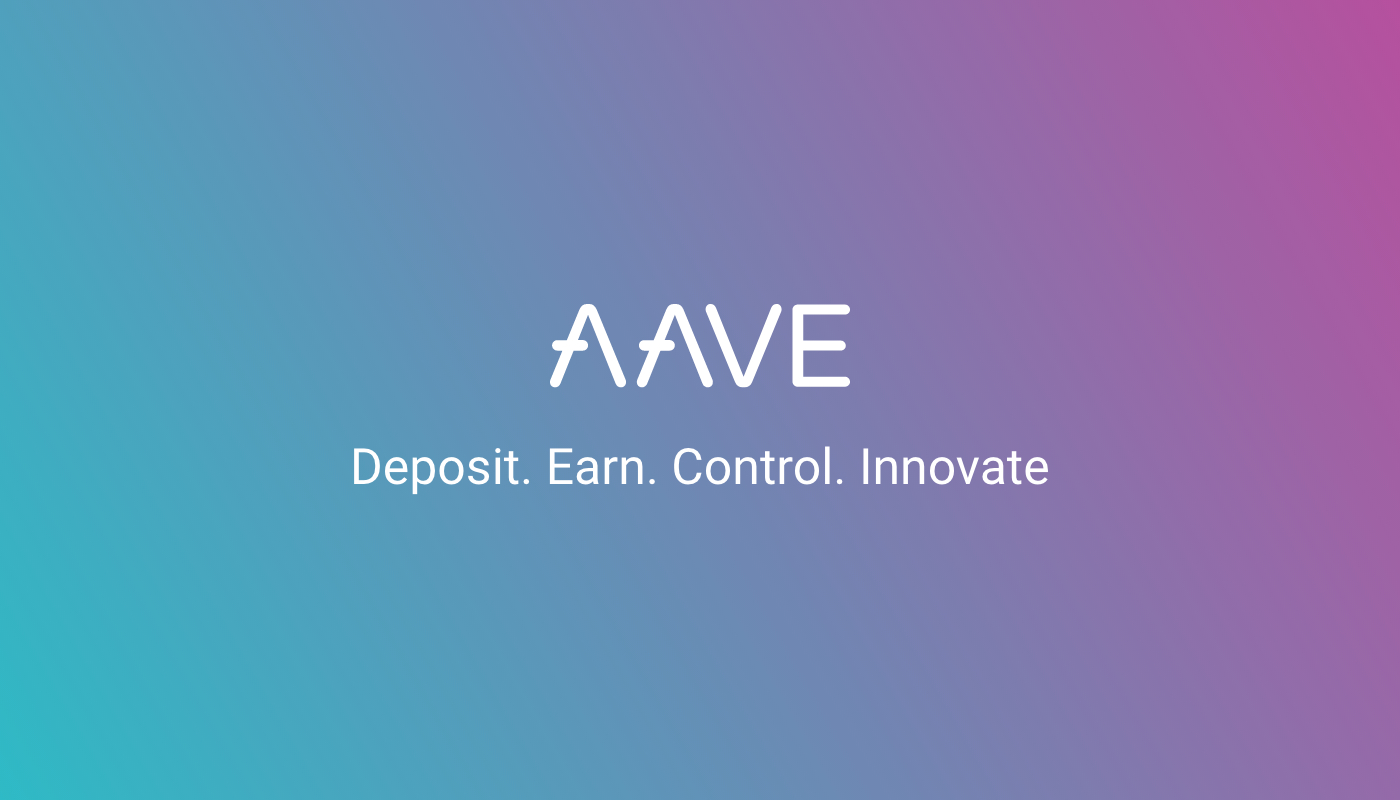 ---
Not financial or tax advice. This newsletter is strictly educational and is not investment advice or a solicitation to buy or sell any assets or to make any financial decisions. This newsletter is not tax advice. Talk to your accountant. Do your own research.
---
Disclosure. From time-to-time I may add links in this newsletter to products I use. I may receive commission if you make a purchase through one of these links. I'll always disclose when this is the case.