Podcast
Alpha Leak | The Bull Case for TreasureDAO
The decentralized Nintendo of the future?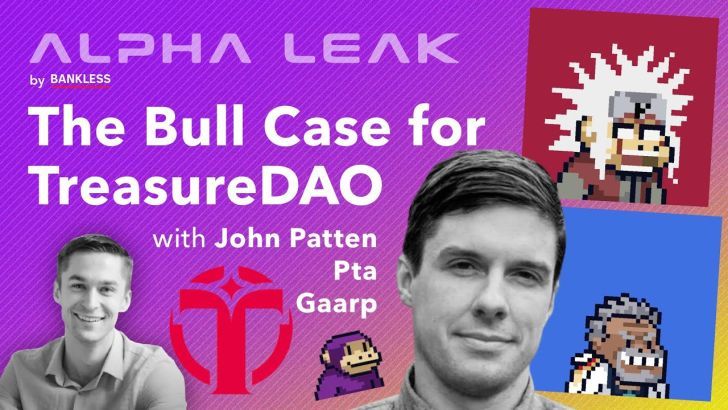 Alpha Leak | The Bull Case for TreasureDAO
⬆️ Join Bankless Premium to listen to the Ad-Free version of this episode 🚀
---
What is TreasureDAO? Ever heard of that small gaming company, Nintendo? They're trying to build the decentralized version of it. How? David brings on two of their co-founders to discuss that and so much more. Bullish? Bearish?
---
Listen to podcast episode | iTunes | Spotify | YouTube | RSS Feed
---
Bankless Sponsor Tools:
⚖️ ARBITRUM | SCALED ETHEREUM
❎ ACROSS | BRIDGE TO LAYER 2
🏦 ALTO IRA | TAX-FREE CRYPTO
👻 AAVE V3 | LEND & BORROW CRYPTO
⚡️ MAKER DAO | THE DAI STABLECOIN
🦁 BRAVE | THE BROWSER NATIVE WALLET
---
RESOURCES
---
🏴 JOIN THE NATION 🏴
Subscribe: Newsletter | iTunes | Spotify | YouTube | RSS Feed
Follow:  Twitter | Instagram | Reddit | TikTok | Facebook
---
Not financial or tax advice. This newsletter is strictly educational and is not investment advice or a solicitation to buy or sell any assets or to make any financial decisions. This newsletter is not tax advice. Talk to your accountant. Do your own research.
---
Disclosure. From time-to-time I may add links in this newsletter to products I use. I may receive commission if you make a purchase through one of these links. Additionally, the Bankless writers hold crypto assets. See our investment disclosures here.