Podcast
🎙87 - The Future of MakerDAO | Rune Christensen
Exploring Environmentalism & Maximalism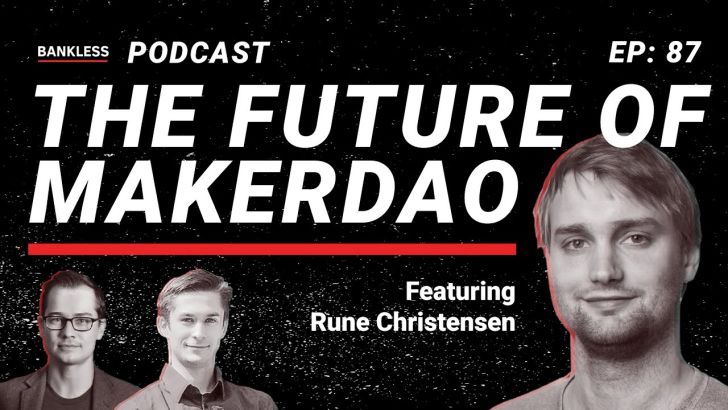 Zerion is your gateway to the Metaverse. All-in-one stop for DeFi and NFTs!
---
Rune Christensen is the Founder of MakerDAO and one of the pioneers of the DeFi space. As one of the earliest DeFi protocols, Maker set precedents for tokenomics, governance, and crypto use cases. Maker is setting new precedents with the recent announcement of Société Générale's proposal for a Maker loan using bond tokens.
As a thought leader in Crypto, Rune has had some fascinating takes lately on the plausibility of a multichain future, as well as how incentives can turn DAI into a clean money. From maximalism to environmentalism, this conversation explores it all.
---
🚀 Get this episode's exclusive debrief to hear Ryan & David's unfiltered takes on the podcast.
---
---
Bankless Sponsor Tools:
💰 GEMINI | FIAT & CRYPTO EXCHANGE
https://bankless.cc/go-gemini​
💧LIDO | DECENTRALIZED STAKING
https://bankless.cc/Matcha
👻 AAVE | LEND & BORROW ASSETS
https://bankless.cc/aave
🦄 UNISWAP | DECENTRALIZED FUNDING
https://bankless.cc/UniGrants
---
RESOURCES
---
🏴 JOIN THE NATION 🏴
Subscribe: Newsletter | iTunes | Spotify | YouTube | RSS Feed
Follow:  Twitter | Instagram | Reddit | TikTok | Facebook
---
Not financial or tax advice. This newsletter is strictly educational and is not investment advice or a solicitation to buy or sell any assets or to make any financial decisions. This newsletter is not tax advice. Talk to your accountant. Do your own research.
---
Disclosure. From time-to-time I may add links in this newsletter to products I use. I may receive commission if you make a purchase through one of these links. Additionally, the Bankless writers hold crypto assets. See our investment disclosures here.