Podcast
🎙84 - Defining the Metaverse
Exploring What the Future Looks Like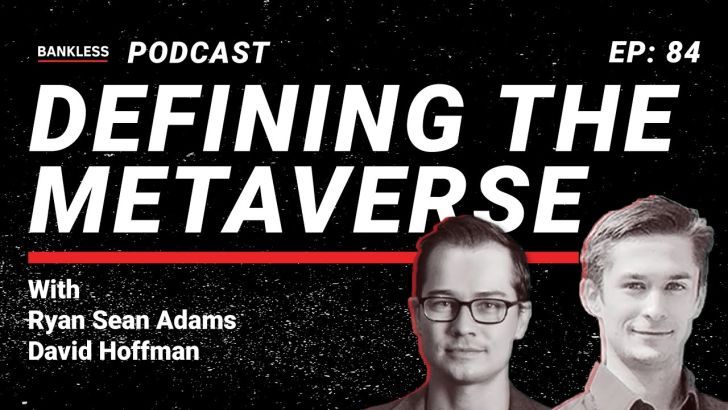 Perpetual Pools are now Live on Aribtrum! Check out TracerDAO on Layer 2 >|<
---
This is a classic Ryan-and-David only episode. With no guest, we dive into David's recent article "The Metaverse Emerges." What is the Metaverse? Raoul Pal described it as digital fluidity on our recent episode with him.
Composable digital objects, a network economy, scaling social structures... whatever it is, Nation States aren't ready for the incoming metaversal explosion. Are you?
---
Listen to podcast episode | iTunes | Spotify | YouTube | RSS Feed
---
Bankless Sponsor Tools:
⚖️ ARBITRUM | SCALING ETHEREUM
https://bankless.cc/Arbitrum
🍵 MATCHA | DEX AGGREGATOR
https://bankless.cc/Matcha
🔐 LEDGER | SECURE YOUR ASSETS
https://bankless.cc/Ledger
🦄 UNISWAP | DECENTRALIZED FUNDING
https://bankless.cc/UniGrants
---
RESOURCES
---
🏴 JOIN THE NATION 🏴
Subscribe: Newsletter | iTunes | Spotify | YouTube | RSS Feed
Follow:  Twitter | Instagram | Reddit | TikTok | Facebook
---
Not financial or tax advice. This newsletter is strictly educational and is not investment advice or a solicitation to buy or sell any assets or to make any financial decisions. This newsletter is not tax advice. Talk to your accountant. Do your own research.
---
Disclosure. From time-to-time I may add links in this newsletter to products I use. I may receive commission if you make a purchase through one of these links. Additionally, the Bankless writers hold crypto assets. See our investment disclosures here.