Podcast
25 - YFI: Farming the Farmers | Andre Cronje
Andre Cronje calls himself just another DeFi dev, but you can't help but wonder, is he's underselling himself with that title?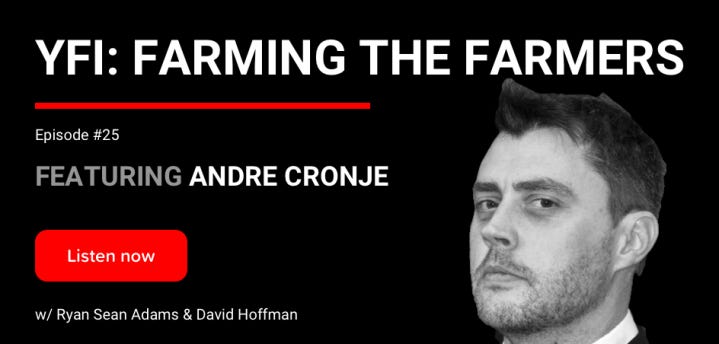 In a few short months, he single-handedly created a fleet of DeFi yield farming money robots that locked up over $400m in assets in his yearn protocol. He launched a YFI token that grew in value by over 1,000% in its first week, one of the most explosive price charts crypto has ever seen.
No pre-mine, no VC, no founders reward.
Maybe a better title is King of the Yield Farmers. DeFi's Satoshi.
Who is this guy?
What did he build and why is it brilliant?
Why did YFI go from $3 on July 17th to $5000 on August 8th?
This is everything you need to know about yearn, YFI, and Andre.
---
TOPICS
How Andre's really feeling
What's up with "I test in prod"
Why high YFI price can be bad
How Yearn automates yield farming
Andre's money robots
Incenting strategy writers
Risks of yearn
Launching YFI to scale
Why people buy YFI
Organic governance
Is Andre The Joker?
What's coming next
Join us next Monday for a fresh episode!
---
RESOURCES