Podcast
📺 The State of Optimism | Ben Jones & Karl Floersch (SotN 8/10)
Scaling Ethereum Transactions & Values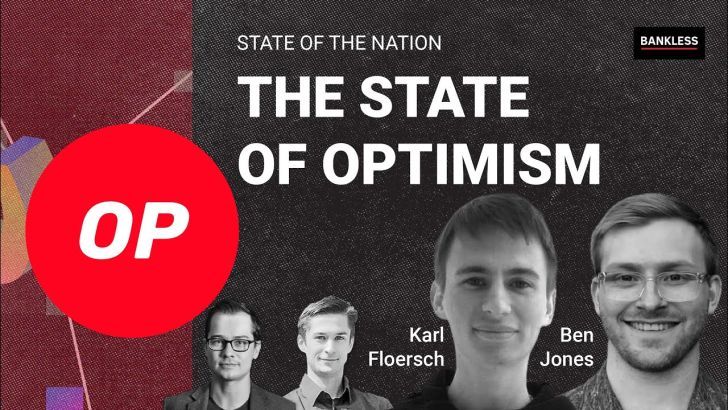 Don't buy lottery tickets, learn about dropping your savings off at the POOL! 🌴🌞🏊‍♂️
---
Optimism is scaling Ethereum with its open-source Optimistic Rollup. Uniswap recently deployed on Optimistic Ethereum, officially kicking off Ethereum's Scalability Summer. Where does Optimism stand now? What's next?
Optimists Ben Jones & Karl Floersch join to talk about working on Ethereum's hardest problems and pioneering a better future for humanity.
State of the Nation is live-streamed on the Youtube Channel – Tuesdays at 11am PT.
---
🎙️Listen to Podcast Episode | 📺 Watch the Episode
---
Bankless Sponsor Tools:
💰 GEMINI | FIAT & CRYPTO EXCHANGE
https://bankless.cc/go-gemini​
🔀 BALANCER | EXCHANGE & POOL ASSETS
https://bankless.cc/balancer
👻 AAVE | LEND & BORROW ASSETS
https://bankless.cc/aave
🦄 UNISWAP | DECENTRALIZED FUNDING
http://bankless.cc/uniswap​
---
Resources:
---
🏴 JOIN THE NATION 🏴
Subscribe: Newsletter | iTunes | Spotify | YouTube | RSS Feed
Follow: Twitter | Instagram | Reddit | TikTok | Facebook
---
Not financial or tax advice. This newsletter is strictly educational and is not investment advice or a solicitation to buy or sell any assets or to make any financial decisions. This newsletter is not tax advice. Talk to your accountant. Do your own research.
---
Disclosure. From time-to-time I may add links in this newsletter to products I use. I may receive commission if you make a purchase through one of these links. Additionally, the Bankless writers hold crypto assets. See our investment disclosures here.