Podcast
📺 The Dawn of Crypto Gaming | Robbie Ferguson
ImmutableX and Explosive Growth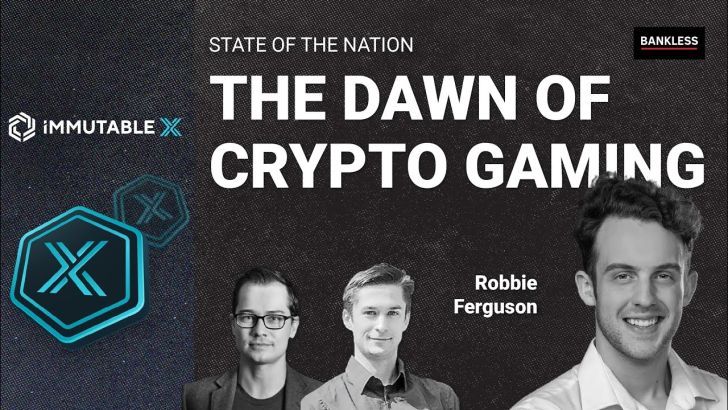 Dharma just rolled out trading on Polygon. From Dollars to Tokens with Zero Network Fee 👀
---
Robbie Ferguson of ImmutableX returns to Bankless to discuss Immutable's impressive growth and the momentous wave heading towards crypto gaming. The intersection of NFTs, culture, scale, and gaming are all on a collision course.
Immutable is powering TikTok's first ever NFTs, and with a 10x increase in volume, well over 100 projects are building on ImmutableX Token Launches.
Crypto gaming is coming. And for ImmutableX, it's already here.
---
Listen to podcast episode | iTunes | Spotify | YouTube | RSS Feed
---
Bankless Sponsor Tools:
💰 GEMINI | FIAT & CRYPTO EXCHANGE
https://bankless.cc/go-gemini​
💧LIDO | DECENTRALIZED STAKING
https://bankless.cc/Lido
👻 AAVE | LEND & BORROW ASSETS
https://bankless.cc/aave
🦄 UNISWAP | DECENTRALIZED FUNDING
https://bankless.cc/UniGrants
---
RESOURCES
---
🏴 JOIN THE NATION 🏴
Subscribe: Newsletter | iTunes | Spotify | YouTube | RSS Feed
Follow:  Twitter | Instagram | Reddit | TikTok | Facebook
---
Not financial or tax advice. This newsletter is strictly educational and is not investment advice or a solicitation to buy or sell any assets or to make any financial decisions. This newsletter is not tax advice. Talk to your accountant. Do your own research.
---
Disclosure. From time-to-time I may add links in this newsletter to products I use. I may receive commission if you make a purchase through one of these links. Additionally, the Bankless writers hold crypto assets. See our investment disclosures here.