Podcast
📺 Super Scaling with StarkWare | Uri Kolodny & Eli Ben-Sasson
zkRollups are Here, and They're Going to Explode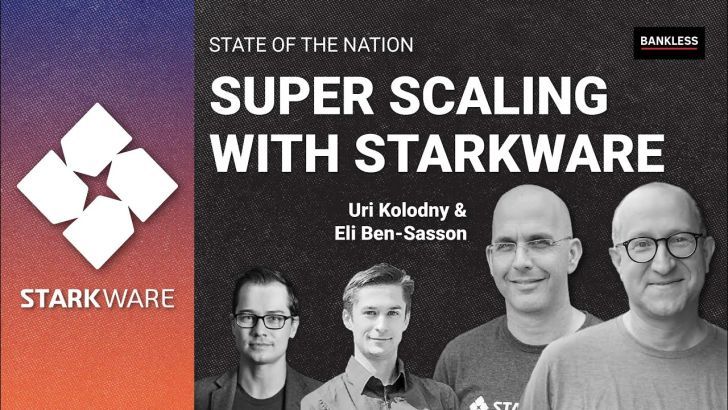 Join the Opolis Employment Coop and get 1000 $WORK and 1000 $BANK 👀
---
Ethereum is scaling. With a recent $50 million raise at a valuation of $2 billion, StarkWare is pioneering zkRollups across the Ethereum ecosystem. As it powers dYdX, arguably the most liquid market in the world, StarkWare is continuing to move into new territory, with StarkNet imminently deploying on Ethereum Mainnet.
The goal of StarkWare is simple: 'bring massive scalability to Ethereum while preserving L1 security, permissionless interactions, and decentralization.'
The ecosystem is growing at an astounding rate, so tune in as core members Uri Kolodny and Eli Ben-Sasson walk us through how StarkWare is bringing Super Scaling to Ethereum.
---
Listen to podcast episode | iTunes | Spotify | YouTube | RSS Feed
---
Bankless Sponsor Tools:
⚖️ ARBITRUM | SCALING ETHEREUM
https://bankless.cc/Arbitrum
🍵 MATCHA | DECENTRALIZED EXCHANGE AGGREGATOR
https://bankless.cc/Matcha
🔐 LEDGER | SECURE YOUR ASSETS
https://bankless.cc/Ledger
🧙‍♀️ ALCHEMIX | SELF-PAYING LOANS
http://bankless.cc/Alchemix
---
RESOURCES
---
🏴 JOIN THE NATION 🏴
Subscribe: Newsletter | iTunes | Spotify | YouTube | RSS Feed
Follow:  Twitter | Instagram | Reddit | TikTok | Facebook
---
Not financial or tax advice. This newsletter is strictly educational and is not investment advice or a solicitation to buy or sell any assets or to make any financial decisions. This newsletter is not tax advice. Talk to your accountant. Do your own research.
---
Disclosure. From time-to-time I may add links in this newsletter to products I use. I may receive commission if you make a purchase through one of these links. Additionally, the Bankless writers hold crypto assets. See our investment disclosures here.