Podcast
📺 SotN #49: The State of the Charts | Ledger Status
Bankless does Technical Analysis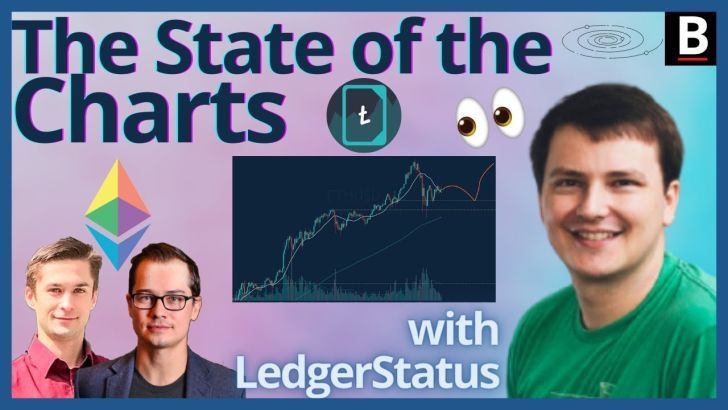 Get early access to podcasts, full Market Monday reports & more. Get on the bankless program
---
In this week's State of the Nation, we bring on UpOnly co-host Brian Krogsgard (AKA LedgerStatus) to teach us about the charts. This is the official Bankless TA episode 📈
State of the Nationis live-streamed on the Youtube Channel – Tuesdays at 11am PT.
---
📺 Episode 49 of State of the Nation
🎙️Listen to Podcast Episode | 📺 Watch the Episode
---
Bankless Sponsor Tools:
💰 GEMINI | FIAT & CRYPTO EXCHANGE
https://bankless.cc/go-gemini​
🦊 METAMASK | DEFI PASSPORT
https://bankless.cc/metamask​
🦄 UNISWAP | DECENTRALIZED EXCHANGE
http://bankless.cc/uniswap​
🔀 KWENTA | SYNTHETIC ASSET EXCHANGE
https://bankless.cc/kwenta
---
State of the Nation #49: State of the Charts
Guests: Brian Krogsgard AKA Ledger Status
June 9, 2021
Bankless is not a trading or market-specific podcast by any means, but the chaos we have observed in the markets over the past several months warrants discussion. So we brought on Brian Krogsgard (AKA Ledger Status) to help us understand the price action in the markets from a variety of perspectives. Brian is a host on the Ledger Status and UpOnly podcasts, and co-founder of the FlipMetrics data platform.
Brian introduces the concept of investing and trading as a pyramid -- at the bottom of the pyramid lies fundamentals and an overall investing thesis. As one moves up the pyramid, the time frames become increasingly shorter, and at the top are the pure psychological and analytical-based trades. Having sound plans throughout this pyramid is what makes for strong investing. Fundamentals, narratives, and tactics form a holistic approach which dictates how you should execute rotations and denominate wealth.
Ledger screens by fundamentals, and enters by technicals, while keeping the tactical side of things as simple as possible to avoid "analysis paralysis." The technical top of the pyramid is influenced by market psychology, and is inherently chaotic and more difficult to grasp.
With a broad approach to playing this money game, Brian went down the DeFi rabbit hole throughout the course of 'DeFi Summer' in 2020. The object of this game is a quest to get more ETH. Although there are countless ways to view a chart, these 'horoscopes' can easily become self-fulfilling prophecies when it comes to aggregate market psychology.
---
Resources:
---
🏴 JOIN THE NATION 🏴
Subscribe: Newsletter | iTunes | Spotify | YouTube | RSS Feed
Follow: Twitter | Instagram | Reddit | TikTok | Facebook
---
Not financial or tax advice. This newsletter is strictly educational and is not investment advice or a solicitation to buy or sell any assets or to make any financial decisions. This newsletter is not tax advice. Talk to your accountant. Do your own research.
---
Disclosure. From time-to-time I may add links in this newsletter to products I use. I may receive commission if you make a purchase through one of these links. Additionally, the Bankless writers hold crypto assets. See our investment disclosures here.