Podcast
📺 PANEL: The Creator Economy | Jesse Walden, Li Jin, Cooper Turley
Exploring the Intersection of Crypto and Culture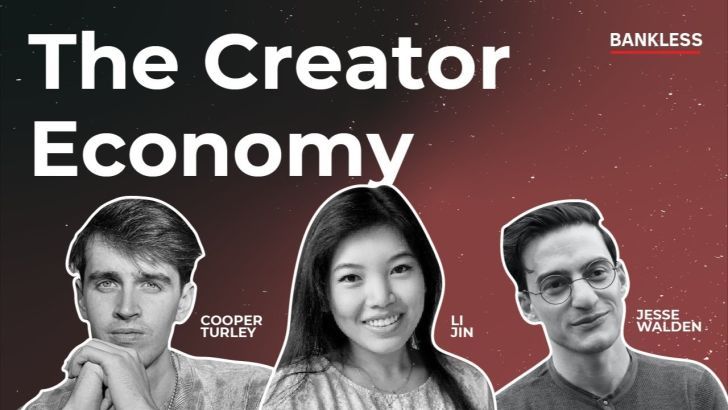 Check out Kyber's Dynamic Market Maker and new liquidity mining program 'Rainmaker.'
---
With panelists Jesse Walden, Li Jin, and Cooper Turley, come learn and hear about what the Creator Economy is, and what it has in store for our industry!
And as always, make sure to LIKE and SUBSCRIBE to the Youtube Channel 😎
---
🎙️Listen to Podcast Episode | 📺 Watch the Episode
---
Bankless Sponsor Tools:
💰 GEMINI | FIAT & CRYPTO EXCHANGE
https://bankless.cc/go-gemini​
🦄 UNISWAP | DECENTRALIZED FUNDING
https://bankless.cc/UniGrants
👻 AAVE | LEND & BORROW ASSETS
https://bankless.cc/aave
🔀 BALANCER | EXCHANGE & POOL ASSETS
https://bankless.cc/balancer
---
PANEL: The Creator Economy
Guests: Cooper Turley, Li Jin, Jesse Walden
July 1, 2021
The Creator Economy naturally erupts with the internet. Specialization allows creatives – artists, content creators, and everything in between – to carve out increasingly specific niches and build curated cultural communities. Art in all forms has an opportunity to blossom with the coordinative capacity of modern technology, and every active participant is inherently a creator. Smartphones and social media make everyone journalists, photographers, actors, and commentators simultaneously.
Within this budding paradigm, ownership of creations is paramount. The crypto industry lends itself elegantly to this need, blending creation and ownership. Web 2 has witnessed an explosion of distributed content, but centralized platforms determine the nature of how it plays out. Crypto offers a natural evolution to the creator economy, enriching the relationship between creator and community.
This conversation takes a wide lens to the intersection of culture and the crypto industry. From MySpace to Instagram to Patreon, the ebbs & flows of internet culture and economy moves at a blistering pace. Our experienced panelists break these things down and discuss where we're going.
---
Resources:
---
🏴 JOIN THE NATION 🏴
Subscribe: Newsletter | iTunes | Spotify | YouTube | RSS Feed
Follow: Twitter | Instagram | Reddit | TikTok | Facebook
---
Not financial or tax advice. This newsletter is strictly educational and is not investment advice or a solicitation to buy or sell any assets or to make any financial decisions. This newsletter is not tax advice. Talk to your accountant. Do your own research.
---
Disclosure. From time-to-time I may add links in this newsletter to products I use. I may receive commission if you make a purchase through one of these links. Additionally, the Bankless writers hold crypto assets. See our investment disclosures here.