Podcast
49 - Moon Math: The Bull Case for Cryptography | Justin Drake
Justin Drake is a researcher at the Ethereum Foundation and is leading the charge of applied cryptography to the Ethereum network. Listen to our conversation as we breakdown the principles of cryptography and moon math!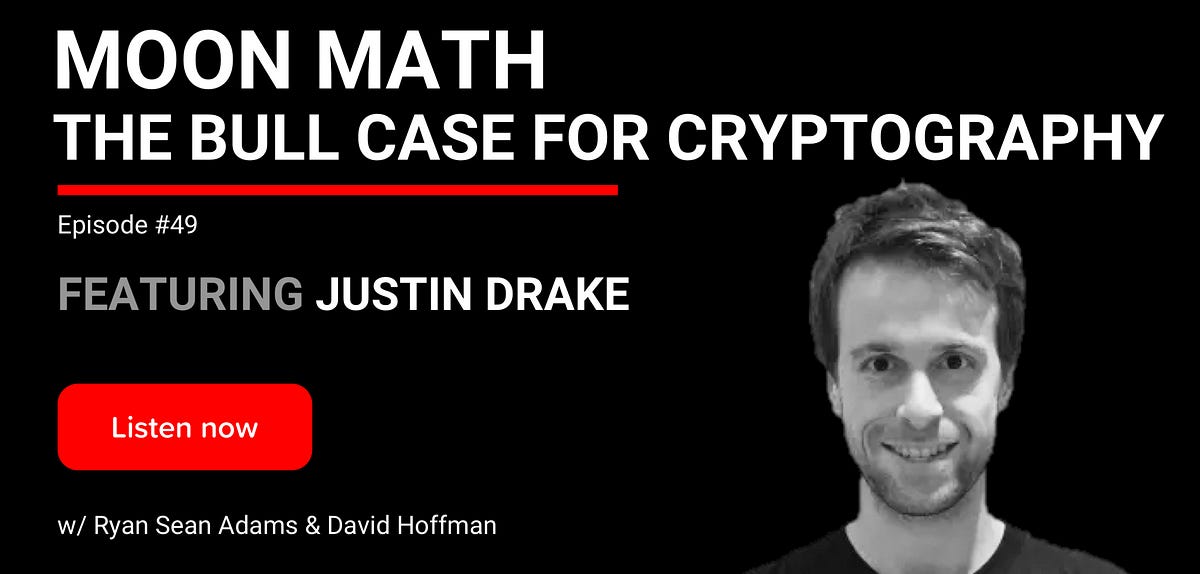 Justin speaks about how far we've come in the cryptocurrency industry, with only two extremely primitive tools: cryptographic hashes and signatures; the fire and wheel of applied cryptography.
Justin leads us through a cryptographic-enabled world, where more recent breakthroughs in applied cryptography supplement hashes and signatures. Multi-party computation, fully-homomorphic encryption, SNARKs, verifiable-delay functions, these are all cryptographic tools that are yet-to-be harnessed by the Ethereum blockchain.
Importantly, all of these new modern cryptographic tools are developed well beyond theoretical concepts; all that is left is for talented developers to put rubber to pavement.
Justin walks the listeners through the user story of a user making a transaction on Uniswap, and discusses how cryptographic tricks can make the entire user process more secure and more trustless.
We finish with a discussion about the long term fate of the Bitcoin blockchain, and its collision course with quantum computing, which threatens to break some of the crucial features that makes Bitcoin, Bitcoin.
Justin provides a roadmap for the decoupling of BTC (the asset) from Bitcoin the blockchain, using a cryptographic two-way bridge between Bitcoin and an alternative new host blockchain, presumably Ethereum, and how BTC can upload itself to a new blockchain, and be rid of the baggage and liability of the Bitcoin blockchain 🤯
This is truly one of the most unique pieces of content we've produced on the Bankless program, and Justin deserves so much credit for leading this operation!
---
RESOURCES
Justin's Uniswap Cryptographic Mechanism Solution spreadsheet and their theoretical application to any Ethereum app.

Below is some research Justin mentioned on Bitcoin's long-term security: