Podcast
53 - Building DeFi on Layer 2 | Synthetix, Loopring, Immutable
Leading Developers at Synthetix, Loopring, and Immutable Come on the Podcast to Discuss Layer 2 and the Future of DeFi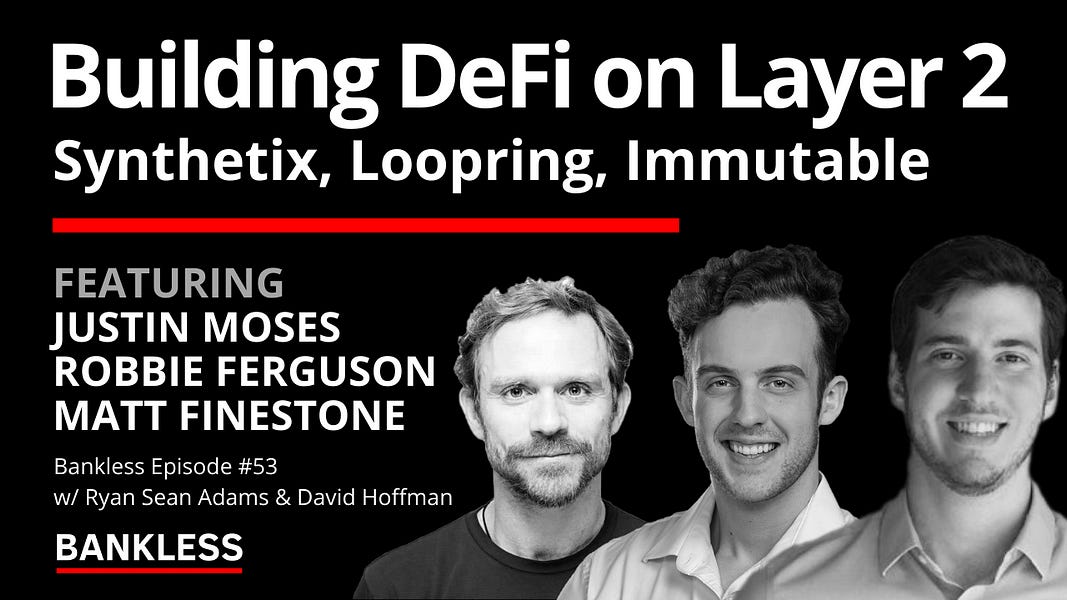 Justin Moses - CTO of Synthetix
Robbie Ferguson - Co-Founder & President of Immutable
Matt Finestone - Head of Business Development at Loopring

We discuss how these three voices in the crypto space have been integral in building successful DeFi products on the Ethereum mainnet. Listen in for a deep-dive into the different methods these protocols have taken to implement their apps on an Ethereum Layer 2.
---
TOPICS
Immutable NFTs & ZK-Rollups
Loopring & ZK-Rollups
Synthetix & Optimistic Rollups
Why Ethereum? Why Rollups?
Layer 2 Efficacy
Roadmaps for Synthetix, Loopring, and Immutable
Composability Issues
Layer 2 Fiat On-Ramps
Is Layer 2 Competing w/ ETH?
---
RESOURCES
Synthetix

Immutable

Loopring

An Incomplete Guide to Rollups (w/ Vitalik)