Podcast
🎙 99 - Endgame | Vitalik Buterin
Ethereum's Roadmap and the Course of Human Events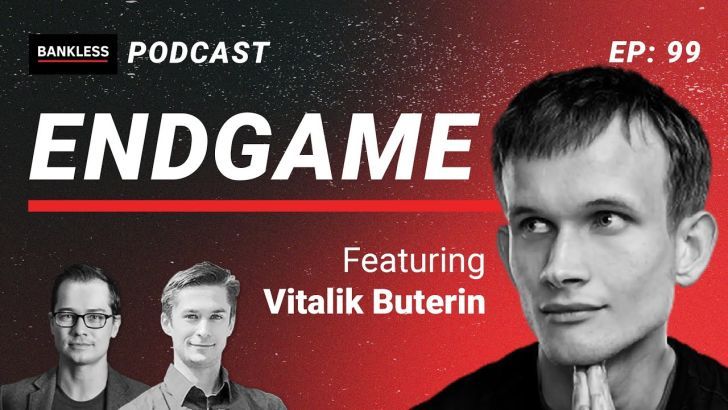 With OnJuno, you can Earn, Save and Invest your crypto with your checking account!
---
Ethereum founder Vitalik Buterin returns to the podcast to discuss his recent article Endgame, as well as the massive year we observed in 2021. From the future of Ethereum to the rise of alternative Layer 1 platforms, it only makes sense to kick off 2022 by exploring how far we've come and figuring out where we're headed.
How far are we along on Ethereum's roadmap? What challenges lie ahead?
In a recent tweet, Vitalik posted a graphic of the updated progress of the Ethereum roadmap, and there are five throughlines that are progressing in parallel:
The Merge
The Surge
The Verge
The Purge
The Splurge
We dive into what each of these means, as well as discuss what Ethereum will look like as these milestones are met. Holding this up against conversations of maximalism and alternative L1s, now is the time to start asking the big questions.
---
🚀 Get this episode's debrief to hear Ryan & David's unfiltered takes on this episode. 🚀
---
Listen to podcast episode | Apple | Spotify | YouTube | RSS Feed
---
Bankless Sponsor Tools:
⚖️ ARBITRUM | SCALING ETHEREUM
https://bankless.cc/Arbitrum
🍵 MATCHA | SMART ORDER ROUTING
https://bankless.cc/Matcha
🚀 SLINGSHOT | LAYER 2 SOCIAL TRADING
https://bankless.cc/Slingshot
🏦 GEMINI | TURN FIAT INTO CRYPTO
https://bankless.cc/Gemini
🦁 BRAVE | THE BROWSER NATIVE WALLET
https://bankless.cc/Brave
🦄 UNISWAP | DECENTRALIZED FUNDING
https://bankless.cc/UniGrants
---
RESOURCES
Vitalik's Articles
Vitalik on Bankless
Misc.
---
🏴 JOIN THE NATION 🏴
Subscribe: Newsletter | iTunes | Spotify | YouTube | RSS Feed
Follow:  Twitter | Instagram | Reddit | TikTok | Facebook
---
Not financial or tax advice. This newsletter is strictly educational and is not investment advice or a solicitation to buy or sell any assets or to make any financial decisions. This newsletter is not tax advice. Talk to your accountant. Do your own research.
---
Disclosure. From time-to-time I may add links in this newsletter to products I use. I may receive commission if you make a purchase through one of these links. Additionally, the Bankless writers hold crypto assets. See our investment disclosures here.