Podcast
🎙 93 - Crypto Payments and the DeFi Mullet | Visa's Cuy Sheffield and Anchorage's Diogo Mónica
Blurring the Lines Between Crypto and Fintech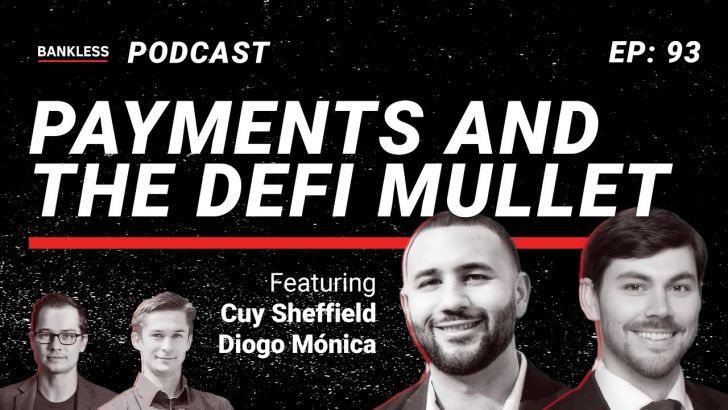 Join the Opolis Employment Coop and get 1000 $WORK and 1000 $BANK 👀
---
The DeFi Mullet is a classic Bankless thesis that we've begun to watch play out right in front of us. This week, we bring on Cuy Sheffield from Visa and Diogo Mónica from Anchorage to explain the DeFi mullet from the Fintech side of things.
This episode explores how crypto payments are extending beyond retail and into institutions, and how Fintech platforms like Visa are leveling up with the utilities provided by Anchorage to support crypto.
Blurring the lines between the two worlds is shaping up to be a fascinating corner of our industry, and there's a ton of new concepts to dive into throughout this conversation.
---
🚀 Get the exclusive debrief to hear Ryan & David's unfiltered takes on this episode. 🚀
---
Listen to podcast episode | iTunes | Spotify | YouTube | RSS Feed
---
Bankless Sponsor Tools:
⚖️ ARBITRUM | SCALING ETHEREUM
https://bankless.cc/Arbitrum
🍵 MATCHA | DECENTRALIZED EXCHANGE AGGREGATOR
https://bankless.cc/Matcha
🔐 LEDGER | SECURE YOUR ASSETS
https://bankless.cc/Ledger
🧙‍♀️ ALCHEMIX | SELF-PAYING LOANS
http://bankless.cc/Alchemix
---
RESOURCES
---
🏴 JOIN THE NATION 🏴
Subscribe: Newsletter | iTunes | Spotify | YouTube | RSS Feed
Follow:  Twitter | Instagram | Reddit | TikTok | Facebook
---
Not financial or tax advice. This newsletter is strictly educational and is not investment advice or a solicitation to buy or sell any assets or to make any financial decisions. This newsletter is not tax advice. Talk to your accountant. Do your own research.
---
Disclosure. From time-to-time I may add links in this newsletter to products I use. I may receive commission if you make a purchase through one of these links. Additionally, the Bankless writers hold crypto assets. See our investment disclosures here.