Podcast
🎙 90 - 5 Mental Models for Web3 | Chris Dixon
The Key to Understanding Why Web3 Matters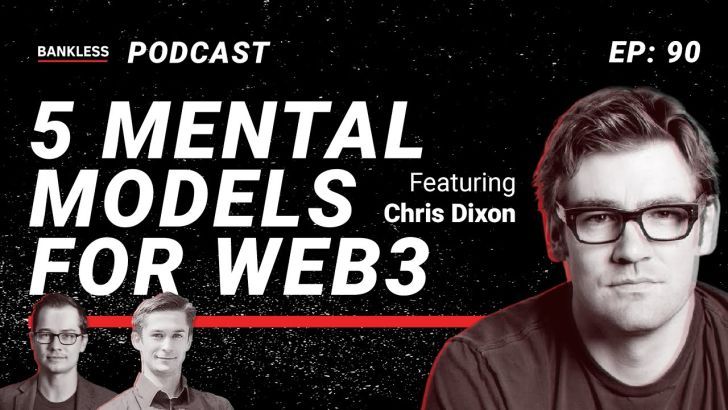 Dharma just rolled out trading on Polygon. From Dollars to Tokens with Zero Network Fee 👀
---
Chris Dixon is a general partner at a16z, and gives Bankless listeners a masterclass in understanding the Web3 Metaverse in this episode.
There are five essential mental models to understanding why Web3 matters, and they overlap often throughout the course of the conversation. Web3 has begun to impact all corners of digital culture – from media to finance, art and gaming, and even identity.
Mental models allow for digestible thinking patterns to understand and predict the world, and Chris lays out how these new digital primitives are changing everything.
---
🚀 Get this episode's exclusive debrief to hear Ryan & David's unfiltered takes on the podcast.
---
Listen to podcast episode | iTunes | Spotify | YouTube | RSS Feed
---
Bankless Sponsor Tools:
💰 GEMINI | FIAT & CRYPTO EXCHANGE
https://bankless.cc/go-gemini​
💧LIDO | DECENTRALIZED STAKING
https://bankless.cc/Lido
👻 AAVE | LEND & BORROW ASSETS
https://bankless.cc/aave
🦄 UNISWAP | DECENTRALIZED FUNDING
https://bankless.cc/UniGrants
---
RESOURCES
---
🏴 JOIN THE NATION 🏴
Subscribe: Newsletter | iTunes | Spotify | YouTube | RSS Feed
Follow:  Twitter | Instagram | Reddit | TikTok | Facebook
---
Not financial or tax advice. This newsletter is strictly educational and is not investment advice or a solicitation to buy or sell any assets or to make any financial decisions. This newsletter is not tax advice. Talk to your accountant. Do your own research.
---
Disclosure. From time-to-time I may add links in this newsletter to products I use. I may receive commission if you make a purchase through one of these links. Additionally, the Bankless writers hold crypto assets. See our investment disclosures here.