Newsletter
🎙 89 - A New Era for DeFi | Scoopy Truples of Alchemix
Unpacking Alchemix v2 and a New Primitive for Bootstrapping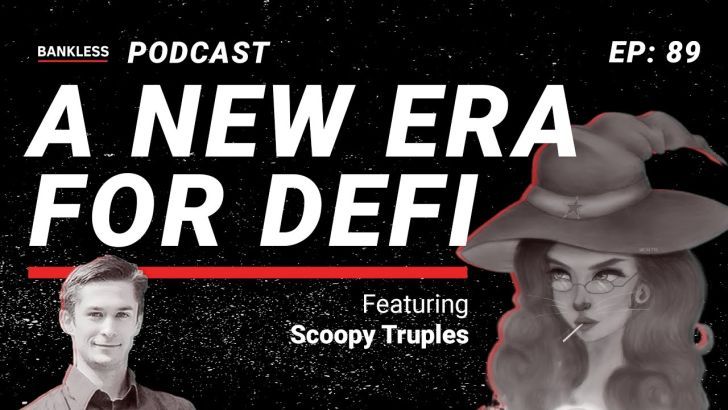 🌞 PoolTogether's V4 Is Launching! Thousands of Prizes, Easy to Get Started 🏊‍♀️
---
Scoopy Truples from Alchemix returns to Bankless to update us on what lies ahead for the protocol, and more broadly, the DeFi ecosystem. Alchemix v2 is on the horizon, which will allow for much more composability and integration with the rest of DeFi, as well as introducing new means of collateral such as LUSD and MIM. Scoopy also details plans for Layer 2 and Cross-Chain launches.
The second half of the conversation turns to DeFi 2.0, which Scoopy outlined in this epic twitter thread. This new generation of DeFi projects introduce a new primitive for bootstrapping liquidity and capital to a protocol, which traditionally has been achieved via incentivized liquidity pools. This new model allows protocols to purchase LP positions and accrue value more sustainably, discouraging mercenary capital that leaves when rewards taper off. Scoopy brings big ideas and digestible explanations to this complicated topic, contextualizing what may become a new era for DeFi.
---
🎙️Listen to Podcast Episode | 📺 Watch the Episode
---
Bankless Sponsor Tools:
⚖️ ARBITRUM | SCALING ETHEREUM
https://bankless.cc/Arbitrum
🍵 MATCHA | DECENTRALIZED EXCHANGE AGGREGATOR
https://bankless.cc/Matcha
🔐 LEDGER | SECURE YOUR ASSETS
https://bankless.cc/Ledger
🧙‍♀️ ALCHEMIX | SELF-PAYING LOANS
http://bankless.cc/Alchemix
---
Resources:
---
🏴 JOIN THE NATION 🏴
Subscribe: Newsletter | iTunes | Spotify | YouTube | RSS Feed
Follow:  Twitter | Instagram | Reddit | TikTok | Facebook
---
Not financial or tax advice. This newsletter is strictly educational and is not investment advice or a solicitation to buy or sell any assets or to make any financial decisions. This newsletter is not tax advice. Talk to your accountant. Do your own research.
---
Disclosure. From time-to-time I may add links in this newsletter to products I use. I may receive commission if you make a purchase through one of these links. Additionally, the Bankless writers hold crypto assets. See our investment disclosures here.