Newsletter
🎙 88 - Forward With Crypto | Andrew Yang
Bringing the Future to America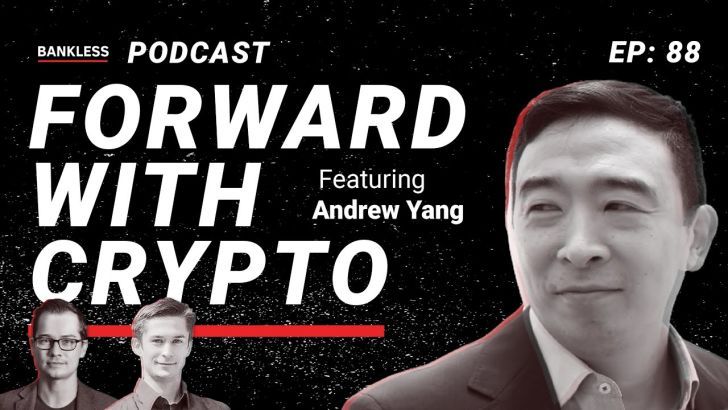 🌞 PoolTogether's V4 Is Launching! Thousands of Prizes, Easy to Get Started 🏊‍♀️
---
Andrew Yang is a former Presidential and Mayoral candidate, entrepreneur, and founder of the new Forward Party. Seeking ways to push our democracy into the future, Andrew has championed novel ideas to improve the deep intrinsic problems of the current two-party system.
We see aligned interests between the Forward Party and the crypto community, and Andrew says during the episode that the Forward party IS the Crypto party. Re-establishing legitimacy to our institutions, evolving our governance system, and upgrading our economic protocols are shared interests of Andrew Yang and the Bankless Nation.
We are stoked to have Andrew on the podcast, so dive in for a fascinating discussion of what's wrong with our current system and what we can do to fix it.
---
🚀 Get this episode's exclusive debrief to hear Ryan & David's unfiltered takes on the podcast.
---
Listen to podcast episode | iTunes | Spotify | YouTube | RSS Feed
---
Bankless Sponsor Tools:
⚖️ ARBITRUM | SCALING ETHEREUM
https://bankless.cc/Arbitrum
🍵 MATCHA | DECENTRALIZED EXCHANGE AGGREGATOR
https://bankless.cc/Matcha
🔐 LEDGER | SECURE YOUR ASSETS
https://bankless.cc/Ledger
🧙‍♀️ ALCHEMIX | SELF-PAYING LOANS
http://bankless.cc/Alchemix
---
RESOURCES
---
🏴 JOIN THE NATION 🏴
Subscribe: Newsletter | iTunes | Spotify | YouTube | RSS Feed
Follow:  Twitter | Instagram | Reddit | TikTok | Facebook
---
Not financial or tax advice. This newsletter is strictly educational and is not investment advice or a solicitation to buy or sell any assets or to make any financial decisions. This newsletter is not tax advice. Talk to your accountant. Do your own research.
---
Disclosure. From time-to-time I may add links in this newsletter to products I use. I may receive commission if you make a purchase through one of these links. Additionally, the Bankless writers hold crypto assets. See our investment disclosures here.