Podcast
🎙 102 - The Emergent Metaverse | Sam Englebardt & Richard Kim
Galaxy Interactive's Finest Diving Into the Metaverse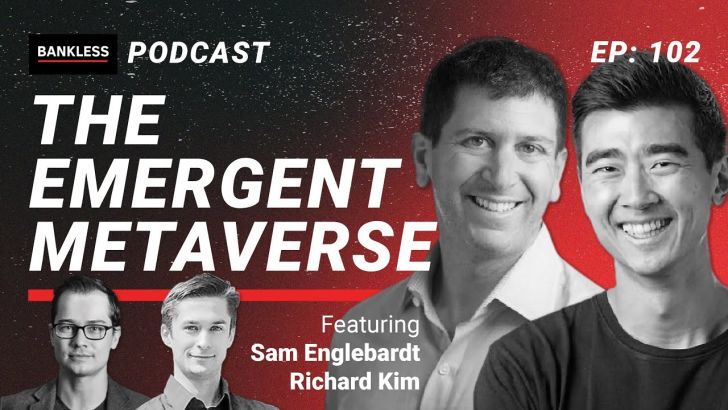 Invest in crypto with the tax advantages of an IRA using Alto IRA. 125+ assets supported!
---
Sam Englebardt is a co-founder and partner at Galaxy Digital, and is the founding general partner of Galaxy Interactive, which invests in next-generation interactive entertainment. He is also a content producer of film and television, working in a broad range of traditional & digital businesses. Richard Kim is a general partner at Galaxy Interactive, after a stint as COO at Galaxy Digital.
These two guests are getting their hands dirty as the gaming, cultural, and technological worlds converge into the Metaverse. Trying to predict, invest, and help build this emerging phenomenon is a massive endeavor, but it's one that we need to get right.
Exploring what the Metaverse actually is, how today's internet compares to the digital worlds of the future, and optimizing the user experience comprise the core of this discussion—but we open it to understanding the skeptics in the space, as well game economies and tokenomics. Sam and Richard expect to see a mass exodus into the Metaverse over the next couple decades… how are you going to play the Metaverse game?
---
🚀 Get this episode's debrief to hear Ryan & David's unfiltered takes on this episode. 🚀
---
Listen to podcast episode | Apple | Spotify | YouTube | RSS Feed
---
Bankless Sponsor Tools:
👀 POLYGON | LAYER 2 DEFI
https://bankless.cc/Polygon
❎ ACROSS | BRIDGE TO LAYER 2
https://bankless.cc/Across
🧙‍♂️ ALCHEMIX | SELF REPAYING LOANS
https://bankless.cc/Alchemix
🦊 METAMASK | THE CRYPTO WALLET
https://bankless.cc/metamask
💳 LEDGER | THE CRYPTO LIFE CARD
https://bankless.cc/Ledger
🦄 UNISWAP | DECENTRALIZED FUNDING
https://bankless.cc/UniGrants
---
RESOURCES
---
🏴 JOIN THE NATION 🏴
Subscribe: Newsletter | iTunes | Spotify | YouTube | RSS Feed
Follow:  Twitter | Instagram | Reddit | TikTok | Facebook
---
Not financial or tax advice. This newsletter is strictly educational and is not investment advice or a solicitation to buy or sell any assets or to make any financial decisions. This newsletter is not tax advice. Talk to your accountant. Do your own research.
---
Disclosure. From time-to-time I may add links in this newsletter to products I use. I may receive commission if you make a purchase through one of these links. Additionally, the Bankless writers hold crypto assets. See our investment disclosures here.